On Dec. 15, 2014, 34 Harvard Law alumni, from the Classes of 1971 to 2010, gathered at the U.S. Supreme Court to join the bar for the highest court in the nation. It was the first time HLS had organized such an event, and it was at the suggestion of Glenn Ivey '86, president of the Harvard Law School Association's Washington, D.C., chapter. Dan Schweitzer '89, who heads the Center for Supreme Court Advocacy at the National Association of Attorneys General, moved to admit the attorneys before Chief Justice John G. Roberts Jr. '79. Before the ceremony, the group had breakfast in the East Conference Room, where Roberts, wearing his Harvard tie, gave attendees a brief tour of portraits of former chief justices that are hanging in the room, explaining the histories of some of the lesser-known justices. As he was in the middle of telling a story, Justice Ruth Bader Ginsburg '56-'58, who had just come into the room, finished his anecdote and joked about an opinion she had read from the bench that morning.
The prior night, the group was addressed by Kannon Shanmugam '98, an appellate litigator at Williams & Connolly who has argued 17 cases before the Court (read the interview here). Those who attended came almost exclusively from D.C. and included a wide range of alumni, from a stay-at-home mother who took the opportunity to re-engage with the law, to Bert Mizusawa '89, a major general in the U.S. Army Reserve who sent in his application to the Supreme Court Bar while stationed in Afghanistan.
Because of the popularity of the event, the HLS Alumni Center has booked group admission dates through 2017. The next date, in June, filled up within 24 hours and will include 50 alumni from D.C., Boston, New York and New Mexico.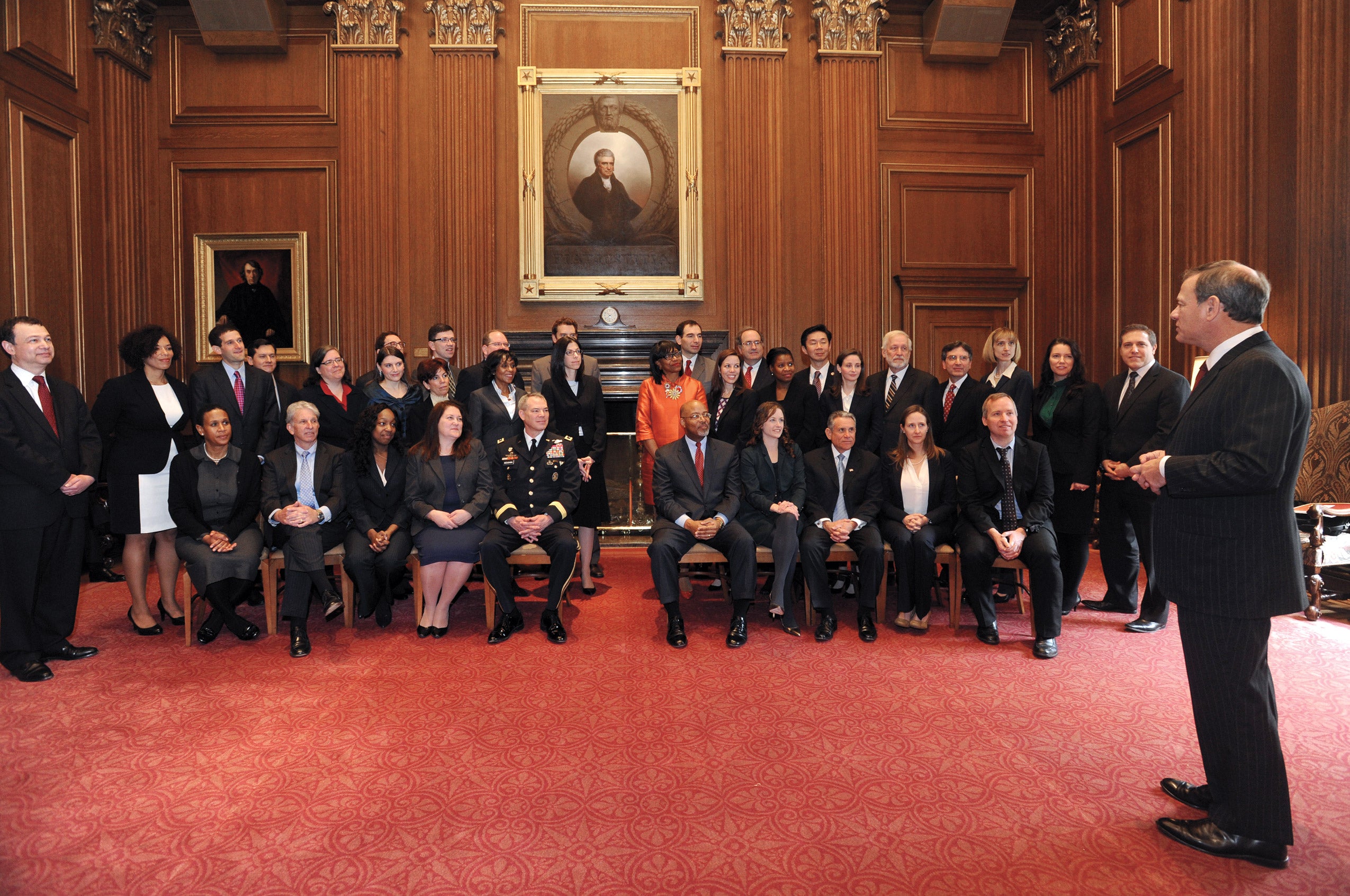 Joining the Supreme Court Bar has several perks, the most notable of which involves guaranteed seats at the front of the Court on argument and opinion days. But in December, for the HLS grads at the ceremony, the focus was on reconnecting with old classmates and colleagues, engaging with Supreme Court history and lore, and celebrating the history of legal practice.
Ivey has no immediate plans to argue before the Supreme Court but is excited to be part of its tradition. He said that standing in front of the Court after the ceremony, he was reminded of a visit he'd made in Rome to a spot where an ancient courthouse used to stand.
"It struck me that when you hear about how lawyers practiced law in ancient Rome, there is a 4,000-year tradition of lawyers … preserving the rule of law," Ivey said. "I think we carry the torch."