When she was 19, Rebecca Onie '03 created a program that takes a holistic approach to treating low-income patients; one "genius grant" later, she's determined to change the health care system.
It all started with a simple question: If doctors had no limits on what they could offer their patients, what would they give them?
The answer, then-Harvard sophomore Rebecca Onie heard again and again, was food, housing, child care, help finding a job. Not the traditional tools of health care, these lifelines are no less essential to health. If a family is living in a car, she explains, prescribing an antibiotic for a child's ear infection can't begin to cure the deeper ills that family is suffering.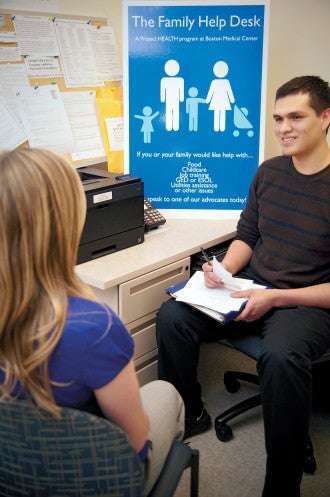 Onie marshaled like-minded undergraduates to work with longtime health visionary Dr. Barry S. Zuckerman, creating Project HEALTH 14 years ago. From a card table near the elevators outside Zuckerman's Boston Medical Center pediatrics department, the first Family Help Desk has branched out to six cities—with centers staffed by 600 student volunteers a year who fill "prescriptions" from doctors and nurses for assistance with homelessness and hunger. They are convinced that in order for doctors' offices to be places where people actually get healthy, services beyond traditional medical care must be offered.
This disarmingly simple idea and its real-world execution won Onie a MacArthur Fellowship last fall. The half-million-dollar "genius grant" catapulted the 32-year-old HLS alumna and her organization onto a larger stage just as its leaders were looking beyond merely replicating success to transforming the health care system itself.
"We have this belief that access to basic resources like food and housing impacts both health outcomes and health care utilization in general, but particularly for low-income patients, and a belief that we will only actually move the needle on health outcomes and health care costs when we have a system that addresses the social determinants of health," she said during a recent interview in Project HEALTH headquarters, which occupies space donated by the firm Foley & Lardner in Boston's Prudential Center. "So the question we ask ourselves is, If it's all so obvious, why doesn't the health care system just operate this way?"
For starters, there is a staggering lack of social workers. At Bellevue Hospital Center in New York City, for example, there is one social worker for every 12,000 patients. At Boston Medical Center, which serves many low-income patients, there is one social worker assigned to a pediatric emergency room with 22,000 visitors a year.
A volunteer workforce trained to connect patients to resources can fill in this piece of a social worker's job. But Onie has a reason for relying specifically on undergraduates, two-thirds of whom are pre-med students. She's recruiting future leaders to influence health care in the years to come.
"Having a model, however brilliant or not it may be, is not sufficient. What will be necessary to actually change the health care system is the leadership of the health care system," she said.
Students compete for places in Project HEALTH, which requires intensive training and a time commitment of at least six hours a week to work on a help desk, follow up with clients and devote an hour to on-campus reflection with other volunteers.
On a slushy day in February, Frances Wu, a Harvard junior in her third year with Project HEALTH, fielded phone calls and tracked cases in pediatrics at Boston Medical Center. Most of the patients' families need help with housing, she said, which is hard to resolve given long waiting lists for subsidized housing and high rents in the private market. Wu and sophomore Megan McGrath compared notes on regulations and time limits for housing and food stamps while scanning the Family Help Desk database on their laptops. They have such a firm grasp on the ins and outs of services that clients assume they work for the medical center and ask them for help getting a job there.
Wu was especially pleased to come up with recreational activities for the child of a woman who had just lost her job. She couldn't afford some programs, but Wu combined two in the same neighborhood that were much cheaper. Solutions for child care can be tougher to find, especially outside the city. "I don't know how they manage," Wu said about families far from services.
McGrath, 19, recalled one request for housing that brought her up short.
"I had someone my age who had a baby and was living with a friend. I had come in really annoyed about a chem test, but this put it in perspective," she said.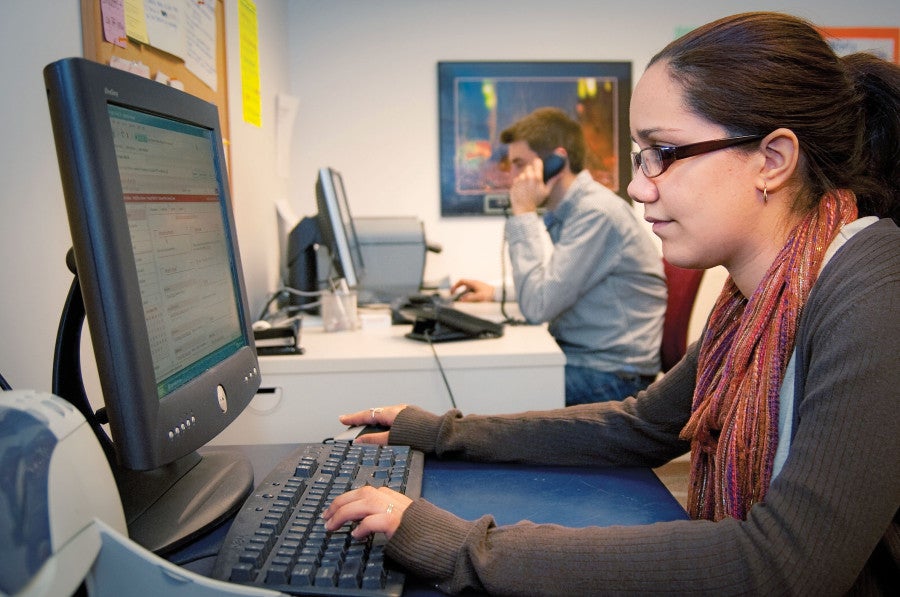 Project HEALTH co-founder Onie was also 19 when she approached Zuckerman with her questions about health care. She had volunteered in the housing unit of Greater Boston Legal Services, working on problems from vermin to evictions. "When you scratched the surface, there was always an underlying health issue," she said.
She decided she wanted to work further upstream, before children's asthma was worsened by cockroach droppings or families were out on the streets. Zuckerman had bridged law and medicine in 1993 by founding the Medical-Legal Partnership for Children, which enlisted Boston law firms to help families solve legal problems that impinged on health. After interviewing physicians at his suggestion, Onie thought about what students could do to bridge the gap between needs and available services.
On the Harvard campus, she was struck by another gap: the discrepancy between what was asked of student volunteers and what was asked of student athletes. "It seemed to me the model that tried to be more relevant for poverty … would be that which asked more rather than that which asked less," she said. "If you're going to do that for water polo, surely we can do that for poverty."
Dr. Michael Tang, a resident in the combined pediatrics program of Children's Hospital Boston and Boston Medical Center, was an early recruit to Project HEALTH. He heard Onie speak at Harvard's freshman orientation and was hooked.
"She was incredibly inspiring and she was hard not to sign up with," he said recently about her 1997 pitch. Today, "[h]er energy, her vision push us to say, 'How can we do this better? How can we make families' health better? How can we change the health care system to improve the health of these kids?' Project HEALTH volunteers through the years, even those who just heard her speak once, feel it."
Zuckerman, too, was struck by Onie's energy. After she called him up out of the blue and convinced him to see her, he recalled, "I expected to have a brief chat—she was just a sophomore in college," he said. "She came over and we were chatting for an hour. Her energy and her intellect and her passion were extremely compelling."
After graduation in 1997, Onie worked at Project HEALTH for three years and then enrolled in Harvard Law School. Earlier, a career in medicine had crossed her mind, but physicians at Boston Medical Center did warn her that some days were all ear infections.
"By not being [a doctor], I potentially could enable all of those folks who were doctors to be much more effective in their own work," she said. "I had a real belief that law would be a path to be a powerful advocate around issues that I cared about. Still the same issues, just a different tool kit." After graduating from law school, where she was an editor of the Harvard Law Review, Onie clerked for 7th Circuit Judge Diane P. Wood. While an associate at Miner, Barnhill & Galland, she worked on civil rights and employment discrimination cases and represented health centers, affordable housing developers and nonprofits. But in 2006 she left law for the social entrepreneurship of the organization she had helped found.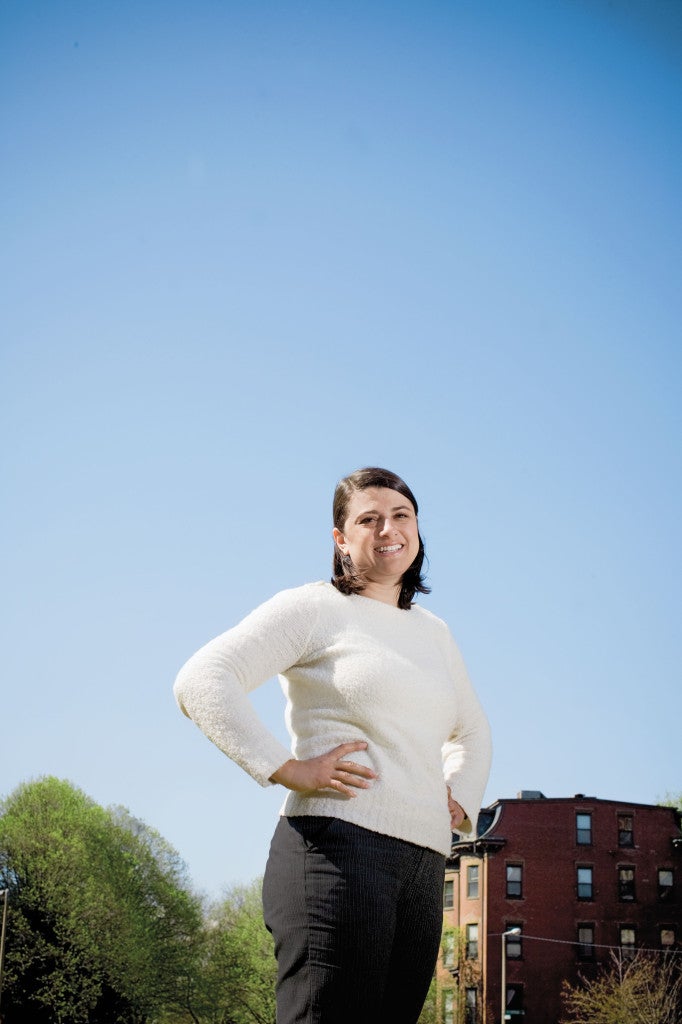 Onie reflects that she is probably too impatient for law's pace: "There's the occasional sweeping change, but the law is explicitly incremental, and I think for me [I had] a hunger to move faster."
At this juncture, Project HEALTH is embarking on an $11 million capital campaign over four years, fueled by the MacArthur grant. Onie says the effort resembles HLS's newly established Public Service Venture Fund, on whose board she sits, and which includes seed money to launch nonprofit ventures proposed by 3Ls. Onie wants to build philanthropic equity to expand Project HEALTH programs, which some hospitals now pay for, ultimately quadrupling the number of families served in the next four years, to about 24,000.
At the same time, in the midst of the national debate about health care reform and how to hold down escalating costs, she believes Project HEALTH's approach saves money: "Part of our vision for the next four years is to work successfully to actually establish the cost savings associated with the model and to be able to make a compelling case to Medicaid, or [to] other third-party payers, that this is a model that is actually worth investing in."
"Our aspiration is to grow only to the extent we need to, in order to really change the health system," she said. "I think that absolutely our goal is not to build an empire, but to really change the system.