Seventy years ago this spring, the first class of women graduated from Harvard Law School.
For many of the women enrolled in that historic class in 1950, it would be the first time they set foot on campus. But Sondra (Markowitz) Miller '53, who was dating a rising 3L, had traversed the campus many times over, riding sidesaddle on the back of her boyfriend's bike.
"I had an advantage because I had someone to really show me around," said Miller.
On a campus with over 1,500 male students, Miller, who had attended the all-female Wellesley College and before that the Horace Mann School for Girls, anticipated a culture shock, but most male students were accepting and most professors were "exceptionally fine," she said. "Some of the faculty were very cordial and very helpful. And some were not."
While women were accepted, said Miller, the school "wasn't really prepared for us."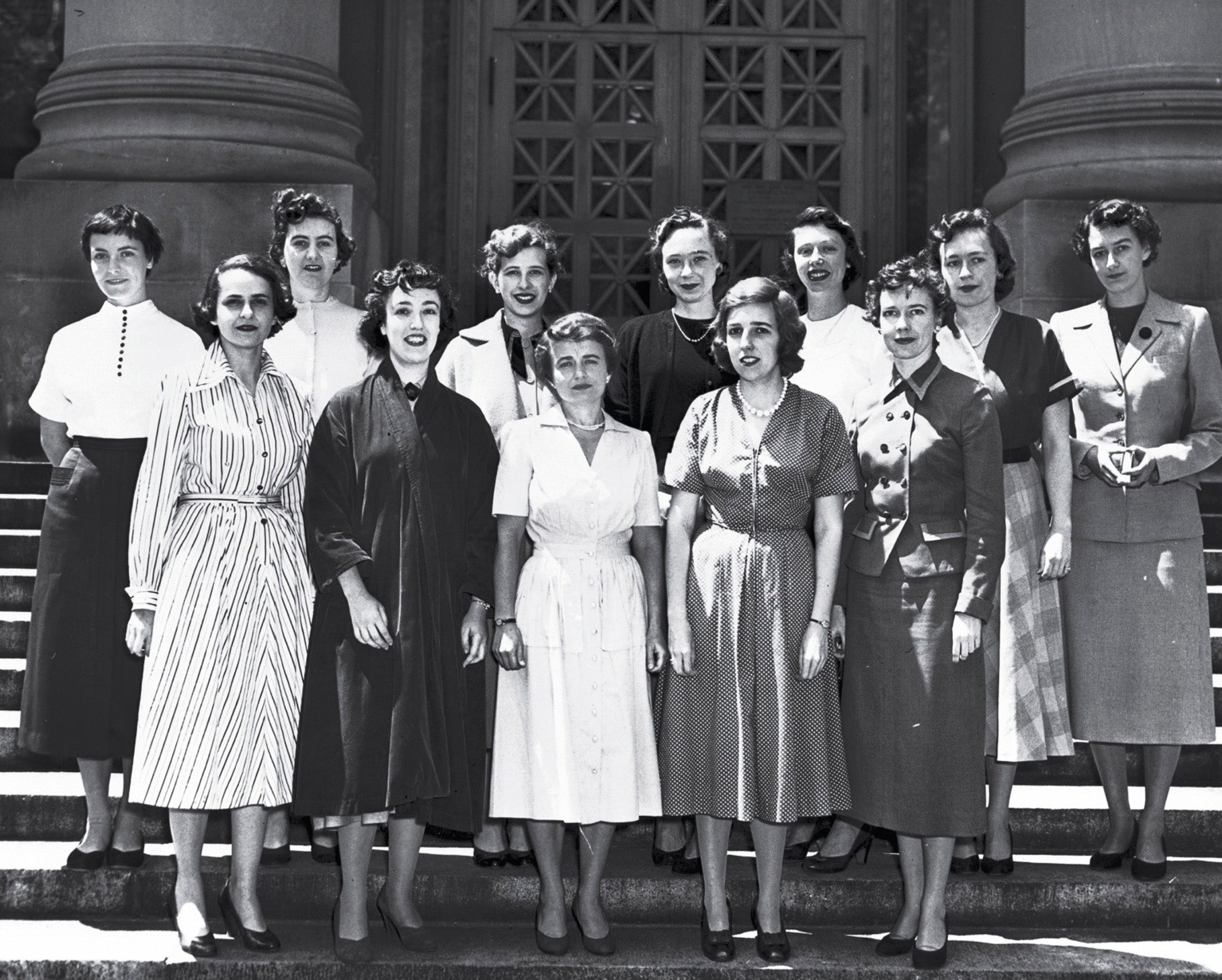 There was no place on campus for them to live. They paid medical fees but couldn't access the infirmary. Most pressing, they didn't have a restroom.
Miller was deputized to broach the issue with the dean. After he designated a restroom for women in the basement of Austin Hall, she went back and asked him to hang a mirror.
"That was our first achievement at the law school," she said.
Miller's father, a Romanian immigrant who idolized Supreme Court Justice Benjamin Cardozo, told her from a young age that she could be a judge.
"I don't know if I knew what it really meant," said Miller. "I knew judges could make decisions and I liked that idea."
Miller, who ultimately served as a judge for 22 years on three different courts in New York and is currently chief counsel to Goldschmidt & Genovese in White Plains, New York, said expectations for her cohort's success were underwhelming.
She recalls Dean Erwin Griswold '28 S.J.D. '29 inviting the women to a tea at his home and telling them they should have been admitted years before — they could have accomplished so much by doing all the pro bono work for the men.
"I recognized his good faith," said Miller, "but I thought, My goodness."
In her 60th Reunion report, Miller wrote that while she enjoyed her law school experience enormously, at the time, events in her personal life "were of major consequence."
Her relationship ended in a broken engagement. She married a New York City physician her second year, regularly missing Property class to commute to New York for Friday religious services. She was pregnant with her first son by year three, giving birth two months after graduation.
Miller framed the letter she received from Vice Dean Livingston Hall '27 congratulating her on her son and on graduating in "such fine fashion."
After a brief legal career and the birth of her third child, she divorced, remarried, and managed a family business before returning to the practice of law in the area of wills, trusts, and estates. In 1974, she helped found the Westchester Women's Bar Association, one of two local bar associations that constitute the Women's Bar Association of the State of New York, which now contains 20 chapters and more than 4,000 members.
In 1980, she was encouraged to run as a judicial candidate in a contest with two judges seeking reelection. "The race was not one to be won," she said, but the experience — of winning two of five counties and securing the local newspaper's endorsement — put "fire in the gut."
By 1983, she had secured a judgeship on the Westchester County Family Court, where she served for three years before campaigning for a seat on the New York Supreme Court, 9th Judicial District. At the time, the district consisted of 16 men, all Republicans — but she scored a historic win, becoming the first Democrat to win a contested election in the district in nearly 100 years, other than the 1964 Johnson landslide.
In 1990, Gov. Mario Cuomo appointed her to the Appellate Division, the first woman in the 9th Judicial District to be so recognized.
A longtime advocate of making divorce proceedings more protective of children, Miller wrote legal decisions that are frequently cited, particularly for their impact on family law and children's rights.
In 2004, she was appointed chair of the Matrimonial Commission to recommend reforms to the divorce and custody dispute processes in New York. The commission produced a 70-page report recommending no-fault divorce and sweeping changes, including in the selection and education of judges.
Miller went on to serve as director of the Office of Family Services, established to implement the commission's recommendations. She has also served for many years on a family violence task force for New York state, which aims to give parents guidance on minimizing the traumatic effects of divorce on children.
By the time she retired from the bench in 2006, she said, the representation of women on and before the bench had changed significantly.
"The face of the legal world has changed, and so, I believe, has its character."
At 93, Miller says she has lived through and benefited from the changes affecting women in the profession since her graduation in 1953 and that she's been "blessed."
"I did the best I could. I didn't neglect [my children], but neither did I neglect what I really wanted to do."