On the first day of class during her first year at Harvard Law School, Kiese Hansen '23 noticed something interesting. Next to her on her Zoom screen, she spotted another woman with the same surname: Caroline Hansen '23.
"I had never met another Hansen — spelled 's-e-n,'" says Kiese, who was at home in Silver Spring, Maryland. "I also realized our professor was going to call on students by their last name, and I thought, 'Another Hansen! This is going to be a whole thing,'" she laughs.
Hoping to make a new connection — and perhaps avoid some cold-call awkwardness — Kiese reached out to Caroline, who is from Washington, D.C. The two became fast friends, bonding over not just their shared name, but also the desire to create a sense of community for the Class of 2023 during its first year, which was remote due to the coronavirus pandemic.
"We FaceTimed a lot, and it was so interesting to build friendships with people you've never actually met in person," says Kiese.
Their friendship grew alongside a section-wide effort to learn about one another through conversations on GroupMe and Slack. "There was a whole culture of direct messaging people during class," says Caroline. "We talked about what we were learning, posted memes, and got to know one another."
"We actually produced so many memes that we had a meme award ceremony at the end of the semester," adds Kiese.
Soon, the pair began organizing virtual happy hours following class, but they quickly realized that what had started as informal chats had the potential to become something more. They decided to turn the hangouts into interviews of their classmates, asking lighthearted, fun questions to uncover the people beyond the online personas. And with their interviewees' permission, they posted each one as a podcast for everyone in their section to listen to. They called it "Hansen Hour."
"I think it was a really nice way for people to feel seen," says Caroline.
"People were really excited to sign up to be interviewed," agrees Kiese. "And it was also fun to announce who would be interviewed next, because the section would react so positively and look forward to each new episode."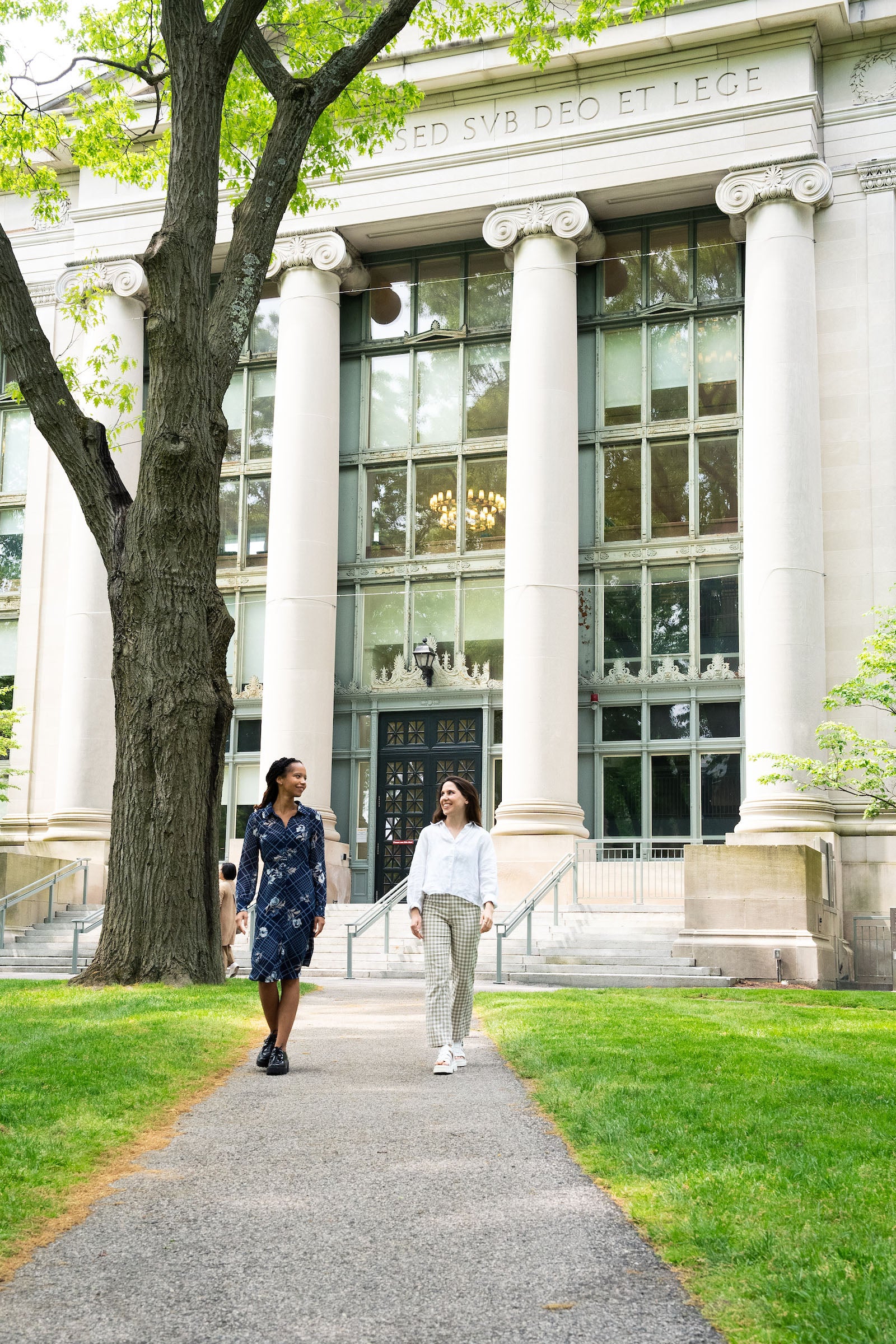 To their delight, all different types of people wanted to participate. "We interviewed introverts and extroverts," says Kiese.
"Sometimes, we were surprised that the person who signed up would want to be the star of a podcast," says Caroline. "Maybe they were shier in the group chats or didn't volunteer a lot in class. So, this felt like a really nice way to get to know people we might not otherwise have had an opportunity to get to know."
Their efforts helped create a rich sense of community for their section, which carried on into the next year as the Class of 2023 arrived on campus for their second year at Harvard Law. The pair say their personal friendship has also blossomed, as well — indeed, they still laugh about their first in-person meeting, when the two met up for a socially-distanced walk in a park during their first semester.
"I was really COVID-conscious because my mom is a teacher," says Kiese. "But in the excitement of getting out of the car and seeing a good friend, Caroline had the natural reaction of going in for a hug and I panicked! I started running away."
"For some reason, I thought it was a joke at first, and started running after her," says Caroline.
But the awkwardness quickly faded, and they say their friendship has been a highlight of their time at Harvard Law. Both women say they have appreciated the opportunity to broaden their networks through one another, as Kiese was active with the Black Law Students Association and as a teaching and research assistant, and Caroline was on the Board of Student Advisers and conducted research for Professor Molly Brady. "Caroline and I have overlapping friend groups, but also very distinct friends too," says Kiese. "But we always checked in with one another throughout law school."
Kiese, who intends to pursue a career in civil rights litigation, and Caroline, who is planning to practice general litigation, had not taken any classes together since their first year. That is, until their very last semester of law school. "We took employment law together, and it was just wonderful. It was as if we were closing our time together," said Kiese.
"We were so excited to be in class together again — we were like a two-headed dragon, building on one another's points and hyping each other up," quips Caroline.
The end of the class felt like the end of an era, they say. "It was really special to be able to be in the same classroom with one of your closest friends at the end of law school," says Caroline. "It's like my experience was tied up in a bow."
Most of all, the friends say they will cherish the memories they made together — from Hansen Hour, to attending the Harvard-Yale football game during their first fall on campus, to a legendary Halloween party Kiese threw, to simply popping over to one another's apartments for a quick chat.
And they don't expect those conversations to end after graduation. "Our friendship is definitely going to continue. We already have multiple plans to see one another this summer," says Kiese, with a smile. "She's kind of stuck with me."
---
Want to stay up to date with Harvard Law Today? Sign up for our weekly newsletter.