When Jessica Tisch was a student at Harvard, she never imagined working at the New York Police Department, but a friend's advice after graduation led her to a job with the NYPD's counterterrorism bureau. Ten years later, Tisch J.D./M.B.A. '08 is the NYPD's deputy commissioner of information technology. She has put data-driven policing tools in the hands of New York City's 36,000 uniformed police officers, including 911 dispatch information and electronic report forms on iPhones. To see how officers use the technology, the 38-year-old often rides along in police cruisers.
What have been your biggest accomplishments?
I think we have revolutionized law-enforcement technology. We have given officers access to data where and when they need it: in the field and in real time. The mobile platform that we built gives every cop an iPhone, puts a tablet in every car.
Historically, if I was a police officer responding to a 911 call for service, I would only have a dispatcher's summary of the information that a call-taker typed in, relayed by the 911 caller. It's fourth-hand information. So we built a 911 app. Officers see, in real time, all of the 911 jobs in their precinct. They see the text the call-taker typed into the system, so they don't have to rely on a dispatcher's summary. They can call the complainant back. If they're responding to a domestic violence job, they can see if there's a history of domestic violence in that location.
How did you end up working for the NYPD?
Very randomly. I graduated with a J.D./M.B.A. in June 2008 and took the bar exam in July. The financial crisis was hitting, and I thought it'd be difficult to find a job. A friend said: "Why don't you go work at the NYPD? I know someone there." I said, "I can't even imagine what someone like me would do at the Police Department." I was put in touch with the deputy commissioner of counterterrorism at the NYPD. He said, "Why don't you come work for me?" I said: "I don't know. Counterterrorism sounds really scary. I'm more into 'Law & Order' kind of stuff." He said: "Trust me, this will be right for you. It's what we hire civilians to do."
Who were your favorite HLS professors?
A wonderful professor, David Westfall, was my Property professor. I had Elizabeth Warren for Contracts. She was a magnetic speaker and teacher. It's funny, I see her on the campaign trail now, and the way she addresses the audiences takes me back. That was how energetic she was in the classroom.
How has the Contracts class helped you?
We work with big technology companies: IBM, Cisco, Microsoft, Apple, AT&T, Verizon. We spend hundreds of millions of dollars a year on technology contracts. I make sure those contracts are structured so that the NYPD gets the most value out of the taxpayer dollars we spend. I can trace all of that back to my Contracts class, understanding the basic principles of contracts and how they work.
How else have you benefited from your Harvard Law education?
All day, every day in my job, I deal with policy, I deal with procedure, I do negotiations. My legal training seeps into all of it. Harvard Law School taught me how to think, how to put arguments together. It changed the way I approach problems that sometimes have nothing to do with the law.
How often do you go out with the officers to see how the tech works for them?
All the time. To do my job well, you really need to understand how the officers do their job. Only in understanding that can you design systems and solutions that help them. A lot of my job involves talking to them and getting their feedback. Most of our best ideas come directly from focus groups with officers.
I've gone to robberies. I've gone to shootings. We deployed this new technology a few years ago called ShotSpotter: We placed audio gunshot detection sensors on the roofs of buildings in precincts where we have more shootings. Those sensors triangulate to the exact location where gunshots were fired and send a real-time alert to the officers in the field. It's pretty nifty.
When we first deployed it, I rode around with officers in Brooklyn. The alert came in over the officers' smartphone, they listened to the audio of the gunshots, and they responded immediately. They interviewed witnesses and ultimately made an arrest.
What can you learn electronically about what is going on in the city?
From my phone, I can see every 911 job citywide. I can see all wanted flyers, all missing-person flyers. I can see all or most NYPD training, because we built a distance-learning app where officers can take trainings and do quizzes. I can submit an employee suggestion. I can view CCTV from the 20,000 cameras that we have deployed across the city.
What does your office look like? What's in it?
I wanted my office to look like a tech space, so it's mostly white. It's not a traditional NYPD office, which are mostly dark, with wooden furniture. I keep what we call our legacy treasures on a big shelf. It's almost a museum of old NYPD IT that we've decommissioned. I have the old power switch from the legacy mainframe 911 system. I have one of the first legacy mobile devices that we used, kind of a pager. I have an old black-and-white CCTV surveillance-camera viewing box. And I have current stuff: body cameras, a mobile radiation detector.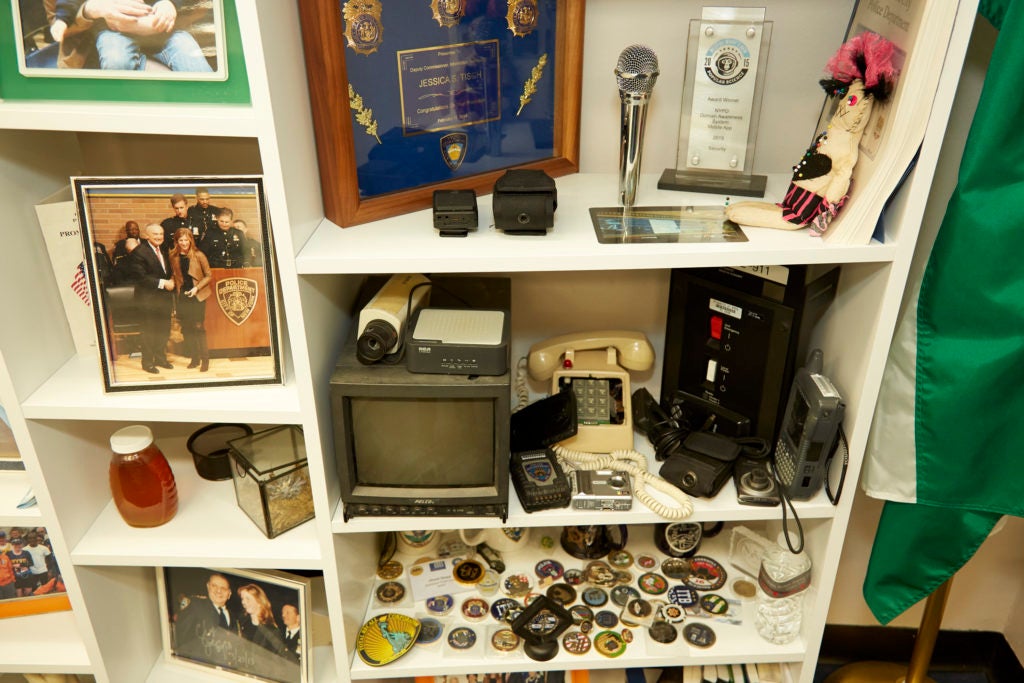 How would you compare your background with the NYPD's culture?
It's obviously very different. But the uniformed members of the services are quite accepting of civilians like me, who come with very different backgrounds and experiences. I look at it as complementary skills. I can't take down a door in the middle of the night. I don't think I would have the courage to. But they've been energetic about working with me to develop tools that help them do their jobs better.