One of the first things students learn in Richard J. Lazarus' new Climate Lawyering course is that if climate law was ever a niche field, it is no longer.
Or, as Brandon Deutsch '24 puts it, "Climate touches everything."
Indeed, concerns about climate change are not limited to entities like the Environmental Protection Agency or the Department of Energy. Today, even agencies such as the Department of Defense and the Securities and Exchange Commission are considering the effects of climate change on the nation, our world, and our ways of life.
"The threat of potentially catastrophic consequences from climate change due to increasing concentrations of greenhouse gas in the atmosphere is both enormous and unyielding," says Lazarus '79, the Howard and Katherine Aibel Professor of Law at Harvard. "To date, however, our nation has mostly stumbled in its efforts to craft laws that meet the immense challenge of reducing domestic greenhouse gas emissions and that redress the massive adverse effects of climate change that can no longer be avoided during our own lifetimes."
As daunting as the problem may be, however, Lazarus' course makes clear that the scope of the issue also means there are countless opportunities for aspiring climate lawyers to make a difference.
Doctrine in action
Lazarus says he designed the class to examine the role that lawyers can play in addressing urgent questions of climate change, while moving beyond the traditional areas of pollution control and natural resource management. In fact, lawyers in both the public and private spheres, practicing in areas as diverse as corporate law, energy and financial regulation, intellectual property, and national security, are concerned with reducing, mitigating, and planning for global climate change, he says. The inspiration for the new class originated in a series of conversations that he and Catherine Claypoole LL.M. '98, dean for academic and faculty affairs, had with students in the spring of 2022 about how the law school might best expand its curriculum in response to climate change.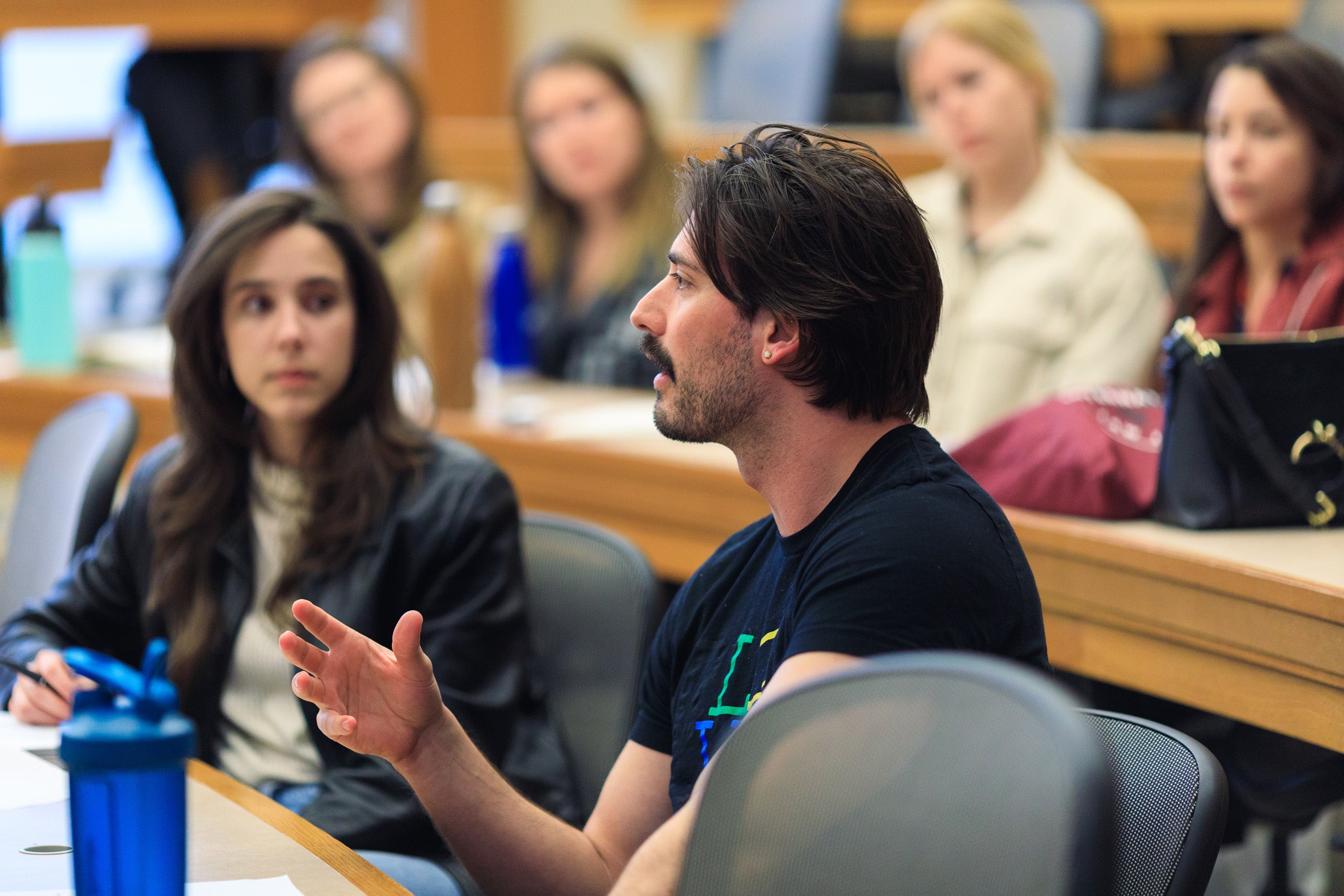 Sebastian Miller '24 says he has known he's wanted to be a climate lawyer since witnessing the devastation wrought by wildfires in his home state of California. But he hasn't always been sure where that practice would take him. "If you are someone committed to using your law degree to help the environment, it can feel a bit overwhelming to know where to start," he says. "I saw this seminar as a good opportunity to get a broader survey of the field and see how I could make a difference in an area that speaks to me."
And while Sara Tsai '23 says she also entered the course with a deep interest in climate law, such interest wasn't a prerequisite. "Professor Lazarus welcomes everyone from any background," she says. "This class opened our eyes to the many possibilities of environmental lawyering and made me even more interested in exploring career paths in this field."
At the heart of Lazarus' course is a recognition of the many challenges climate lawyers have faced — and continue to face — in making progress on climate and environmental issues. "One of the principal tensions we discussed is the tug of war between the 'here and now' and the 'there and then,'" says Miller. "In other words, although we are already feeling some of the effects of climate change, many of the impacts will be felt in the future. And so, how should we balance current interests — a working power grid, the comforts of daily life — with preparing for a more sustainable world?"
While the political, legal, and logistical hurdles seem daunting, Miller says, "the course also impressed on us the necessity of reimagining the ways in which many different agencies and industries can each respond to the challenges ahead. We need all hands on deck."
Brandon Deutsch '24, who came to law school to practice climate law, says his mission is now clearer: "The goal is to make the future look a little brighter — or at least, keep it from looking darker."
One assignment required students to dive into a legal issue that interested them and present their findings to the class. Deutsch chose to examine the lessons from the Big Tobacco lawsuits of the last century, which culminated in a massive settlement agreement that severely reduced cigarette consumption in the U.S. Might a similar scheme work for climate change, with advocates suing oil and gas companies or other contributors of greenhouse gas emissions?
"I walked away with the sense that there are a lot of contrasting factors that will make this a lot more difficult than the tobacco litigation, which was already so difficult that it took 40 years to succeed," Deutsch says. "Because here we are talking about the whole energy industry, and the causation issues are much more difficult."
Still, Deutsch says the exercise helped him understand the ways in which plaintiffs' law firms and nonprofits impact climate law and policy, in addition to the roles Congress and executive branch agencies play. "It's an all-hands-on-deck problem," he adds, echoing Miller's sentiments.
Beyond in-class discussion and student presentations, sessions included visits from experts from a variety of different fields and practice areas, each of whom shared their knowledge and answered the students' sometimes tough questions.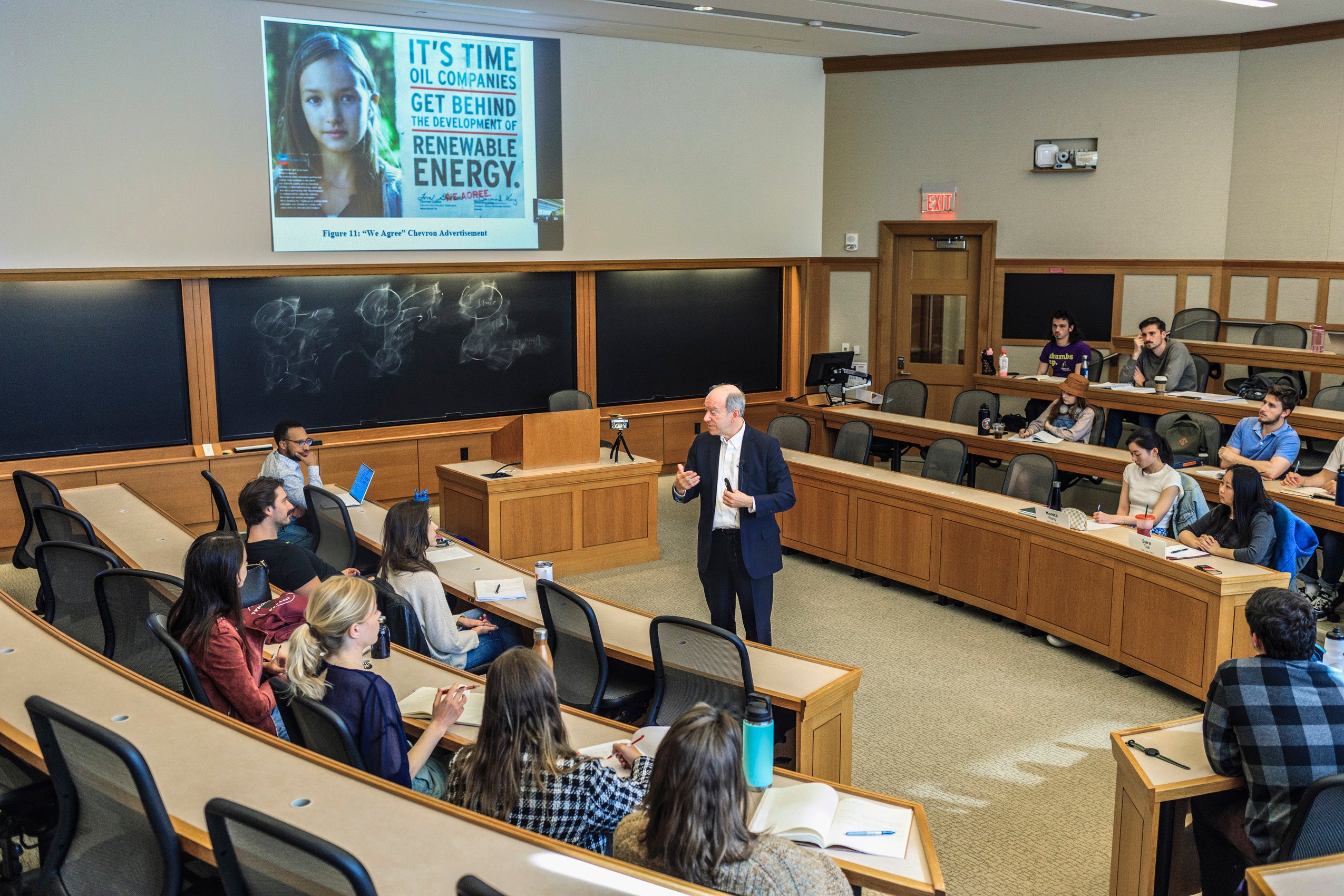 For Miller, these industry titans were both inspiring and informative. "Day one we opened up with Professor Dan Schrag, who is the godfather of environmental science at Harvard," he says. "We also heard from Carol Browner, who is the former head of the EPA, among many others. To be able to hear from so many leading experts, learn about their career decisions, and speak to them about their work — it's been really, really special."
Despite the scope of the work ahead, the students say Lazarus' course made them appreciative of what has been accomplished by the climate lawyers who came before them, cautiously optimistic about the potential for change, and more secure in their own roles in those efforts.
"Many people who are climate lawyers now may not get to see the fruits of their labor. It's not for themselves; it's for their children, their grandchildren, for the generations ahead," says Tsai. "It was really inspiring to learn about and meet those who have dedicated their lives to this, knowing that the groundwork they laid will continue to be built on in the future."
For Deutsch, who came to law school to practice climate law, the mission is now clearer. "It is important to understand that this is the future that we're moving into. So what do we do about it?" he says. "The goal now is to make the future look a little brighter — or at least, keep it from looking darker."