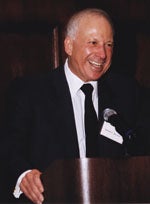 The Heyman Fellowship Program at Harvard Law School was established in 2000 through the generosity of the late Samuel J. Heyman '63 and his wife Ronnie Heyman to encourage HLS graduates to pursue careers in federal government. Having begun his career as a lawyer at the US Department of Justice under Robert Kennedy, and later served as an Assistant US Attorney in Connecticut, Mr. Heyman considered his federal government service to be the highlight of his career. Through the creation of the Heyman Fellowship Program, he hoped to inspire others to follow this path.
Government service is a challenging and rewarding career option for Harvard Law School graduates. Federal government lawyers are afforded unparalleled opportunities to shape national public policies and legal initiatives. At the same time, government lawyers are given tremendous responsibility quickly, enabling them to develop and mature in their careers, often much more rapidly than their peers in the private sector. And the sense of purpose and meaning inherent in much government lawyering is priceless.
The Heyman Fellowship Program's financial components (fellowship grant and, for some, loan repayment assistance) are designed to mitigate some of the financial disparity between government and the private sector so that those who want to work in the federal government can more realistically do so. In addition, the Heyman Fellowship Program provides a supportive peer community of HLS graduates in federal public service who can enthusiastically mentor HLS students and young alumni interested in federal government work, and who can assist one another as their public service careers develop. The Heyman Summer Internship similarly encourages Harvard Law students to try federal government work for a summer.
Heyman Fellows are selected through a competitive process in which applicants are chosen for their academic excellence and demonstrated commitment to public service. The program is open to each year's current Harvard Law School graduates, as well as graduates from the immediately preceding three years.