At a dinner Wednesday evening, the latest group of first-generation students to begin their studies at Harvard Law School learned that, no matter how diverse their journeys and life stories, the historic campus in Cambridge, Ma. is now their home.
"You are here for a reason. Or like a mantra to repeat: 'You belong here'," Harvard Law Professor Glenn Cohen '03 told the large group of new students at the event sponsored by First Class, a student organization launched in 2017-2018 as a space for first-generation, low income, and working class students, and by the school's Office of Community Engagement, Equity, and Belonging. Over the past five years, the annual First Class dinner has been an occasion to welcome into the Harvard Law community students who are the first in their families to attend law school, including many from less-resourced families.
On Wednesday, First Class co-presidents Vanessa Agudelo and Kelly Capatosto praised their audience's achievements in reaching this point in their educational journeys despite the challenges many of them have likely faced. "Although everyone here comes from different walks of life, as first-generation and low-income students, we are bonded by our resiliency, our persistence, and our creativity in the face of extraordinary circumstances," said Capatosto. "Our strength in overcoming these barriers is what has brought us together today."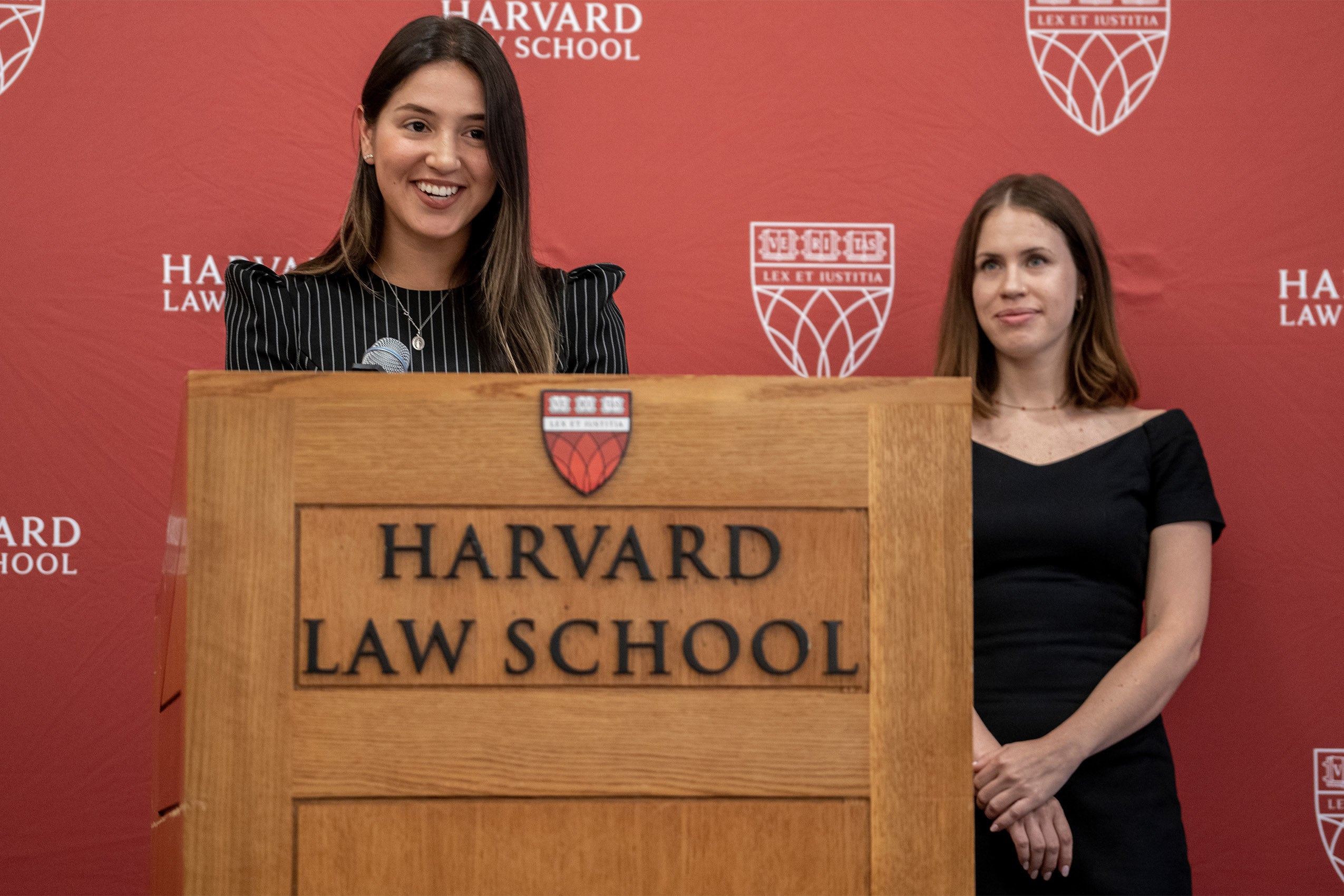 While Agudelo is also a first-gen student, she's not the first in her family to be at Harvard: Her father, a Colombian political refugee, had worked at Harvard as a custodian. His experiences, she said, "helped me to understand the privilege it is to dream and what it means to be here. Your journey here has helped your family and your community dream the big dreams they didn't think were possible for them."
Addressing the new students, Harvard Law School Dean John F. Manning '85 shared his own experience as a first-generation student. "Whenever I welcome students to a new school year, I remember very vividly how it felt when I started law school." Noting that, in those early days, he had felt pretty scared about this new experience, Manning relayed some advice from his late mother, whose wisdom came in handy at such times. She told him not to be fooled by the fact that many classmates projected the sense that they had it all figured out, because change is challenging for everyone. "Moments like these, moments of transition, are hard ones," he recalled his mother advising, and "we're all a bit scared when we try something new." He also remembered her saying not to be afraid to make mistakes as you learn. "Making mistakes is actually part of your job, now and always. It's how we learn. It's how we grow."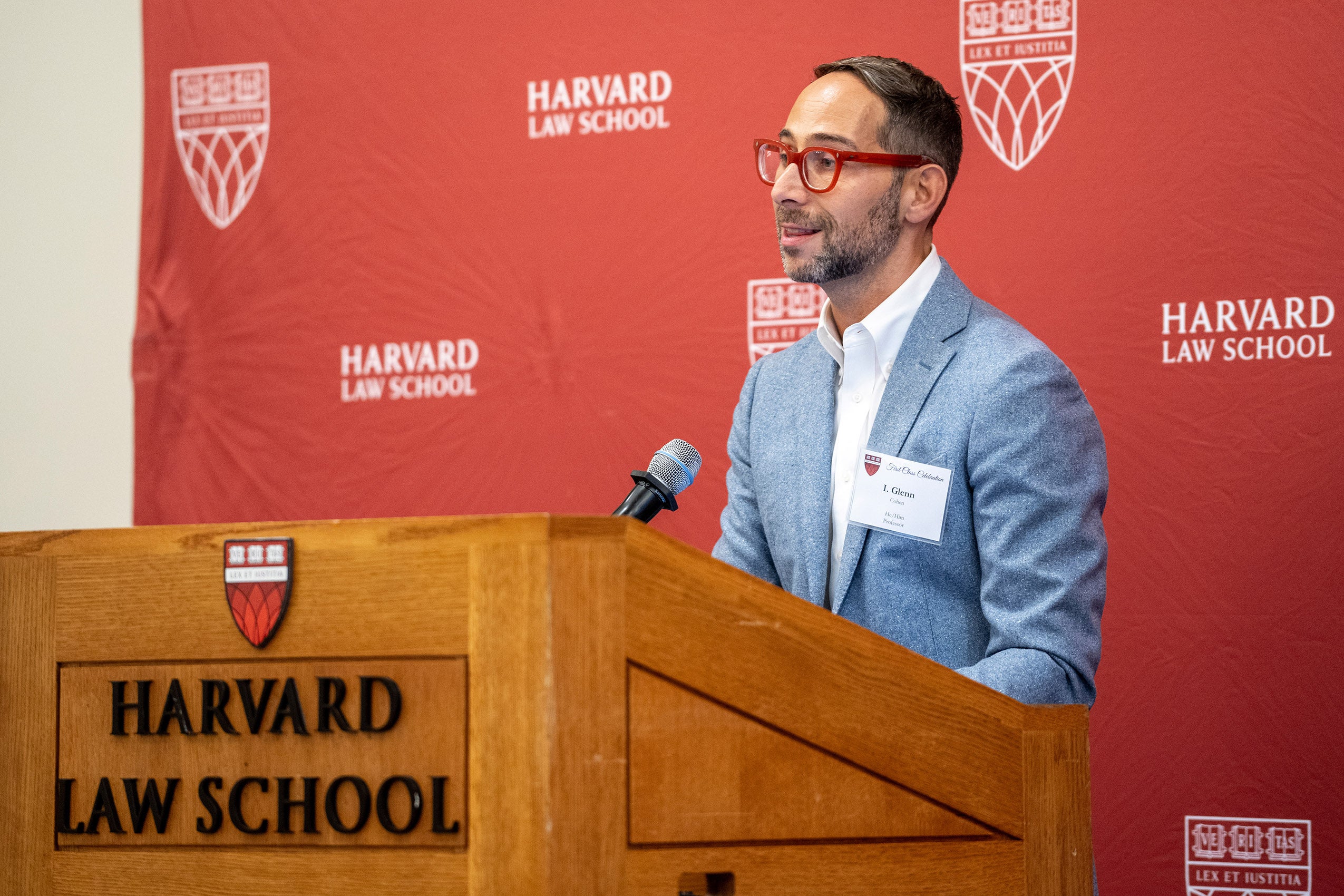 Cohen's speech concentrated on the importance of families — both the familiar one at home and the new one at Harvard. A first-generation law student himself, he acknowledged that arrival here can create family tension. "This is one of the proudest days of your family's life … [but] they may have increased expectations of you. … Your family has a major gravitational pull on you, but remember that this is not your family's life. It is your own."
Joining the Harvard Law family, he said, can feel like Harry Potter coming to Hogwarts: You arrive and find some of your fellow students can play magic games that you haven't learned yet.
"One thing you are likely to experience if my own experience is any guide is that your fellow students may have had life experiences that seem weird, wonderful, and wholly imaginary," Cohen explained. "It is sort of like when you watch Harry Potter and you are like … 'I would love to play Quidditch,' but it is not something you think people actually do. Well, you arrive at Harvard and it is as though you find out that a large number of your classmates have been playing Quidditch for years and no one ever told you this even existed."
Invoking the words of former Harvard Law dean and current Supreme Court Justice Elena Kagan '86, Cohen said that Harvard is the New York City of law schools. "You may have a hard time understanding your classmates' experience, but they may have a hard time understanding the amazing experiences that you've had. And I know they're amazing, because I've seen your applications.'
"There will always be people at this institution who know exactly how you feel," he said, telling students to look at the many other faces in the room. "And with that comes the duty to support your fellow first-generation students as they experience their own self-doubt."
Finally, he invited them not to lose sight of all they'd achieved in order to get here. "If you were able to come here as a first-generation student, you are a born leader — It's time to stop denying that. This is a place for leaders, and you are a leader par excellence."