The annual Harvard Law School Women's Law Association 10th annual conference, "What We Talk about When We Talk about Women," commenced with a panel focused on women in politics. The panel opened with recorded remarks from Alabama Congresswoman Terri Sewell '92, and another highlight of the conference was a keynote address from former New York Congresswoman Elizabeth Holtzman '65.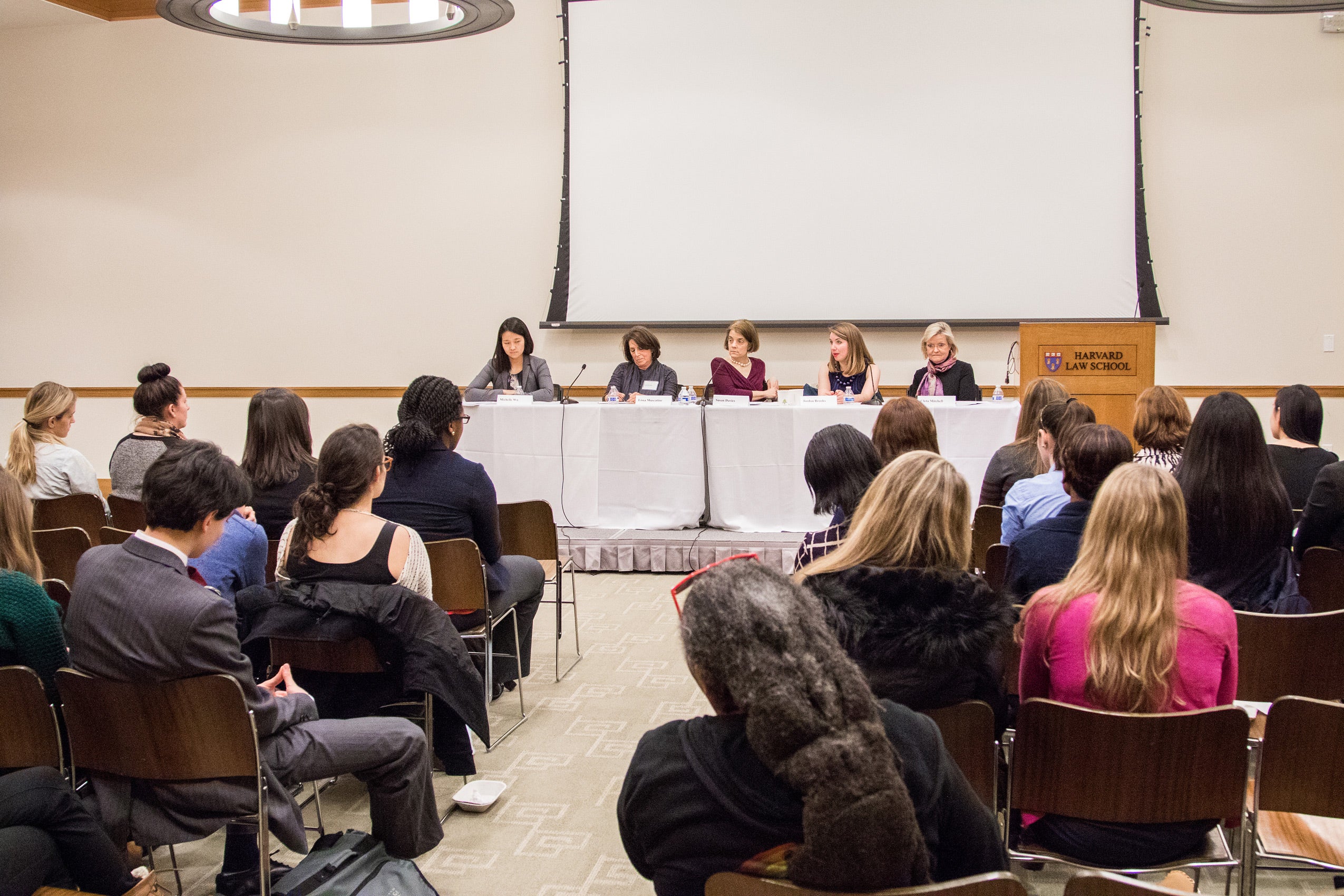 Though the conference notably included remarks from several women elected to office, in 2016, women make up only 19.4 percent of the U.S. Congress and 24.5 percent of state legislatures. In discussing why more women don't hold elected office, the four panelists, though diverse in age, views and experiences, agreed that in an important respect women are holding themselves back.
There are significant external barriers to efforts to increase the number of women in politics, they agreed, but the panelists emphasized that women also tend to construct internal barriers for themselves. Before running for office, women, far more than men, feel compelled to amass credentials and pursue numerous degrees. Also, women tend to enter politics later in life and spend far more time working to gain what they believe is necessary experience for running for office.
"What I have learned over the years is that women think, If I could just have one more piece of paper, if I just get one more degree, one more credential, one more validation, then I'll be qualified," said Cleta Mitchell, a partner and political law attorney at Foley & Lardner. "Women need to grant themselves a certain credibility that men automatically grant to themselves and other men."
Panelists discussed policy issues related to this vision, and their shared hope for more young women in office. Michelle Wu '12, president of the Boston City Council, proudly pointed to new paid parental leave legislation she spearheaded. Jordan Brooks, deputy executive director of the White House Council on Women and Girls, highlighted her efforts through the council to encourage more women to go into in STEM.
Panelists pointed to progress. Lissa Muscatine, co-owner of the D.C. bookstore Politics and Prose, said that she was awarded a Rhodes Scholarship in 1977, and that it was the first year women were eligible to apply. Such a barrier to women, Muscatine noted, is unimaginable now. Mitchell said that during her time in the legislature of Oklahoma, the number of women doubled—rising from six in 1976 to 12 in 1984—and now nearly half the legislators are women. But more progress is needed, the panelists agreed. Moderator Susan Davies, a litigation partner at Kirkland & Ellis, summed up the panel's message: "Run for office when you're young and don't wait until you have what you think is the perfect, justifiable resume."