Philip B. Heymann '60 will retire in June 2016 after an extraordinary career in government and as an HLS professor. This transition invokes fond memories. As a 1L student who took Phil's criminal law course in 1969, I remember well his long black sideburns and his 1960s vibe.
I cannot forget an exchange in which we argued about consequentialist versus retributive approaches to punishment, or how much I admired his obvious practical experience and deep concern for getting policy decisions right. Over our many years as colleagues, I came to appreciate a deeply unifying theme that radiates from his teaching and scholarship—the search for accountable yet effective government power to control criminal behavior and terrorism.
After graduating from law school, Phil clerked for Supreme Court Justice John Harlan and then began a long series of positions in the U.S. government. He served at high levels in both the State and Justice departments during the Kennedy, Johnson, Carter, and Clinton administrations. He was assistant U.S. attorney general in charge of the Justice Department's Criminal Division (1978-1981) and assistant to the solicitor general, acting administrator of the State Department's Bureau of Security and Consular Affairs, deputy assistant secretary of state for the Bureau of International Organizations, executive assistant to the undersecretary of state, and deputy U.S. attorney general (1993-1994). As my 1L memory suggests, he took time off to be a visiting lecturer at HLS, and was soon afterward awarded tenure. Over the years he often taught criminal law and procedure, but eventually he shifted more time to the problem of terrorism.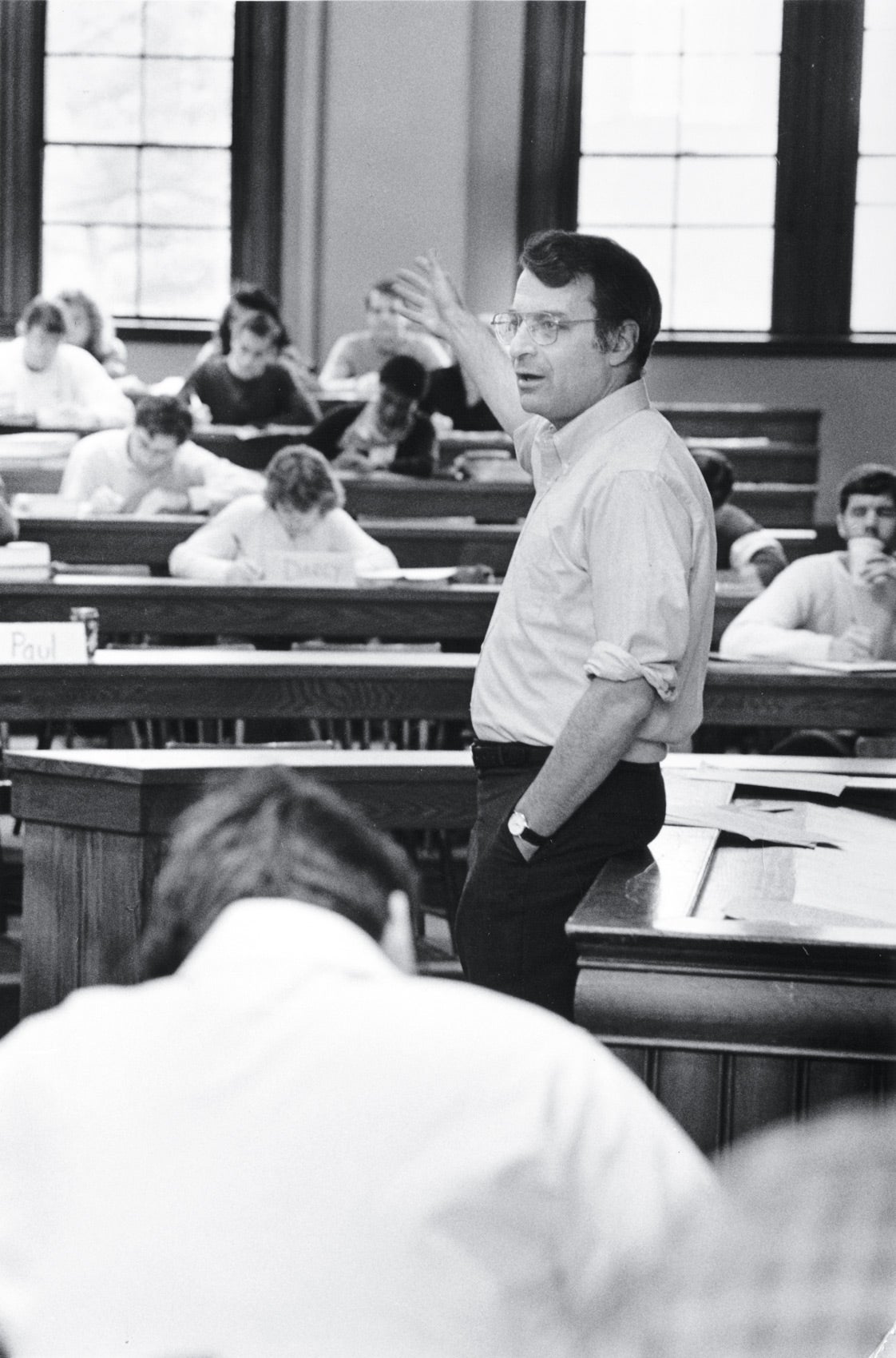 Phil's impressive scholarship illustrates his ongoing passion for making government responsible yet effective. He wrote or edited 10 books and numerous articles. Some articles, such as a 1987 piece in Public Interest and a 1996 article in the Fordham International Law Journal, are about the general problem of controlling corruption, including within the U.S. Others show great knowledge about similar problems in a wide range of settings, such as Guatemala, Peru, Northern Ireland, the Palestinian Authority, South Africa and Russia.
His scholarship also searches intently for optimal drug control policies and the best ways for police officers to interact with community policing efforts. And the book of which he is rightly quite proud, "The Politics of Public Management" (1987), offers great insight to political appointees who wish to do their jobs well while also coping with pressures from surrounding political forces.
But his most highly acclaimed contributions have been about good policy responses to terrorism. For example, the 2005 book he co-wrote with Juliette Kayyem '95, "Protecting Liberty in an Age of Terror," provides a legal framework for policymakers faced with decisions on coercive interrogation, detention, electronic surveillance, targeted killing, racial profiling and related issues. Jeffrey Smith, former general counsel of the CIA, said it "should be read by the President and Congress, who should then move quickly to adopt as many of its suggestions as possible." Phil's prior book, "Terrorism, Freedom, and Security" (2003), led Rand Beers, former special assistant to the president and senior director for combating terrorism, to describe Phil as "one of the leading thinkers in the world on the subject of terrorism." Even earlier was "Terrorism and America: A Commonsense Strategy for a Democratic Society" (2000); Ariel Merari, founder of Israel's Hostage Negotiations and Crisis Management Unit, called it "by far the best treatise on coping with terrorism." His contributions kept coming, as in the 2010 book he co-wrote with Professor Gabriella Blum LL.M. '01 S.J.D. '03: "Laws, Outlaws, and Terrorists." As these books and his newspaper op-eds about "authorized" torture of suspects indicate, Phil has been unrelentingly concerned about preserving humanitarian values, even as we struggle to deal effectively with terrorism. He always analyzes these issues in a balanced yet pragmatic way.
Phil has taught, and strongly influenced with his wise policy analyses, thousands of HLS students. As a colleague, he taught and influenced me, mainly during innumerable lunch-table conversations. During my 14 years as dean, I was also inspired by his consistent behavior as a good "faculty citizen": He was always willing to teach important basic courses, serve on key committees, attend faculty meetings and participate in debates in a thoughtful rather than polemical way. I was a tough grader but gave him an A+ on the citizenship dimension!
Throughout his long career, Phil has shown an unfailing commitment to the task of understanding how best to keep government and its officials accountable to fundamental social values, while nevertheless giving them power and showing them ways to achieve legitimate goals. We colleagues all hope he has a long and happy retirement, stays connected to the school, and inspires a new generation to follow his path.
---
Professor Robert Clark '72 was dean of HLS from 1989 to 2003.