William T. Coleman Jr. '46, the former secretary of transportation and one of the lead strategists and co-authors of the legal briefs for the appellants in Brown v. Board of Education, died March 31.
A pioneer in the struggle for civil rights, Coleman was a member of Thurgood Marshall's legal team at the NAACP Legal Defense Fund, where he was instrumental in the school desegregation efforts that culminated in the Brown v. Board of Education decision in 1954. In the 1960s, he was co-counsel in McLaughlin v. Florida, in which the Supreme Court overturned a Florida law that prohibited an inter­racial couple from living together. The case became a pre­cedent for the landmark 1967 ruling in Loving v. Virginia, in which the Supreme Court held that anti-miscegenation statutes were unconstitutional.
Harvard Law School Dean Martha Minow said: "Bill Coleman was truly not just one of the greatest lawyers, but one of the greatest Americans. His life and work are part of the fabric of the nation. Courageous and brilliant in his advocacy for civil rights, exceptionally wise as a counselor to presidents, clients, and generations of lawyers, he had superb judgment and character. We will cherish his life of extraordinary purpose, achievement and consequence."
Coleman entered Harvard Law School in 1941, but his edu­cation was interrupted by almost three years of service in the United States Army Air Forces. He graduated first in his class and was one of the first black editors of the Harvard Law Review.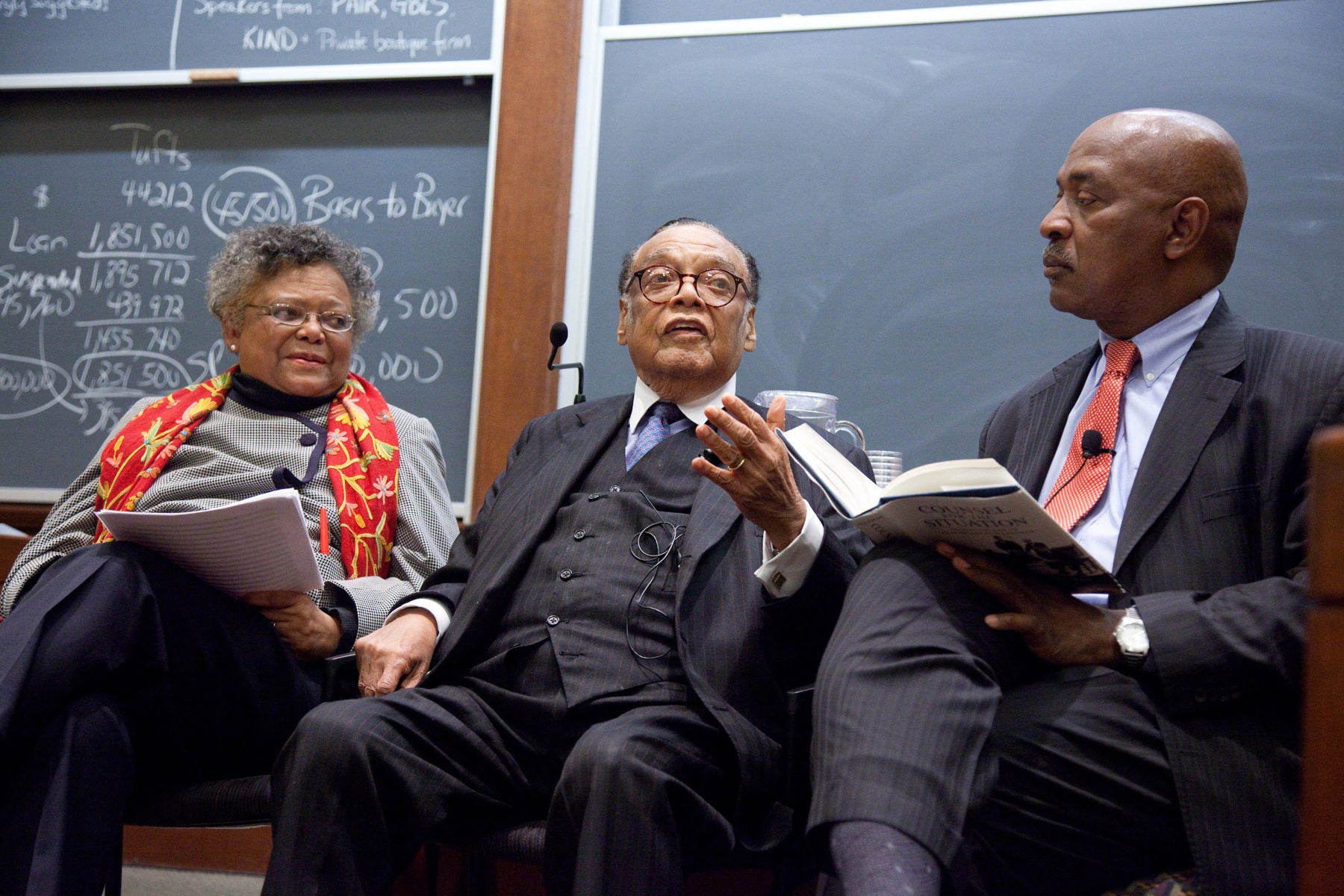 After graduating from HLS, Coleman served as a law clerk for Judge Herbert F. Goodrich LL.B. 1914 of the U.S. Court of Appeals for the 3rd Circuit, and he became the first black law clerk for the United States Supreme Court when he clerked for Justice Felix Frankfurter LL.B. 1906.
Despite his clerkships and his academic achievement, he was repeatedly rejected by white-shoe firms in Philadelphia. When he was finally accepted by a firm in New York—Paul, Weiss, Rifkind, Wharton & Garrison—it was the first time ever that a major law firm in New York City had hired a person of color as an associate.
Coleman also worked on behalf of several presidents, including as secretary of transportation under President Ford. Among his accomplishments were helping get the bankrupt Penn Central Railroad out of financial difficulties, overseeing the interstate highway building program, and supplying the money to build subway systems in Atlanta and Washington, D.C. He also served as assistant counsel for the Warren Commission and was a member of President Eisenhower's Committee on Government Employment Policy.
He later returned to private practice when he joined the law firm of O'Melveny & Myers, where he was a senior partner. Coleman also served on the boards of PepsiCo, IBM and Chase Manhattan Bank.
One of his most notable achievements was helping to desegregate the military. In 1945, he was part of a legal defense team that represented an all-black bombardment group denied access to an officers' club because of their race. Theodore Berry, future mayor of Cincinnati, served as lead defense counsel and Coleman assisted, finding a 1919 statute that established that all officers' clubs were open to every officer on the base. The incident led to President Truman issuing an executive order that mandated integration of the armed forces.
Among his honors, Coleman was awarded the Presidential Medal of Freedom, the nation's highest civilian honor, by President Clinton. In addition, Coleman received the Harvard Medal from the Harvard Alumni Association, the Harvard Business School Distinguished Service Award and the HLSA Award. He served as a member of the Harvard Law School Dean's Advisory Board and co-chaired the Harvard Law School Campaign for the Third Century.
In a 2010 talk at the law school, Coleman discussed his memoir, "Counsel for the Situation: Shaping the Law to Realize America's Promise" (Brookings Institution Press), and told a packed room that there is still work to be done to fulfill the promise of civil rights in this country.