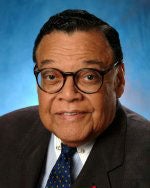 William Thaddeus Coleman Jr. '43 will receive the 2013 Harvard Medal from the Harvard Alumni Association for his extraordinary service to the University. Coleman, who was recognized along with James V. Baker A.B. '68, M.B.A. '71 and Georgene Botyos Herschbach Ph.D. '69, will receive the award on Commencement Day, May 30.
Coleman, who ranked first in his law school class, was the first African American to serve as a clerk for a U.S. Supreme Court justice. He was a co-author of the legal brief for the appellants in the 1954 Brown v. Board of Education case. He was also a member of Thurgood Marshall's legal team at the NAACP Legal Defense Fund, where he later served as president.
Coleman worked on behalf of several presidents, most notably as secretary of transportation under President Ford. He also served as assistant counsel for Lyndon Johnson's Warren Commission (Commission on the Assassination of President Kennedy), and was a member of Dwight Eisenhower's Committee on Government Employment Policy. In 1995, President Clinton awarded Coleman with the Presidential Medal of Freedom, the nation's highest civilian honor. In September 2004, Coleman was appointed to the United States Court of Military Commission Review. In 2009, Coleman was honored by the U.S. Senate.
In 2008, Coleman returned to HLS to share stories from his 60-year legal career during a talk sponsored by the Charles Hamilton Houston Institute for Race and Justice. In a 2010 talk at the law school, he discussed his memoir, "Counsel for the Situation" (Brookings Institute Press), and told a packed room that there is still work to be done to fulfill the promise of civil rights in this country.
Coleman served as a Harvard Overseer from 1975 to 1981 and he has been a member of five Overseer visiting committees, as well as a member of the Harvard Law School Dean's Advisory Board. He is currently an emeritus member of the Dean's Advisory Board.
He has received numerous past awards for his work—the Harvard Business School Distinguished Service Award, the HLSA Award, and the Harvard Club of Washington, D.C., Public Service Award, and he has been an HLS Traphagen Speaker.
Coleman, Baker and Hershbach will receive their Harvard Medals during the HAA's annual meeting on the afternoon of Commencement day. Baker, who lives in England, is the first international alumnus to have served as president of the Harvard Alumni Association. A longtime employee of Goldman Sachs, he retired as executive director of its equities division in 1996. Herschbach earned her doctorate in chemistry and went on to help expand Harvard's life-sciences programs and co-found the Program for Research in Science and Engineering, which provides summer research experiences for undergraduates in the natural and applied sciences.