New class aims to give students hands-on experience running a nonprofit
After spending a semester investigating how Citizen Schools, an organization that partners with middle schools across the country to expand the learning day, could save on program costs and best serve students with disabilities, a group of six HLS students presented their findings to their professor and fellow students—and to representatives from Citizen Schools itself.
"Two-minute warning!" shouted Lecturer on Law Suzanne McKechnie Klahr to the students as they stood at the front of a classroom in Austin Hall on an afternoon in early April.
The group of students, part of Klahr's Introduction to Social Entrepreneurship class, had to talk fast to get a semester's worth of research into a 20-minute presentation. Group member Catherine Kim '12 said that the presentation "just scratched the surface" of the work they had done, the majority of which was encapsulated in an extensive report they presented to both Klahr and Citizen Schools, in which they analyzed the applicability of disability-related statutes to the Citizen Schools' programs.
Klahr's course aims to instruct students about the intersection of entrepreneurship, leadership, and law, and to give them hands-on experience with running a nonprofit. Klahr, a pioneer in the field of social enterprise, said she hopes the class will affect how the students choose to invest their time and resources in the social sector.
Although she hopes to practice at a large firm after graduation, Kim said she was drawn to the class because of its unique perspective on how to "move beyond the traditional understanding of what a lawyer can do."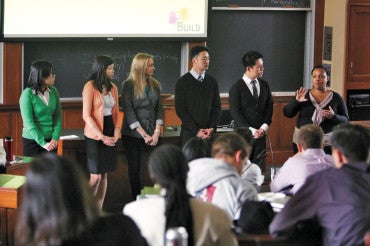 As part of the hands-on aspect of the course, students were divided into three groups, each of which tackled a research question connected to a specific social enterprise. The Citizen Schools students approached their task in a variety of ways, including researching relevant state laws and examining model school districts.
The two other groups examined challenging issues facing growing nonprofits. One of the groups was tasked with creating a strategy to assess the feasibility of the first domestic social impact bond for New Profit Inc., a venture philanthropy fund. The other came up with a strategy that could be used to raise the profile of BUILD—an organization founded by Klahr that teaches high-school students about entrepreneurship—in Greater Boston and then nationally.
As these organizations consider their new undertakings, the students hope their conclusions will be helpful.
"These are very real questions for them," Kim said. "Our work is a launching point for them as they move forward."