Two years ago, as a first-year law student in California, Sara Tsai '23 began to explore her interests in food justice and alternative dispute resolution. While Tsai enjoyed what she was learning, she says she couldn't help but notice that much of her school's academic curriculum — including many of the case studies she was reading — came from Harvard Law School. And she wanted to learn from the source.
"That is the reason I wanted to transfer to Harvard — I wanted to take courses by these world-class practitioners and professors firsthand," says Tsai.
Transferring to Harvard Law as a second-year J.D. student can be a whirlwind experience, Tsai and her fellow Section Eight co-president Christie Gibbons '23, say. But one they say is worth it — not only because students have access to the immense resources on offer at Harvard Law, but also because they contribute important ideas and experiences to campus as well.
"It's surprising how fast everything happens," says Tsai. "However, once you get here, that energy is with you, and you are just so excited and grateful to be at the best law school in the world."
As transfer students, "we show up to our 2L year with enthusiasm and so much appreciation for being at Harvard Law," echoes Gibbons. "And we have lots of excitement about getting involved and making new friends."
That drive impresses Anna Lvovsky, professor of law and faculty leader of the transfer student cohort. "Working with Section Eight is always a privilege," she says. "It's a group of incredibly driven and talented students who also form a warm community for one another on campus, and I'm thrilled to do whatever I can to help that community thrive."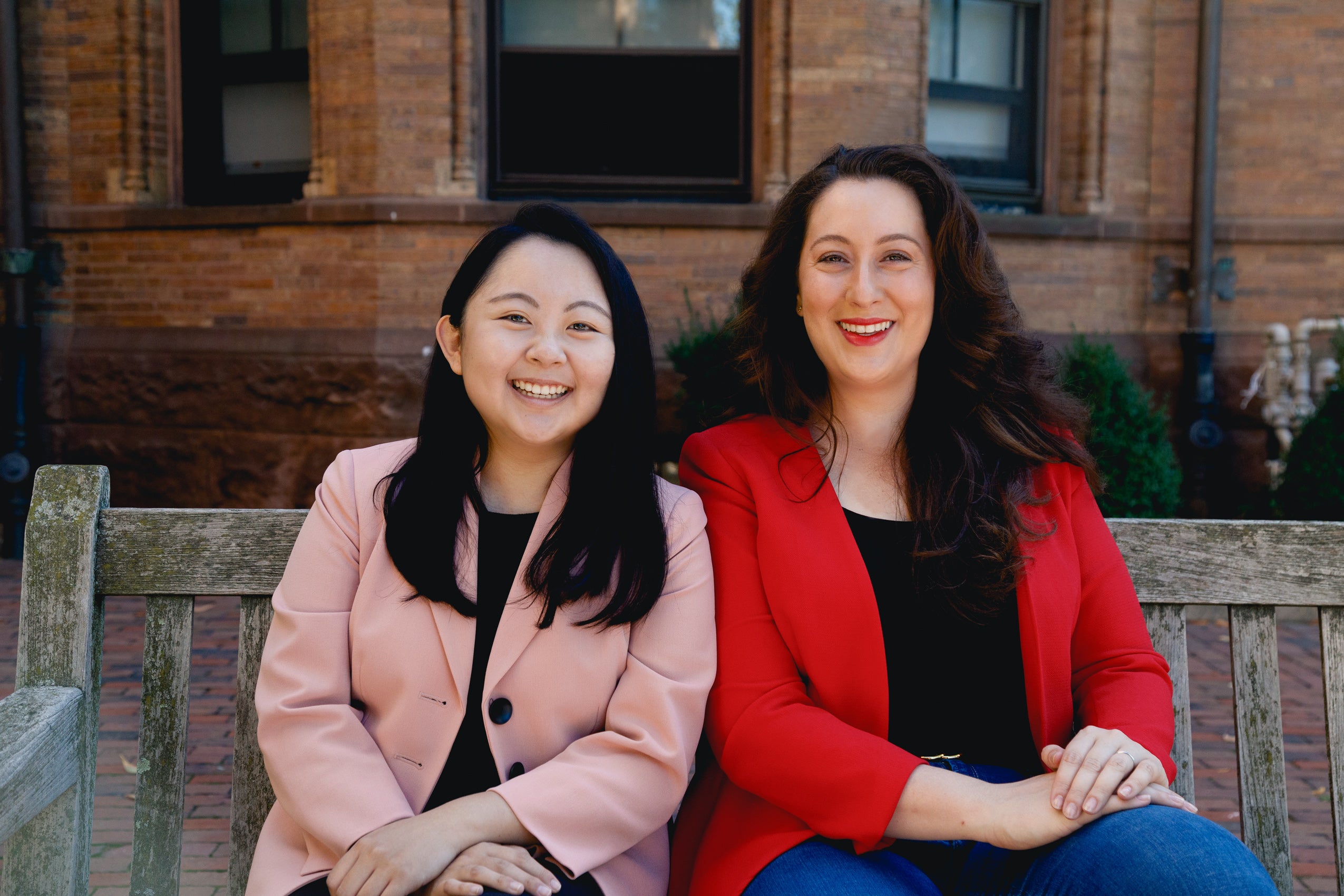 Making the call
About 50 people transfer to Harvard Law each year, and for many of them, the school presents unparalleled opportunities to dive deeply into a wide variety of practice areas that their previous school may have lacked, says Gibbons, who also has an M.B.A. She worked in human resources and in her family's businesses for a decade before studying law. "I thought that going to law school could be a win/win, because I would be a better advocate for workers as an attorney, and I'd be a better businessperson for myself, too."
Like Tsai, Gibbons performed very well during her first year of law school in Florida, and was excited to consider the possibilities that transferring to Harvard Law could provide. "Harvard's size offered more classes and clinical experiences in my areas of interests like employment law, and with Harvard's rank and prestige came more career opportunities — big law, clerkships, academia. It was really easy to decide to accept these amazing opportunities at Harvard."
Tsai and Gibbons caution that transferring after one's first year of law school is not without a few challenges. Between applying for admission to Harvard Law, interviewing, planning a move, and locking down a summer internship, the summer goes by quickly. And finding one's place in a new community can take some time and effort. But thanks to a slew of orientation programs and activities the Section Eight leadership team have developed in collaboration with the J.D. Admissions office — including pairing students with a mentor, meet and greets, and informational sessions on everything from housing to student organizations — new students feel at home not long after their arrival on campus.
Just ask John Lowry '24, an incoming second-year student, and one of Tsai's mentees this year. Lowry says his experience was "in one word: fast," but that Harvard Law — and the transfer student community — made the process "seamless."
"Immediately after my acceptance, we had events in the major cities, an orientation, and were paired with mentors," he says. "I connected with several transfers who I have class with on a regular basis. Professionally, they also start throwing a wealth of resources at you. If you want to do interviews with firms, they will guide you through the process and you are on the same standing as every other rising HLS 2L. If you want to go into public interest work, they introduce you to the head of the public interest office, and help you chart a path that best fulfills what you are looking for."
Tsai and Gibbons are quick to add that the entire Section Eight leadership board, including Hope Goimarac '23, Marissa Forte '23, Susan Posluszny '23, and Caroline Chen '23, has been instrumental in fostering a strong transfer student community. "We are so fortunate to have such a great team to work with, who help dream up and make all of this programming happen," says Gibbons.
Tsai and Gibbons also credit Lvovsky's support with helping transfer students meet one another and build community within the greater Harvard Law campus.
"She brought us cookies and set up icebreakers so that we could get to know one another," says Gibbons. "You go through this strange thing with transferring, but when you're able to meet and really get to know these 50 to 70 other people who have gone through the same things … Suddenly, you have a community."
Leading Section Eight is unique, says Lvovsky, because students have already proven their legal acumen. "My work with the section centers far less on helping students adjust to the demands of law school and far more on helping them hit the ground running, making the most of the resources available to them on campus."
Finding one's place
Today, as third-year students and integral members of the Harvard Law community, Tsai and Gibbons say they continue to take advantage of the courses, clinics, and organizations that drew them here.
"I was associate director of the Harvard Legal Aid Bureau, and I served as the executive editor of the Harvard Negotiation Law Review," says Tsai. "I also got to join some really fun clubs, like Women's Law Association, Asian Pacific American Law Students Association, and the West Coast Club, which is a much-needed group for people united by their hate of snow."
In addition to serving as co-president of Section Eight, Gibbons has been an editor for the Harvard Business Law Review, served as a Student Government representative, and was the trips co-director for American Constitution Society, among other positions and activities. She also made time for some fun organizations, including acting in Parody, and will be on the Vis Moot Court team this year.
And Lowry, the second-year student, marvels that he has already had a chance to learn from top experts in his field of interest — people he says he would not have met elsewhere. "HLS is a nerve center of high-level government officials and thinkers who will drive the future of the law — be it future Supreme Court decisions, or legislation. Here, you are not only able to watch, but participate and solicit advice from the great breadth of experience and wisdom that has come before you."
That enthusiasm is a uniting factor among the transfer student cohort, says Lvovsky. "Each member of Section Eight comes to HLS with a track record of great success in the classroom and with very particular, thoughtful reasons for wanting to be at HLS, from specific course offerings to clinical opportunities to extracurriculars. I'm always impressed by how much they make of their years here, and how richly they participate in both the academic and the cultural life of the law school."
For Tsai and Gibbons, HLS has also been a place to create lifelong bonds. They say they became good friends last year, helping one another through difficult personal circumstances while working to forge a stronger transfer cohort community together. "Sara invited me to her birthday dinner, and that meant a lot because you get here and you don't know anyone. We created a friendship from that, and our friendship is one of my favorite things to come from the transfer section," says Gibbons.
The pair say they are proud of the work they have achieved as co-presidents thus far and are excited to watch members of Section Eight thrive in the years ahead. They say they do not hold tightly to their own ideas about how the community should function, or presumptions about the needs and interests of their cohort. Instead, each class decides for itself. "What is special is that the definition of what it means to be part of Section Eight can change every year based on leadership and what we as a community want and advocate for," says Gibbons.
But there will always be some overarching themes, they add, including a desire to make the most of their time at Harvard Law and to use those experiences to make a positive impact on peoples' lives and the law. Becoming a member of Section Eight isn't easy, says Tsai, but "It's worth it."