It can be difficult to be the new person in town, but the Harvard Law School Dean of Students Office hoped to change that this summer with a series of events aimed at incoming students from across the country – and world.
"I had this awesome realization that these are all really talented, brilliant people that I get a chance to study with, and potentially work with, in the very near future," says Fernando Salazar '25, who attended the gathering for incoming students in Southern California. "And that was a really exciting prospect, because although I had committed to Harvard Law, it hadn't become real for me yet."
At two regional in-person gatherings – in Southern California and New England – and 6 virtual events held across several time zones, incoming and transfer J.D., LL.M., and S.J.D. students had an opportunity to meet fellow classmates, mingle, and learn more about the community at Harvard.
And, for a few students at the Southern California reception, learn about where to buy a good winter coat.
"With regard to the weather it was like, 'Please explain. If you shower in the morning, does your hair freeze?" jokes Salazar. "It was great to meet other people that had similar concerns to me, almost like a California support group."
The events were the brainchild of Dean of Students Stephen Ball '10 and his team, including Kristen Conklin, dean of students staff assistant, and Angelica Kumar, administrator for student life. Ball was inspired by his own experience coming from Michigan to attend Harvard Law. "When I moved here, I did not have a huge community of connections," he says. "I remember coming in and not being sure how to navigate all of the wonderful opportunities here. And I thought how it would have been so helpful to have some folks that I knew coming in to ease the transition and help me settle in."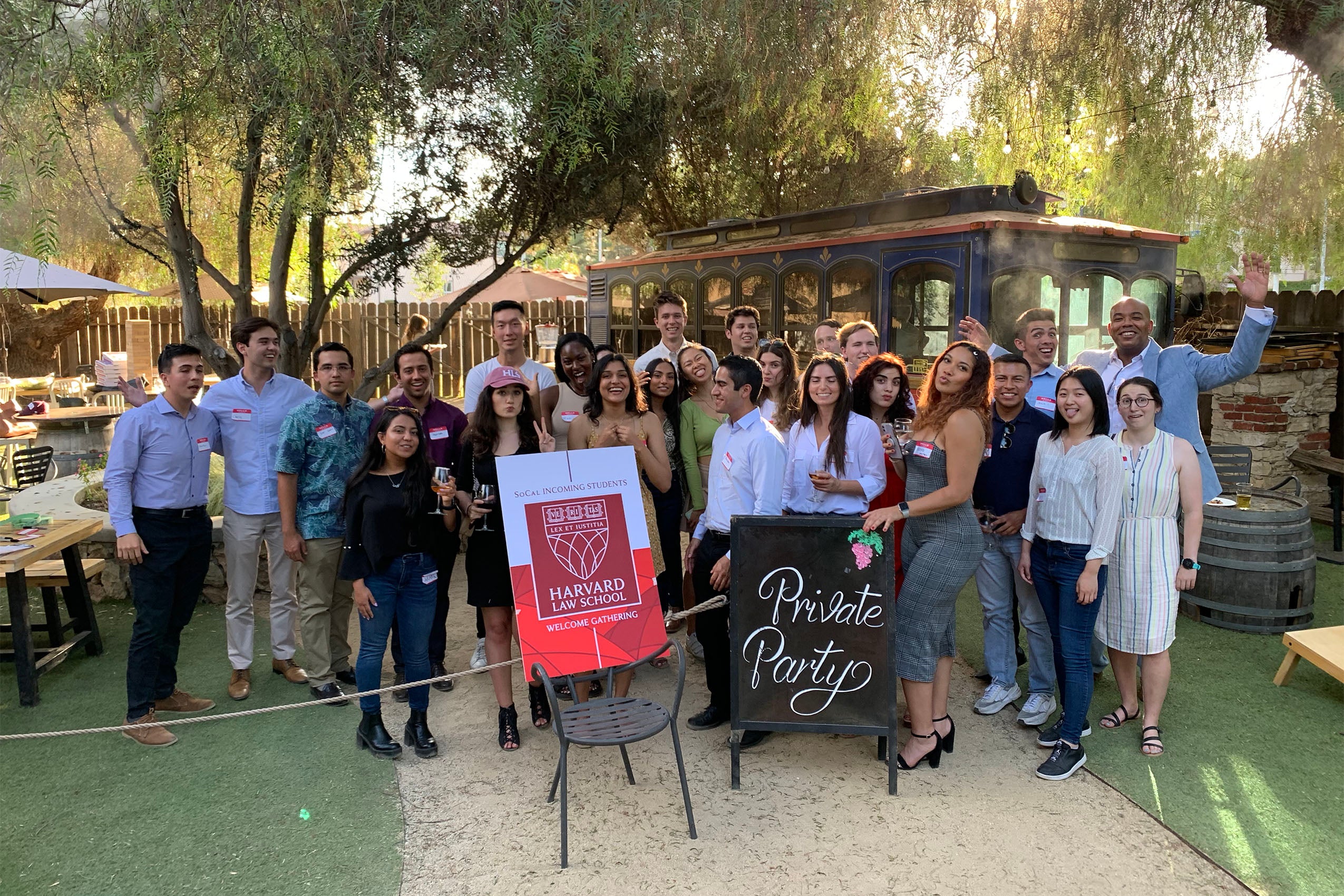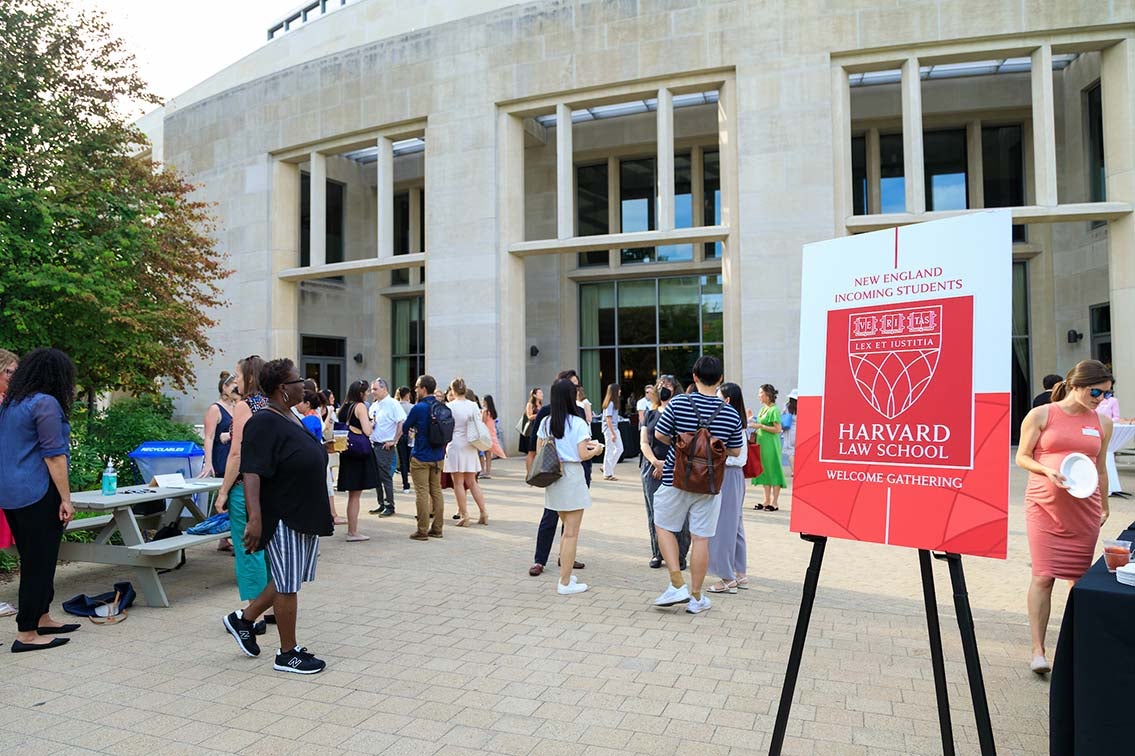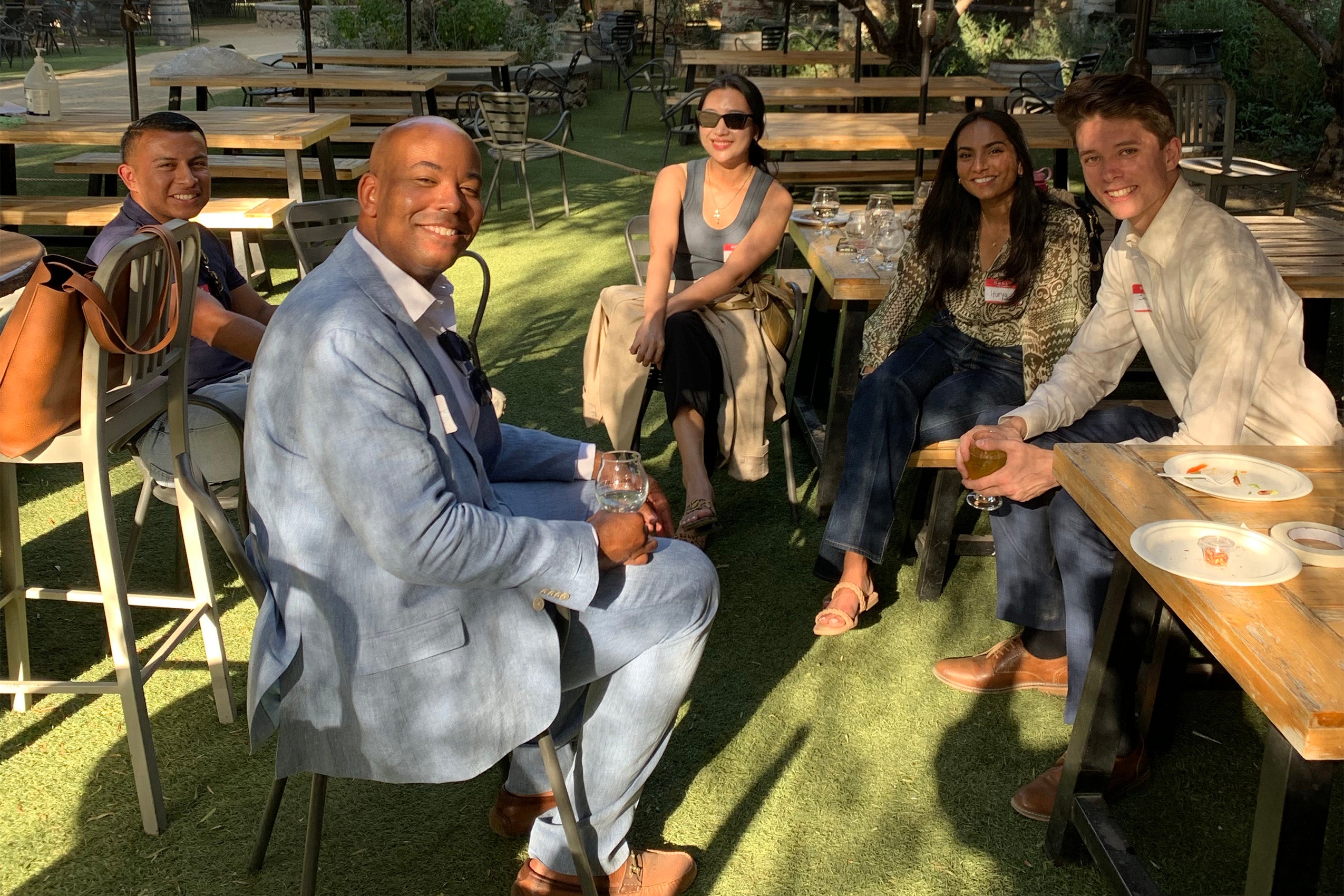 First-year student Kaiya McCullough '25 says that the Southern California event gave her the chance to build relationships before moving to Cambridge. "I wanted to come and spend some time with future classmates," she says. "I definitely established some connections that I think will be great to have with me throughout law school, and I think it will be nice to have some familiar faces on campus before I actually step foot there."
McCullough added that the event made her even more excited to begin her first semester. "I think one of the most exciting parts about coming to HLS was the diversity of thought that I was going to be exposed to, and the diversity of backgrounds. That was exemplified even in just a small sample size of the SoCal students at the event. I met so many people who were really interesting."
For Danielle Mikaelian '25, the gathering reaffirmed her decision to attend Harvard Law. "It's obvious that Dean Ball is very passionate about his HLS experience and wants to support us all throughout the transition to HLS," she says. "I'm grateful to have such welcoming individuals supporting me as I start law school."
And for Jennifer Jeong '24, the fact that the event was at a winery didn't hurt. "I loved being able to meet other new incoming students casually over drinks and pizza. The best part of the event was that it took place in Malibu, one of the most beautiful places in Los Angeles — and that was only possible because this was a SoCal meetup!"
I remember coming in and not being sure how to navigate all of the wonderful opportunities here. And I thought how it would have been so helpful to have some folks that I knew coming in to ease the transition and help me settle in.

Stephen Ball '10, HLS dean of students
Kumar credits collaboration with teams across HLS for the success of the welcome events. "Getting to work with team members in different departments to plan these events is always fun," says Kumar. "And seeing the students having fun and appreciating the events was gratifying."
"It was really nice to hear that the students enjoyed themselves and made connections," echoes Conklin. "I know how hard it is to go someplace where you don't know anyone. Even seeing just one familiar face at orientation can be a saving grace. I'm just glad that we got to help with that."
Ball says he is also pleased with the turnout, and he hopes to expand the scope of the welcome gatherings next year. "From what our attendees told us, the events were a roaring success," he says. "We saw students interact, we saw them exchange numbers, comparing notes about where they were going to live on campus, building bonds. It was wonderful."
And although the focus of the events was to give students the chance to meet one another, Ball says he also appreciated getting to meet them, too. "We aspire to be the epicenter of student life," he says of the Dean of Students Office. "We appreciate the opportunity to build connections and get to know students, as well. It's why we're all here."