Several members of the New England Patriots and leading Massachusetts criminal justice experts joined a "listen and learn day" at Harvard Law School on Jan. 5.
New England Patriots Defensive Captain Devin McCourty, teammates Johnson Bademosi, Matthew Slater and Duron Harmon, and team president Jonathan Kraft participated in the event which featured panel discussions on inequities in the criminal justice system. The event was organized by the Fair Punishment Project at Harvard Law School, with an assist from the Bernard Koteen Office of Public Interest Advising (OPIA).
Fair Punishment Project Managing Director Jake Sussman, who worked with the Players Coalition to organize the meeting, said the purpose of the event was to provide a forum for the players and Kraft to explore the causes of racially and ethnically disparate rates of incarceration in Boston and Massachusetts, and to discuss potential solutions.
Read More
Borges: Devin McCourty, teammates learn hard inequality lessons at Harvard seminar
It was an off day not fit for man nor plow but as snow lay in foot-high piles around Harvard Square and cars crept along icy streets battered by arctic temperatures on the morning of Jan. 5, Devin McCourty was making his way to a day-long "Listen and Learn'' session at Harvard Law School that had nothing to do with learning about who he might be facing a week later, when the Patriots were to begin their seemingly annual playoff run to the Super Bowl.
As part of its ongoing work to support its players, the NFL announced a joint player and ownership commitment focused on social justice. The campaign, Let's Listen Together, includes a multi-layered roll-out including digital content and brand spots highlighting the player-led work on social and racial equality.
The Players Coalition is an independent 501(c)(3) organization led by co-founders Malcolm Jenkins (seven-year Philadelphia Eagles safety) and Anquan Boldin (retired 14-year NFL wide receiver) with goals to eliminate racial prejudice and to promote criminal justice reform, better police-community relations, and educational/economic advancement in low-income communities.
***
NFL Network Highlights Series of Player Social Justice Initiatives
I believe it is my responsibility to be in the forefront to create change and a better life for others. It's an honor to serve people who don't always have a voice. I've been able to listen and learn about the challenging life stories from multiple people, which has inspired me to help more, try to spread these anecdotes and encourage others to get involved.
New England Patriots Safety Devin McCourty
NFL Network is presenting a series of player social justice features in partnership with the NFL's newly launched Let's Listen Together initiative beginning Thursday, January 25 with Philadelphia Eagles safety Malcolm Jenkins and his work with the Upper Darby Police Department. NFL Network's feature on Jenkins, along with upcoming segments on New England Patriots safety Devin McCourty and Philadelphia Eagles wide receiver Torrey Smith, is in partnership with the NFL's Let's Listen Together initiative, a campaign designed to promote engagement among players, owners, local leaders and communities on social justice and equality. Each week, NFL Network features exceptional players who advocate for social justice in their communities in partnership with the initiative.
Watch a preview of the feature on New England Patriots Safety Devin McCourty:
https://twitter.com/NFL/status/959049079597625344
***
The first panel at HLS focused on the criminal justice system in Massachusetts, and how poverty and race dramatically impact the system. Participants included Josh Dohan, managing director of the Youth Advocacy Division of the Committee for Public Counsel Services; Samantha Calero, co-executive director of the Youth Advocacy Foundation; and Rahsaan Hall, director of the Racial Justice Program at the ACLU of Massachusetts. Participants discussed the link between slavery and post-reconstruction Jim Crow and the current inequities in the justice system; the dramatic racial and ethnic disparities in how justice is meted out, for both adults and juveniles; and the intersection of education, race, wealth, and justice. Jeremy Thompson, director of public safety for the Madison Park Development Corporation, poignantly described his own experience in the juvenile and adult justice systems, highlighting the different factors that cause youth to end up in the juvenile justice system.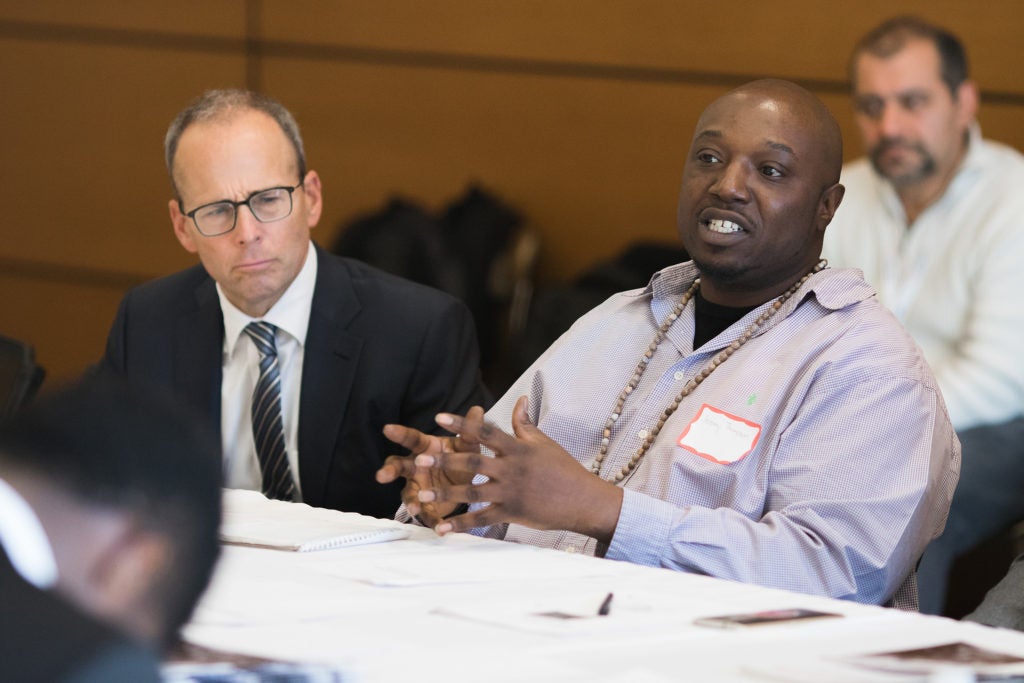 McCourty asked whether the disparities were driven by intentional targeting of particular communities, or perhaps other factors. Hall, ACLU's director of the racial justice program, said disparity was largely driven by law enforcement discretion. According to Hall, if police stopped targeting low level offenses, contacts with the justice system and incarceration rates would both decrease. Hall also noted that there is "crime in our neighborhoods and we need to think about the factors that cause that."
---
"We've been really fortunate here. Whether it's me talking to Robert Kraft or Jonathan Kraft —they're very receptive," McCourty said. "They want to be involved. Jonathan came with us to Harvard Law School. It seems like it's gonna be a really good step. I think it's been really good to get the NFL involved. Because it's a huge resource being in the NFL. There's no reason not to have them involved…It's bigger than just coming together. It shows what the NFL can be about."
---
Patriots Cornerback Johnson Bademosi asked whether law enforcement used controversial "stop and frisk" policies in Massachusetts, to which advocates explained that there were "de facto" stop and frisk policies in use, despite questions about their lawfulness. Special teamer Matthew Slater noted that the issues being raised touched on the "fabric of our society," which cannot change overnight, and asked where efforts should be concentrated. Hall pointed to changing criminal law and the development of wealth as two critical areas of focus.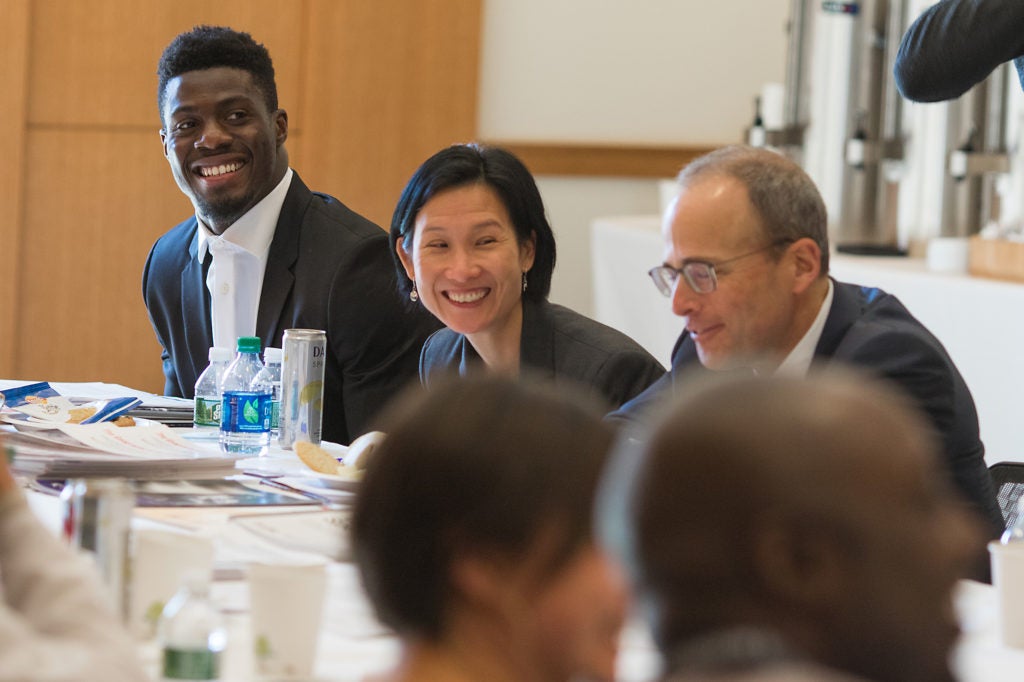 The second panel focused on the criminalization of adolescent behavior, which leads to kids being pushed out of schools and into the juvenile legal system. "Zero tolerance" policies and placing police inside schools were identified as particular drivers of this problem.  Middlesex Juvenile Court Judge Gloria Tan, a former clinical instructor with the HLS Criminal Justice Institute, moderated the panel, which included Andrea Perry, executive director of YouthConnect (a program of the Boys and Girls Club in partnership with the Boston Police Department that places clinical social workers in police stations to work with youth); Duci Goncalves, attorney in charge of the Quincy office of the Youth Advocacy Division of Committee for Public Counsel Services; Marlies Spanjaard, director of education advocacy for The Edlaw Project (an initiative of the Children's Law Center of Massachusetts and the Youth Advocacy Division); and Sana Fadel, acting executive director of Citizens for Juvenile Justice.
Participants noted that contact with the juvenile justice system leads to a decrease in high school graduation rates, which in turn often leads to further involvement in the criminal legal system. The participants also described how mental health, special education, and disability issues were also influential factors in determining who is swept up in the juvenile system.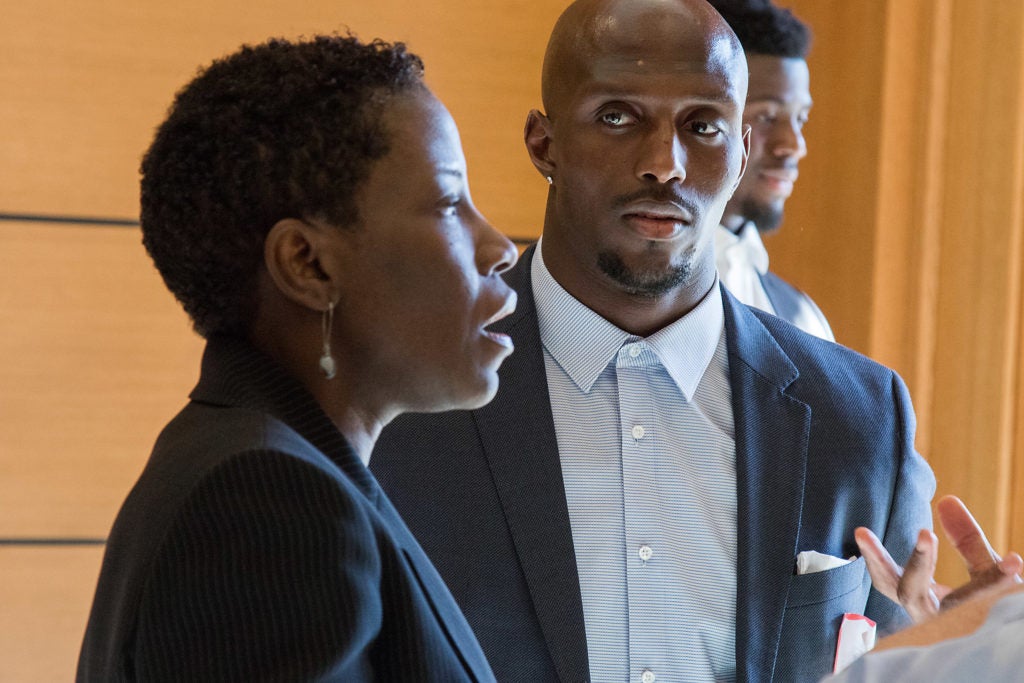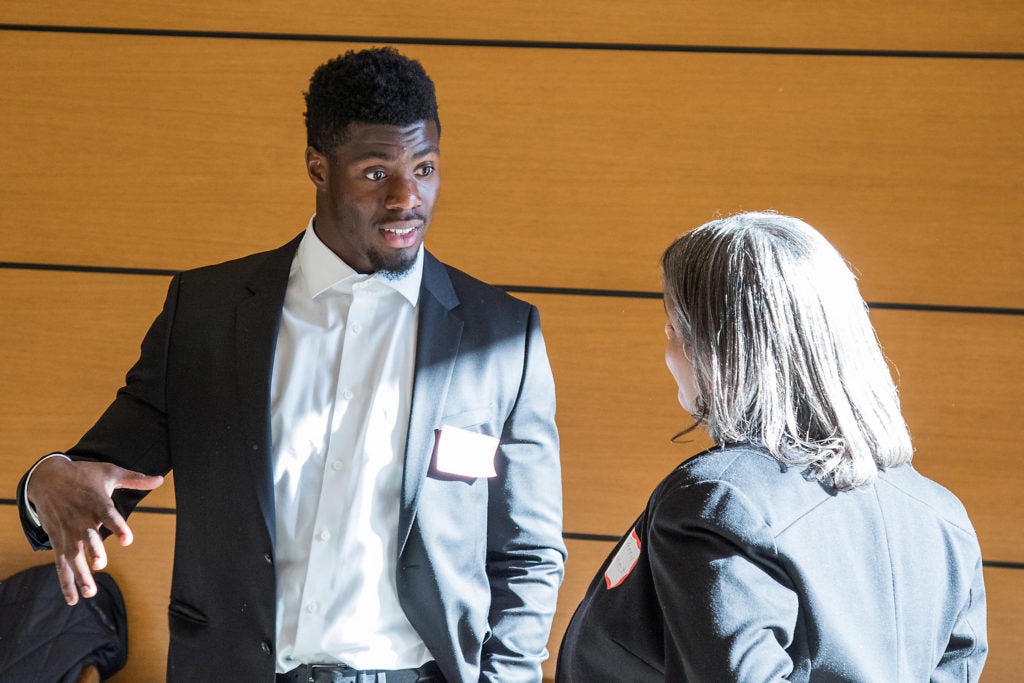 Others in attendance at the event included Dehlia Umunna, clinical professor and deputy director of Harvard Law School's Criminal Justice Institute; Randy Gioia, deputy chief counsel of the Public Counsel Division of the Committee for Public Counsel Services; and Anthony Benedetti, chief counsel for the Committee for Public Counsel Services. Participants also discussed innovative programs happening in Massachusetts and potential solutions, and potential next steps, with the players planning to reconvene after the Super Bowl.
At the conclusion of the discussions at HLS, the players and other meeting participants traveled to Haley House in Roxbury for a continued discussion about Massachusetts' justice system, in particular its failure to invest in reentry programs. Additional experts and advocates joined the discussion, including Boston City Council President Andrea Campbell.