As Congress considers legislation to reform Wall Street, Harvard Law School Professor Elizabeth Warren remains on the front lines of the fight as chair of the Congressional Oversight Panel. In a June 7 interview with NPR On Point host Tom Ashbrook, Warren said that lawmakers could end up with a bill that has "no real impact."
Listen to the interview on OnPointRadio.org.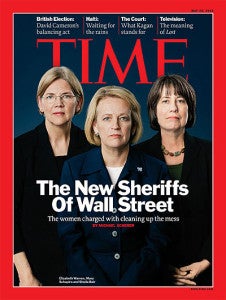 "[T]hey're going to get one line changed, and they're going to get one little provision dropped, and they're going to get one more piece compromised out," Warren said in the interview, referring to the number of lobbyists "picking apart" the legislation. "And at the end of the day, we can all congratulate ourselves that we got something that has the right title and has no real impact."
Warren did say that the odds are still "good" that substantial reform could still come out of the Congressional negotiations. In particular, she's still hoping for the creation of a new Consumer Financial Protection Agency, an idea she pioneered several years ago.
Widely known as an independent voice that advocates for consumer rights, Warren is one of several prominent women who are addressing the financial crisis in Washington. Recently Time Magazine featured Warren on the cover as one of the three "sheriffs of Wall Street." This spring, Warren was also named to Time Magazine's list of the 100 most influential people.