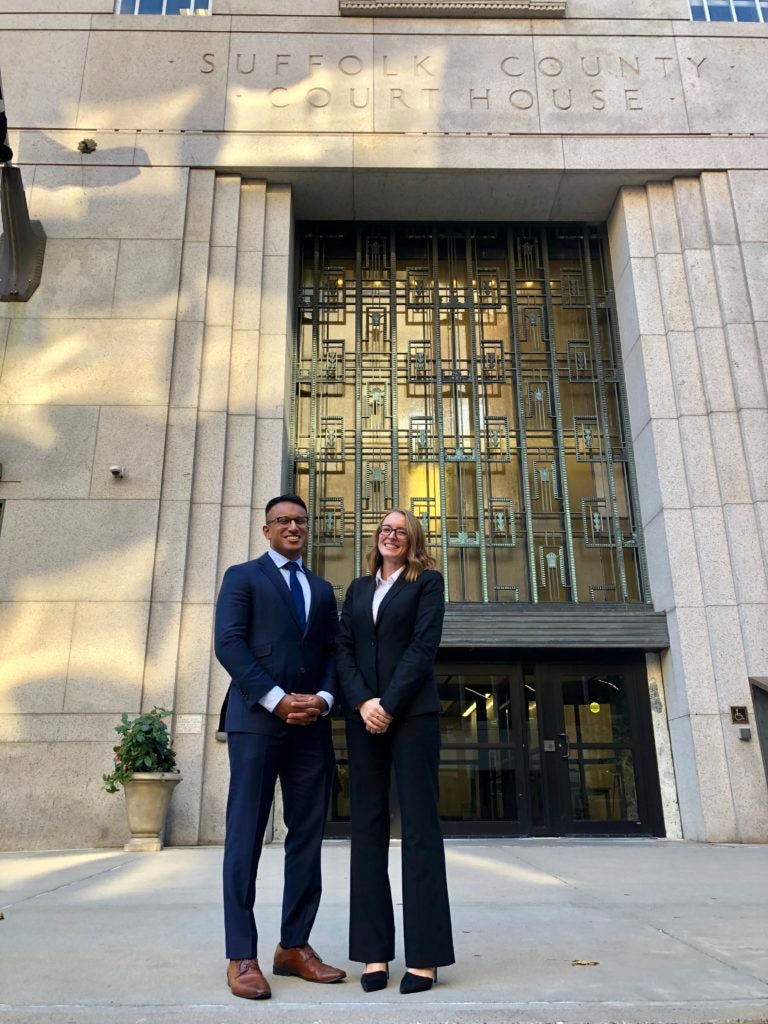 In a ruling issued on December 21, 2018, the Massachusetts Superior Court found in favor of three Massachusetts veterans represented by the Veterans Legal Clinic in their challenge to the state government's denying them the Welcome Home Bonus, which these veterans earned by serving overseas in Afghanistan and elsewhere.
Associate Justice Michael Ricciuti '87 of Suffolk Superior Court called the government's interpretation underlying the denials "erroneous as a matter of law, arbitrary and capricious." He granted the veterans' core claims and sent their cases back to the Massachusetts Veterans' Bonus Appeal Board to render a new decision in light of his ruling. As a result of this decision, thousands of Post-9/11 Massachusetts veterans may now be eligible to receive $1000 Bonus payments to honor their service and sacrifice.
Two Veterans Legal Clinic students, Laurel Fresquez '19 and Josh Mathew '19, presented oral argument in the lawsuit during an October hearing before the Superior Court. The Court's decision in favor of the veterans has attracted wide media attention, including in the Boston Globe and Stars and Stripes.
Lead plaintiff Jeffrey Machado said: "What really matters to me is that other Massachusetts veterans will be recognized for their honorable service to our country. It's less about the Bonus itself—it's about what it represents."
A team of students and supervisors in the Veterans Legal Clinic, which is part of the WilmerHale Legal Services Center of Harvard Law School, has been working on the case for over two years. The Clinic filed the lawsuit in June 2017 in Massachusetts Superior Court on behalf of Mr. Machado and a proposed class of an estimated 4,000 veterans from Massachusetts who served in Iraq, Afghanistan, or elsewhere in support of the Global War on Terror but whom the Massachusetts State Treasurer and Veterans' Bonus Appeals Board deemed undeserving of the Bonus.
Read More
Mass. ordered to reconsider denial of veterans' Welcome Home Bonus money
… Dana Montalto, one of the attorneys who represented the veterans, praised the ruling and said she hoped it would draw more attention to the bonus program and the needs of veterans. "What we see is that far too often, veterans who have served faithfully and meritoriously, who volunteer to deploy to combat, end up . . . ultimately leaving the military with something other than an honorable discharge," Montalto said. "And these veterans with bad-paper discharges are so often wrongly told their service is worthless and they can't get any benefits." Montalto, a clinical instructor with the Veterans Legal Clinic at Harvard Law School's Legal Services Center, was part of the team of attorneys that filed the lawsuit in 2016 on behalf of the three plaintiffs.
The three lead plaintiffs are all former soldiers from Massachusetts who deployed to Afghanistan, honorably completed their first enlistment contracts, re-enlisted so that they could continue serving their country, and then later left the military with what is known as a bad-paper discharge assigned to their final enlistment periods. All are diagnosed with Post-Traumatic Stress Disorder (PTSD) related to their deployments and experienced family and health issues that contributed to the conduct that led to the bad-paper discharges. The federal Department of Veterans Affairs has found all three plaintiffs to have "honorable" service, granted them access to health care, and deemed them service-connected disabled veterans.
According to Clinic student Fresquez, "Thanks to the Court's decision and these three veterans, thousands of Massachusetts veterans will finally have a right to some recognition for their honorable service to our country." She also said that, "Preparing and delivering this oral argument has been the highlight of my law school career."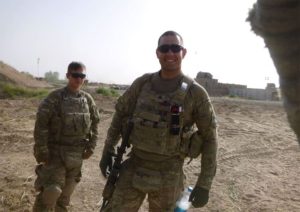 "As an Army veteran myself, I appreciate that the Court recognized that service members can serve honorably on deployment overseas and that those experiences can later affect life stateside in garrison," said Clinic student Mathew. He added, "Preparing for oral arguments was a reminder that legal advocacy is a collaborative process. Laurel and I spent hours together brainstorming our outline and building binders, and previous clinical students had laid the groundwork through their advocacy in the case."
Dana Montalto, attorney and clinical instructor at the Veterans Legal Clinic, remarked, "The Harvard Law School students who represented these veterans took the lead at every stage of the case—from developing the legal strategy to presenting at the administrative hearings to drafting dispositive motions to arguing in state court. Their hard work, dedication, and passion helped justice prevail here."
In addition to Fresquez and Mathew, four other Veterans Legal Clinic students—Andrew Lewis '17, Steven Sollee '18, Ryan McCartney '18, and Chadwick Harper '19—worked on the case during various phases of the litigation. The students worked on all aspects of the case, including client interviewing and initial fact investigation, evidence development, legal research, brief drafting, administrative appeal hearings, motion drafting, and oral argument.
"The Court decision is the culmination of multiple semesters of tireless work by Clinic students," said Daniel Nagin, faculty director of the Veterans Legal Clinic and the Legal Services Center. "The students were relentless in their preparation and lawyering, and they formed a great team with the veterans the Clinic is privileged to represent."
---
What is the Welcome Home Bonus?
The Massachusetts Legislature created the Welcome Home Bonus in 2005, continuing a long tradition of providing benefits to service members from Massachusetts. Under the 2005 law and subsequent amendments, veterans who enlisted in the armed forces from Massachusetts; and were honorably discharged after deploying to Iraq or Afghanistan or after serving elsewhere in support of the Global War on Terror are eligible for a Bonus of either $1000 or $500, depending on the location of service.
However, the Massachusetts State Treasurer, which is charged with administering the Bonus program, and the Veterans' Bonus Appeals Board, which decides Bonus-related appeals, decided that the three veteran plaintiffs were not eligible for the Welcome Home Bonus because their final enlistment periods ended with bad-paper discharges, despite the fact that their prior enlistments during which they had deployed had ended with honorable discharges. The Court's ruling found that the Treasurer's and Board's interpretation of the Bonus law was incorrect.
What is a bad-paper discharge and how many veterans have one?
When service members leave the military, the relevant service branch assigns a "character of service," also known as a discharge characterization or discharge status. Characterization options range from honorable to dishonorable.
A discharge is considered "bad paper" when it is assigned a less than honorable characterization. A bad-paper discharge can happen for a variety of reasons, ranging from minor infractions of military law to substance abuse, and other forms of misconduct.
More than 135,000 post-9/11 veterans received bad-paper discharges. The Government Accountability Office recently found that 62 percent of service members separated for misconduct from fiscal years 2011 through 2015 had been diagnosed within the prior two years with Post-Traumatic Stress Disorder, Traumatic Brain Injury, or another mental health condition.
How many Massachusetts veterans are potentially affected by this decision?
More than 150,000 men and women from Massachusetts have volunteered to enlist in the armed forces since 9/11. About 7 percent of them left the military with a bad-paper discharge assigned to their last period of service. While many did not reenlist, the Veterans Legal Clinic estimates that about 4,000 did complete their first enlistment contract with an honorable discharge and then re-enlisted, but received a bad-paper discharge related to that subsequent enlistment. This group should now be eligible for the Welcome Home Bonus, according to the Clinic.