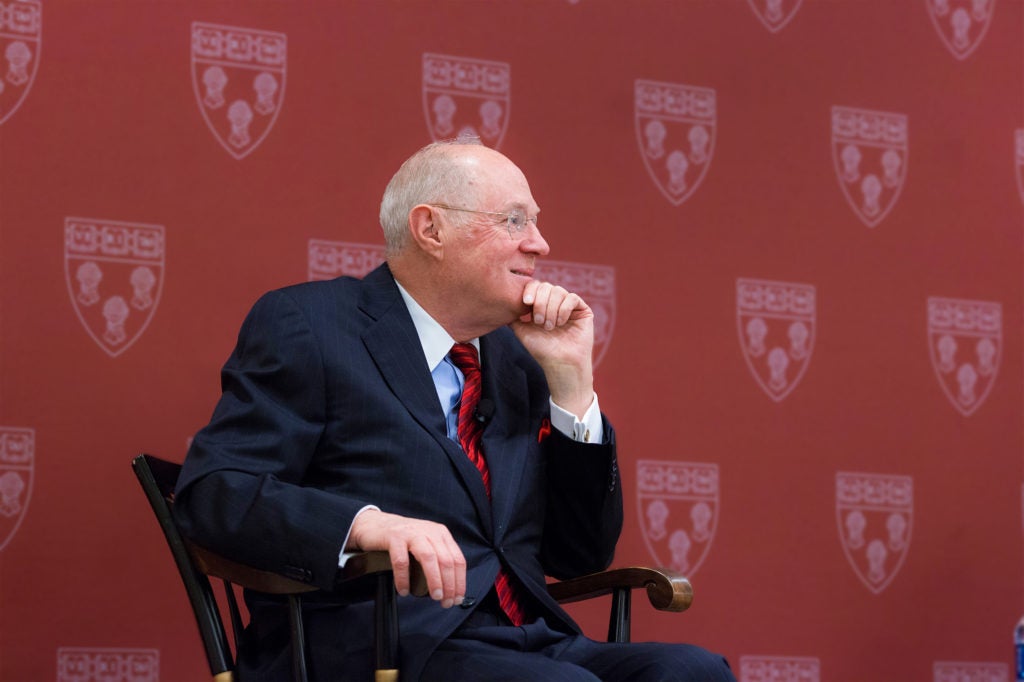 Associate Justice Anthony M. Kennedy '61 announced today that he will retire from the Supreme Court, on which he has served since 1988.
Following Kennedy's announcement, John F. Manning '85, Morgan and Helen Chu Dean and Professor of Law, said: "I congratulate Justice Kennedy '61 on three decades of exceptional service on the Supreme Court. He stands as one of the most consequential justices in our history, having shaped U.S. constitutional law and federal law more generally in area after area, time and time again, during an illustrious judicial career. We are grateful that Justice Kennedy has made time to return often to his alma mater and share his wisdom and insights with students, faculty, staff, and alumni. We look forward to welcoming him back for more such visits and to celebrating his many contributions to American law."
Several Harvard Law School professors commented on Kennedy's tenure on the Court.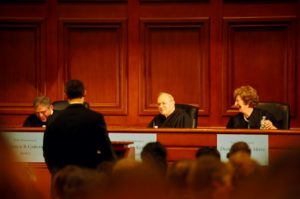 Writing in The Washington Post, Harvard Law School Professor Jack Landman Goldsmith, a former Kennedy clerk, said: "Justice Anthony M. Kennedy's retirement from the Supreme Court after more than 30 years of service is the most consequential event in American jurisprudence at least since Bush v. Gore in 2000 and probably since Roe v. Wade in 1973. For three decades, he has been a guiding force on the court's most consequential decisions, conservative and liberal."
"Kennedy dominated the direction of the court in its most important decisions from the beginning, and especially in recent years," Goldsmith continued. "One proxy for an ideologically contested case is when the court splits 5 to 4. In his 31 terms on the Court, Kennedy led or tied for the most 5-to-4 cases in the majority a remarkable 20 times, including every term but one since swing justice Sandra Day O'Connor retired in 2006. His vote was extraordinarily consequential."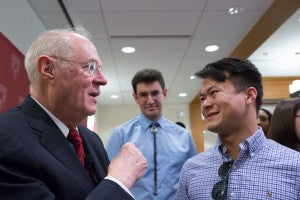 Noah Feldman, Felix Frankfurter Professor of Law at HLS, wrote in Bloomberg: "Kennedy developed a jurisprudence focused on the idea that government could not act with animus toward disfavored groups. This view he applied to protect religious minorities as well as gay people. The idea may now seem obvious. But before Kennedy, the courts had not been so inclined to search out discriminatory intention and hold government accountable for it."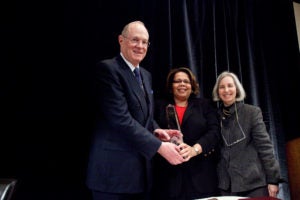 "It was a great honor and privilege to serve as one of Justice Kennedy's law clerks for the 1996-1997 term," said Allen Ferrell '95, Harvey Greenfield Professor of Securities Law at Harvard Law School. "He led by example, treating every case—whether it involved a grand constitutional issue or the interpretation of an ERISA regulation—with seriousness, dedication and an open-mind. He tirelessly examined and tested the legal arguments in every case. That year, I recall Justice Kennedy calling me early on Sunday mornings to review some aspect of a case (and me pretending not to have just woken up). While the public will properly celebrate his jurisprudential contributions as the Justice steps down, I will always remember his personal qualities: his kindness, his dedication of purpose, and the constant striving to find the right answer in difficult cases."
Richard Lazarus '79, the Howard and Katherine Aibel Professor of Law at Harvard University, wrote in CNN: "Liberals and conservatives alike can easily identify Kennedy opinions and decisive votes that they love and that they deplore — on campaign finance, abortion rights, the Second Amendment, affirmative action, gay marriage, and environmental protection, among many others. Even in presidential elections, as Bush v. Gore reminds us. The justice has played a leading role in shaping the nation's laws. He simultaneously projects a grand vision of law and justice, while resisting easy pigeonholing. Yesterday's cheerleaders become today's critics and vice versa."
Over the years that Justice Kennedy has been on the Court, he has been a frequent visitor to the law school to meet with students, judge moot court competitions and participate in reunion events. Most recently, along with five other Supreme Court justices, he returned to campus for an event celebrating Harvard Law School's bicentennial.
In 2008, Justice Kennedy returned to the Law School for a two-day celebration of his 20th anniversary on the Court. In opening remarks, HLS Dean Elena Kagan '86 said, "Justice Kennedy has been widely described as the Supreme Court's most influential member—the critical 'swing vote' on a sharply divided Court. But I think this description fails to capture the essence of what makes Justice Kennedy such an important figure: His independence, his integrity, his unique and evolving vision. Far from swinging between positions defined by others, Justice Kennedy has consistently charted his own course."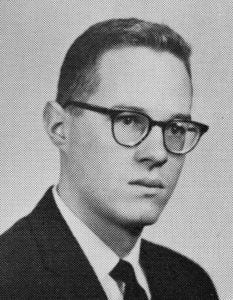 Kennedy received his B.A. from Stanford University and the London School of Economics, and his LL.B. from Harvard Law School. He was in private practice in San Francisco from 1961 to 1963, and in Sacramento from 1963 to 1975. From 1965 to 1988, he was a professor of constitutional law at the McGeorge School of Law, University of the Pacific. He was appointed to the United States Court of Appeals for the Ninth Circuit in 1975.
President Reagan nominated him as an associate justice of the Supreme Court, and he was confirmed by a unanimous vote of the Senate, taking his seat on the Court on Feb. 18, 1988.