Inspired by dozens of policy proposals generated and debated during Boston's 2013 mayoral race, Suffolk Law School's Rappaport Center of Law and Public Policy issued the following challenge to law students across Massachusetts: "Write a five-page memorandum identifying an innovation that would improve the quality of life in the City of Boston. Explain how the law could be applied or amended to implement that innovation."
Two Harvard Law School students and a Suffolk Law student were the winners of the "Memo to the Mayor" writing competition. The three winners had the opportunity to present their winning proposals to Boston Mayor Marty Walsh at City Hall on April 18.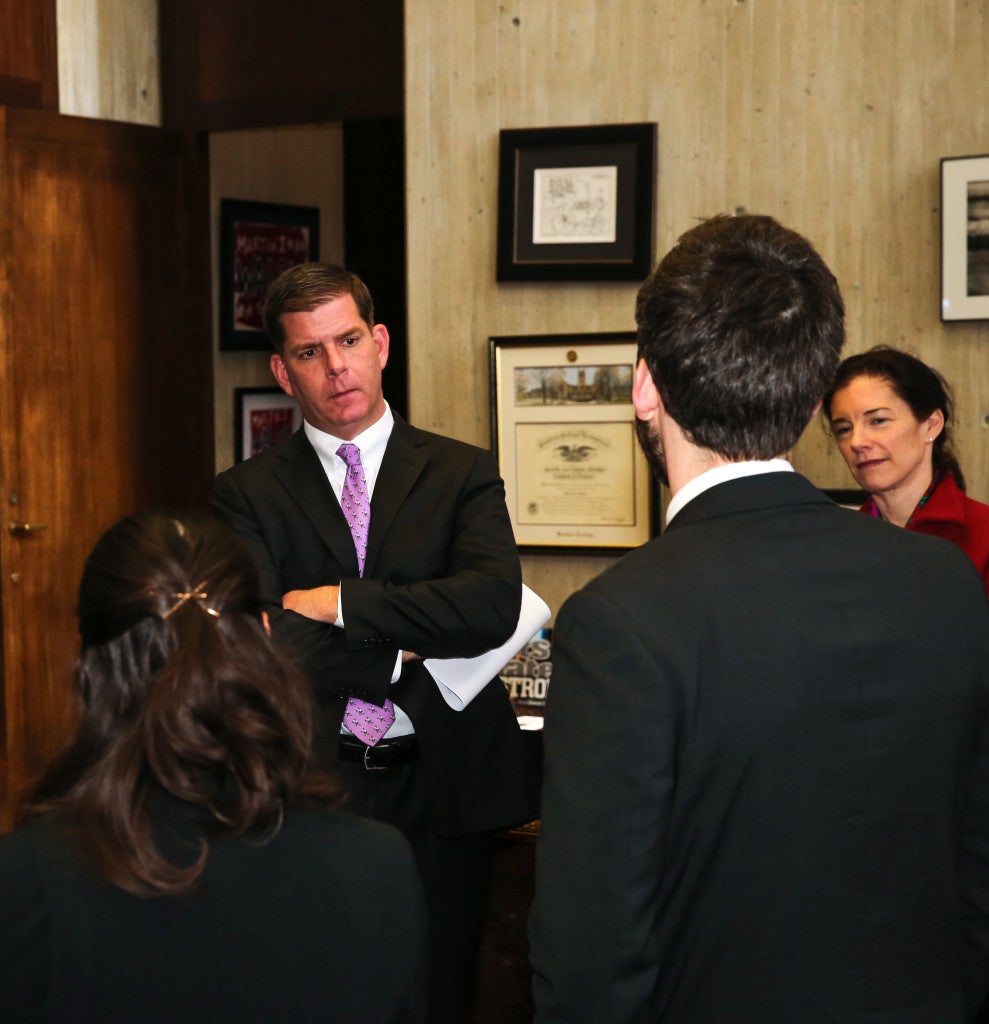 Harvard Law Student Conor Ahern '15 won first place, with a $3,000 award, for his submission, "Why Boston Needs Split-Rate Taxation." In his proposal, Ahern argued that taxing land at a higher rate, and structures and improvements on the land at a lower rate would "alleviate many of Boston's entrenched municipal problems without risking undermining urban development." He wrote, in the long run, "split-rate taxation promotes density, efficiency, lowered rents, an enhanced tax base, decreased environmental impact, and numerous other potential benefits."
"I was surprised and really honored to have won, and meeting the mayor was great," Ahern said. "Urban planning and city administration were things that I had been interested in before Harvard, but I really had the chance to explore the ways the legal system shapes our cities and neighborhoods in Professor Frug's 'Local Government Law' class last semester. My experience in the class informed my proposal, and inspired me to write it."
Ahern received a B.A. in history, with distinction, from the University of Virginia, and did consulting and non-profit work for four years before attending law school. He has been a Holley Law Fellow at the National Gay and Lesbian Task Force and a Ford Foundation Public Interest Law Fellow.
The two runners-up, Harvard Law Student Molly Cohen '14 and Maurica Thomas, a second-year law student at Suffolk University Law School, were each awarded a $1,000 prize.
In her proposal, "How to Support Boston's Sharing Economy," Cohen argued that the city of Boston should take a "proactive and forward-thinking approach toward the sharing economy, with the aim of limiting regulatory hurdles to sharing." She suggested that the city reconsider many laws and current practices. Her suggestions included reducing barriers to entry and streamlining the permitting process, amending zoning code, promoting policies to encourage sharing, and protecting consumers by serving as a place of last recourse.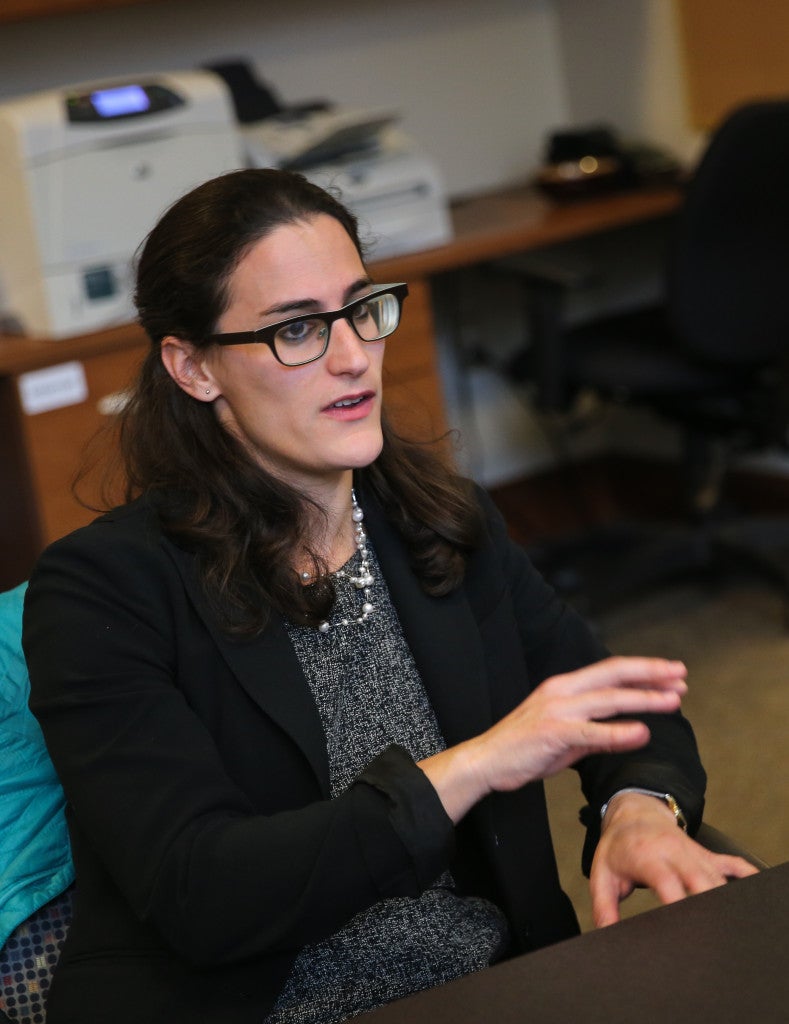 Cohen, a native of Newton, Mass., used the competition as a way to get involved with local government issues. "I saw it as an ideal way to connect the theories I had learned in law school with a real world problem," she said. "In particular, I wanted to write about the sharing economy because it has the potential to impact so many legal regimes, including property, torts, and local government, among others."
Cohen, who graduated from Brown University in 2009 with a degree in Geophysics and Science and Society, worked as an environmental consultant for Abt Associates before enrolling in law school. At HLS, Cohen has been active in the Tenant Advocacy Project, representing public housing tenants facing eviction, and in the Harvard Mediation Program, mediating cases in small claims court. She has also worked with HUD's Office of Sustainable Housing and Communities and Harvard Law School's Food Policy Clinic. After graduation, Cohen will be working in New York University's Office of Legal Counsel as the National Center on Philanthropy and the Law (NCPL) Fellow in Nonprofit Law.
Thomas proposed a "pay-as-you-throw" solid waste disposal program, to create an incentive for greater recycling and to discourage waste.
The Rappaport Center for Law and Public Service at Suffolk University Law School prepares lawyers for leadership in public service and provides a regional forum for innovative thinking about law and public policy.