It took an all-star team of panelists to honor the scope and influence of Charles J. Ogletree's career last week. At the HLS campus on Oct. 2, eminent friends, students and colleagues paid tribute to a man that the world knows as a leading force for racial equality and social justice, and that the Harvard community knows affectionately as Tree.
Ogletree '78, the Jesse Climenko Professor of Law who was the founding director of the Charles Hamilton Houston Institute for Race & Justice at Harvard Law School, announced last summer that he was diagnosed with early-stage Alzheimer's disease, and that he would work to raise awareness of the disease and its disproportionate effect on African Americans. He was present on Monday for the ceremony and an informal reception afterwards. Along with the honors and reminiscences, the day brought the announcement of a fully funded Charles J. Ogletree Chair in Race and Criminal Justice. According to Prof. David Wilkins, "This will be a way to ensure there will always be a scholar here who will carry on Tree's legacy."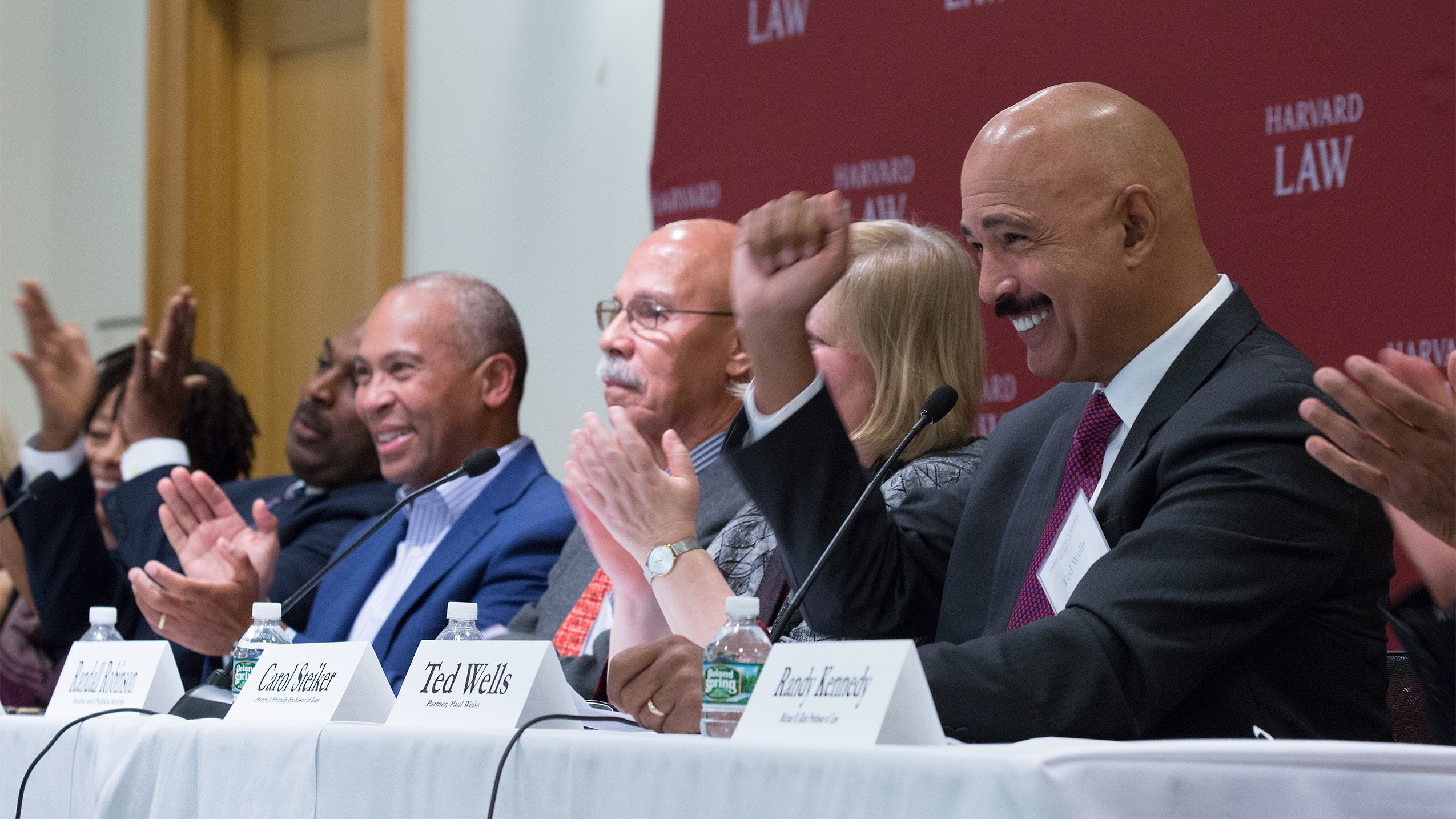 Attending with his wife Pam and their children and grandchildren, Ogletree received a five-minute standing ovation upon his entrance. "There are no two ways about it: Today we honor a great man," said HLS Dean John Manning '85 at the outset. "He has done what few can ever dream of: He has changed the world and made it a better place. He has also been an extraordinary teacher. How many people learned to be great trial lawyers in the Criminal Justice Institute that he designed and ran for more than a generation? We are here to say simply and clearly: Thank you. Everywhere you go, your tremendous legacy travels alongside you."
Kenneth Frazier '78, now the chairman and CEO of the pharmaceutical company Merck & Co., brought memories of being a first-year HLS student alongside Ogletree. Even then, he said, the man's quiet dignity was much in evidence. "One of the least attractive aspects of our peers and colleagues, is that many of us want to be thought of as brilliant. But he's one of the least showy people I know. Even in the first year he had a special maturity and gravitas, which I would attribute in large part to his already being married to Pam." Frazier saw the respect Ogletree commands when he met President Obama '91 in the Oval Office. "He leaned toward me and said, 'I go way back with Professor Ogletree'. And I had the distinct feeling there that he was boasting."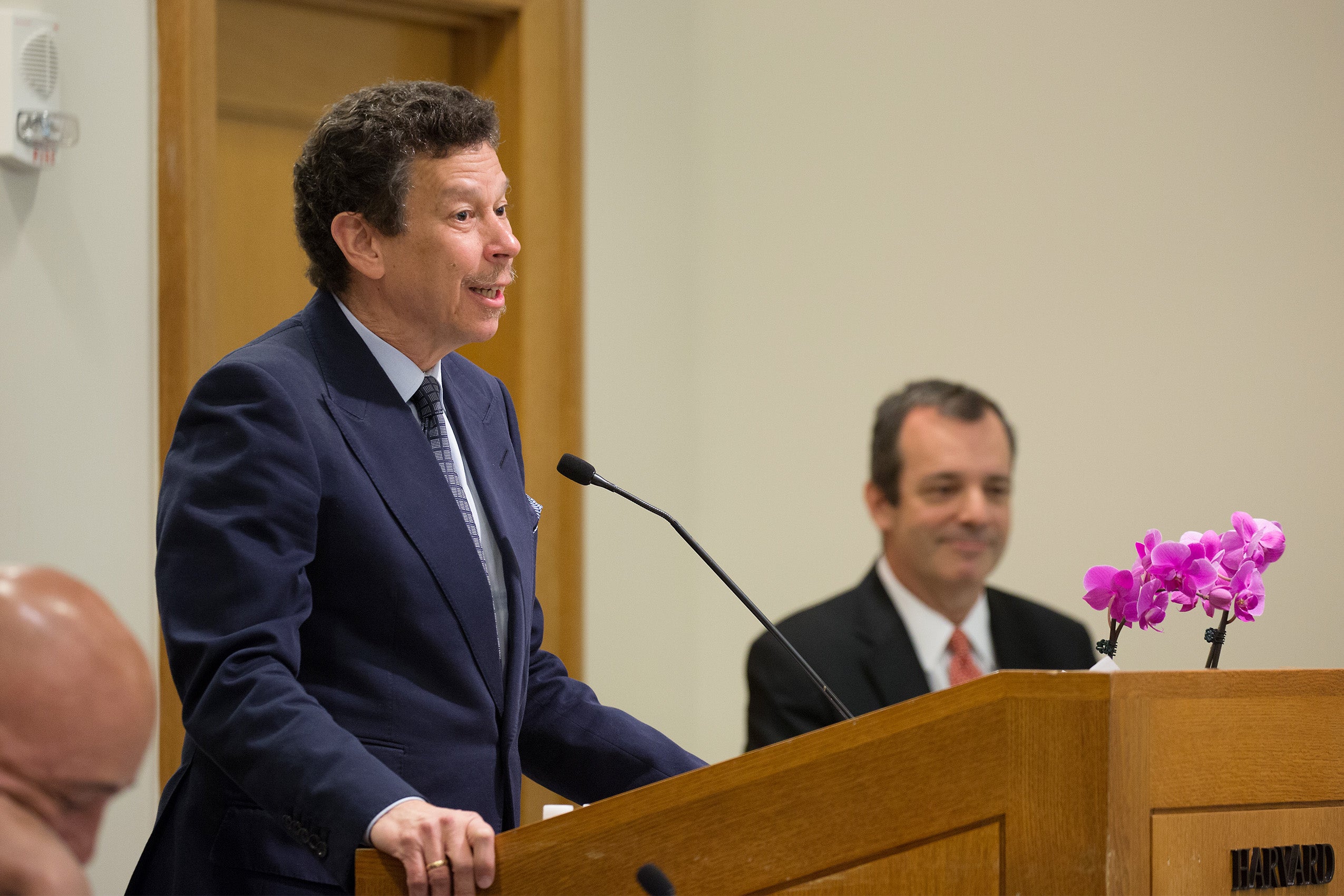 Brandeis University professor Anita Hill had one of the higher-profile connections with Ogletree, who represented her in the Clarence Thomas hearings. As Hill pointed out, Ogletree put himself in possible jeopardy by representing her. "His tenure vote was imminent, and his involvement in a sensational public hearing might have made some faculty uneasy about approving his appointment. His career was on the line, with a wife and two young children, yet he agreed to join the team. He was among a lot of brilliant and tough young women, and his willingness to be collaborative showed that he's an absolutely secure and confident man, and one that believes in equality."
One of Ogletree's landmark moments in that case, Hill said, was to call a press conference and display polygraph evidence that she had been speaking truthfully. "The senators were flummoxed by this, but it was needed and it was due. Then Orrin Hatch went on the defense, saying that was 'something a slick two-bit lawyer would do'." As she pointed out, Ogletree was characteristically unfazed, and today his office proudly displays a plaque reading "Slick Two-Bit Lawyer."
Other panelists spoke of Ogletree's accomplishments as a social activist. "He has made so many of us want to be better by modeling excellence in social and economic justice," said former Massachusetts governor Deval Patrick '82. Gay McDougall, the former executive director of Global Rights, Partners for Justice, mentioned his pioneering work on behalf of reparations from slavery and Jim Crow laws. "He can be credited for moving that national discourse into the mainstream," she said. She and Randall Robinson '70, founder and president of the TransAfrica Forum, pointed out Ogletree's work in to raise apartheid awareness and later to help with the drafting of South Africa's new constitution. "When the Republican majority in Congress voted to override Ronald Reagan's veto of South African sanctions, we knew we couldn't have done it without you," Robinson said.
Ted Wells '76, now a litigation partner at the New York firm of Paul, Weiss, Rifkind, Wharton & Garrison, recalled asking Ogletree to represent a friend, Vivian Sanks King, whose son was killed in a police altercation after a traffic stop in St. Augustine, Fla. Though he did not get an indictment, Ogletree kept the case in the public eye, and took time to visit King's family during the Christmas holidays. Quoting an email that King had sent, Wells said "He reminded me that Louis' death had not been in vain, and he did this without taking any money."
There was also talk of Ogletree's flair and presence. Carol Steiker '86, faculty co-director of the Criminal Justice Policy Program at HLS, recalled his style at the Public Interest Auction, which he ran for more than two decades to raise money for students doing public interest work. "That was Tree in his element: The voice, the presence, the humor—and the way he rocked a tux. He'd start ad-libbing and would just kill it. His famous sweet potato pies always started a bidding war, and one year I kept bidding until they were mine. They cost me an arm and a leg, but they lived up to their legendary hype—as does the man."