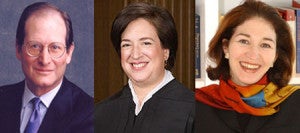 Harvard Law School Distinguished Senior Fellow Ben W. Heineman, Jr., Associate Justice of the U.S. Supreme Court Elena Kagan '86 and Princeton University Professor Anne-Marie Slaughter '85 are among the new class of members elected to the American Philosophical Society this year.
This country's first learned society, founded in 1745 by Benjamin Franklin, the American Philosophical Society promotes useful knowledge in the sciences and humanities through excellence in scholarly research, professional meetings, publications, library resources, and community outreach. Membership in the society "reflects extraordinary accomplishments in all fields of intellectual endeavor." Its membership includes top scholars in the fields of mathematical and physical sciences, biological sciences, social sciences, humanities, and the arts, as well as leaders in the professions and in public and private affairs. Past members include George Washington, John Adams, Thomas Jefferson, James Madison, Charles Darwin, Louis Pasteur, Robert Frost, and Albert Einstein.
In 2010, Harvard Law School Dean Martha Minow, together with Professor Laurence Tribe '66, Cass R. Sunstein '78, administrator of the White House Office of Information and Regulatory Affairs, and Michael Boudin '64, judge of the United States Court of Appeals for the First Circuit, were among the 38 people from the United States elected to the society for that year.
Heineman is a distinguished senior fellow at Harvard Law School's Program on the Legal Profession, senior fellow at the Harvard Law School Program on Corporate Governance, and senior fellow at the Belfer Center for Science and International Affairs at the Kennedy School of Government. Heineman is also a member of the guest faculty in Harvard Law School's Executive Education program. He is the author of books on British race relations and the American presidency, among other subjects. His book, "High Performance with High Integrity," was published in June, 2008 by the Harvard Business Press.
Kagan, an Associate Justice of the U.S. Supreme Court, is the Court's 112th justice and fourth female justice. Prior to her nomination to the Supreme Court, she served as solicitor general of the United States and before that as dean of Harvard Law School.
Slaughter is the Bert G. Kerstetter '66 University Professor of Politics and International Affairs at the Woodrow Wilson School of Public and International Affairs at Princeton University, where she served as dean from 2002–2009. From 2009–2011 she was director of policy planning for the United States Department of State, the first woman to hold that position. She previously was the J. Sinclair Armstrong Professor of International, Foreign, and Comparative Law and Director of the International Legal Studies Program at Harvard Law School. She has written widely on foreign policy and international security. Her most recent book is "The Idea That Is America: Keeping Faith with Our Values in a Dangerous World."