Harvard Law School graduates, their friends and family gathered on campus this week to celebrate years of hard work and achievement, with some returning for the first time in more than two years. Festivities began with Class Day and Commencement for the Class of 2022 and concluded with the return of members of the Classes of 2020 and 2021 to celebrate in-person their graduations which occurred remotely due to the COVID-19 pandemic.
Whether it was handing out diplomas, ensuring that everyone was safe and happy, or diverting hundreds of pounds of waste to recycling, hundreds of staff members played a crucial role in hosting these festive and important events. In the days before the parties started, Harvard Law Today spoke to a few staff members who made the day possible — from the Green Team to the Office of the Registrar — to find out how they support Commencement, what preparing for a triple graduation takes, and why this is one of the most special days of the year.
Samantha Fitzgerald, associate registrar for curriculum and academic services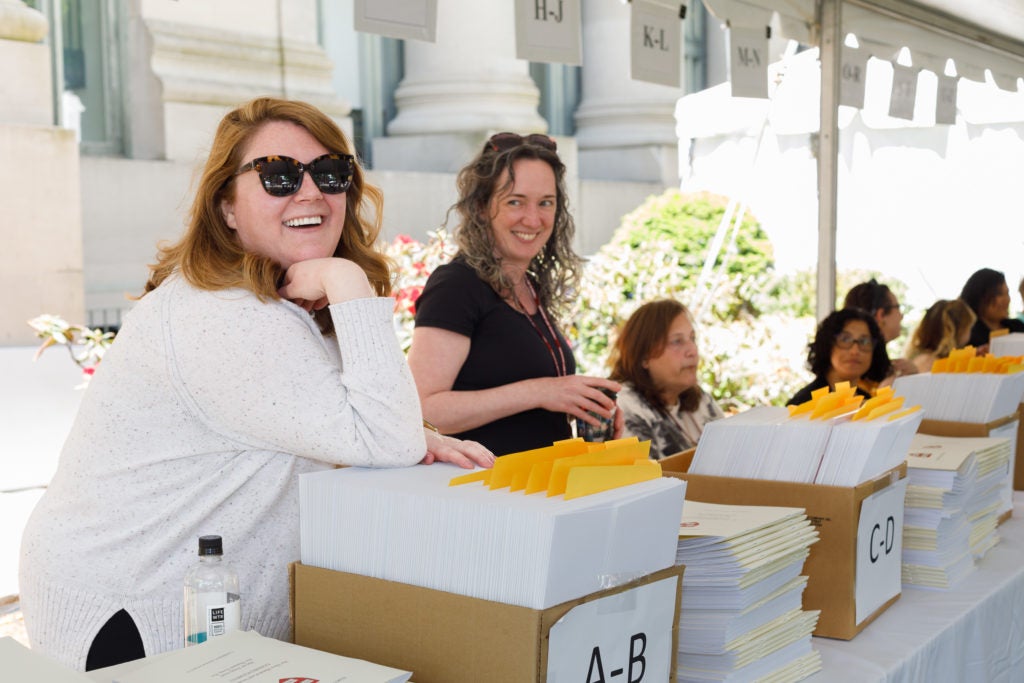 My role at Commencement:
The Registrar's Office distributes diplomas at the commencement ceremony.
How my team plans:
In the spring term, we begin collecting preferred diploma names from students, but our work primarily picks up in May once we have diplomas in office. We package, review, and organize diplomas to ensure we have one for all graduates and they are ready to distribute on Commencement Day. On the day itself, we are next to the stage so, as students cross, they walk right by us and are handed their diploma.
What might surprise people:
It is such a big event, and I am always surprised by all the moving parts and how so many departments at HLS are involved and work together to execute this special day for the graduates.
What's most memorable:
Our office is fortunate that we get to hand students their diplomas and congratulate them on their graduation. This is such a nice moment and great bookend to a student's time at HLS, and it is especially great and memorable for us, if we are able to hand a diploma to a student that we have worked with previously.
Jeff McNaught, associate director of campus safety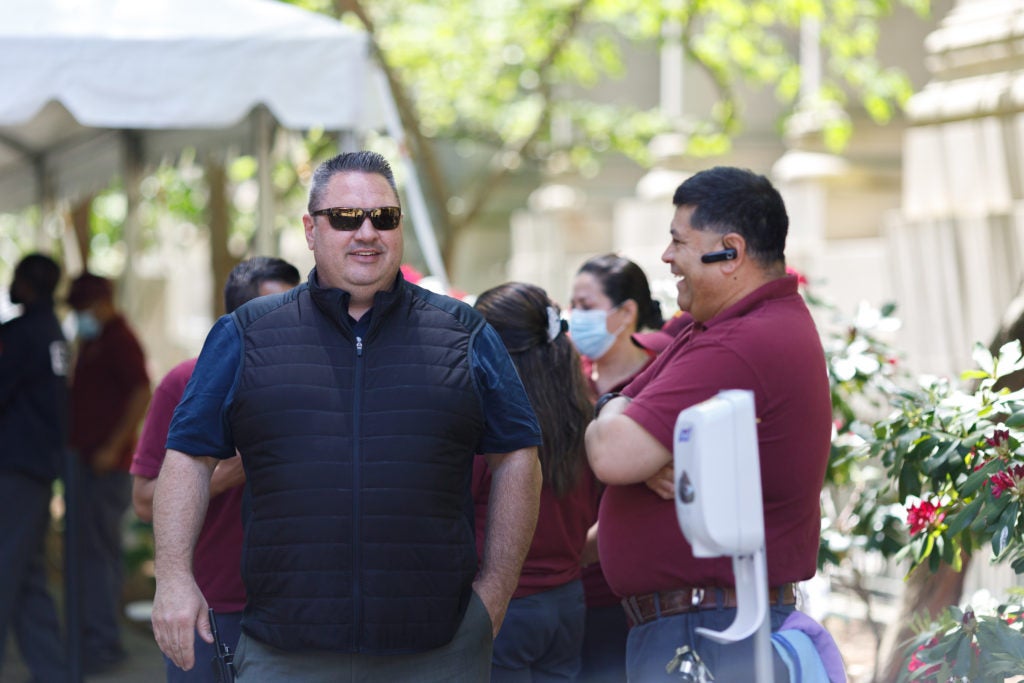 My role at Commencement:
In prior years, as senior director of student affairs, I oversaw everything having to do with Commencement. In my current role, I oversee safety and security. Our goal is to ensure that everyone has a safe and happy Commencement experience, and to support all our students, their guests, and all our community members during a busy but special time.
How my team plans:
We've been talking about this for months already, planning and intersecting with multiple departments. There are many extra moving parts this year that we finalized in the weeks before, especially given that this year we have the Classes of 2020, 2021, and 2022 on campus. Many overnight, outdoor officers are required to make sure that rental equipment, such as AV equipment, is safeguarded. Once rentals begin to arrive during the week before Commencement, we have a 24-hour a day presence on the fields.
What might surprise people:
I think just the sheer numbers of people that are coming through our facilities and grounds. For instance, we have 5,000 or more people on the HLS campus on Commencement Day. That's a lot, and we want to ensure they all have a great time.
What's most memorable:
For me, Commencement Day. It's lining up 850 graduates for the procession to go over to Sever Gate, which is where you go to enter Tercentenary Theatre. It's an electric atmosphere, indescribable, really. You get there super early only to stand in Sever Quad for almost two hours. And then everyone processes quickly into the Yard and the excitement builds — the music and the loud chatter amongst graduates and their guests is competing with each other–combined with such a beautiful setting, and all of the pomp and circumstance — it's unlike anything I've ever seen. There are upwards of 32,000 people there [from all Harvard schools] — and looking at this space on a regular day, it is hard to imagine that many people could fit there.
I truly hope every Harvard employee gets to volunteer and experience these Morning Exercises. I consider myself extremely lucky to have been a part of such a special thing for so many years — it's simply the best day of the year at Harvard.
Carrie Ayers, business operations specialist, and member of the HLS Green Team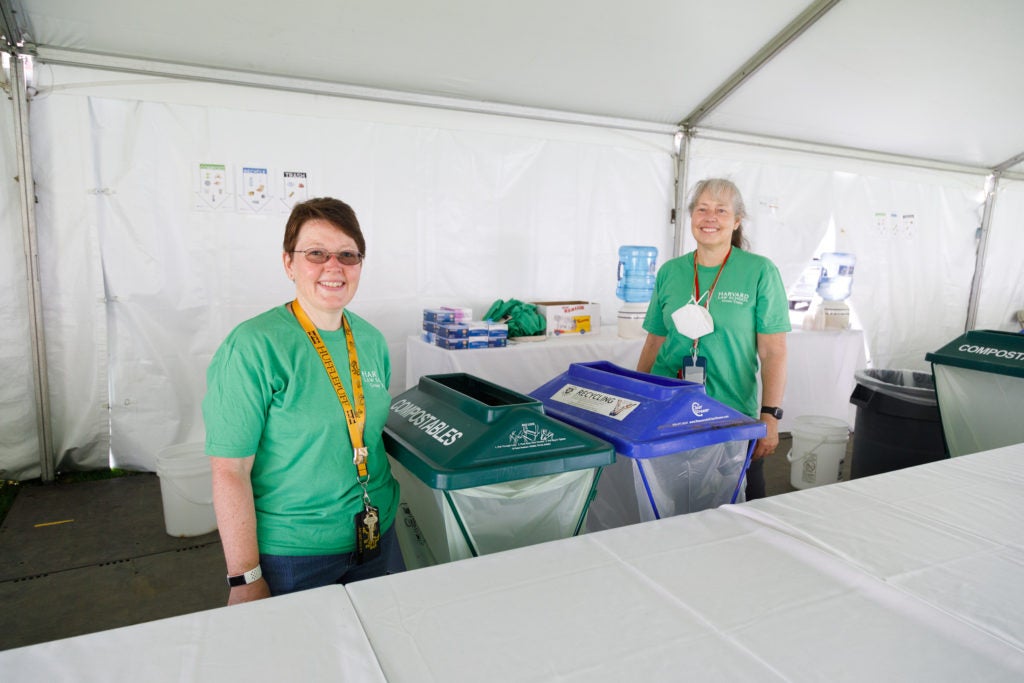 In 2019, during the last in-person commencement, the Green Team collected 29 bags of recycling, 99 bags of compost, and just 11 bags of trash on the law school campus – diverting hundreds of pounds of waste from the landfill.
My role at Commencement:
I'm usually in charge of the waste-sorting tent. We sort everything that comes in into compost, recycling, and trash.
How my team plans:
Luckily, we don't have too much work to do pre-Commencement. For me, it's mostly trying to find volunteers — we typically have 10-15 at a time — and getting the signs ready to go out in the yard, so that people know where to put things. We will also work with food services so we know what people are going to be eating and can understand and better direct people where to put pieces of waste.
What my day typically looks like:
I get out there early to make sure everything's set up in the tent; make sure there are signs. Then, we wait for the waste to start coming in, and we just jump in. Someone usually keeps track of how many bags each of compost, recycling and trash there are, so we can report our impact.
What's most memorable:
Even though our team is in the back of the field, and we're just working all that trash, it's just a really fun day for me. It's very exciting, everyone is happy. It's a good day.
Dean of Students Office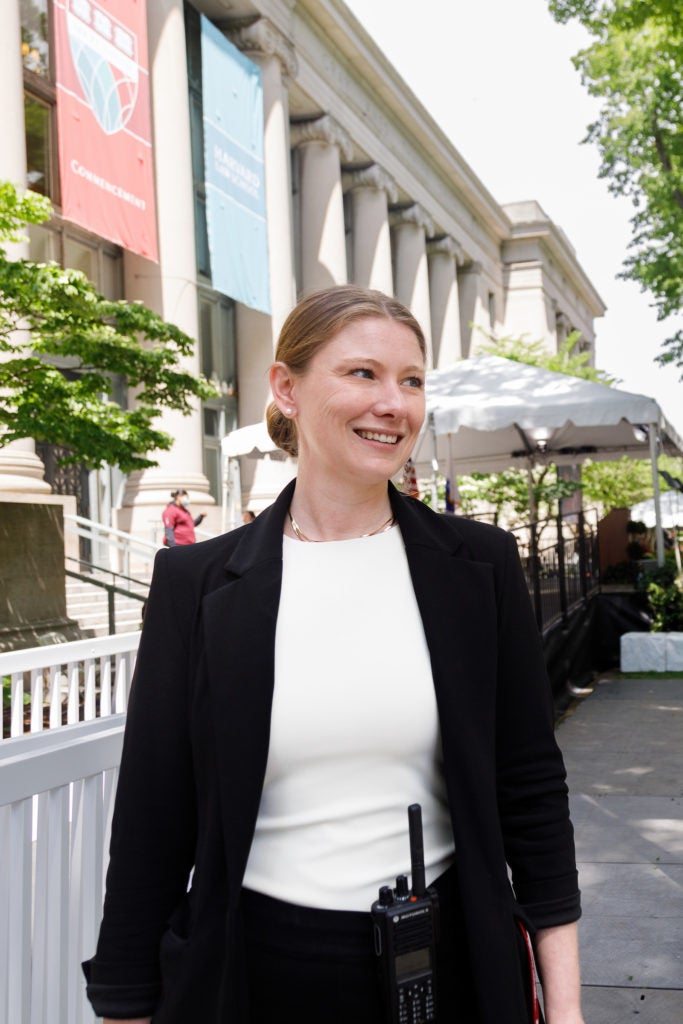 Kristina Barrett, associate director for student administration
My role at Commencement:
I am the project manager for Harvard Law's Commencement, which means coordinating all the various aspects that go into everything, making sure that all the departments are on the same page, and that every little detail and piece is accounted for and completed.
How long have I have worked on Commencement:
This is my first time! I took the role in DOS in mid-fall, and this Commencement project was not on my radar at all. It's the first time I've ever been involved in planning such a such a big event — never mind, three of them. I very much enjoy project management, though.
How long we have been planning:
We really started in earnest in January. It's been a long road, in terms of getting everything together.
What has surprised me most about Commencement:
It's really the sheer number of details that you have to account for and plan for. You have to have a Plan B and a Plan C, especially in this time of uncertainty with COVID. It seems obvious, but it is not enough to just have the scaffolding in place, you need to nail down every single little detail to the hour and the minute that people are arriving with tents, for example. You need to know when the photographers are arriving, and when the flower vendors are arriving. There are a lot of details to work with!
What I like most about Commencement:
The most fun is definitely seeing it all happen. Honestly, one of my favorite parts of Commencement is seeing all the families, and seeing them dress up and come to campus and having them so happy with everything that we've done and everything that our graduates have done. That's the meaning behind all of this work — and the thing that keeps us going through the planning process.
Lakshmi Clark-McClendon, senior director of student affairs; Kristen Conklin, student care team assistant; and Yvonne Smith, administrative coordinator for the Board of Student Advisers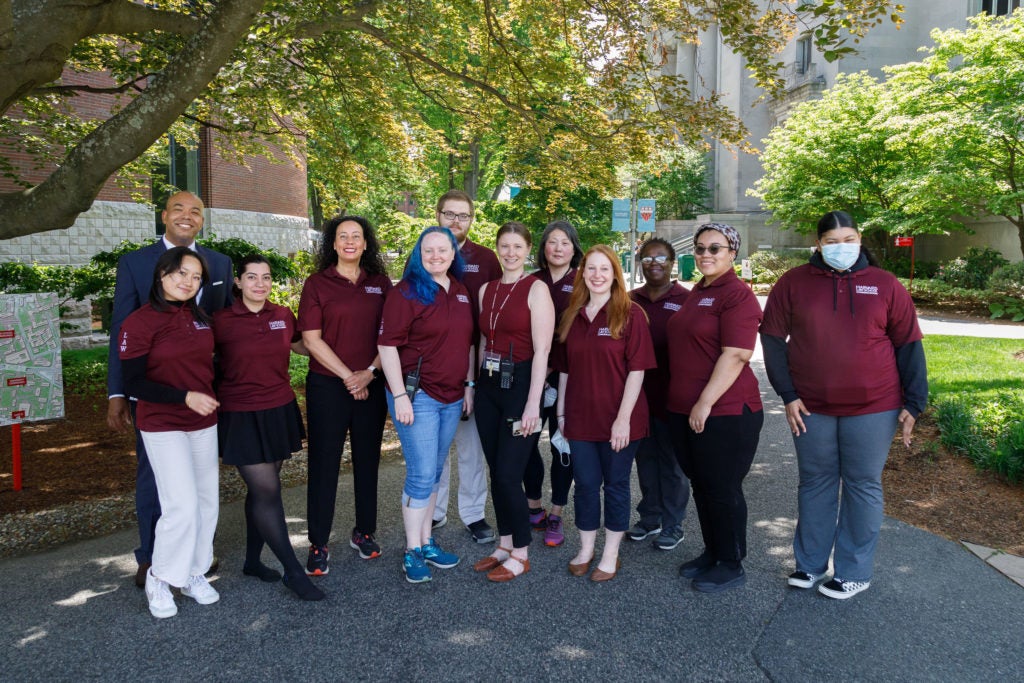 My role at Commencement:
Lakshmi Clark-McClendon: Our entire team coordinates Commencement — it's a team effort across DOS, across HLS offices, and across the University. In particular, Kristina Barrett, this year's Commencement project manager lead, has been phenomenal at gathering necessary departments, keeping things on task, and executing an unprecedented three Commencements.
Kristen Conklin: The wonderful thing about our office is that while we are helping to plan, produce, and execute three Commencements for entire graduating classes and their proud guests, we are still communicating one on one with students and parents who need help in any way. It is that personal connection to our students that illustrates the Dean of Student's role. It is why I am so proud to be a part of the Dean of Students team.
How my team plans:
Clark-McClendon: We begin planning months and months in advance. In fact, as soon as this Commencement is over, we'll debrief and put plans in motion for next year.
Conklin: I can tell you that this year was three times the size and length. And there were so many extra considerations we needed to make because of this. I had a wonderful time producing some of the visual communications for the three Commencements. It is an honor knowing that our graduating students and their most proud guests would see and hold some of the materials I created! And over 2,000 people at that!
What might surprise people:
Clark-McClendon: How many details and moving parts there! There are so many puzzle pieces to fit together and a lot more than one would expect that happens behind the scenes.
Conklin: How many moving parts there are, and how many dedicated people it takes to bring it all together and make it a reality! Our team worked for many weeks and months on this year's Commencements. Our Commencement office mastermind was Kristina Barrett! It was a joy to watch my supervisor and coworker Kristin Barrett masterfully take a million little tasks and bring them all together, delegating, directing, and producing, to create wonderful celebrations for our graduating classes.
What's most memorable:
Clark-McClendon: It brings me joy to see others achieve their goals and dreams. That walk across the stage and celebrating with this amazing community represents a culmination of years of hard work and dedication. I think there are very few moments in students' lives that rival the joy of Commencement. I am of course proud of all students, but am most proud of the students I worked with who may have had some bumps along the road (family or personal life stressors, for example) and who persevered nonetheless. Congrats to all.
Yvonne Smith: What I like most about commencement is the pleasure of seeing that students have made it. Some students have had some struggles along the way and to see that they made it to the finish line is great! I also enjoy meeting the families and friends and learning about family histories. They are so happy and proud of their graduates!