Can a company be sued in state court for its effect on climate change locally? Or does the interstate — and even international — nature of the crisis mean that such lawsuits should necessarily be heard in federal court? Those were the questions at the heart of the final round of this year's Harvard Law School Ames Moot Court Competition — one of the most prestigious contests of appellate brief writing and advocacy in the nation.
On November 10, two groups of student advocates — the Lani Guinier Memorial Team and the Justice Ruth Bader Ginsburg Memorial Team — sparred over Article III judicial power, hoping to claim the titles of best overall team, best brief, and best oralist.
After an introduction by Zachary Tauscher '23 of the Board of Student Advisers, which administers the competition, each team presented their arguments — and fielded a volley of difficult questions — in the Ames Courtroom in front of the three presiding jurists: Sri Srinivasan of the United States Court of Appeals for the District of Columbia Circuit; Britt Grant of the United States Court of Appeals for the Eleventh Circuit; and Rowan Wilson '84 of the New York Court of Appeals.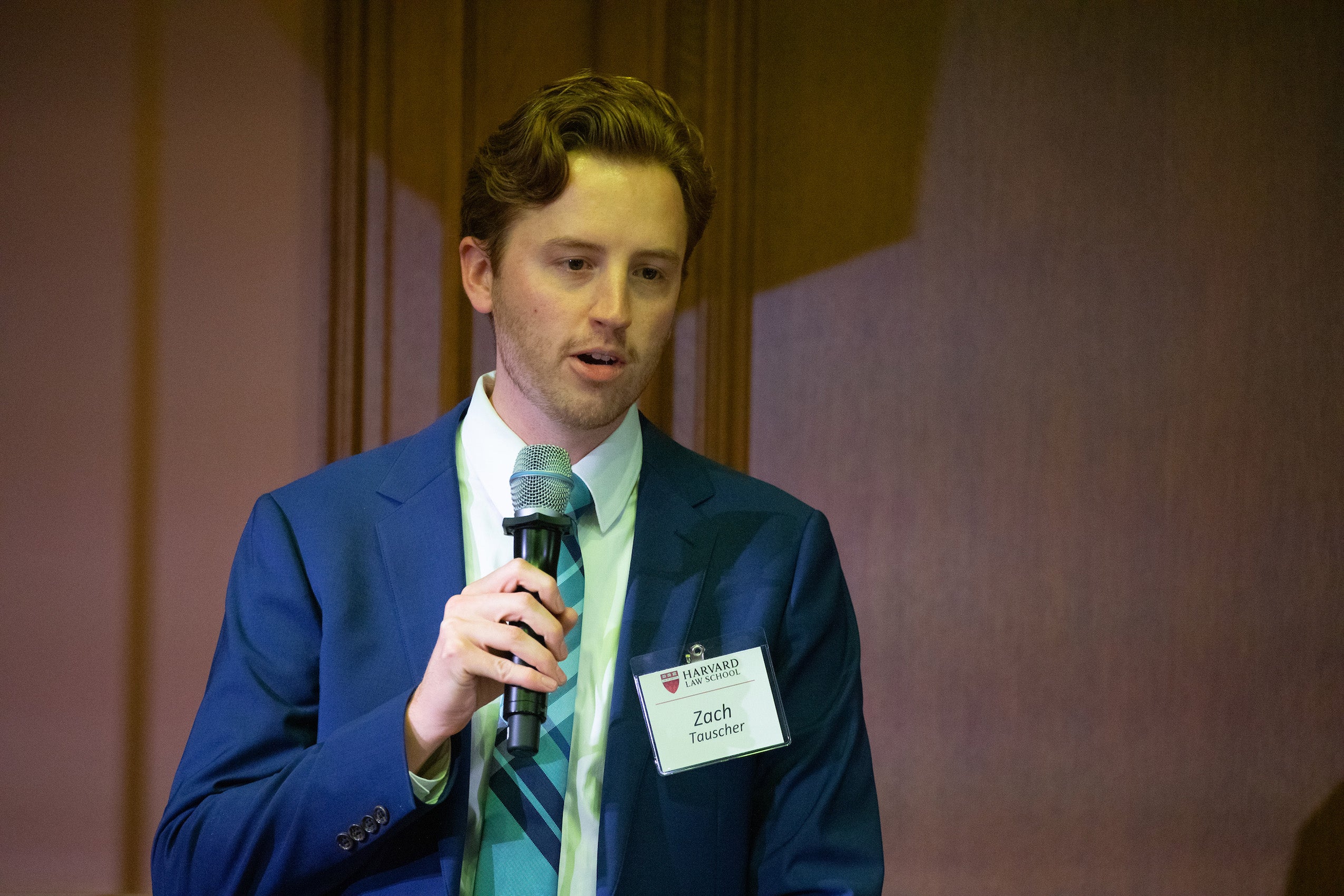 The case stems from a fictional lawsuit brought by the Ames County Board of Commissioners, in Ames state court, against Energon U.S.A., which is headquartered in Ames. In a public nuisance complaint based in state common law, Ames County argued that the sale, production, and marketing of fossil fuels by Energon contributed to climate change that directly harmed Ames County. In response, Energon immediately filed a motion to remove the case to federal court, insisting that federal common law should apply, given the multistate, and even global, origin of greenhouse gases. After losing in both the district court and court of appeals on that issue, Energon asked the Supreme Court to weigh in.
'No one state can project its own law beyond its borders'
"An interstate problem requires an interstate solution," began Samantha Neal '23, oralist for the Lani Guinier Memorial Team, which represented the petitioner, Energon. Her team members included Daniel Ergas '23, Gillian Hannahs '23, Emily Hatch '23, Natalie Tsang '23, and second oralist Sierra Polston '23.
"Climate change is a vast and amorphous problem," she continued. "This court's precedents are clear: no one state can project its own law beyond its borders."
Federal law should govern for three reasons, Neal said. "First, the interstate and international nature of the controversy implicates a uniquely federal interest." A uniform federal rule of decision is necessary to protect that interest, she added.
And although Congress passed the Clean Air Act in 1970, supplanting judge-made law, that "doesn't authorize states to enter and to regulate in an exclusively federal domain."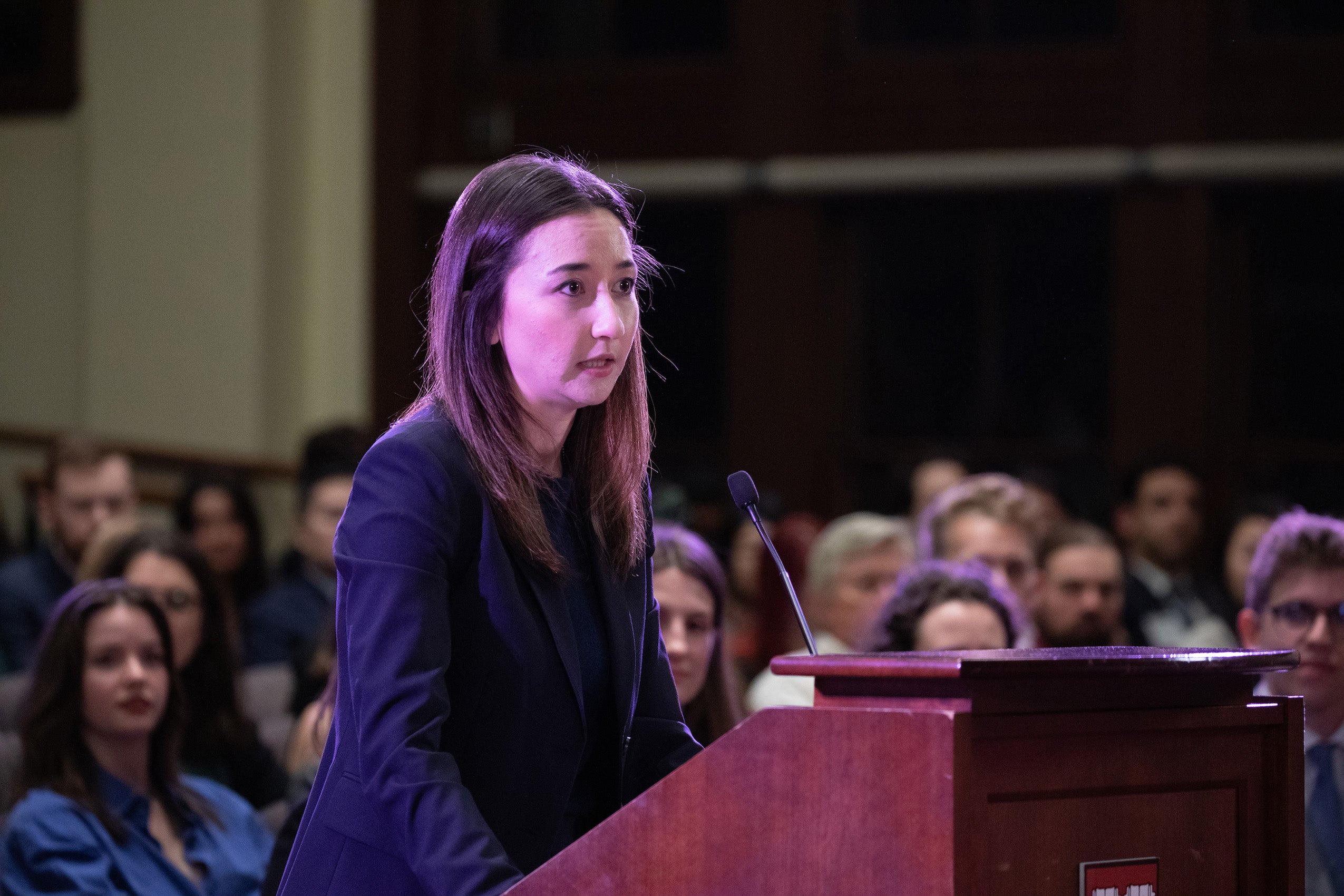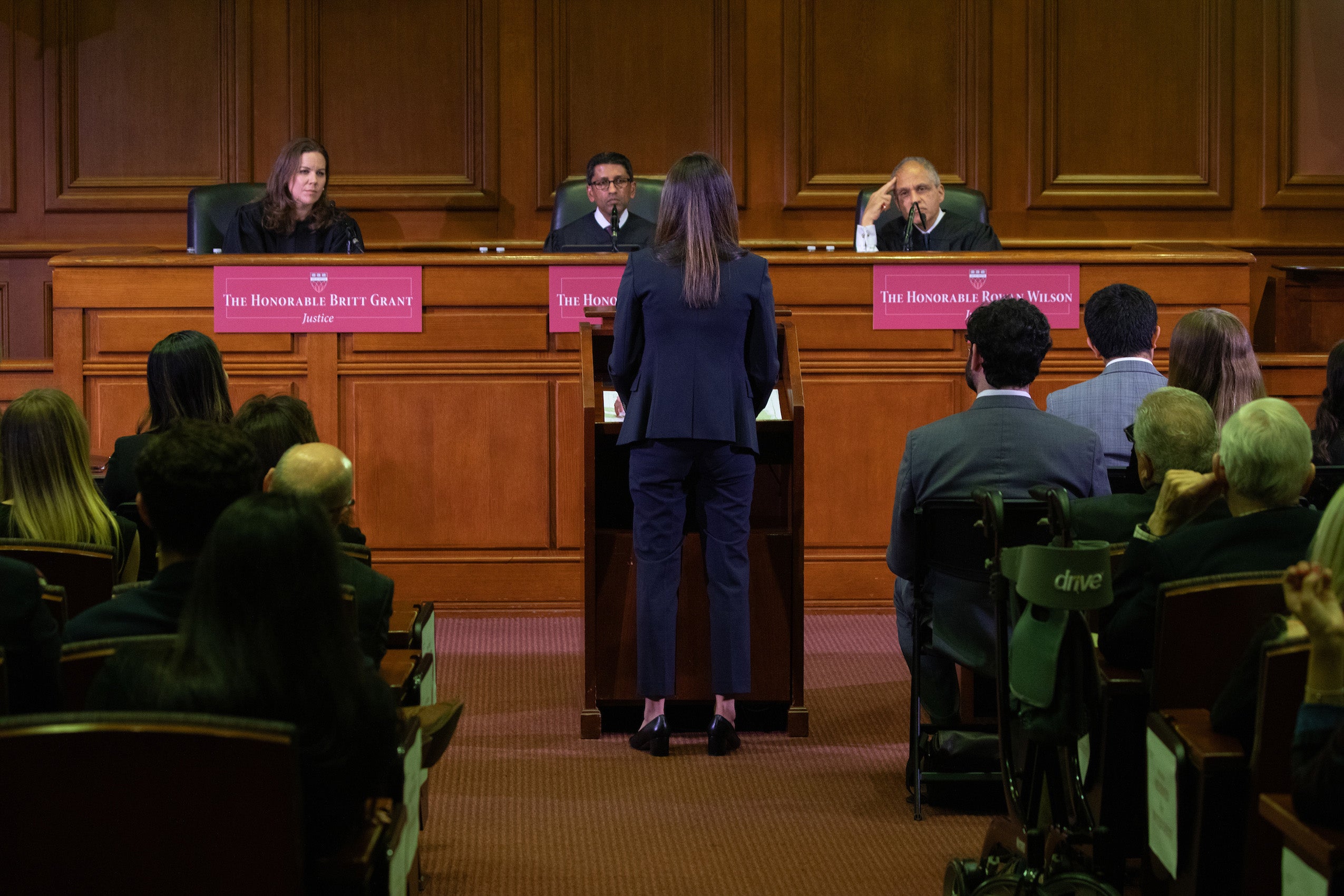 "Suppose Congress passes a statute that says, 'We want state common law to exist in this area,'" interjected Judge Srinivasan. "Is that statute invalid? Is it unconstitutional?"
"Congress could pass such a statute, but our submission would be that it would be unconstitutional, because as this court held in Kansas v. Colorado, states are co-equal sovereigns. It's a cardinal constitutional principle. And so, one state cannot project its law beyond its borders," replied Neal.
Next, Neal's teammate, Sierra Polston, spoke to the jurisdictional question. "Inherently federal claims can be removed to federal court, even when a plaintiff purports to plead those claims under state law," she said.
Typically, under the "well-pleaded complaint" rule, Polston added, a case is "ordinarily not removable to federal court unless a federal question appears on the face of the plaintiff's properly pleaded complaint." But this case pleads an inherently federal claim, which necessarily involves a federal question and is therefore removable to federal court, she asserted.
"Can you tell me the daylight between the result of your colleague's argument and this one?" asked Judge Grant.
"We believe that if federal common law exclusively governs, then it necessarily provides a basis for removal. So, if we're successful on issue one, we're successful on issue two," Polston responded. "But even if this court does not think that federal common law exclusively governs, there are two separate bases for removal here. And the first is complete preemption. When a federal statute completely preempts a state law claim, that claim is converted into a federal cause of action that can be removed to federal court."
Ames County fights back
Arguing for the respondent, Ames County, was the Justice Ruth Bader Ginsburg Memorial Team, which included Pauline Esman '23, Justin Fishman '23, Connor Haaland '23, Lincoln Plews '23, and oralists Sami Ilagan '23 and Niko Paladino '23.
Paladino began by pointing to Congress's clear intent to replace federal common law and empower states to fight against pollution when it passed the Clean Air Act of 1970.
"Energon seeks to revive a displaced federal common law to remove this suit to federal court," he argued. "That is an impossible task." The first reason, he said, "is that upon displacement, federal common law can no longer exclude state common law." In fact, argued Paladino, "Energon's theory that federal courts could still exclude state common law on the basis of a federal common law that does not exist would make inferior courts superior to Congress."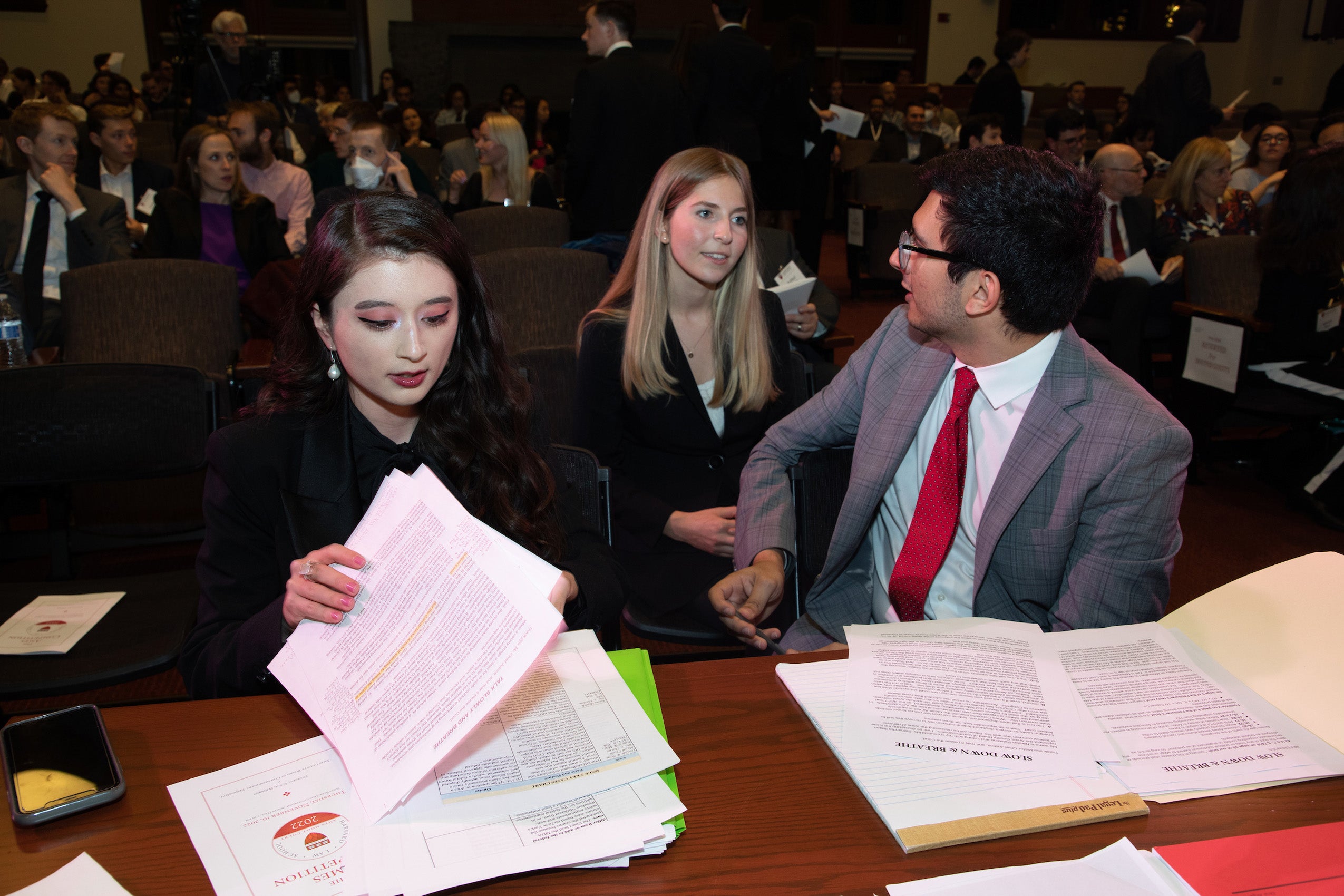 Second, "Even if federal common law were to not be displaced [by the Clean Air Act], it would not govern here. Federal common law applies when a uniquely federal interest significantly conflicts with state law, and that's not the case here," added Paladino. Energon is an Ames corporation producing Ames products that cause a nuisance to Ames citizens, he insisted, "and the presence of an interstate link in the causal chain does not mandate a finding of exclusive federal jurisdiction."
Would your position be different if this was not an Ames corporation, asked Judge Wilson?
"I think the fact that it is an Ames corporation helps," responded Paladino. "But it is not dispositive. The dispositive fact is that Energon has produced 180,000 barrels of oil … and that that production has proximately caused the nuisance in Ames."
Next, Sami Ilagan '23 discussed removal. "When a county brings a claim for in-state conduct contributing to greenhouse gas emissions pleaded solely under state law, that suit is not removable to federal court for three reasons: because the county lacks standing to bring its claim in federal court, because the Clean Air Act does not completely preempt the county's claim, and because none of [the] Grable [v. Darue Engineering & Manufacturing] jurisdiction [test's] four requirements is met by that claim."
Wilson asked if the answer would be different had the Clean Air Act never been adopted.
"If the CAA hadn't been adopted, we would still contend that the federal common law that existed before the CAA was displaced wouldn't govern this claim because of its intra-state nature, because it concerns intra-state conduct causing intra-state harms that are violating intra-state rights," Ilagan replied.
But some of the emissions that caused climate change originated in other states, noted Judge Wilson. Echoing Wilson, Judge Grant pointed out that in states with joint and several liability, the respondents' position might mean that a company like Energon could be held responsible for the entirety of the impact of climate change – regardless of its actual contribution.
"The county is not seeking to hold Energon liable for the entirety of the damages," Ilagan replied. "It is seeking to hold Energon liable for its share it has contributed to that damage."
A difficult decision
After both sides rested, the justices retreated to their chambers to deliberate. On returning, Judge Srinivasan told the teams that their decision had been tough, but that there had been no debate about the excellence of each side's performance.
He then named Samantha Neal as the competition's best oralist. "I am deeply appreciative of my teammates, who prepared me by mooting with me for hours on end," Neal told Harvard Law Today. "The judges asked terrific questions and kept us on our toes. I had a lot of fun."
Neal added that the award was particularly meaningful to her because of the existing gender gap in appellate advocacy. "Although women now make up more than half of law school graduates, less than a quarter of the advocates before the Supreme Court are women. My hope is that this is but one indicator that the disparity in representation will continue to change."
Judge Srinivasan also announced the winners of best brief and best overall team, both of which went to the petitioners, the Lani Guinier Memorial Team.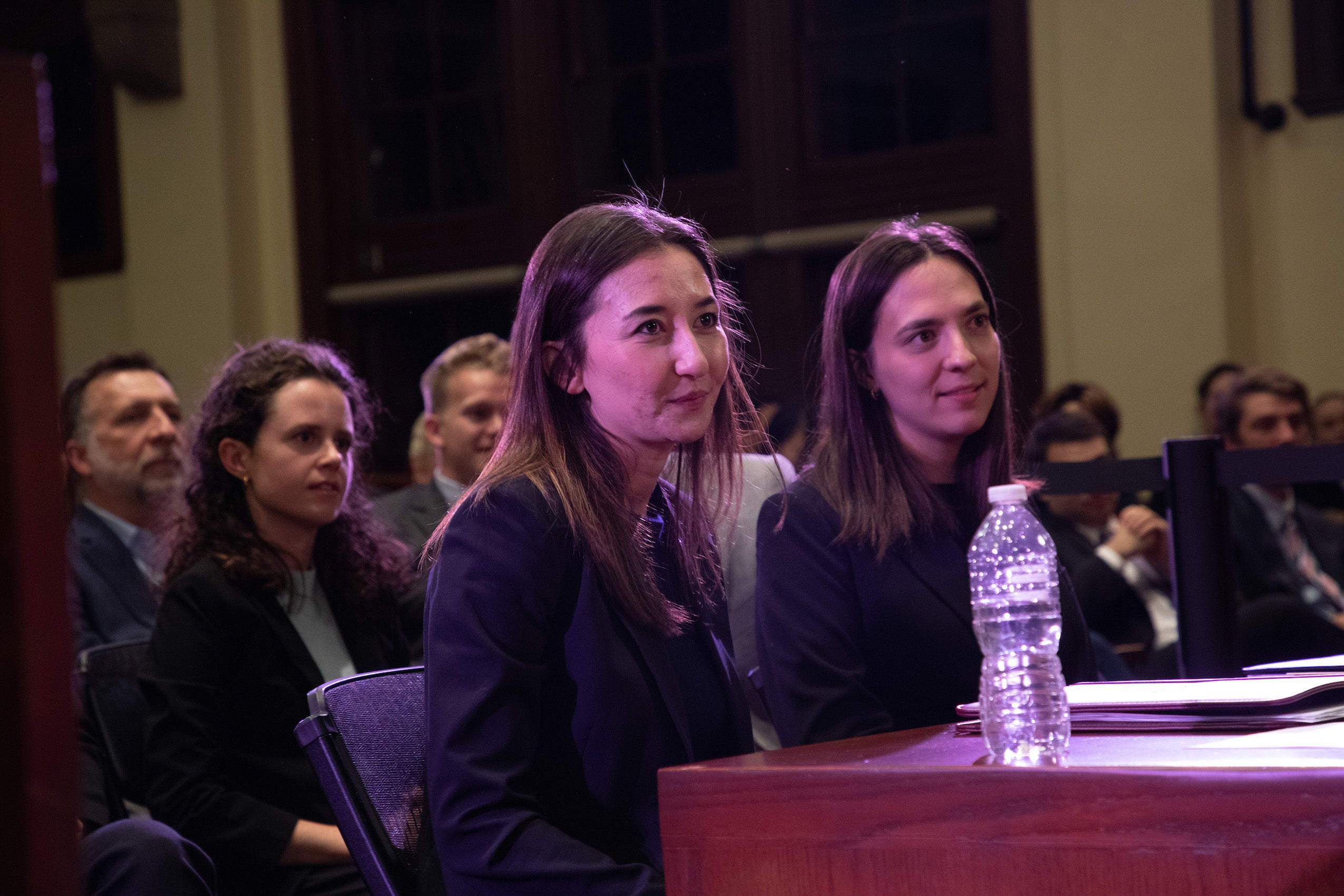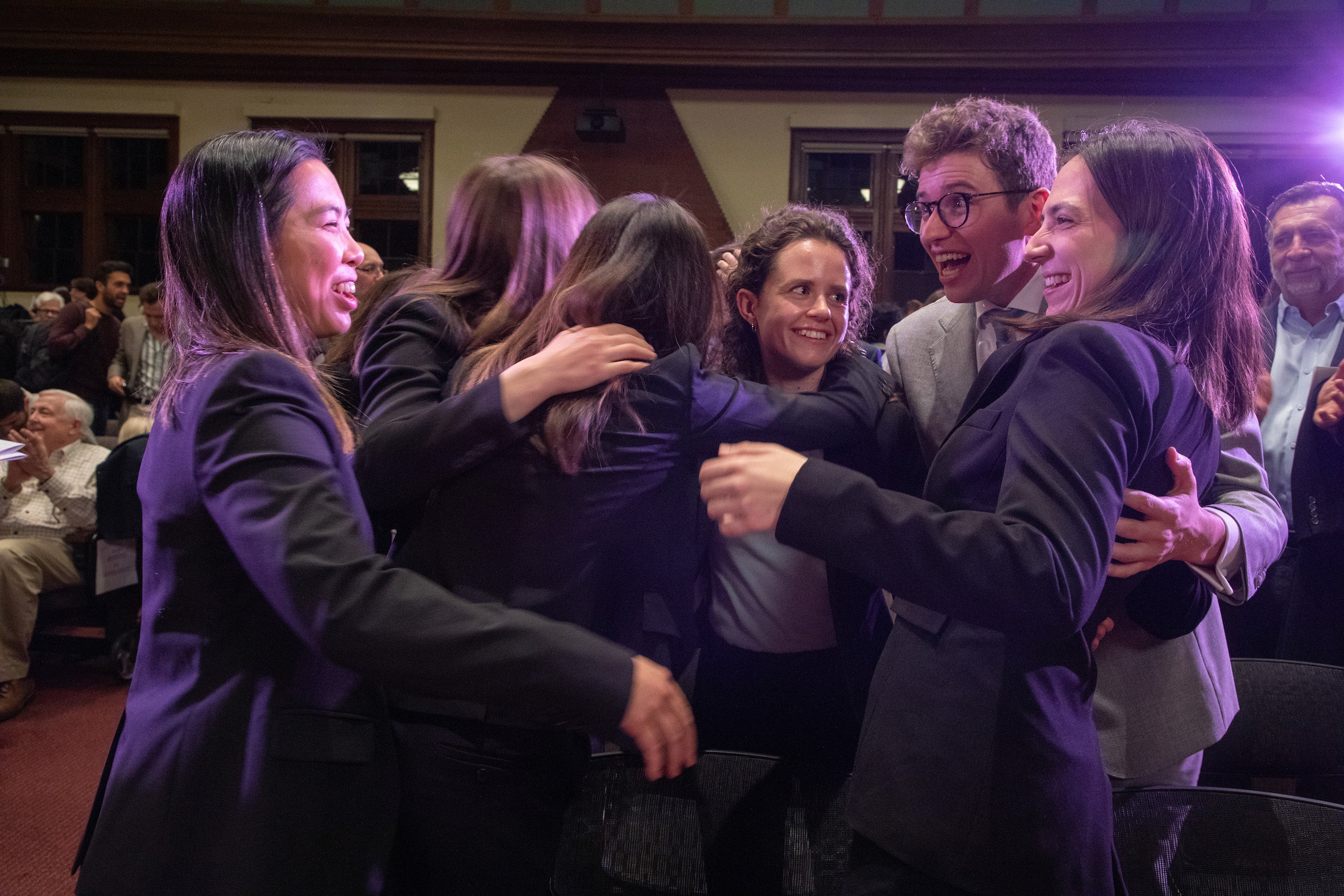 "We worked so hard to craft briefs that were clear and persuasive, so it's gratifying to know that they resonated with the judges," Emily Hatch said. "The award is incredible, but I think the most important part was the invaluable learning experience of collaborating with the team — and benefiting from each person's unique perspective and style — in the drafting and editing process."
On the win for best overall team, Sierra Polston added, "It feels surreal, but also incredible to know that all our hard work paid off. I'm so grateful to have had the opportunity to compete, and I know I will look back on this moment in the years to come."
Before concluding the evening, Judge Srinivasan also praised the respondents, whose performance, he said, "would have made Justice Ginsburg very, very proud."
Judge Wilson agreed, adding that both teams had presented impressive arguments before the court. "Somebody asked me, even before coming [today], how the briefs compared to the briefs that we get in our court, and I said, 'the briefs would be in the top 10% of the briefs that I get.' They were that good."
"I hope to see all four of you arguing in front of the 11th circuit someday," said Judge Grant. "Harvard Law School can be really proud that these are the types of students and advocates that the law school is producing."