Professor Guhan Subramanian '98 will be the new chair of the Program on Negotiation (PON) at Harvard Law School. Subramanian holds appointments at both Harvard Law School, where he is the Joseph H. Flom Professor of Law and Business, and Harvard Business School, where he is the H. Douglas Weaver Professor of Business Law. As chair of PON, he will succeed Robert H. Mnookin `68, Samuel Williston Professor of Law at Harvard Law School. The appointment will be effective on July 1.
"Harvard Law School and the entire negotiation community are fortunate indeed to see this torch passed from one exceptional academic leader to another," said John F. Manning '85, dean of Harvard Law School. "Bob Mnookin's scholarship and interdisciplinary approach to negotiation have enriched not just the Program on Negotiation, but the entire field of negotiation. I'm confident that Guhan Subramanian – a great scholar, teacher, and academic innovator and a valued member of both the HLS and HBS faculties – will continue to advance PON's leadership in the many communities that intersect with its important work."
Subramanian is the faculty chair for the J.D./M.B.A. program at Harvard University and has been serving as PON's vice chair for Research. His research explores topics in corporate governance, corporate law, and negotiations. He has published articles in the Stanford Law Review, the Yale Law Journal, the Harvard Business Review, and the Harvard Law Review, among other places. His book "Dealmaking: The New Strategy of Negotiauctions," which synthesizes the findings from his research and teaching, has been translated into Mandarin, German, Japanese, Portuguese, and Spanish. Subramanian has been involved in many major public-company deals, and he advises individuals, boards of directors, and management teams on issues of dealmaking and corporate governance.
Subramanian said, "Bob Mnookin has been a mentor to me ever since my student days at HLS in the mid-1990s. I have fond memories of our Hewlett Fellow dinners at his house, and numerous other interactions, which spurred my interest in negotiations as a field of study and as a career. Under his leadership, PON has become even more prominent in academic and practitioner circles. I'm honored to succeed him as PON chair, and excited to continue working with my PON colleagues to improve the theory and practice of negotiation at Harvard and around the world."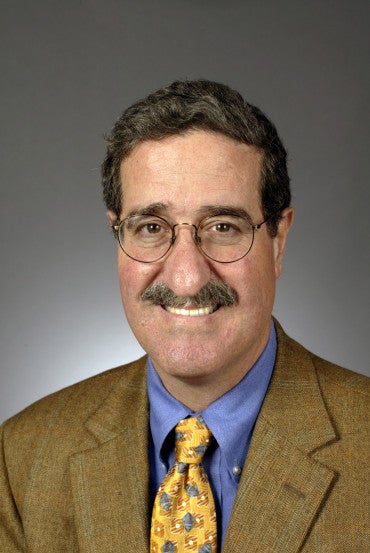 In addition to leading PON, which is a consortium program of Harvard, MIT and Tufts, Mnookin directs the Harvard Negotiation Research Project. A leading scholar in the field of conflict resolution, he has applied his interdisciplinary approach to negotiation and conflict resolution in public and private disputes. A renowned teacher and lecturer, Mnookin has taught numerous workshops for corporations, governmental agencies and law firms throughout the world and trained many executives and professionals in negotiation and mediation skills and served as a consultant to governments, international agencies, major corporations and law firms. As a neutral arbitrator or mediator, he has resolved numerous complex commercial disputes. Mnookin has written or edited ten books and numerous scholarly articles.
"I could not be more pleased and proud that Guhan Subramanian – my former student and for many years my colleague — will be my successor as chair of the Program on Negotiation," Mnookin said. "With degrees in law, business and economics, Guhan has demonstrated a deep commitment to PON's mission of contributing both to the theory and practice of negotiation and dispute resolution. He has made seminal scholarly contributions to our understanding of deal-making negotiations; and he is a gifted and committed teacher. Guhan has the intellectual and interpersonal skills to lead PON in the years to come."
Negotiation experts offered praise for Mnookin's leadership and excitement about Subramanian's appointment.
James Sebenius, the Gordon Donaldson Professor of Business Administration at Harvard Business School and director of the Harvard Negotiation Project said, "Leaving Stanford's Law School for Harvard's over two decades ago, Bob Mnookin has provided extraordinary leadership to the Program on Negotiation ever since. On every relevant measure, he has excelled: enhancing PON's scholarly footprint, nurturing the next generation of negotiation academics, providing challenging programs for students and executives, expanding PON's global reach, and managing through the financial crisis to greatly strengthen the program's finances. Under his stewardship, PON has truly thrived."
Sebenius called Subramanian a "legal scholar extraordinaire, extremely effective teacher, highly skilled negotiation case writer, and great colleague. Guhan Subramanian brings remarkable assets to the Program on Negotiation, with which he has been affiliated for many years. As the driving force behind the highly innovative and successful 'PON Global' initiative, Guhan has already demonstrated real leadership. With tenured appointments in both the Law and Business Schools, Guhan's appointment promises a bright future for this cross-Harvard, multi-university program."
Lawrence Susskind, professor of Environmental and Urban Planning at MIT, said, "Bob Mnookin has, for many years, provided steady and insightful leadership for PON. Under his guidance we have been able to expand our executive training efforts, launch our PON Global program and provide support for important scholarly research in a number of disciplines.Bob has worked to deepen ties among the several dozen faculty members who lead the PON community, supported a new generation of negotiation and dispute resolution scholars and burnished the PON brand around the world. We owe him a huge vote of thanks."
Susskind called Subramanian "a great choice" to succeed him. "Not only has his teaching, research and practice placed him right in the middle of the widening circle of associated PON faculty, but his long-term involvement with our executive training programs and outreach to policymakers means that he can hit the ground running. As one of the founders of PON, I see Guhan as exactly the right person to move us in a variety of new directions."
Jeswald W. Salacuse, Distinguished Professor and Henry J. Braker Professor of Law at Tufts University's Fletcher School of Law and Diplomacy, said, "Bob Mnookin has given wise and masterful leadership to PON for many years, skillfully and successfully guiding it through many difficult challenges, including the financial crisis of 2008 and the technological revolution in the way PON markets its executive programs, teaching materials, and publications."
"Guhan Subramanian is a superb choice to replace Bob Mnookin as PON leader. He has been a stalwart of our executive training program, has skillfully developed and led PON Global, an important new venture, and provided wise stewardship for our newsletter. PON's panoply of activities won't miss a beat during the leadership transition from Mnookin to Subramanian."