A number of Harvard Law students received special awards this year during the 2012 Class Day exercises on May 23. The honored students were recognized for their outstanding leadership, citizenship, compassion and dedication to their studies and the profession.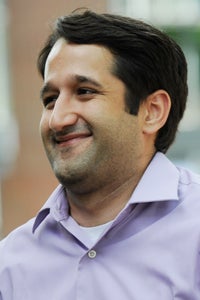 Andrew L. Kaufman Pro Bono Service Award
This year's Andrew L. Kaufman Pro Bono Service Award was presented to Rajan Sonik '12.
Sonik was recognized for performing the highest number of pro bono service hours in the Class of 2012. During his time at Harvard Law School, Sonik provided over 2,500 hours of free legal services.
The Frank Righeimer, Jr. Prize for Student Citizenship
The Righeimer Prize was presented to Meredith DeLancey Lynn Boak and Daniel Bender Saver.
Established in memory of Frank S. Righeimer, Jr. '32, the prize is awarded annually to a graduating student to recognize exceptional citizenship.
The David Westfall Memorial Award
The Westfall Award was presented to Laura Christine Bishop (left) and Krystyna Noel Wamboldt.
Named in honor of the late Professor David Westfall, who taught at HLS for more than 50 years, the award is presented annually to recognize student contributions to creating community within the first-year section and class.
The Dean's Award for Community Leadership
The Dean's Award recognizes a number of graduating students who have contributed time and energy to making the HLS community a better place through involvement in student organizations, community service groups, and individual efforts. This years' winners (pictured above, L-R) were:
Sarah Pascal Alexander
Yonika Etke Alexander
Allison Nina Canton
Whitney Patrice Fogle
Ronnie Alexandra Gosselin
Alexander Georg Horstmann
Kristi Lynn Jobson

Mai Li (not pictured)
William Abram Orlansky
Victoria Burt Rojas
Matthew Jesse Schoenfeld
Joshua Keith Sekoski
Corinne Virginia Snow (not pictured)