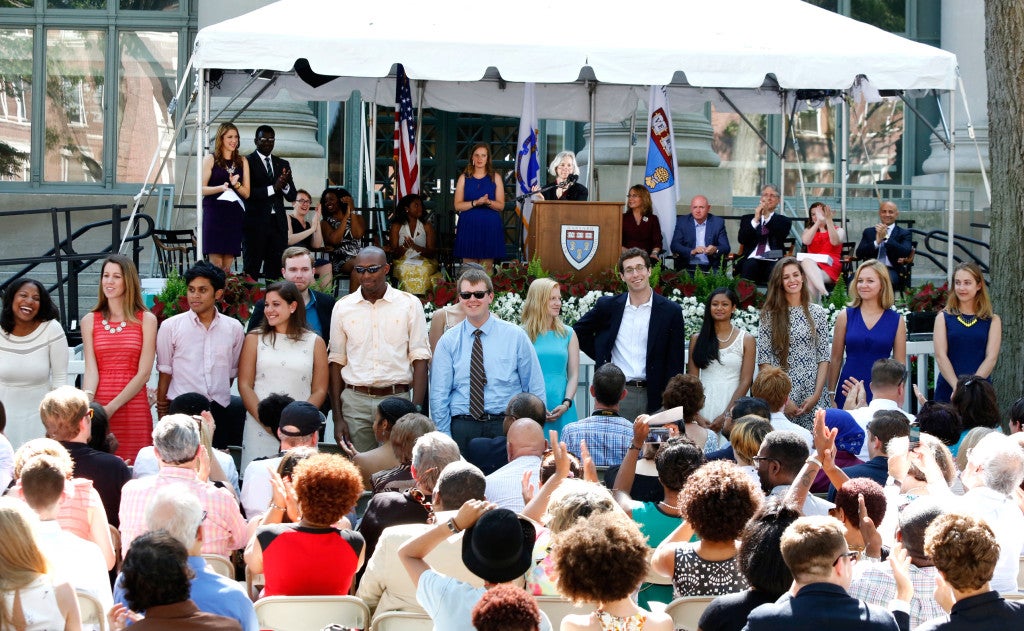 A number of Harvard Law students from the Class of '15 received special awards this year during the 2015 Class Day ceremony on May 27. The students were recognized for their outstanding leadership, citizenship, compassion and dedication to their studies and the profession.
Andrew L. Kaufman Pro Bono Service Award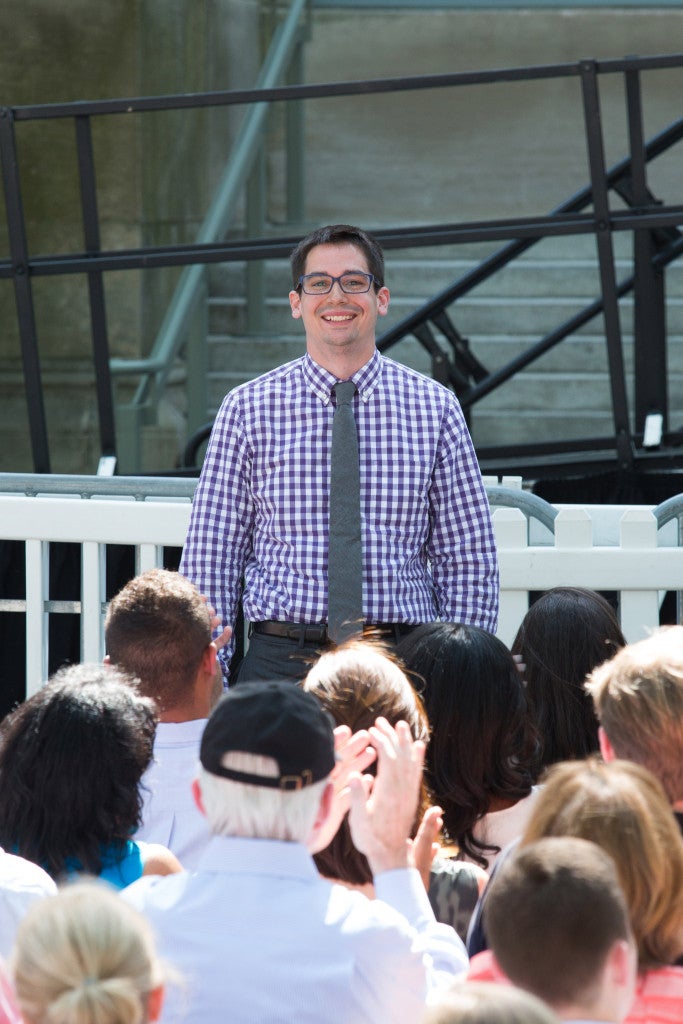 This year's Andrew L. Kaufman Pro Bono Service Award was presented to Chad Baker, honored for demonstrating an extraordinary commitment to improving and delivering high quality volunteer legal services to disadvantaged communities. Baker contributed over 2000 pro bono hours working with the Tenant Advocacy Project, the Prison Legal Assistance Project, and the Harvard Legal Aid Bureau.
Baker helped revitalize HLAB's Social Security disability practice by recruiting students to take disability cases, creating and running a streamlined investigation and intake system, and developing an enormous resource-rich internal wiki containing all of the materials a Bureau student could need to handle a first disability law case.
The Andrew L. Kaufman Pro Bono Service Award is granted each year in honor of Professor Andrew Kaufman '54, who has been instrumental in creating and supporting the Pro Bono Service Program at HLS. The J.D. student in the graduating class who performs the highest number of pro bono service hours receives the award and a $500 honorarium.
HLS requires all students to perform 50 hours of pro bono services but most go far beyond. This year, 10 students exceeded 2000 hours of service and 135 students volunteered more than 1000 hours.
The William J. Stuntz Memorial Award for Justice, Human Dignity and Compassion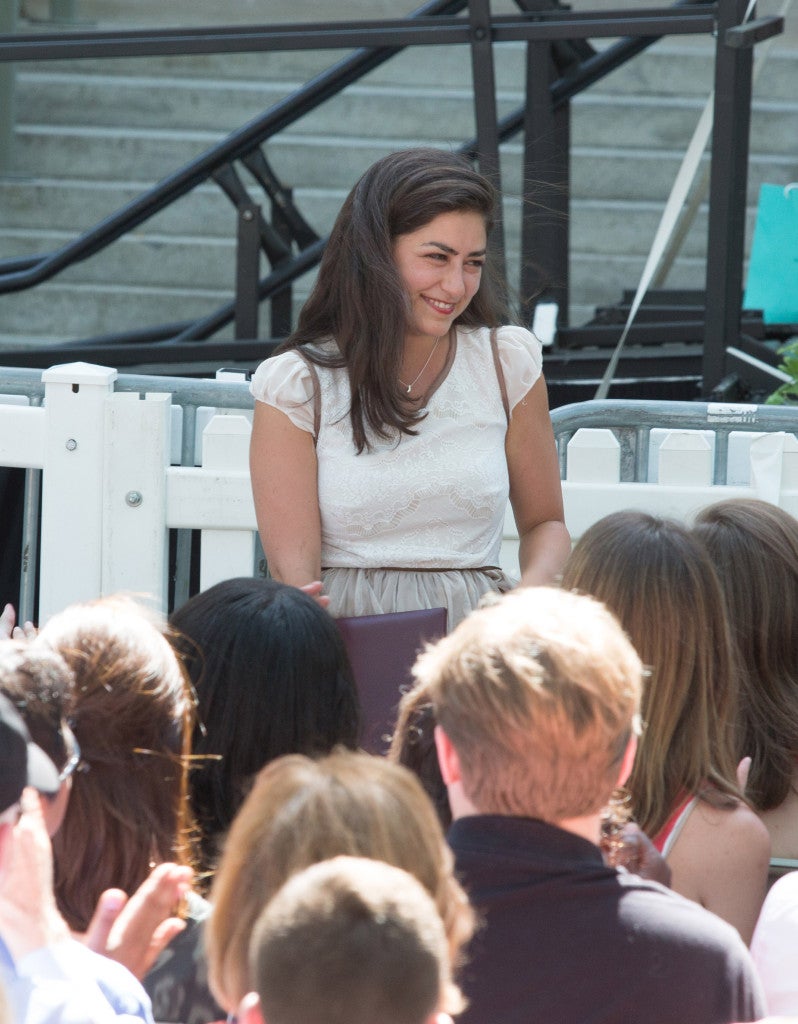 The Stuntz award was presented to Sima Atri. The award recognizes a graduating student who has demonstrated an exemplary commitment to the principles of justice, human dignity and compassion while at Harvard Law School.
At HLS, Atri has been dedicated to bringing community awareness to important social justice issues. She has served on the HLS Advocates for Human Rights executive board, as primary editor for the International Human Rights Journal, and played leadership roles in numerous student-organized public interest projects, including Divest Harvard, Firmly Refuse, and the Harvard Ferguson Action Coalition.
This year Atri was one of four inaugural Andrew B. Steinberg Scholars who were awarded grants to conduct research projects abroad during the January winter term. For her project, Sima visited Colombia where she examined workers' rights, particularly their right to organize, while exploring the obstacles to union participation and worker empowerment.
Atri has also been involved in Project No One Leaves, a non-profit tenants' rights organization that advocates for citizens living in foreclosed properties.
Prior to HLS, Atri earned a B.A. in Peace, Conflict and Justice Studies at the University of Toronto and worked with numerous human rights and development organizations in Canada. After graduating, she coordinated the Injustice Project at the University of Toronto Law School, working to spread awareness of socio-economic conditions facing indigenous peoples in Canada.
The award is given in honor of the late William Stuntz, a renowned scholar of criminal justice at Harvard Law School, an evangelical Christian and a teacher much beloved by students and colleagues. Atri is the fifth person to receive this honor since it was established in 2011.
The Frank Righeimer, Jr. Prize for Student Citizenship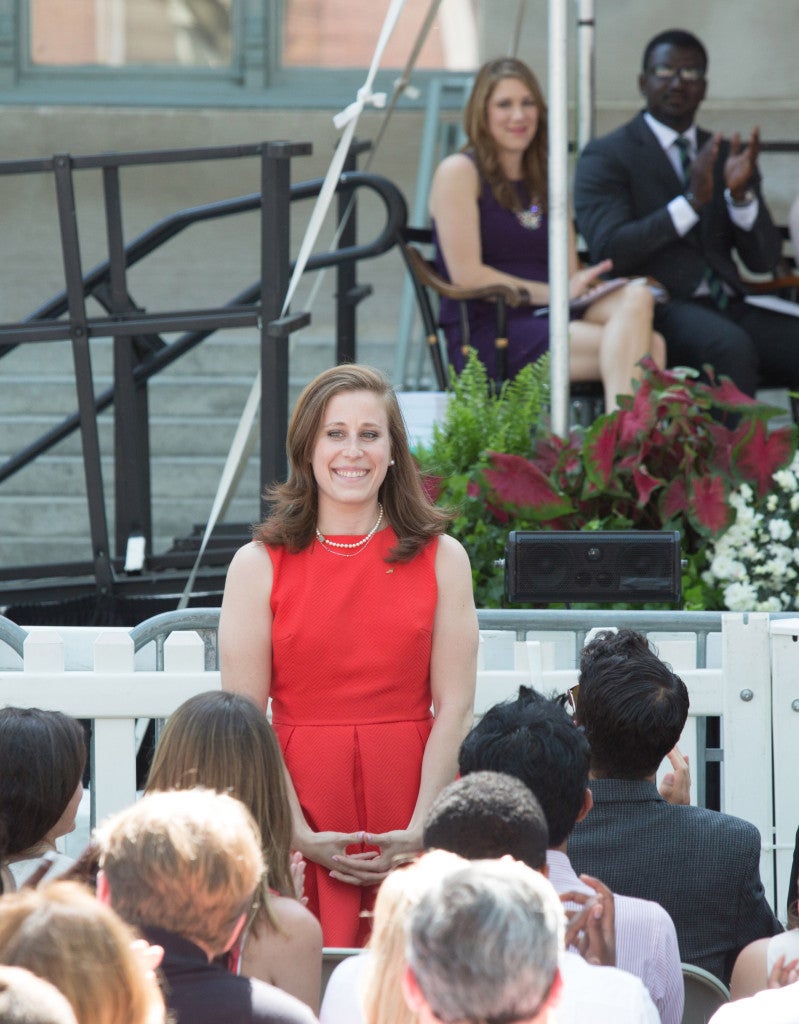 The Righeimer Prize was presented to Alison Sher. Established in memory of Frank S. Righeimer Jr. '32, the prize is awarded annually to a graduating student in recognition of exceptional citizenship within the HLS community demonstrated through involvement in student organizations, community service groups or through individual efforts.
Sher served as president of the Student Representative Board, the HLS student government, organizing numerous events for the HLS community. She has also served as student director of the Project on Predatory Student Lending at the Legal Services Center. The project represents low-income student loan borrowers who have experienced predatory lending in connection with for-profit schools.
In addition, Sher served as a student leader in the Title IX Working Group and was instrumental in promoting dialogue on the issue of gender equality and prevention of and responses to sexual assault.
The David Westfall Memorial Award
The Westfall Award was presented to Alexander Civetta. Named in honor of the late Professor David Westfall '50, who taught at HLS for more than 50 years and served as an inaugural faculty leader for a first-year section, the award is presented annually to recognize student contributions to creating community within a first-year section and the wider class.
As a 1L, Civetta led the Section 4 Events Committee for the Class of 2015, coordinating community building events and activities. And he has he continued to foster the close bonds and network of support among its members.
Civetta has also served both as an executive editor and managing editor at the Harvard Negotiation Law Review, and a member of the Harvard Journal of Law and Technology.
The Dean's Award for Community Leadership
The Dean's Award recognizes a number of graduating students who have contributed time and energy to making the HLS community a better place through involvement in student organizations, community service groups, and individual efforts.
Gregory J. Baltz
Melanie Berdecia
Samantha R. Caravello
Cassie Helen Chambers
David Glanzer Curtis
Emily Grace Cusick
Sudipta Devanath
Juliana de Valdenebro Garrido
Olivia G. Hoffman
Sara Hugelier
Claire M. Johnson
Joshua Stephen Ellis Lee
Dooter D. Malu
McKenzie Louise Morris
Tara Janelle Studebaker Norris
Shakeer Rahman
Julia Brinn Siegel
Blake Alexander Strode
Paul E. Suitter