A selection of Harvard Law students from the Class of 2021 will be recognized for their contributions during the virtual Class Day ceremony on May 26. They are being honored for outstanding leadership, citizenship, compassion, and dedication to their studies and the profession.
David A. Grossman Exemplary Clinical Student Award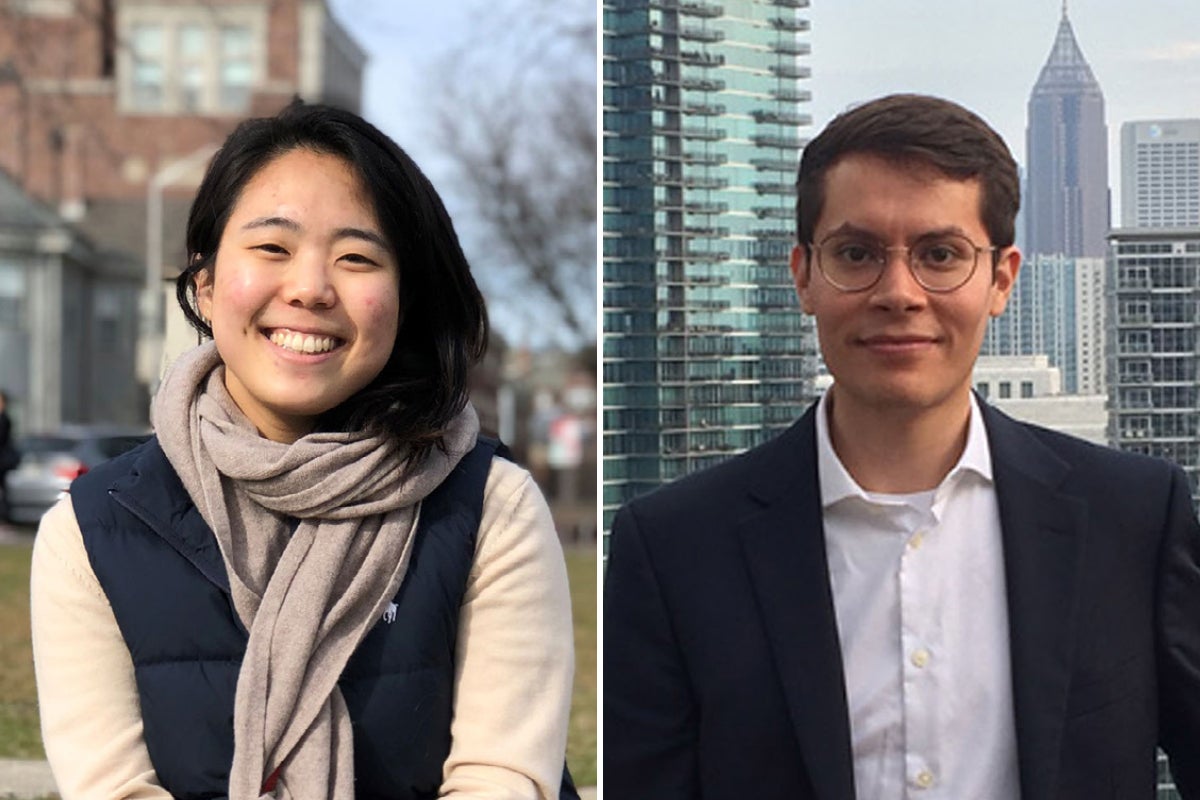 The David Grossman Exemplary Clinical Student Award recognizes a graduating student or students who embody the pro bono spirit of the late Clinical Professor David Grossman. The 2021 David Grossman Exemplary Clinical Student Award winners are Benjamin Antillon Fernandez '21 and Linda Heeyoung Park '21. Professor Grossman exemplified putting theory into practice through clinical work. The student honorees have demonstrated excellence in representing individual clients and/or undertaking group advocacy or policy reform projects. In keeping with the clinical teaching model, these two students have been self-reflective and shown thoughtfulness and compassion in their practice and have contributed to the clinical community at HLS in a meaningful way.
Antillon Fernandez was nominated by the Immigration and Refugee Clinical Program for his zealous, client-centered advocacy and unwavering commitment to immigrants' rights. During his tenure with the clinic, he worked on a variety of cases and successfully won asylum protection for a client from El Salvador fleeing gang violence after two brutally long hearings on the merits, including a lengthy cross-examination by the government. During the pandemic, he was able to seamlessly transition to the remote environment and remain a calm and dedicated advocate for his clients.
His docket expanded to include a complex federal court lawsuit challenging medical abuse of women at the Irwin Detention Center and a mandamus petition to advocate for the release of 12 detainees held at the Bristol County Jail because of the COVID-19 pandemic.
Beyond his acumen with the legal proceedings, he excelled at forging meaningful connections with his clients, and his thoughtful representation was a cornerstone of the work he did at Harvard Law School.
Like Antillon Fernandez, Park was a passionate advocate for her clients during her time at HLS. Spending multiple semesters with the Veterans Law and Disability Benefits Clinic, she provided direct legal representation to nine disabled individuals appealing denials of Social Security benefits. She managed every aspect of their cases from client interviewing, analyzing hundreds of pages of medical records, developing evidence and strategy, preparing witnesses, writing briefs, presenting oral argument, and conducting both direct and cross examination in the agency hearings.
She also co-created an entire curriculum for an immersive spring break service trip to assist victims of a Social Security disability fraud scheme in Appalachia and created an intentional community for the HLS students working with those individual clients from Kentucky.
In addition to these efforts, she recruited medical professionals who share a commitment to racial and economic equity to form a Medical Advisory Board volunteer panel for the Legal Services Center to assist law students in navigating medical records.
As with Antillon Fernandez, what shone through in all of Park's work with the clinics was a commitment to her clients and empathetic approach in her efforts to enact meaningful justice.
---
The Frank S. Righeimer Jr. Prize for Student Citizenship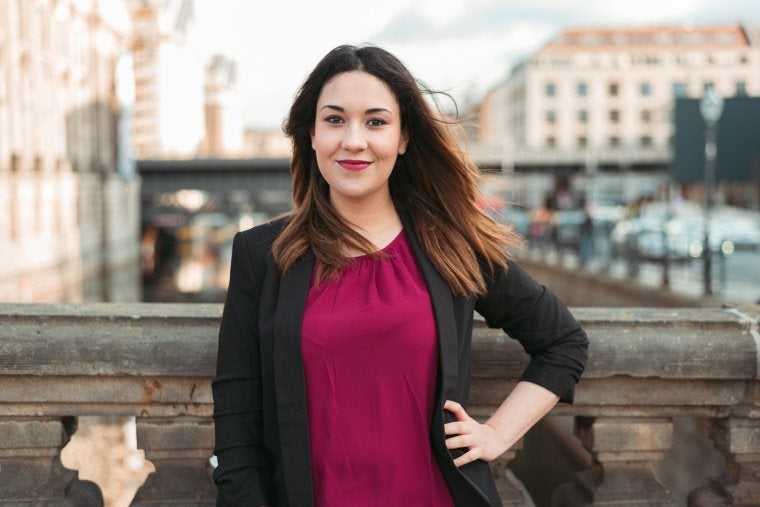 The 2021 Frank Righeimer Jr. Prize winners are Ikram Ais LL.M. '21 and Phebe Hong '21. Established in memory of Frank S. Righeimer Jr. '32, the prize is awarded annually to a graduating student or students in recognition of exceptional citizenship within the HLS community demonstrated through involvement in student organizations, community service groups, or through individual efforts. Both Ais and Hong exemplified those ideals.
As a Class Marshal and an LL.M. student, Ais was keenly aware of the challenges of the remote learning environment for herself and her fellow LL.M.s. She made a great effort to support students and to foster a strong sense of community. Her peers celebrated her dedicated advocacy for the LL.M. class and her determined efforts to organize social events utilizing all means of technology to bridge the physical divide and forge meaningful connections.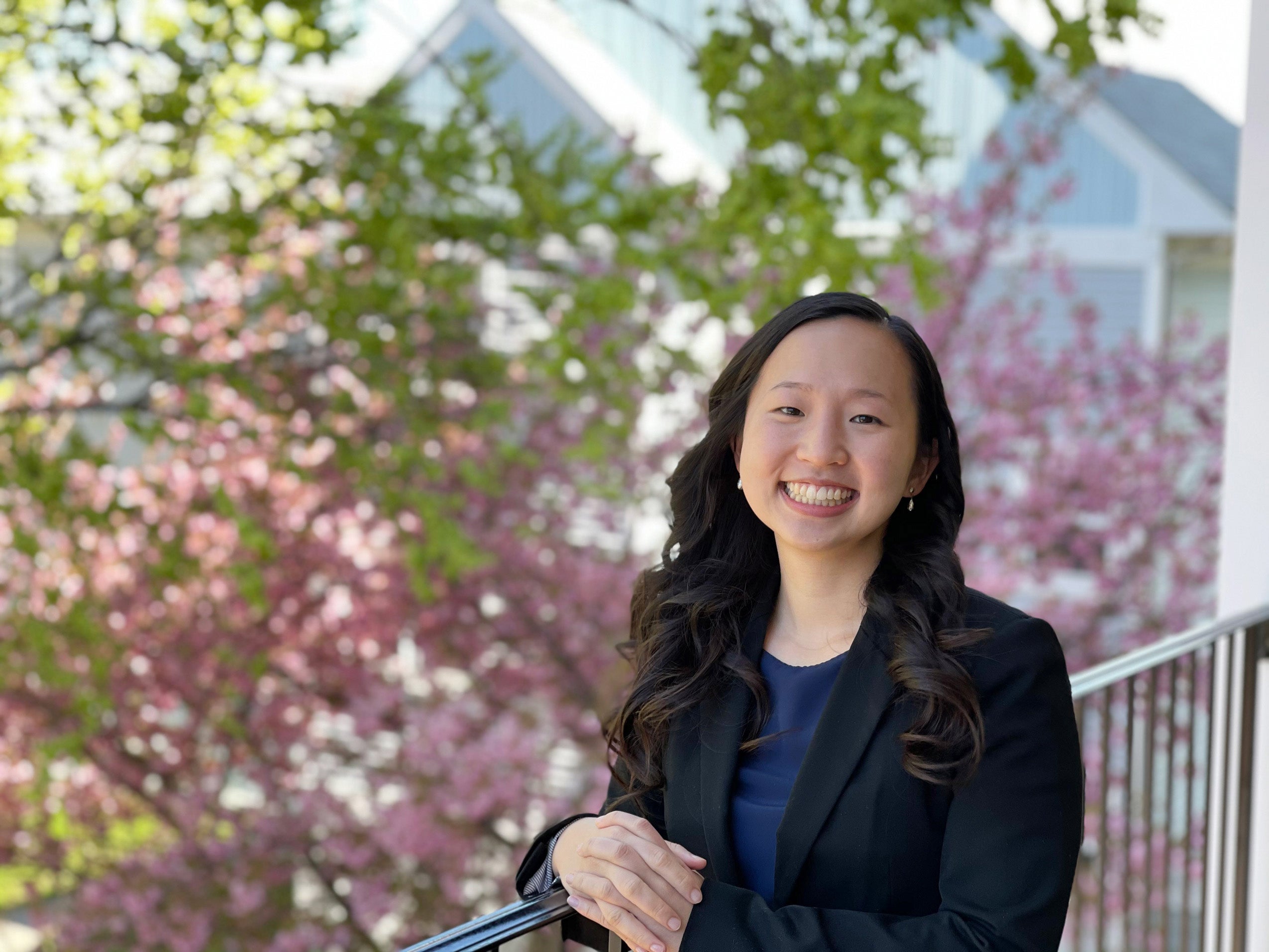 She also worked as the director of activism for Advocates for Human Rights, where she focused on Yemen, and assisted with a letter calling for the release of four journalists who were sentenced to death under the Houthi regime. As one of her nominator's described, "Ikram has proven herself as a leader with the courage and vision to stare down uncertainty with determination and a great spirit."
As with Ais, Hong's commitment to bettering the lives of her peers did not go unnoticed. "Phebe is a trusted adviser and support to many students. She is compassionate, sincere, thoughtful, and generous in her interactions and has made significant contributions towards mental health efforts at HLS and offers valuable insight and perspective on proposed initiatives," wrote one of her nominators.
Hong was an active member of the HLS community participating as a member of the Board of Student Advisers and the HLS Student Wellbeing Working Group, as well as serving as co-president of Harvard's Asian Pacific American Law Students Association. With the rise of anti-Asian violence in the wake of COVID, she helped raise money for organizations looking to help support and protect Asian communities, and to bring the issue to the forefront. A role model for her fellow students, Hong handled a challenging academic load and still made time to be a compassionate advocate for her classmates.
---
The David Westfall Memorial Award for Community Leadership
For her unwavering community leadership, the 2021 Westfall Memorial Award winner is Madison Lee Martin '21.
Named in honor of the late Professor David Westfall '50, who taught at HLS for more than 50 years and served as an inaugural faculty leader for a first-year section, the award is presented annually to recognize student contributions to creating community within a first-year section and the wider class.
As the Section Four Committee President, Martin worked hard to coordinate events and reunions for her section, and she played an important role in organizing the class toast, inviting professors to speak to the graduating class and creating a slideshow for classmates to reflect on their HLS experience. In her first year, Madison created 'Section Smiles', through which she would deliver anonymously submitted compliments to section mates during finals. She revived the tradition for 3L finals, knowing how far a simple compliment could go to help bolster energy through a challenging time. Her warmth and kindness were evident in the words of the peers who nominated her.
---
The William J. Stuntz Memorial Award for Justice, Human Dignity, and Compassion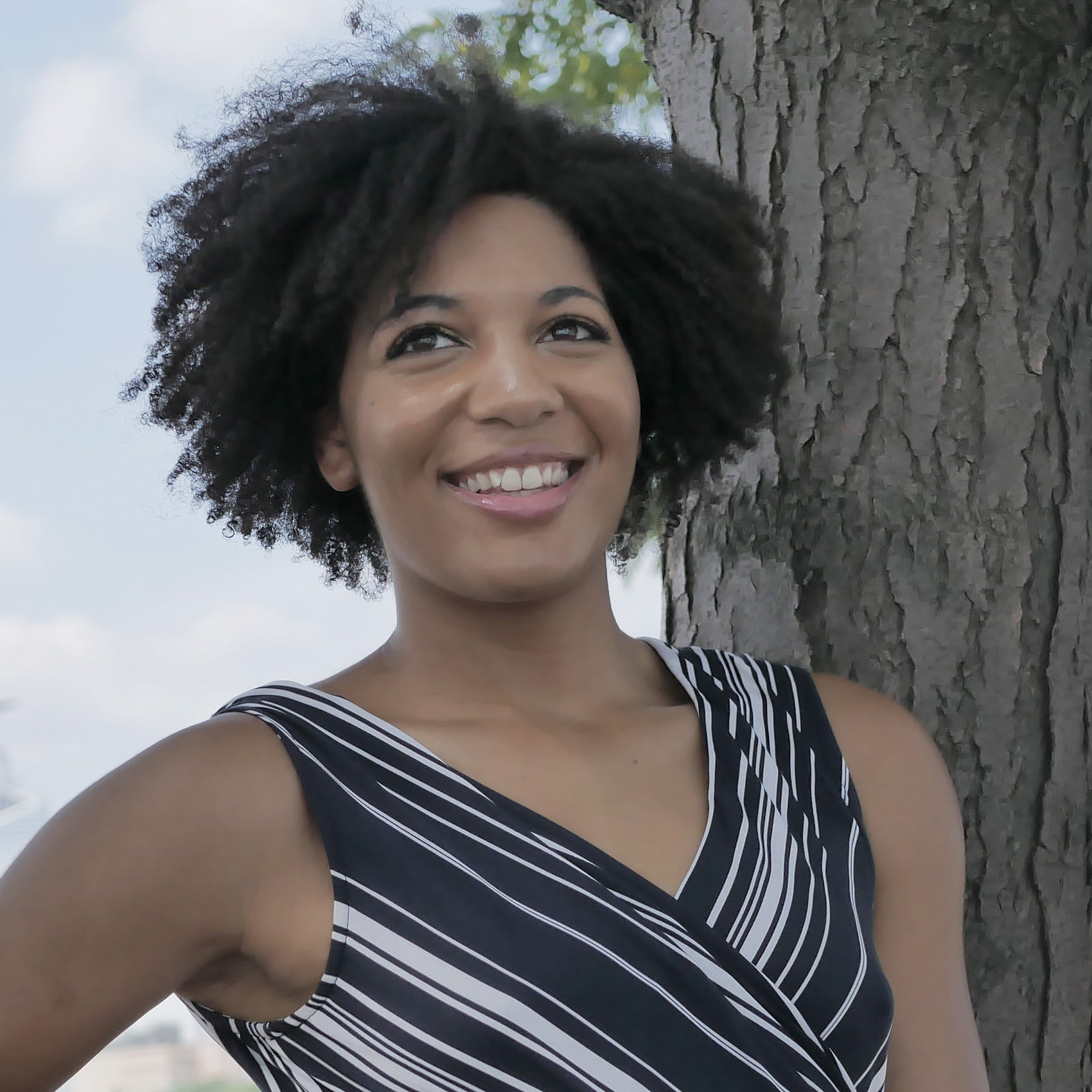 The Stuntz Memorial award recognizes a graduating student who has demonstrated an exemplary commitment to the principles of justice, human dignity, and compassion while at Harvard Law School. The 2021 winner is Alexis Patricia Afriyie Yeboah-Kodie '21.
Yeboah-Kodie participated in and made a noticeable impact in the International Human Rights Clinic and the Prison Legal Assistance Project. "Her work as the first Black director at PLAP, her human rights advocacy, and her work on abolition," as one nominator noted, "have all set an enormous precedent for advocacy and social justice at HLS."
In PLAP, Alexis not only represented her clients, but she also took time to mentor new students through their first hearings. Throughout her three years with PLAP, she facilitated an internal dialogue on race and confronted systemic racism within the prison system, encouraging agency officials to confront uncomfortable questions and challenging everyone to be actively anti-racist.
As a participant in the International Human Rights Clinic, Alexis worked with the Lawyers Committee for Civil Rights Under Law to advance the right to water for Black communities in rural North Carolina.
The through line in all her work was her dedication to social justice and human dignity, her determination to make the world a better place, and her compassionate approach to the law.
The Stuntz Memorial award, established in 2011, is given in honor of the late William Stuntz, a renowned scholar of criminal justice at Harvard Law School, an evangelical Christian, and a teacher much beloved by students and colleagues.
---
Andrew L. Kaufman Pro Bono Service Award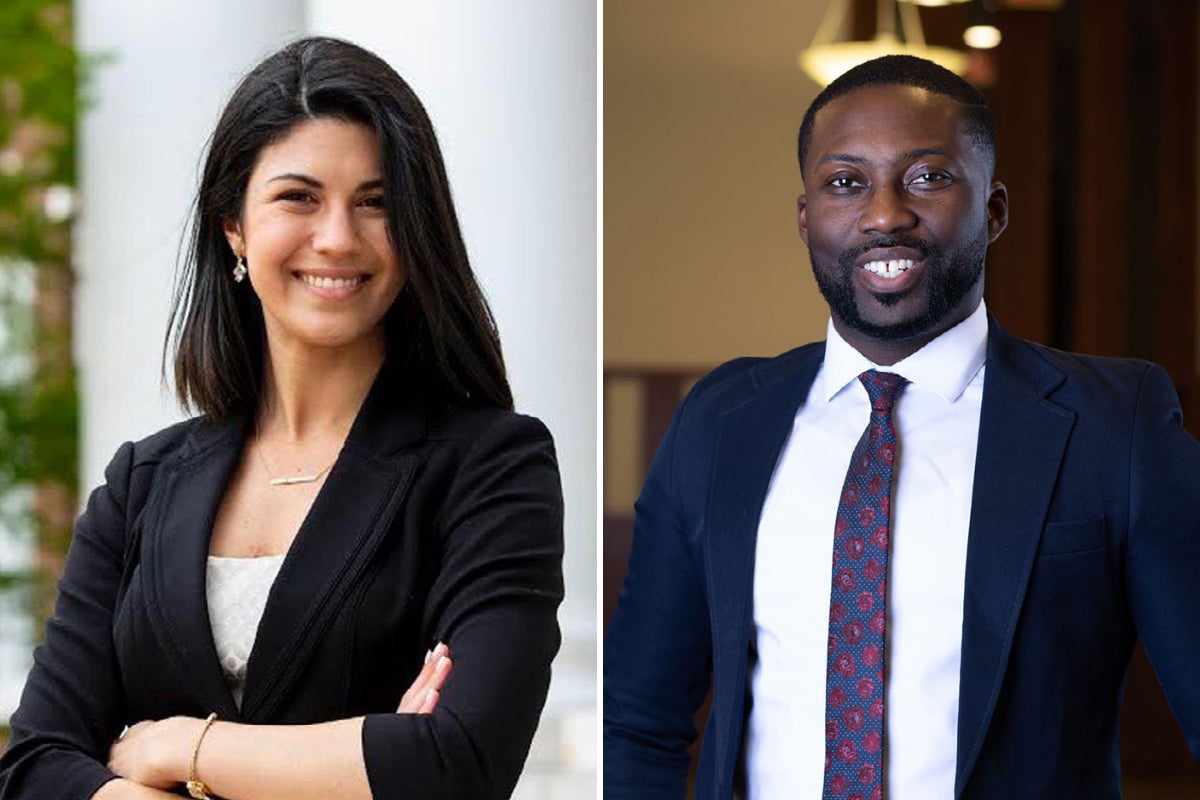 The 2021 Andrew L. Kaufman Pro Bono Service award-wining team is Brooke Alexandria Davies '21 and Daniel Olisa Oyolu '21. This exceptional pair made many contributions to the HLS community throughout their time at the school, but their team project with the Dispute Systems Design Clinic was a particularly noteworthy example of the compassion, expertise, and sense of moral justice that each brought to life on campus.
During the summer of 2020, with racial justice protests erupting across the U.S., they began brainstorming ways to help activists turn power on the streets into power at the negotiating table. Combining theoretical works on negotiation, power, and community organizing, as well as modern case studies with interviews of organizers throughout the United States, the duo drafted an innovative proposal with practical, implementable, and freely accessible guidance. Their "Power, Protest, and Political Change," guide is now benefitting human rights activists and movement leaders globally and their work has since drawn attention from across the field of negotiation and peacebuilding.
In addition to their work together, Davies has also served as Treasurer and Vice-President of HLS Advocates for Human Rights while Oyolu worked on projects with the Harvard Mediation Program, Cyberlaw Clinic, and Puerto Rico Hurricane Relief.
The Kaufman Pro Bono Service Award is granted each year in honor of Professor Andrew Kaufman '54, who has been instrumental in creating and supporting the Pro Bono Service Program at HLS. J.D. students in the graduating class who demonstrate an exemplary commitment to pro bono work receive the award and an honorarium. HLS requires all students to perform 50 hours of pro bono service but most go far beyond. This year, six students exceeded 2,000 hours of service and 144 students volunteered more than 1,000 hours. In total, the Harvard Law School Class of 2021 contributed 393,384 hours of pro bono legal work.
---
Gants Access to Justice Award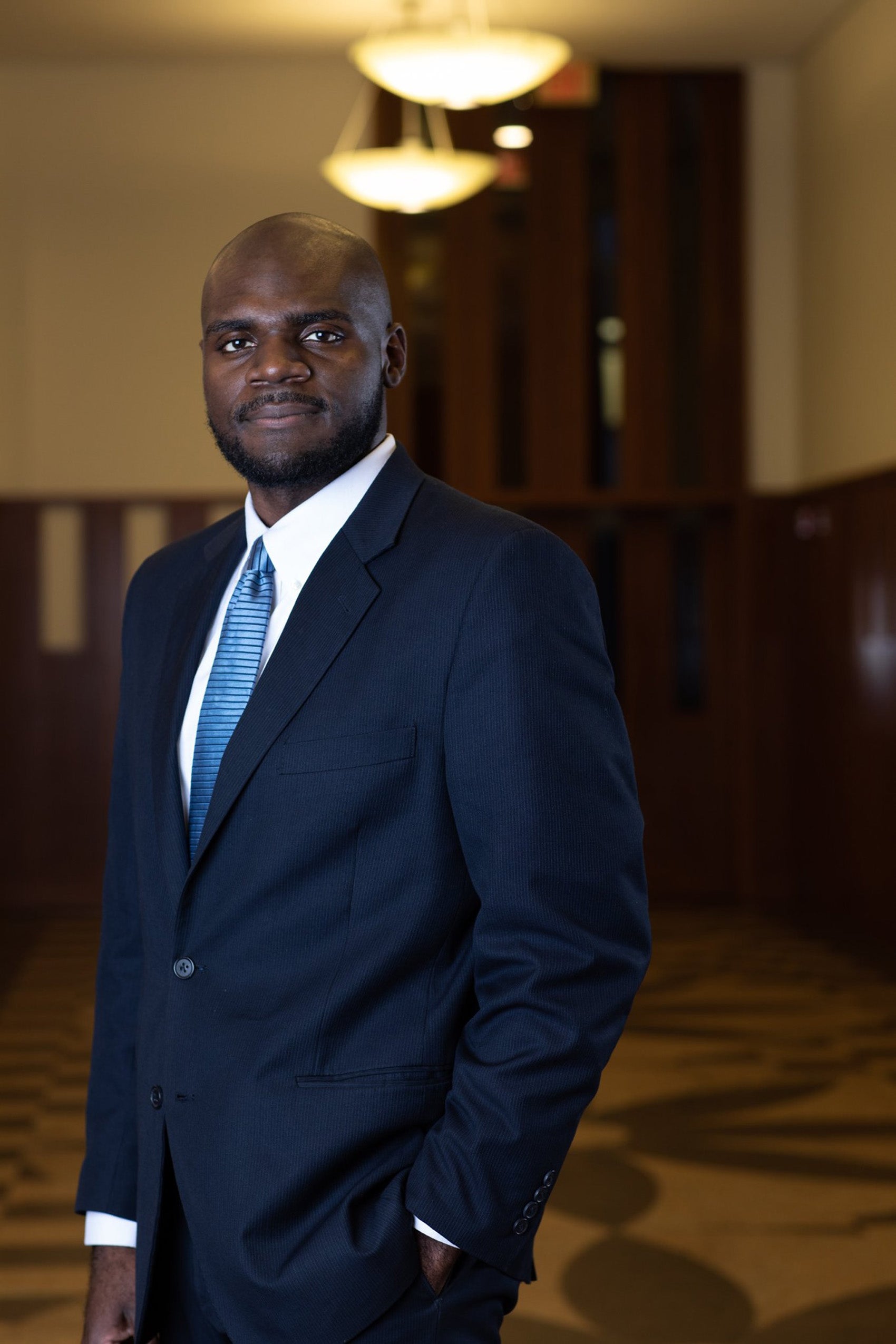 This new award honors the late Massachusetts Supreme Judicial Court Chief Justice Ralph D. Gants '80, who passed away in the fall of 2020 and was a tireless advocate for racial and social justice. The award recognizes a student who, in the spirit of Justice Gants' commitment to creating a fair criminal justice system, is dedicated to advancing access to justice, racial equity and/or criminal justice reform and has demonstrated leadership in helping to eliminate systemic barriers to justice. The inaugural recipient is Dennis Obioma Ojogho.
Ojogho worked tirelessly on behalf of marginalized communities with the Harvard Legal Aid Bureau. In one trial, he and his colleagues reached a five-year lease with affordable rents for at least 15 tenants, primarily low-income persons of color with little to no other options for housing. In another case, his brilliant legal arguments resulted in reversing an eviction order of a disabled tenant while setting a favorable disability law precedent at the Massachusetts Appeals Court and preserving the tenancy of two African American grandmothers in a building on sustainable terms.
Even with the massive disruption of the pandemic, he helped to innovate HLAB's community lawyering partnership with City Life Vida Urbana by creating an entirely new referral system in lieu of the in-person weekly community meetings. He also served as Co-Chair of the Black Law Students Association Political Action Committee, utilizing his platform to bring awareness to housing justice.
Throughout his time at HLS, Ojogho's integrity, teamwork, and trial advocacy skills made him a remarkable housing justice advocate of whom Judge Gants would be proud.
Alexis Brianna Alvarez
Black Law Students Association, Board of Student Advisers, Journal of Law & Gender, HLS Parody
Fernanda Gómez Balderas
Class Marshal, Harvard Law and Technology Society, Harvard University Mexican Association of Students, Mexican Law Student Association, Women's Law Association
Rosa Louise Baum
HLS Immigration Project, Harvard Immigration and Refugee Advocacy Clinic, JD/MPP Joint Degree Students Association
Beáta Bolyová
Harvard Central and Southeast Europe Law Students Association, Harvard International Law Journal, HLS Student Government, Philip C. Jessup International Law Moot Court, Telders International Law Moot Court Competition
Joanne Phuong Duyen Bui
Asian Pacific American Law Students Association, First Class , Harvard Plaintiffs' Law Association, HLS Talks
Todd A. Carney
Harvard European Law Student Association, Harvard International Arbitration Law Students Association, Harvard International Law Journal, Harvard Law School Rule of Law Society, HLS Disability Law Student Association
Sidharth Chauhan
Class Marshal, Harvard Journal of Law and Technology, HLS Antitrust Association, South Asian Law Students Association, HLS Student Government
Mia Gettenberg
Board of Student Advisers, Lambda
Megan Garrett Jones
Alliance for Reproductive Justice, Journal of Law & Gender, Harvard Law & Policy Review, Harvard Legal Aid Bureau, Peer Advisors
Massiel Leiva
Board of Student Advisers, Harvard Latinx Law Review, La Alianza, HLS Parody, Tenant Advocacy Project
Tiffany Huang Li
Asian Pacific American Law Students Association, Board of Student Advisers, HLS Mock Trial Association
Nora Aimee McDonnell
Criminal Justice Institute, Harvard Defenders
Colleen Grace Witt O'Gorman
Ames finalist, Board of Student Advisers, Journal of Law & Gender, Women's Law Association
Amanda Rosemary Odasz
Domestic Violence and Family Law Clinic, HLS Parody, International Human Rights Clinic, Journal of Law & Gender, West Coast Club
Chinelo Krystal Okonkwo
Black Law Student Association, Board of Student Advisers, Journal of Sports and Entertainment Law
Laura Londoño Pardo
Board of Student Advisers, Harvard Defenders, Impact Defense Initiative, La Alianza
Linda Heeyoung Park
Board of Student Advisers, Harvard Prison Legal Assistance Project, Veterans Law and Disability Benefits Clinic
Kathleen W. Quigley
Harvard Civil Rights-Civil Liberties Law Review, Crimmigration Clinic, HLS Immigration Project, Harvard Immigration and Refugee Advocacy Clinic
Tiffany Pamela Rodriguez
First Class, Harvard Civil Rights-Civil Liberties Law Review, HLS Immigration Project
Sarah D. Rutherford
Black Law Students Association, Board of Student Advisers, Harvard Civil Rights-Civil Liberties Law Review, HLS Student Government, Tenant Advocacy Project
Matthew Shields
Black Law Students Association, Journal of Sports and Entertainment Law, Lambda, HLS Parody, Prison Legal Assistance Project
Jung Min Shin
HLS Advocates for Human Rights, Board of Student Advisers, International Human Rights Clinic, International Law Journal, Korean Association of Harvard Law School
Ebony Nicole Slaughter-Johnson
Harvard Civil Rights-Civil Liberties Law Review, Mississippi Delta Project, Prison Legal Assistance Project, HLS Student Government, Women's Law Association
Zachary A. Weinstein
HLS Disability Law Student Association, HLS Talks
Alexandra Farel Wolfson
HLS ACLU, Harvard Civil Rights-Civil Liberties Law Review, Women's Law Association
---
The Dean's Awards for Community Leadership
The Dean's Award for Community Leadership recognizes a number of graduating students who have contributed time and energy to making the HLS community a better place through involvement in student organizations, community service groups, and individual efforts. The Class of 2021 recognized the following students: