A number of Harvard Law students from the Class of 2019 received special awards during the Class Day ceremony on May 29. They were recognized for outstanding leadership, citizenship, compassion and dedication to their studies and the profession.
---
Andrew L. Kaufman Pro Bono Service Award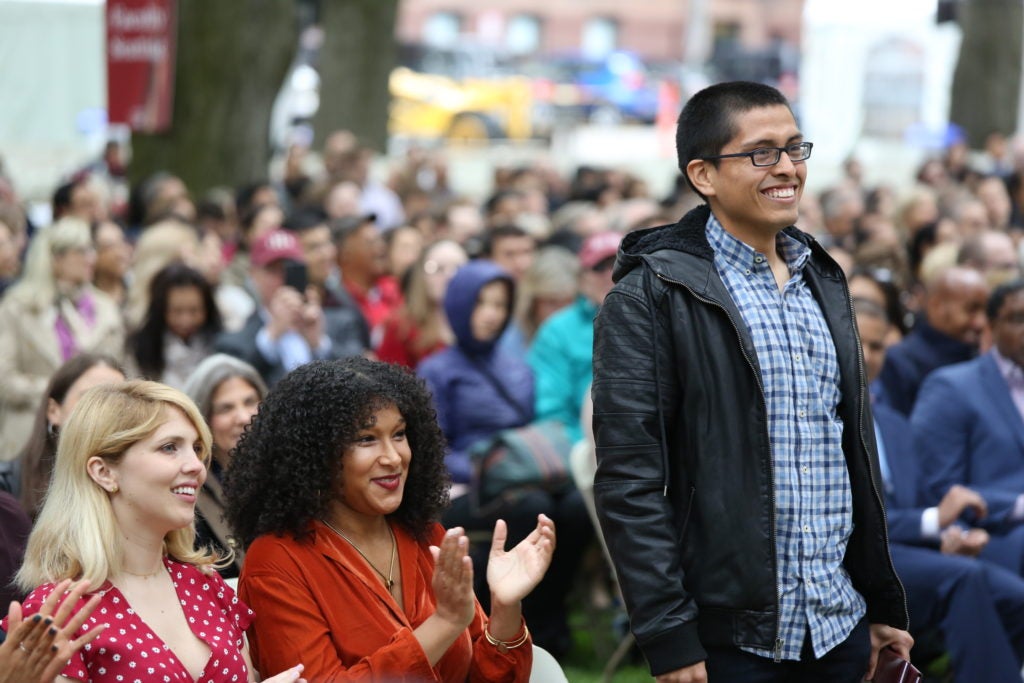 Richard Barbecho '19 is this year's winner of the Andrew L. Kaufman Pro Bono Service Award. Richard has integrated criminal defense, immigration, and housing law into his more than 2,000 hours of community lawyering and pro bono service during his time at HLS. Throughout law school, Richard has been a devoted canvasser with Project No One Leaves (PNOL), spending most Saturdays in Boston's low-income neighborhoods knocking on the doors of people facing displacement. This year, he is PNOL's co-president, and he is additionally responsible for organizing canvassing efforts and training new volunteers.
As a member of Harvard Defenders for the past three years, Richard has had an active caseload representing low-income individuals accused in criminal show-cause hearings before clerk magistrates and, recently, in an appeal in district court. He has also been a prolific Harvard Legal Aid Bureau student-attorney.
The Andrew L. Kaufman Pro Bono Service Award is granted each year in honor of Professor Andrew Kaufman '54, who has been instrumental in creating and supporting the Pro Bono Service Program at HLS. J.D. students in the graduating class who demonstrate an exemplary commitment to pro bono work receive the award and an honorarium.
HLS requires all J.D. students to perform 50 hours of pro bono service as part of their program, but most go far beyond that. This year, the Harvard Law School Class of 2019 contributed 390,095 hours of pro bono legal work — an average of 651 hours per student.
---
The William J. Stuntz Memorial Award for Justice, Human Dignity and Compassion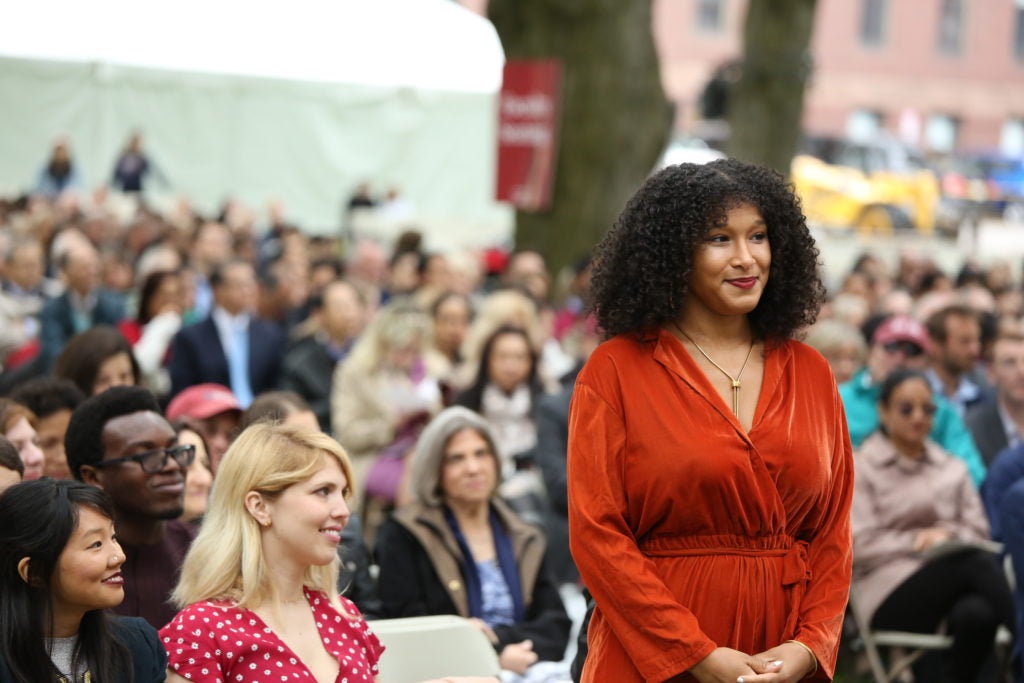 The Stuntz award was given to Denise Ghartey. Even before coming to law school, Denise fought for housing and economic justice in the Greater Boston Area working for several local community organizations including TriCity Community Action Program, HomeStart, Inc., and Housing Families, Inc.
At Harvard Law School, she demonstrated a tireless commitment to helping those in the community navigate the justice system and effectuate their legal rights. She was an active and dedicated member of numerous student organizations and clinics on campus, including the Harvard Legal Aid Bureau, Harvard Defenders, and the Black Law Students Association. She represented countless clients in housing, family, wage and hour, foreclosure, benefits, and special immigrant juvenile status cases. As President of the Harvard Legal Aid Bureau, she built an inclusive community and kept the nation's oldest student-run legal services clinic, running on a day-to-day basis.
The Stuntz award, established in 2011, is given in honor of the late William Stuntz, a renowned scholar of criminal justice at Harvard Law School and a teacher much beloved by students and colleagues.
---
The David Westfall Memorial Award for Community Leadership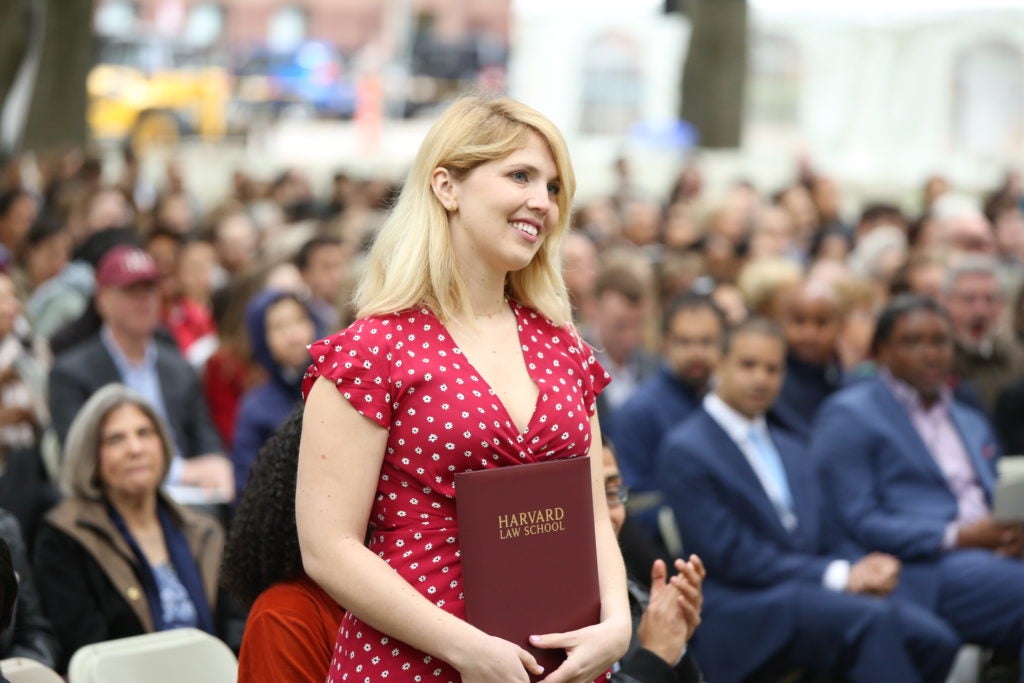 The Westfall Award for Community Leadership was presented to Laura Lee Barry. Named in honor of the late Professor David Westfall '50, who taught at HLS for more than 50 years and served as an inaugural faculty leader for a first-year section, the award is presented annually to recognize student contributions to creating community within a first-year section and the wider class.
Throughout her three years at HLS, Laura Lee devoted considerable time to cultivating and maintaining community within her section and beyond. She organized several events including the traditional Rakoff Bake-Off, bocci nights, karaoke, and the annual Section Seven Extravaganza mixer. As a 2L and 3L, she shared her story with 1Ls at Orientation as part of Section Seven Talks, and she advised and tutored first-year students in her section.
---
The Frank S. Righeimer Jr. Prize for Student Citizenship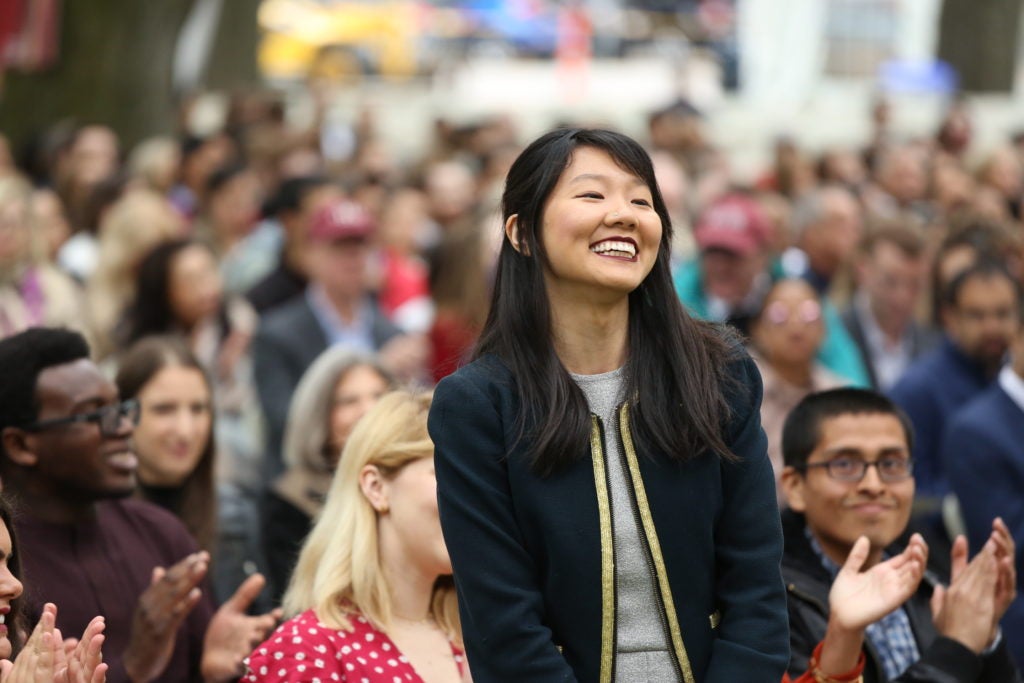 The Righeimer Prize was presented to Harvard Law School Student Government President Jianing Xie. Established in memory of Frank S. Righeimer Jr. '32, the prize is awarded annually to a graduating student in recognition of exceptional citizenship within the HLS community demonstrated through involvement in student organizations, community service groups or through individual efforts.
Through her involvement in the Prison Legal Assistance Project, Harvard Defenders, Harvard Legal Aid Bureau, and Lambda, she demonstrated her dedication to making HLS and the world a better place for all. In her role as the Executive Director of Harvard Defenders, she spearheaded open office hours to hear and address the needs of every member. In addition, she helped create Queer Trans* People of Color, a student organization designed to give queer students of color a space to talk, reflect, and advocate based on shared experiences.
---
The Dean's Awards for Community Leadership
The Dean's Award for Community Leadership recognizes a number of graduating students who have contributed time and energy to making the HLS community a better place through involvement in student organizations, community service groups, and individual efforts. The Class of 2018 recognized the following students:
Lindsay Anne Bailey
International Human Rights Clinic, Law and International Development Society, Advocates for Human Rights, International Law Journal, Canadian Law Students Association
Richard S. Barbecho
Legal Aid Bureau, Defenders, First Class Law Students Association, Project No One Leaves
Annika Boone
Federalist Society, Latter-day Saints, Students for Life, Journal of Law and Public Policy
Billy M. Conway
Defenders, Legal Aid Bureau
Leilani Doktor
Student Government, Native American Law Students Association, Environmental Law Society, Women's Law Association
Jessica N. Eisen
Student Animal Legal Defense Fund, SJD Association
Elizabeth Ferrie
Association for Law and Business, Blockchain and Fintech Initiative
Isabel Finley
Women's Law Association, Child Advocacy Clinic, Prison Legal Assistance Project
Rez Gardi
Class Marshal, Advocates for Human Rights, Human Rights Journal, International Law Journal, Women's Law Association, Prison Legal Assistance Project, Middle Eastern Law Students Association, Parody
Anna M. Gee
Board of Student Advisers, Criminal Justice Institute, Latter-day Saints, Journal on Legislation, Prison Legal Assistance Project, Street Justice Coalition
Andrew Leon Hanna
Defenders, Harvard Law Review, African Law Association
Kendall J. Howell
Black Law Students Association, Board of Student Advisers, Committee on Sports and Entertainment Law
Daniel Levine-Spound
Advocates for Human Rights, Progressive Jewish Alliance, International Human Rights Clinic, Middle Eastern Law Students Association, Parody
Joseph K. Longley
Board of Student Advisers, Lambda, Prison Legal Assistance Project, Criminal Justice Institute, Law and Policy Review
Joshua Mathew
Armed Forces Association, South Asian Law Students Association, Immigration Project
Julius Mitchell
Black Law Students Association, Prison Legal Assistance Project, First Class Law Students Association, International Law Journal, International Human Rights Clinic, Midwest Club
Ruta Mrazauskaite
Class Marshal
Nerissa Naidoo
Advocates for Human Rights, African Law Association, Human Rights and Business Association, Global South Dialogue
Ezra Newman
Jewish Law Students Association, Intramural Sports
Memme Onwudiwe
African Law Association, Black Law Students Association, Association of Law and Business, Harvard Business Law Review, Space Exploration and Admiralty Law
Gonzalo Gabriel Robles Rodriguez
Student Government, Entrepreneurship Project, Catholic Law Students Association
Harmann P. Singh
Prison Legal Assistance Project, South Asian Law Students Association, Civil Rights-Civil Liberties Law Review, Criminal Justice Appellate Clinic
Zachery Esai Sosa
Legal Aid Bureau, Defenders, Prison Legal Assistance Project, Asian Pacific American Law Students Association
Hiba Thobani
Student Government, Advocates for Human Rights, Muslim Law Students Association
Nora Estefanía Picasso Uvalle
Immigration Project, Mexican Law Students Association, Immigration and Refugee Clinic
Alexis Wansac
Mock Trial Association, Government Lawyer: United States Attorney Clinic
Drew Wegner
Federalist Society, Students for Life
Catherine Wiener
Student Government, Women's Law Association, Committee on Sports and Entertainment Law
Lauren Williams
Black Law Students Association, Women's Law Association, Parody