A number of Harvard Law students from the Class of 2018 received special awards during the Class Day ceremony on May 23. They were recognized for outstanding leadership, citizenship, compassion and dedication to their studies and the profession.
---
Andrew L. Kaufman Pro Bono Service Award
This year's Andrew L. Kaufman Pro Bono Service Award was presented to Tabitha Cohen, Annie Manhardt and Edith Sangueza. (Read more)
Edith Sangueza contributed nearly 2,000 pro bono hours by working with three student practice organizations – Harvard Immigration Project (HIP), Harvard Law Student Advocates for Human Rights, and Project No One Leaves – in addition to working as a student attorney for four semesters with the Harvard Legal Aid Bureau (HLAB). She spent her 2016 Spring Break volunteering with South Texas Pro Bono Asylum Representation Project, in Harlingen, Texas, and her 2017 Spring Break volunteering with American Gateways, in San Antonio. Her commitment to social justice also extended throughout her summers – she worked with Instituto para las Mujeres en la Migración, in Mexico City, and with the Bronx Defenders, in New York.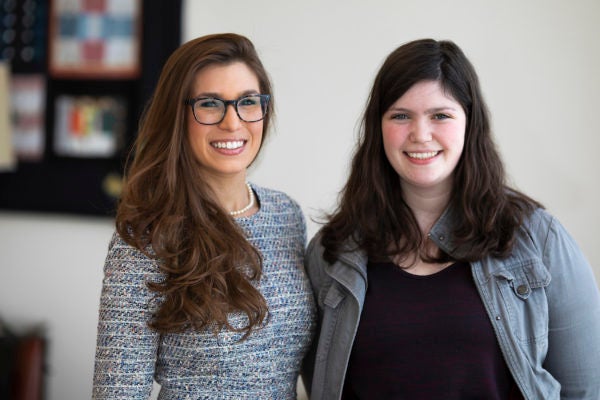 At Harvard Law School, Tabitha Cohen and Annie Manhardt both participated in the Harvard Prison Legal Assistance Project (PLAP) and the Criminal Justice Institute (CJI). At PLAP, they spent hundreds of pro bono hours as co-executive directors, managing a multitude of daily internal governance and programming issues. Throughout their time, they demonstrated tireless effort and dedication to advocating for the needs of prisoners by conducting investigations, counseling and interviewing clients, and presenting compelling arguments at hearings.
In a precedent-setting case for an elderly disabled parole client Cohen argued before the Massachusetts Supreme Judicial Court whose ruling extended the Americans with Disabilities Act to mentally and physically disabled prisoners seeking parole. As a result of the case, the state must now help parolees get support systems in place in the community.
While at HLS, Manhardt also worked with Prisoners' Legal Services of Massachusetts and the Office of the Defender General in Vermont. Cohen worked with the Harvard Immigration and Refugee Clinical Program , the U.S. Attorney's Office in Florida and La Fundacion para el Acceso a la Justicia de Puerto Rico in San Juan.
The Andrew L. Kaufman Pro Bono Service Award is granted each year in honor of Professor Andrew Kaufman '54, who has been instrumental in creating and supporting the Pro Bono Service Program at HLS. J.D. students in the graduating class who demonstrate an exemplary commitment to pro bono work receive the award and an honorarium.
HLS requires all students to perform 50 hours of pro bono services but most go far beyond. This year, 10 students exceeded 2,000 hours of service and 112 students volunteered more than 1,000 hours.
In total, the Harvard Law School Class of 2018 contributed 376,532 hours of pro bono legal work.
---
The William J. Stuntz Memorial Award for Justice, Human Dignity and Compassion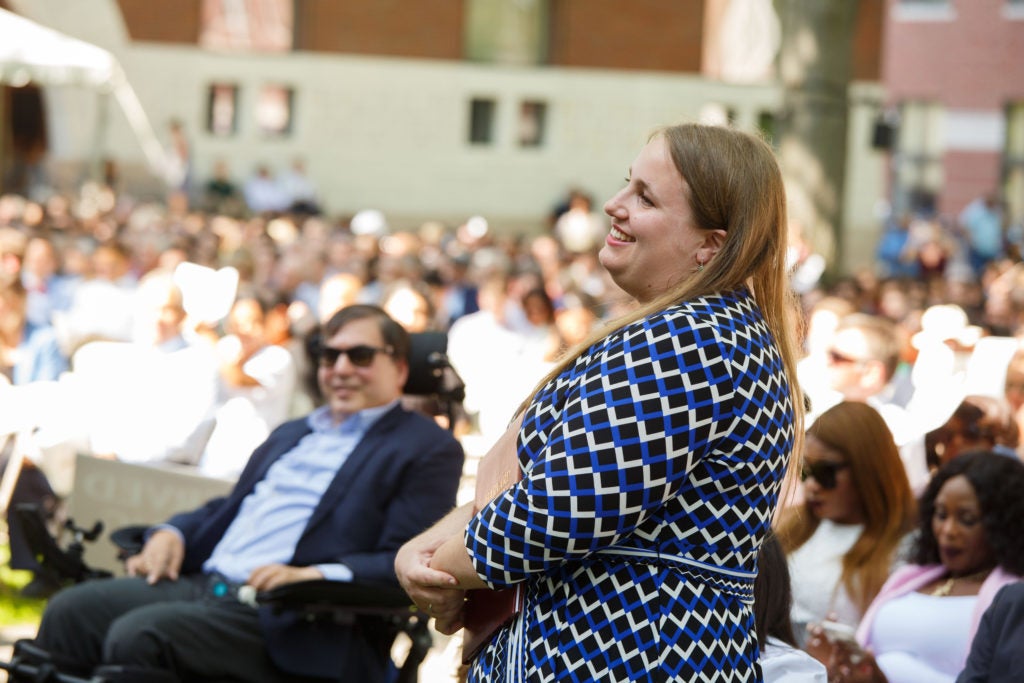 The Stuntz award was given to Margaret Kettles. The award recognizes a graduating student who has demonstrated an exemplary commitment to the principles of justice, human dignity and compassion while at Harvard Law School.
An exemplary clinical student and advocate for public interest law, Kettles served as the executive director of the Harvard Legal Aid Bureau (HLAB), a two-year clinic where students represent low-income clients in housing and/or family cases.
In addition to her work at HLAB, Kettles volunteered as a student attorney with the Tenant Advocacy Project, representing clients in benefits termination, public housing eviction, and application denial hearings at housing authorities, and with Harvard Defenders, providing representation to low-income defendants in criminal show-cause hearings.
This year, Kettles also received the Outstanding Clinical Student Award from the Clinical Legal Education Association (CLEA), and award presented annually to one student from each law school for outstanding clinical coursework and contributions to the clinical community. (Read more)
The Stuntz award, established in 2011, is given in honor of the late William Stuntz, a renowned scholar of criminal justice at Harvard Law School, an evangelical Christian and a teacher much beloved by students and colleagues.
---
The David Westfall Memorial Award for Community Leadership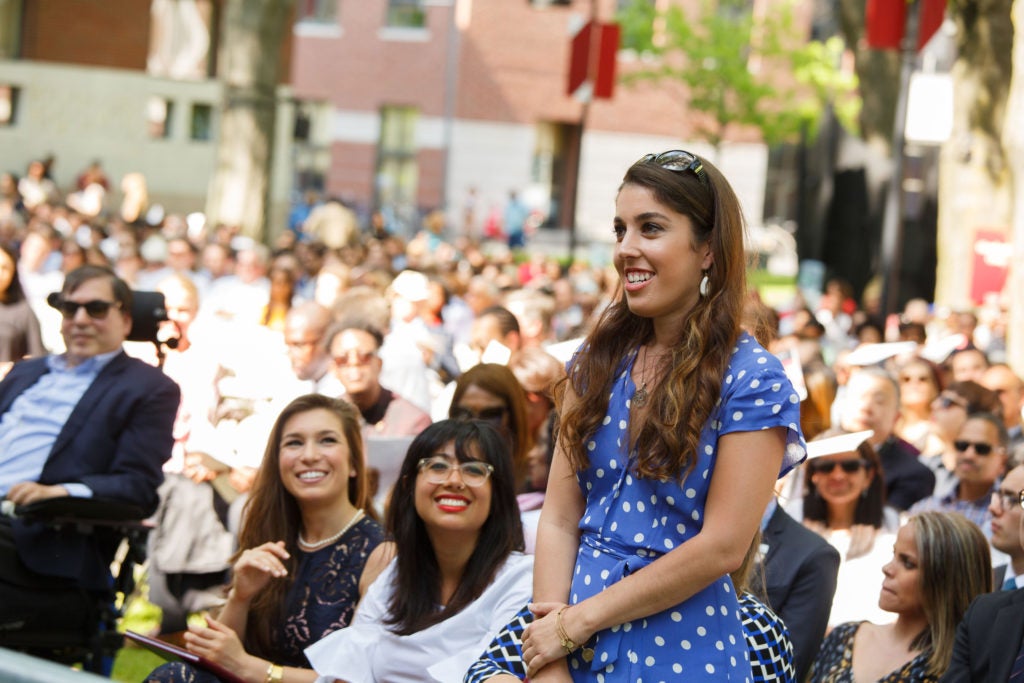 The Westfall Award for Community Leadership was presented to Lara Ajemian Townzen. Named in honor of the late Professor David Westfall '50, who taught at HLS for more than 50 years and served as an inaugural faculty leader for a first-year section, the award is presented annually to recognize student contributions to creating community within a first-year section and the wider class. During her time at HLS, Townzen was on the Executive Board of the Women's Law Association (WLA), as well as a member of the Middle East Law Students Association (MELSA) and a graduate student associate at Harvard's Davis Center for Russian and Eurasian Studies. A former Chayes Fellow, she also participated in clinics and workshops while at HLS, including the Harvard Immigration & Refugee Clinic, the Government Lawyer: United States Attorney Clinic, the Gender Violence Legal Policy Workshop, and an independent clinic in Armenia.
---
The Frank Righeimer, Jr. Prize for Student Citizenship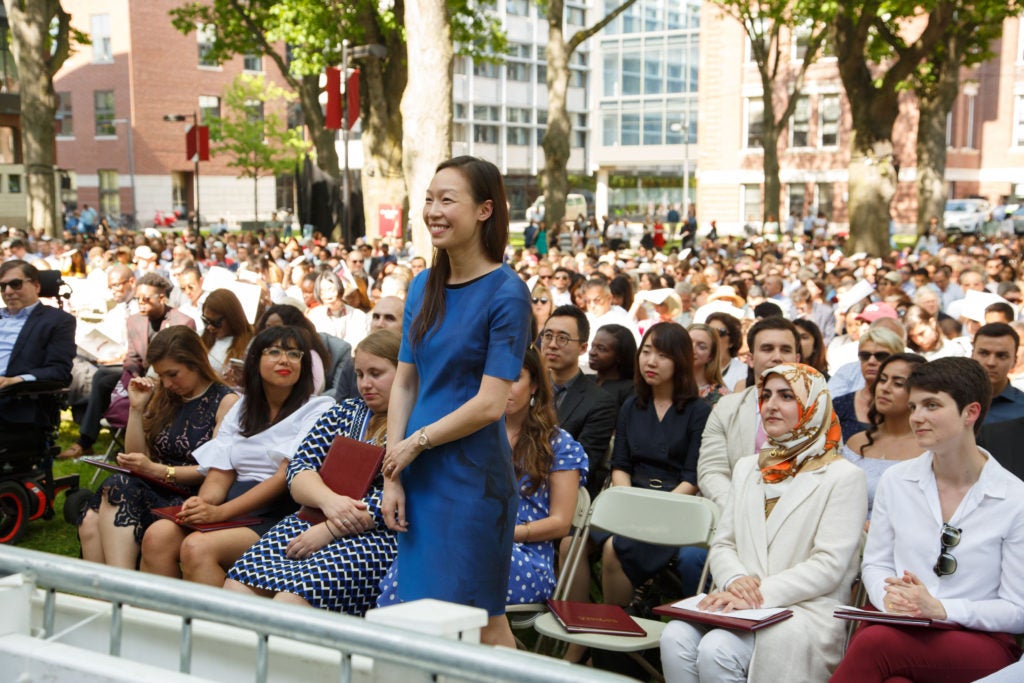 The Righeimer Prize was presented to Harvard Law School Student Government President Amanda M. Lee. Established in memory of Frank S. Righeimer Jr. '32, the prize is awarded annually to a graduating student in recognition of exceptional citizenship within the HLS community demonstrated through involvement in student organizations, community service groups or through individual efforts.
At Harvard Law School, Amanda also served as vice president of the Women's Law Association, an articles editor for the Harvard Civil Rights-Civil Liberties Law Review, and a member of the Tenant Advocacy Project.
---
The Dean's Awards for Community Leadership
The Dean's Award for Community Leadership recognizes a number of graduating students who have contributed time and energy to making the HLS community a better place through involvement in student organizations, community service groups, and individual efforts. The Class of 2018 recognized the following students:
Maryam Ansari
Student Government, Muslim Law Students Association, International Arbitration Law Students Association, Middle Eastern Law Students Association
Paulina D. Arnold
Harvard Immigration Project, Immigration Response Initiative, Harvard Law Review, Crimmigration Clinic, Immigration and Refugee Clinic, Employment Law Clinic
Sarah Holland Bacot
Board of Student Advisers, Lambda, Reproductive Justice, Harvard Journal of Law and Gender
Amanda Hai-Pui Chan
Student Government, Asian Pacific American Law Students Association
Amir Ardelan Farhadi
International Law Journal, Middle Eastern Law Students Association
Nadia Laura Farjood
Harvard Legal Aid Bureau, Harvard Law Today, Tenant Advocacy Project, Harvard Journal of Law and Gender, Advanced Leadership Initiative Fellow
Amy M. Feinberg
Women's Law Association, Harvard Negotiation Law Review, Student Government, Federal Tax Clinic
Charles William Fletcher III
Lambda, Harvard Law and Policy Review, Harvard Journal of Law and Gender, American Constitution Society, Parody
Paavani Garg
Women's Law Association, Parody, American Civil Liberties Union, Bankruptcy Roundtable
Alejandra Huerta Gutierrez
Class Marshal, Student Government, Mexican Law Students Association
Ha Ryong Jung
Child and Youth Advocates, Harvard Human Rights Journal, Office of Clinical and Pro Bono Programs Advisory Board, Advocates for Human Rights, International Human Rights Clinic
Youmi Kim
Student Mental Health Association, Harvard Negotiation Law Review, Harvard Immigration and Refugee Clinic, Predatory Lending and Consumer Protection Clinic
Steven A. Knight
Transfer Student Association, Latter-Day Saints
Nimat N. Lawal
Harvard Defenders, Criminal Justice Institute, Class Marshal, Black Law Students Association, African Law Association
James Joseph McEntee Jr.
Committee on Sports and Entertainment Law, Class Marshal, Admissions Fellow, Catholic Law Students Association
Melissa Medhat Mikail
Women's Law Association, Student Government, African Law Association, Black Law Students Association, Criminal Justice Institute, Harvard Graduate Student Leadership Initiative Fellow, Human Rights Journal, Human Rights Clinic, Immigration Project, Tax Help
Heinrich Nemeczek
Tax Law and Financial Regulation Students Association, Muslim Law Students Association, European Law Association, Russian Law Students Association, Harvard International Law Journal
Tetyana Payosova
Class Marshal, European Law Association, Women's Law Association, Cutler International Law Fellow
Darshana Prakasam
Board of Student Advisers, South Asian Law Students Association, Harvard Law School Advocates for Human Rights
Cameron Joseph Edward Pritchett
Class Marshal, Board of Student Advisers, Black Law Students Association, Federalist Society, Student Government
Marilyn Gabriela Robb
Harvard Law and Policy Review, Trial Advocacy Team, Class Marshal, Midwest Club, Criminal Justice Institute
Charlotte Robinson
Harvard Defenders, Child and Youth Advocates, Student Government, Education Law Clinic, Child Advocacy Clinic, Criminal Justice Institute
Neeraj Salhotra
South Asian Law Students Association, Student Government, Tenant Advocacy Project, Democrats, American Constitution Society
Suzanne E. Schlossberg
Student Government, Women's Law Association, Prison Legal Assistance Project, Reproductive Justice, Urbanists
Julian Piitah SpearChief-Morris
Harvard Legal Aid Bureau, Native American Law Students Association, Harvard Defenders, Black Law Students Association
Samantha Spearman
Student Government, American Civil Liberties Union, Recording Artists Project, Black Law Students Association, Clemency Project, Harvard Civil Rights-Civil Liberties Law Review
Ernesto Talamas Velazquez
Student Government, Catholic Law Students Association
ImeIme A. Umana
Harvard Law Review, Black Law Students Association
Amy Elizabeth Volz
Harvard Immigration Project, International Human Rights Clinic, Immigration Response Initiative, Harvard International Law Journal, European Law Association
Hiroko Yamamoto
International Arbitration Law Students Association, Harvard International Law Journal