Joy.
Competition.
Compassion.
Mindfulness.
Those are the four values that Steve Kerr says define his approach to leadership and coaching. The Golden State Warriors head coach recounted the experiences that led him to adopt those four pillars in a wide-ranging discussion about basketball, leadership, and life with Eric Zilber '22 and David Dapaah-Afriyie '22 of the Harvard Association for Law and Business (HALB) and the Committee on Sports & Entertainment Law (CSEL). HALB and CSEL co-hosted the conversation with Kerr, which served as the third and final installment of HALB's 2021-22 Dream Big Speaker series.
Kerr is a legendary figure in NBA circles — a three-point specialist who won three consecutive NBA championships alongside Michael Jordan during the back half of the Chicago Bulls dynasty and then added another pair of titles with the San Antonio Spurs. After retiring, he spent eight years as a broadcaster — four before a stint as general manager of the Phoenix Suns and four afterwards — before fully transitioning back into the NBA in 2014 to serve as head coach of the Golden State Warriors. With Golden State, Kerr has padded his already impressive resume with three more NBA championships — bringing his total as a player and coach to eight.
Kerr says he cultivated his coaching philosophy not only from his own experiences, but also from the leaders he encountered along the way. He played under three legendary coaches, Lute Olson at University of Arizona, Phil Jackson in Chicago, and Gregg Popovich in San Antonio. When asked about the key lessons he drew from those figures, Kerr credited Jackson with his introduction to mindfulness, but ultimately brought it back to one key tenet.
"As far as coaching lessons I learned from my mentors, the coaches I played for, I think the biggest lesson I learned is that culture is way more important than scheme," he told an audience of Harvard Law students and professors. "I would say coaching is maybe 25-30% strategy. Everything else is about communication and what your players feel when they come into the building every day."
For Kerr, building culture meant determining which values drove his own life and applying those to his coaching methods.
"I think being a leader is all about embodying the values that you hold to yourself, and that are authentic to yourself," he said. "Whether you're a coach or a teacher or a business leader, I think it's important that the people you're trying to lead see that authenticity and see that you're real."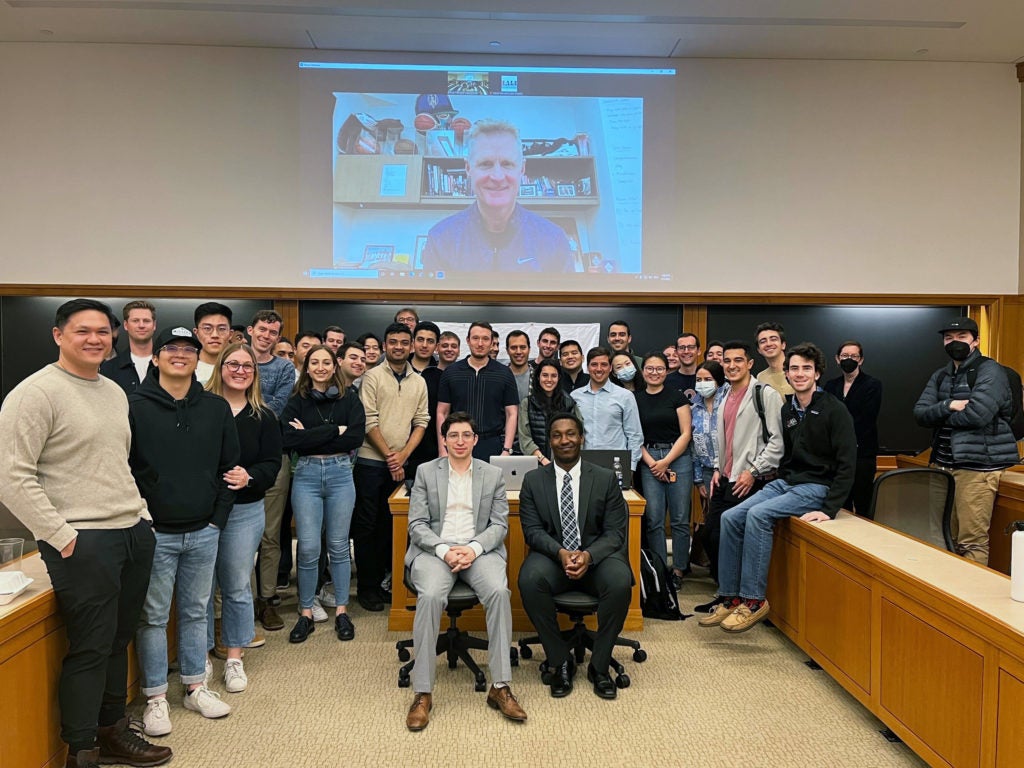 A large part of what makes Steve Kerr the coach and person that he is today is his life beyond basketball. While his success in the sport made headlines, Kerr's unique background off the court has been almost equally well-documented. His father, Dr. Malcolm Kerr, was the president of the American University of Beirut from 1981-1984. The Kerr family was based in California, but Steve and his siblings spent a great deal of time abroad in the Middle East during his childhood. His exposure to other cultures had a profound impact on his life and worldview. Tragically, his father was assassinated in 1984 in an attack claimed by the Islamic Jihad Organization while Kerr was in college at Arizona.
Kerr recounted the sobering impact that event had on his life and highlighted basketball as his refuge during that period. As his view of international political dynamics has shifted throughout his life, basketball has remained a constant source of inspiration, hope, and joy.
"It's been very sobering to see that the path that we've traveled as a country over the last couple of decades, especially," he said. "At this point, I really value people over countries; I value cultural difference, and the power that lies within cultural differences. It's great to be able to feel that as a coach, someone who coaches people from all over the place, and to see the influence that we can have on each other, and that we can share with each other. That's one of the things I love about coaching, because it really does break down so many of the barriers that exist in today's world."
As a coach, Kerr has not only managed cultural differences but has also had to find balance in a roster built with stars, role players, and inexperienced younger athletes. He expressed a great deal of admiration for the superstars he gets to coach — like Steph Curry, Klay Thompson, and Draymond Green — but confessed to a more natural connection to his role players.
While he may not have been a superstar, his success beyond the three-point line kept him in demand on NBA rosters. While he often seemed completely at ease draining clutch shots, it took him a great deal of time to achieve true calm on the court.
The competitiveness to overcome doubts and his mindful approach to drowning out the noise took root during his playing career.
"Probably the biggest lesson I learned during my career was finding outcome independence — that was really the key to performing under pressure. You had to be willing to fail."
That might be true, but failure is certainly not something that defined Kerr.
An unlikely NBA star who went from longshot to champion, dealt with tragedy but responded with strength, and unlocked a combination of joy, compassion, competitiveness, and mindfulness that has steered him to a path of unprecedented success.