More than a decade ago, before Stephen Ball '10 headed off to law school, his father gave him a small placard: "When you get there, remember where you came from," it said. While Ball says his father might have meant the words literally — his family has deep roots in Detroit, Michigan — he was also asking him not to forget who he was, or the people who encouraged his success. Maybe he was even urging him to pay it forward someday.
Today, the placard sits in the center of Ball's desk at Harvard Law School, in front of a set of business cards that read "Dean of Students." And he says his father's message serves as the mantra by which he has lived since then — and the ethos he hopes to bring to his new role as an advocate for Harvard Law students.
Seizing opportunities
Ball, like many who grow up in the Motor City, has strong ties to the auto industry, as both of his grandfathers, an uncle, brother, and his mother and father all worked for Ford. He says the city was one of the early reasons he became interested in law school.
"Growing up, I thought a lot about the challenges that Detroit was facing," he says. "In the '90s, the narrative about the city was often so negative, about its decline and problems over the years. But what I saw as the underlying reasons for all that were changes in public policy, whether it was the shift away from manufacturing, or a greater investment and subsidization of suburban areas. The decline of the city did not seem inevitable, but instead something facilitated by changes in laws."
Ball's interest in policy continued into his undergraduate years at the University of Michigan, where he earned a degree in political science, followed by a master's in public policy. But he continued to think about law school and the doors it could open.
Ball says his mother had also been a legal secretary — the first Black person in that role at her firm — and from a young age, he had seen how attorneys could influence policy. "Whether it's for a client, a cause, or an organization — whatever the case, as a lawyer, you're uniquely positioned to advocate for some sort of outcome," he says. "And that was just immensely appealing to me."
There was also the matter of his disposition. "I had a pretty argumentative streak. I remember my mom saying that it seemed like that would lend itself toward being an attorney," he jokes.
Ball decided to attend Harvard Law School, and as a first-generation law student, he says he blazed his own path, working hard to balance his academics with a focus on personal wellness. He was involved with the Black Law Students Association (BLSA) and participated in a Harvard Law intramural basketball league in his spare time.
Ball also nurtured a variety of interests in the law, and as he approached graduation, he wondered how he would choose between the many different career paths that lay before him. He was reassured by sage advice from Philip Heymann, the late Harvard Law professor, who urged him not to worry too much about making the wrong choice — and to follow his instincts.
"He said — and this is something I tell students now — the arc of your career will be long," says Ball. "And just because you start out one way, doing one thing, doesn't mean that's what you have to do forever."
Ball took the advice to heart, deciding to seize opportunities as they arose, embracing an adaptability that he says has served him well so far. He began his career at a commercial litigation firm in New York City, where he had dreamed of living since he was a child.
"The firm had a rotational program where, for your first two years, you try out different practice areas, and then as a third year, you decide what you're going to specialize in," he says, adding that he particularly enjoyed litigation work. "I think that is a great approach, because a lot of people don't know right when they come out of law school exactly what they want to do."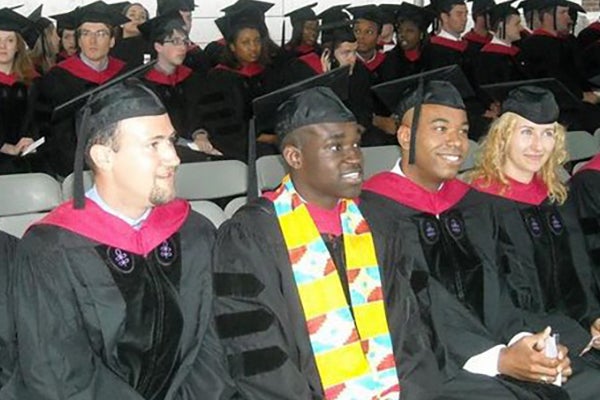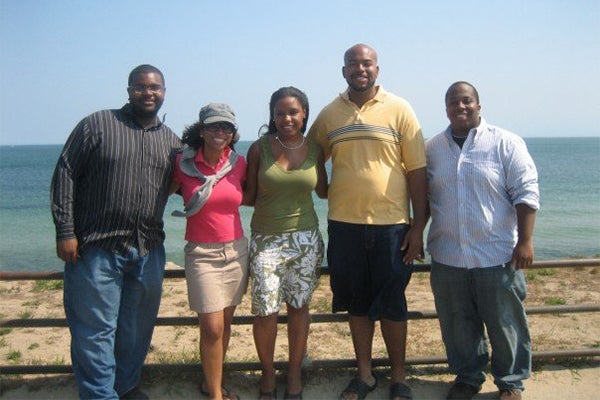 When an opportunity to shift to government relations work arose on the other side of the country — in the San Francisco Bay Area — Ball didn't hesitate to relocate, spending nearly two years at CSAA Insurance Group, a division of AAA Insurance. He parlayed that experience into a role as a public policy manager at the tech company AirBnb before joining Wells Fargo.
There, Ball held a variety of positions, first as one of the company's leads for state and local government relations, then chief of staff to the vice chairman. In that role, he organized an event to expose college and graduate students to public affairs careers, and drew more than 400 students. Ball realized that he had a growing interest in mentorship and higher education.
"I found that I really enjoyed student engagement, and there was joy in giving back to the community in that way," he says, adding that he had already begun to mentor students in his surrounding community on a volunteer basis as well. "Over time, I just found myself doing more and more of that work because I was just so drawn to it."
Finally, in his last role at Wells Fargo, Ball served as the company's lead strategist for external engagement aimed at advancing its commitment to diversity, equity, and inclusion. In that role, Ball focused principally on developing an enterprise strategy for partnership with historically Black- and Latino-serving colleges and universities. This allowed him to combine his passions for education, mentorship, and uplifting others.
Helping students find their niche
It is also why, when the opportunity arose for Ball to return to Harvard Law as its new dean of students, he was thrilled. "Law school is a big academic journey, and there is also the personal development, the social development, and the other opportunities that it affords," he says. "It's a tremendous honor to be able to support our community, and work with students, staff, and faculty to enhance the experience for our students, so they have a great time while they are here, and can go on to lead successful, productive, and fulfilling lives."
Ball says that because his own career has been one of "strategic risk-taking," he is eager to help students understand and pursue their unique passions. "A colleague once told me to go after my goals relentlessly, and maybe that sounds sort of basic and obvious, but it's easy to say and not always to do. I have tried to live by this, though, and I encourage students to do so as well. To take the time to learn the craft of your chosen field, but also take risks, build relationships, and go after what you want."
And as the first in his family to attend law school, Ball says he believes in fostering a sense of belonging for everyone on campus. "I'm big on inclusivity, understanding that there are many different kinds of people that come to Harvard Law, and everyone deserves to feel at home, and to have the opportunity to develop the foundation and skills to propel them toward the career they desire."
Ball says another goal is to ensure students are aware of and can access the immense resources and opportunities available across Harvard. He is also invested in promoting and strengthening student wellness, which Ball says is critical not only in law school, but in life afterward. "Being an attorney, or in another high-powered career, can come with a lot of stress, and early on, you need to be able to figure out how to manage that and navigate it. That's something I'm focused on in this role," he says.
This reflects a commitment to wellness in his own life, and to taking time to connect with family and pursue personal hobbies. He loves sports (the Michigan Wolverines get top billing) and good cinema (The Power of the Dog was one of his favorites last year), and he says the pandemic opened his eyes to the joys of hiking, as well. He's even gotten into gardening, something his mother has always loved — but he wasn't always so sure about.
"I find it so peaceful, and uniquely rewarding with the instant gratification it provides. Sometimes you just want to see immediate results of your actions. With gardening, you can go to the nursery and buy some flowers, plant them that day, and bam! You have a much prettier yard or space. As I've gotten older, I've also gained more of an appreciation for nature, and gardening allows me to be in tune with that."
Finally, as the world leaves the worst of the pandemic behind, he says he is looking to harness that energy to continue to build a vibrant on-campus law school community for all. To Ball, it always comes back to those wise words from his father, words he hopes to impart on students — that it's possible to stay connected to where they're from, even as they think about where they want to go next.
"If we have a critical mass of people saying 'yes, I worked my tail off, but I also had a lot of fun, and I was in an environment where I found my niche, I found good friends, I built lasting relationships, and I was part of a community'? That's a win to me."