More than a half century ago, Bob Beamon leapt into the Olympic history books with a record-breaking long jump that shattered the existing mark by nearly two feet. While countless other records have fallen many times over, Beamon's mark of 8.90 meters (29 ft. 2 1⁄2 in) set at the 1968 Mexico City games remains the Olympic standard.
Beamon brought the historic moment to life for a crowd gathered at Harvard Law School on Sept. 24, with a vivid retelling of the gravity-defying jump that cemented his status as Track and Field royalty.
Beamon has spent the intervening years since his Olympic feat helping to provide athletic and educational opportunities for countless people.
"That jump has taken me to a lot of wonderful places in the world," he said.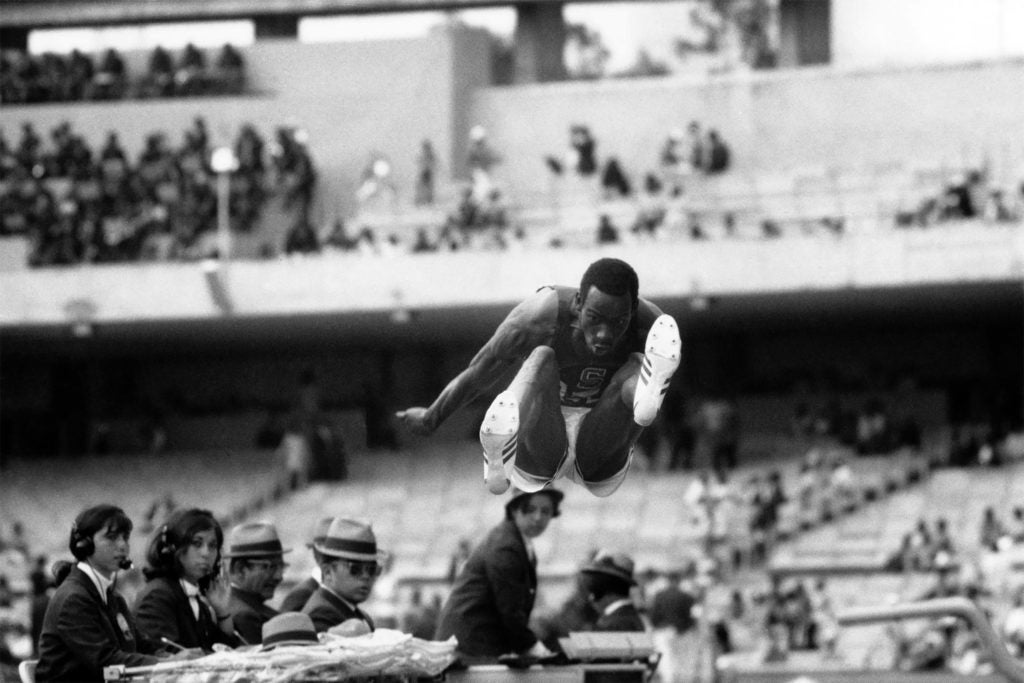 At Harvard Law School, Beamon joined his longtime attorney Frank K. Wheaton, and Angela Ciccolo, Special Olympics chief legal officer, for an event sponsored by the Harvard Project on Disability (HPOD). Professor William Alford '77, co-founder of the HLS project with Visiting Professor Michael Ashley Stein '88, brought the trio together to discuss not only Beamon's legendary leap, but also his humanitarian efforts including his work as a Global Ambassador with the Special Olympics.
Special Olympics, which was founded in 1968, today serves more than six million athletes in almost 200 countries. Beamon has been involved with Special Olympics since its inception, and his connection to the organization runs deep.
"As illustrious as Bob was athletically […] , he's even more illustrious as a human being," said Alford. "He's spent his whole life after his athletic competitions giving to kids—giving to people around the world," echoed Wheaton.
It is through the Special Olympics that Beamon crossed paths with Alford, who has been a member of the board of directors of Special Olympics International since 2005, where he now serves as its lead director and chair of its executive committee.
"I thank God that I've had the opportunity to grow and to be a part of Special Olympics," said Beamon.
It was a sentiment echoed by all the panelists. "As lawyers and people interested in change, we really do make a difference, said Ciccolo. "It's just an incredible opportunity to have a career where you really do affect lives—not just individual lives—but being able to affect a whole system of change."