Last year, Matthew F. Wells '09 traveled through Sierra Leone visiting more than two dozen artisanal diamond mines, under the auspices of the International Human Rights Clinic at Harvard Law School.
Wells was not on a vacation, but rather engaging in intensive research with a group of fellow students involved with the IHRC, gathering data for a project focusing on child labor in the diamond mines. The final report, "Digging in the Dirt: Child Miners in Sierra Leone's Diamond Industry," published in May, describes the hardships experienced by child and youth diggers and illustrates the lack of vocational opportunities for adults and basic educational opportunities for children, who are often forced to turn to open-pit mining to support their families.
"It was incredibly gratifying, after working with it for a year and a half," said Wells, "to be there when we were launching the report and see it come to fruition and generate conversation in the country on the issue."
The report found that despite laws that prohibit the use of child labor, the government has been largely ineffective in curbing the employment of children in the diamond industry. In addition, corruption within the mining system results in child laborers being given meager compensation, deepening the poverty that threatens future social stability.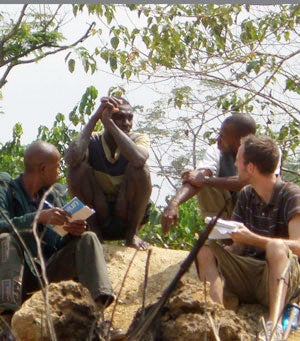 Wells [photo left] traveled back to Sierra Leone in May with Aminta Ossom '09 to present the project's findings to government officials, human rights organizations and the media. There are already signs that the report is having an impact. UNICEF, the BBC, Voice of America and the government have demonstrated interest. "The Ministry of Mineral Resources contacted us before we left asking for a copy," said Wells. "It was really exciting to realize that we were getting the information out and people were taking notice."
Clinical Instructor Sharanjeet Parmar, who led the project, said that the research was certainly not glamorous—the group woke up early to travel along bad roads and spent full days under a searing sun. By the end, Parmar and the students involved had conducted more than 200 interviews with subjects about the sensitive issue of child labor and the nature of work in the mines. "It was really rewarding seeing the students grow through that process," recalled Parmar.
Read the Human Rights Program's report "Digging in the Dirt: Child Miners in Sierra Leone's Diamond Industry."