Delivering the 2015 Disabled American Veterans (DAV) Distinguished Lecture at Harvard Law School on Oct. 22, Secretary of the Navy Ray Mabus '75 told attendees that "one of my proudest moments as Secretary" was the reinstatement of the Reserve Officers Training Program on the Harvard campus in 2011.
In March of that year, Mabus and Harvard University president Drew Faust signed an agreement ending ROTC's 40-year absence from the Harvard campus.
"When I was in the Navy more than 40 years ago, it was a very different country," Mabus said. "I was stationed in Newport and it was hard to walk through Logan Airport without having somebody upbraid me for being in the military. But today, Americans have learned to separate the warrior from the war. You can have disagreements about the conflicts we may be in, but not over the people who are fighting them, who are willing to raise their hand."
His speech provided a broad assessment of the 900,000-person, $170-billion Navy under his command as "the best force we've ever had." He also said that the Navy is operating more ships, striving for less dependence on fossil fuels, and focusing on improving the lives of sailors and Marines and their families.
A former governor of Mississippi (1988-1992), Mabus was appointed Navy Secretary by President Obama in 2009 and he immediately set out to build the fleet. "In the five years before I became Secretary, the Navy put 27 ships under contract," he said. "In my first five years, we've put 70 ships under contract."
He also said that under his command, the Naval Department has set its sights on ambitious reductions in use of fossil fuels. By 2020, he said, the Navy and Marine Corps aspire to meet more than half of their energy needs with non-fossil fuels.
"We're doing it for one reason," he said. "There are some great side effects—better stewards of the environment, lower carbon emissions—but those aren't the main reasons we're doing it. We're doing it to be better at what we do. It's important that we do things to manage this force so that we have it at this high level of effectiveness for a long, long time."
"We're moving toward a more inclusive, more diverse force. A more diverse force is a stronger force. The more different kinds of viewpoints that you have, the better your force."

Secretary of the Navy Ray Mabus '75

Mabus also said the Navy has been focusing on improving the service it provides to its personnel. The "21st Century Sailor and Marine" program, launched in 2012, provides what he called "a one-stop shop" to help service members transition to civilian life. "If you need help, if you need financial counseling, if you need legal services, if you need help on the GI bill, that's the place to go," he said.
Mabus said the Navy is seeking to increase its recruitment of women and to do away with separate male and female uniforms.
He also said the Department is taking a hard line on sexual abuse within its ranks.
"It's a crime," he said. "It's betrayal of one shipmate by another. We've got to fix it, and fix it completely or the fabric that holds our military together will fray. I think we're doing a lot of good things; we're seeing numbers reports go up and we're seeing incidents go down, but we're not there yet. It's one of the most serious things that we face in the military today."
"We're moving toward a more inclusive, more diverse force. A more diverse force is a stronger force. The more different kinds of viewpoints that you have, the better your force."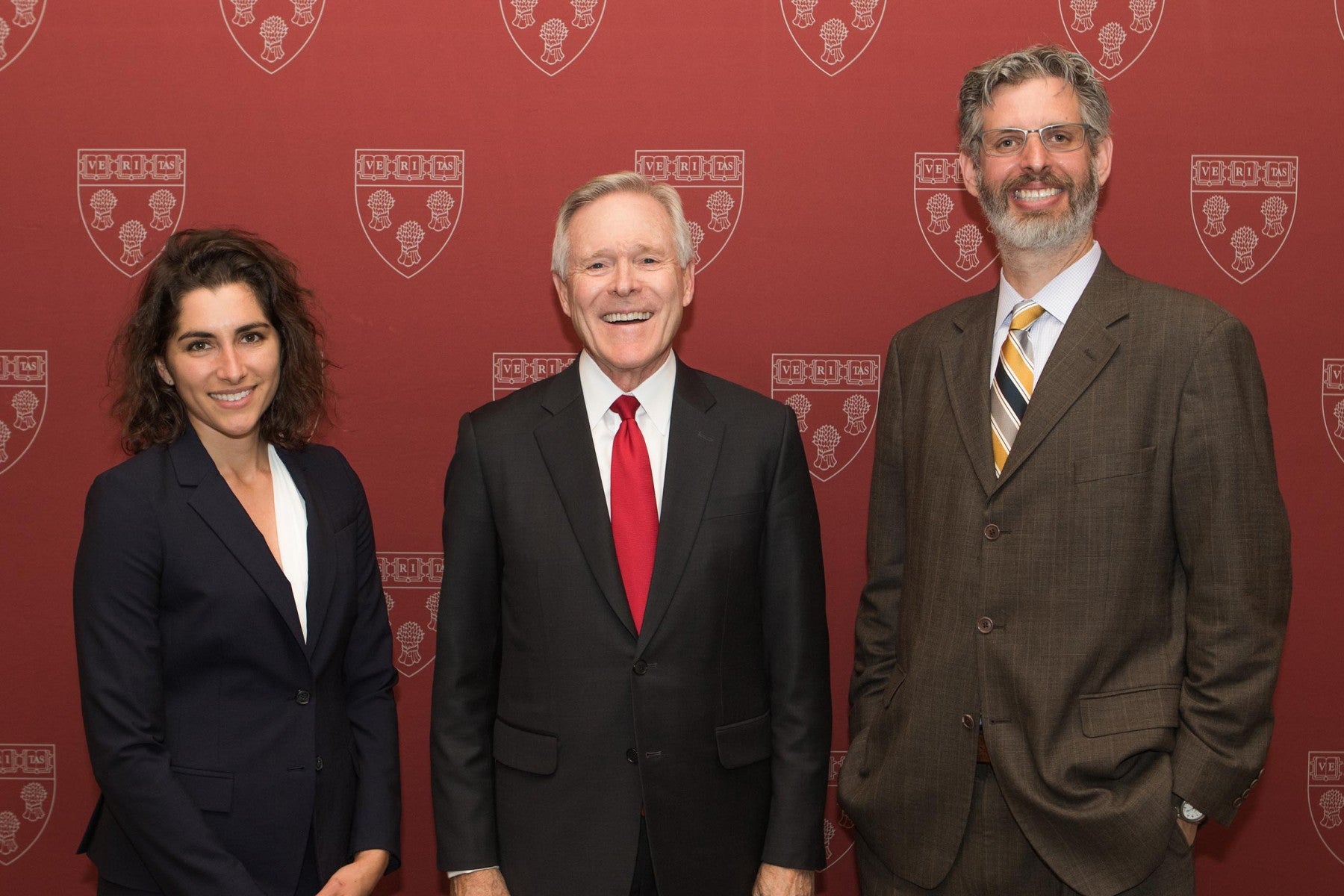 Mabus is the 75th Secretary of the Navy and—as he pointed—the fourth HLS alumnus to hold the post. The connection between Harvard and the military is also manifested in other ways, Mabus said: Other than West Point and Annapolis, Harvard has produced more Medal of Honor recipients than any other educational institution.
In introductory remarks, Harvard Law School Dean Martha Minow hailed the Disabled American Veterans' Charitable Service Trust, which provides a grant to support the lecture series, and the Harvard Law School Veterans Legal Clinic, which provides legal advocacy for veterans. The event was co-sponsored by the Veterans Legal Clinic and the HLS Armed Forces Association.
"The goal is to inspire not only discussion, however," she said. "We are interested in action to meet the challenges veterans face and hold up what is a sacred trust that we enter into when we ask men and women to take up arms on behalf of this nation."