For Kristin Fleschner '14, running in next week's Boston Marathon is a way to fight back against the bombing that terrorized last year's runners. She has worked in national security for the federal government since 2008, and she'll continue her work for the federal government after she graduates from Harvard Law School this spring.
"My having worked on national security issues, the impact of the bombing last year was pretty powerful, and I felt like having the ability to participate in this year's Boston was kind of like a way that I could express my fighting back against what happened to Boston and what happened to all of the runners," said Fleschner, who seems to take in stride that she will run the race with a professional guide. She lost her vision not long before she started law school.
Fleschner has brought the same determination to training that she brought to learning how to be a visually impaired law student. "My vision loss was really new, and I had my first training on using the assistive technology that I needed to use to hear books two weeks before classes started," she said. She was struggling to figure out how to interact in classes, and trying to differentiate between what was hard because she was losing her vision and what was hard because the first-year curriculum was challenging. "In reality, it was hard because of both," Fleschner said. "All of my classmates were stressed out."
Diagnosed with Type 1 diabetes as a teenager, Fleschner underwent a successful pancreas transplant in 2007 but started experiencing vision loss in 2008. She maintained her avid interest in athletics and continued to run, swim, and even bike. Fleschner ran her first marathon as an undergraduate at Vanderbilt. In November 2013, she ran her first marathon without sight alongside her professional guide, Michelle Wade, and she qualified to run the Boston Marathon. The qualifying time for blind and visually impaired runners is five hours, and Fleschner and Wade finished the Indianapolis Monumental Marathon in 4 hours 44 minutes.
Fleschner began training to run Boston the first week of January 2014, and her 16-week training period required three runs a week – two inside and one long run outdoors each week with her friend and regular guide, Jess Kochman, a middle school math teacher. They met through Kochman's boyfriend, Eric Rice '14, and the pair has focused and encouraged each other, pushing through the snow, ice and falls that come with Boston's winter weather.
"Looking at those runs and training, I thought to myself, everything that I do right now is going to make those last six miles easier," Fleschner said.
Kochman will be running the Boston Marathon as a charity runner with a team from Massachusetts Eye and Ear, where Fleschner has undergone treatments over the past few years.
For Marathon weekend, Fleschner plans to stay off her feet as much as possible, but she will be giving a speech after the Boston Athletic Association 5k the Saturday before the Boston Marathon. For the third year, there will be a Blindfold Challenge in which some of the entrants will be running blindfolded with guides to raise awareness about blindness. Proceeds from the Blindfold Challenge will benefit four Boston-based groups that support the blind and visually impaired—organizations that have assisted Fleschner with mobility training and assisted technology training.
While at Vanderbilt, where she earned a BA and BS in anthropology and human and organization development, Fleschner was the Vanderbilt Michael B. Keegan Traveling Fellow, which enabled her to travel to Southern and Eastern Africa to study sexual violence against women and children. Those experiences deepened her interest in international and gender issues.
She chose to attend Harvard Law School after she learned it could support her as she lost her vision. She decided against two other law schools (turning down an offer of a full scholarship at one of them) because they had never had a blind student before.
"That was kind of an eye-opening thing to me, and then I got into Harvard. I had never been to Boston before, and I came and I met with someone in [the Dean of Students Office] at the time, and they just said, 'Yeah, that won't be a problem. This is how we'll get things to you, and we have this shuttle service that you can use, and we have this and that, and I thought, This is where I need to go."
The support Fleschner received as a disabled student, coupled with the breadth of courses – especially in international law and national security – was important to her, and right away her professors worked to make her feel at home. In particular, she mentioned Gabriella Blum LL.M. '01 S.J.D. '03, who has served as both a mentor and a friend; Philip Heymann '60, and his expertise in national security; and Catharine MacKinnon, who challenged many of her long-held beliefs. "She also has a yellow lab that looks exactly like mine, so we bonded over that, and that gave her play time when she was willing to argue with me," Fleschner said.
As a 2L, Fleschner directed a 15-minute documentary, "Blind Ambition," about her experiences and those of other Harvard Law students who are visually impaired, offering a glimpse into their day-to-day lives.
Blind Ambition from Harvard Law Documentary Studio on Vimeo.
A native of Terre Haute, Indiana, Fleschner has served as a political and leadership analyst for the federal government on national security issues since 2008. "One of the benefits of being an analyst for the federal government is the amount of responsibility you're given at a lower level," Fleschner said. "As a really young analyst, you produce written work and briefings for the most senior policymakers across the government, including Congress and the White House."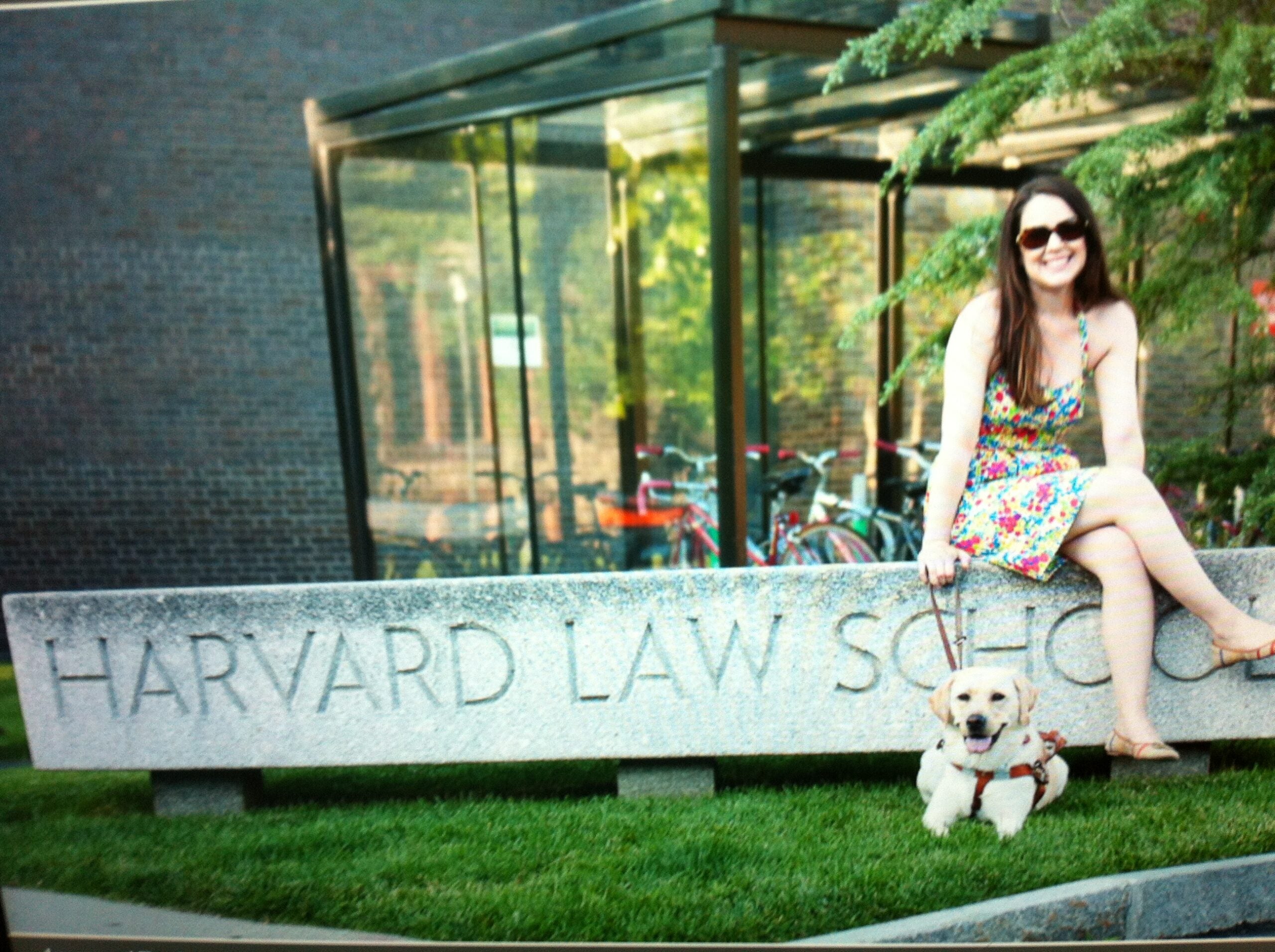 As impressed as she has been by the senior leadership in Washington, Fleschner said that she's been particularly influenced by the integrity of her co-workers. "I started at a really difficult time in our country when we were facing a lot of serious national security issues, so it was really valuable to work with a lot of people who had astounding expertise on issues and had been in their jobs for a long period of time," she said.
Just as she credits her national security co-workers, Fleschner is grateful for the support of the many people who have helped her prepare for the marathon. "I wouldn't have had as much fun training for this without Jess and without Michelle. It certainly has been a team effort with all the people who have guided me."
"Oftentimes, people overlook the fact that usually one person's goal is achievable only with lots of other people."