Environmental lawlessness was the topic of discussion on April 10, as Richard Lazarus '79, one of the nation's foremost experts on environmental law, gave a lecture marking his appointment to the Howard J. and Katherine W. Aibel Professorship of Law.
Speaking before a crowd of family, students, colleagues, and friends—including Supreme Court Chief Justice John Roberts—Lazarus described how environmental law has fallen "in arrears." After a period of legal and policy innovation that resulted in landmark statutes like the Clean Water Act and the Endangered Species Act, Congress has not passed a major new environmental statute or amendment since 1990, he said. The result of this stagnation is a growing mismatch between contemporary technology and environmental issues and outdated, inflexible statutes.
"Forty years after modern environmental law's remarkable emergence here in the United States, there is a whole lot of environmental law, but, our nation's environmental statutes nonetheless frequently fail to address, in any systematic way, many of the most pressing environmental problems we face. The law and our governmental institutions are again increasingly in arrears. The legal landscape is simultaneously full and empty, dominated by gaps," said Lazarus.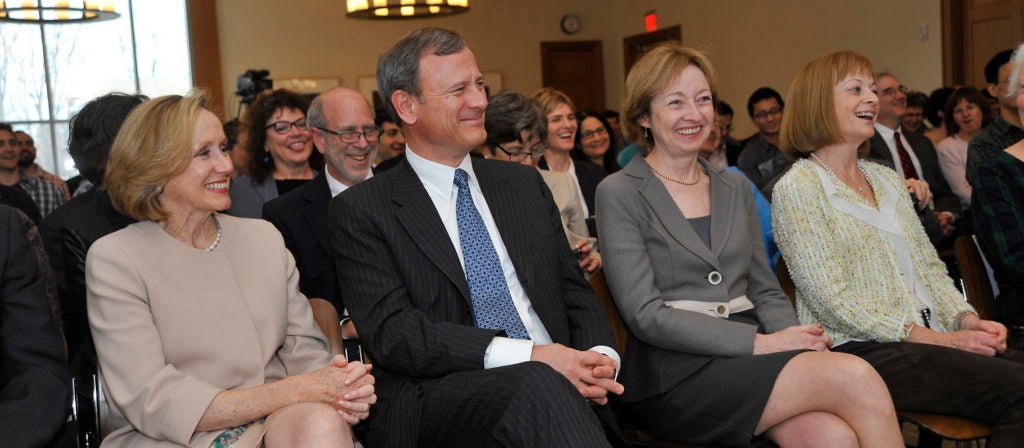 Lazarus has represented the United States, state and local governments, and environmental groups in the U.S. Supreme Court in approximately 40 cases, many of which raised natural resource and environmental law issues. From 2010 to 2011, he served as executive director of the National Commission on the BP Deepwater Horizon Oil Spill and Offshore Drilling, appointed by President Barack Obama '91, to investigate the root causes of the Gulf oil spill.
Harvard Law School Professor Jody Freeman LL.M. '91 S.J.D. '93, director of the Environmental Law and Policy Program, said Lazarus "represents the rare trifecta—he is a superb teacher, insightful scholar and extraordinary Supreme Court advocate."
At HLS, Lazarus teaches environmental law, natural resources law, Supreme Court advocacy, and torts. Prior to joining the HLS faculty, he was the Justice William J. Brennan Jr. Professor of Law and faculty co-director of the Supreme Court Institute at the Georgetown University Law Center. He received Georgetown's 2002 Frank Flegal Teaching Award, a faculty peer award based on a survey of faculty and students.
Earlier in his career, he worked for the U.S. Department of Justice, in the Environmental and Natural Resources Division, and also in the Solicitor General's Office, where he was assistant to the solicitor general.
His 2004 publication, "The Making of Environmental Law" (University of Chicago Press), is widely hailed as the definitive history of the emergence and evolution of modern environmental law in the United States. His most recent written works are: "Advocacy Matters: Transforming the Court by Transforming the Bar: Business and the Roberts Court" (Jonathan Adler, ed., Oxford University Press, 2012) and "Deep Water – The Gulf Oil Disaster and the Future of Offshore Drilling – Report to the President of the United States" (Executive Director of Commission and Principal Report Author, 2011).