For Kareem Carryl '22, starting Harvard Law School in the fall of 2019 was a little nerve-wracking.
"It is scary coming Harvard Law School," he says. "Obviously, you hear about all the amazing alumni — President Barack Obama ['91], First Lady Michelle Obama ['88] — and it feels as though you are coming into this place where there's so much history but also a lot of expectations. And coming from a place where I didn't even know lawyers growing up, yeah, I was super nervous."
Now the president of 111-year-old Harvard Law School Board of Student Advisers (BSA), Carryl credits the support he received from an experienced student with helping him make the transition to law school life successfully.
"I attribute my happiness and survival during my 1L year in large part to the BSA that I was assigned as soon as I come in," he says. "Her name was Alexis Alvarez. She graduated class of 21. She just helped me navigate the space and understand what it means to be a student here, from 'where's this classroom' to how to study and think about legal research and writing. Her guidance and mentorship and her constantly checking in with me gave me that feeling of a support system. And she also opened me up to the richness of this community by shepherding me through it a little bit."
His experience working with Alvarez and with the Board of Student Advisers also transformed how he would spend the subsequent three years as a law student.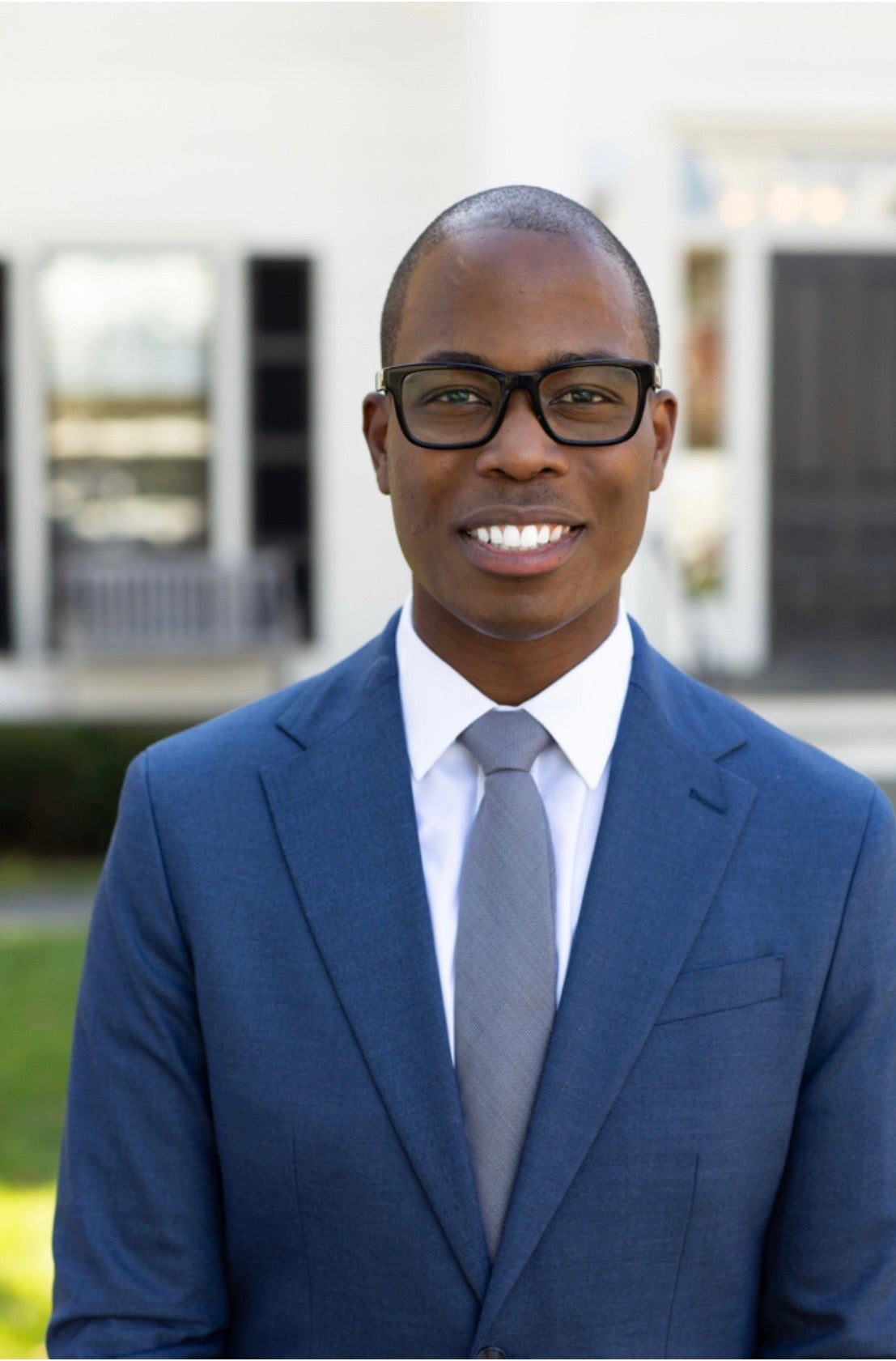 "I knew pretty early on that I wanted to recreate that experience for another student that's coming in and is feeling a little nervous or anxious," he says. "The first year of law school is a pretty stressful time. If, as a BSA, I can make that person's life a little bit easier, I want to do that. And I'm hoping that someone at some point is saying years down the line, thankfully, 'Kareem was there to help me sort of navigate that.' HLS is amazing, but it can be scary, and it can be intimidating. And I really want to make that transition easier for someone."
The child of Caribbean immigrants, Carryl has long been interested in the law. "I always kind of got the sense that the law can really be a tool for social change," he says. "Whether it's related to race, or socio-economic class, or to a variety of different things, I felt as though I'd be better equipped to hopefully make an impact in those areas by having legal education."
Before applying to law school, though, Carryl worked in financial services. After high school, he participated in the highly selective J.P. Morgan Smart Start Program, which provides recipients a full college scholarship and an internship. "I started the summer between my high school graduation and my first year at Columbia University," he recalls. He worked full time during his summers at J.P. Morgan and part time during the school year while balancing his responsibilities as a member of the Columbia College Student Council, including his role as senior class president. He stayed on at J.P. Morgan for a while after he graduated. While he enjoyed the experience, he soon wanted a change. "I just felt as though the law was calling me."
When he got to Harvard Law, the Board of Student Advisers quickly became his community. Founded in 1910, its members have included such legal luminaries as retired U.S. Supreme Court Justice Anthony Kennedy '61, Judge Reena Raggi '76 for U.S. Court of Appeals for the Second Circuit, and U.S. Representative Anthony Brown '92 (D-MD). Like the Harvard Law Review and the Harvard Legal Aid Bureau, the BSA is a highly selective organization that consists of 42 second- and third-year students. When asked to explain what the organization does, Carryl reaches for a thick, weathered, leather-bound volume emblazoned with the Harvard University shield and titled in gold letters, "Harvard Law School Board of Student Advisers." The nearly 250-page book contains the names, and many of the signatures, of student participants from the first 100 years of its existence.
Opening to page one, Carryl reads from the words of his predecessor, the organization's first president, Claude R. Branch, who went on to serve as special assistant to the Attorney General to the United States, arguing more than 50 cases before the Supreme Court. Among other activities, Branch wrote, the Board of Student Advisers should encourage "among first year students early and intelligent use of the law library." Today, Carryl says that tradition is reflected in its members' service as teaching fellows in the legal research and writing program.
"The second big function, and in some ways what I consider to be the most near and dear to my heart, is the mentorship component," he says. The Board of Student Advisers stands ready, he says, to provide every student the kind of support that he received from his mentor during first year. "Our stance is that there's no question that people should feel as though they can't come to us with. So, you should be able to come to your individual BSA with any of your sort of mentorship questions. But the whole entire organization is a resource to every student."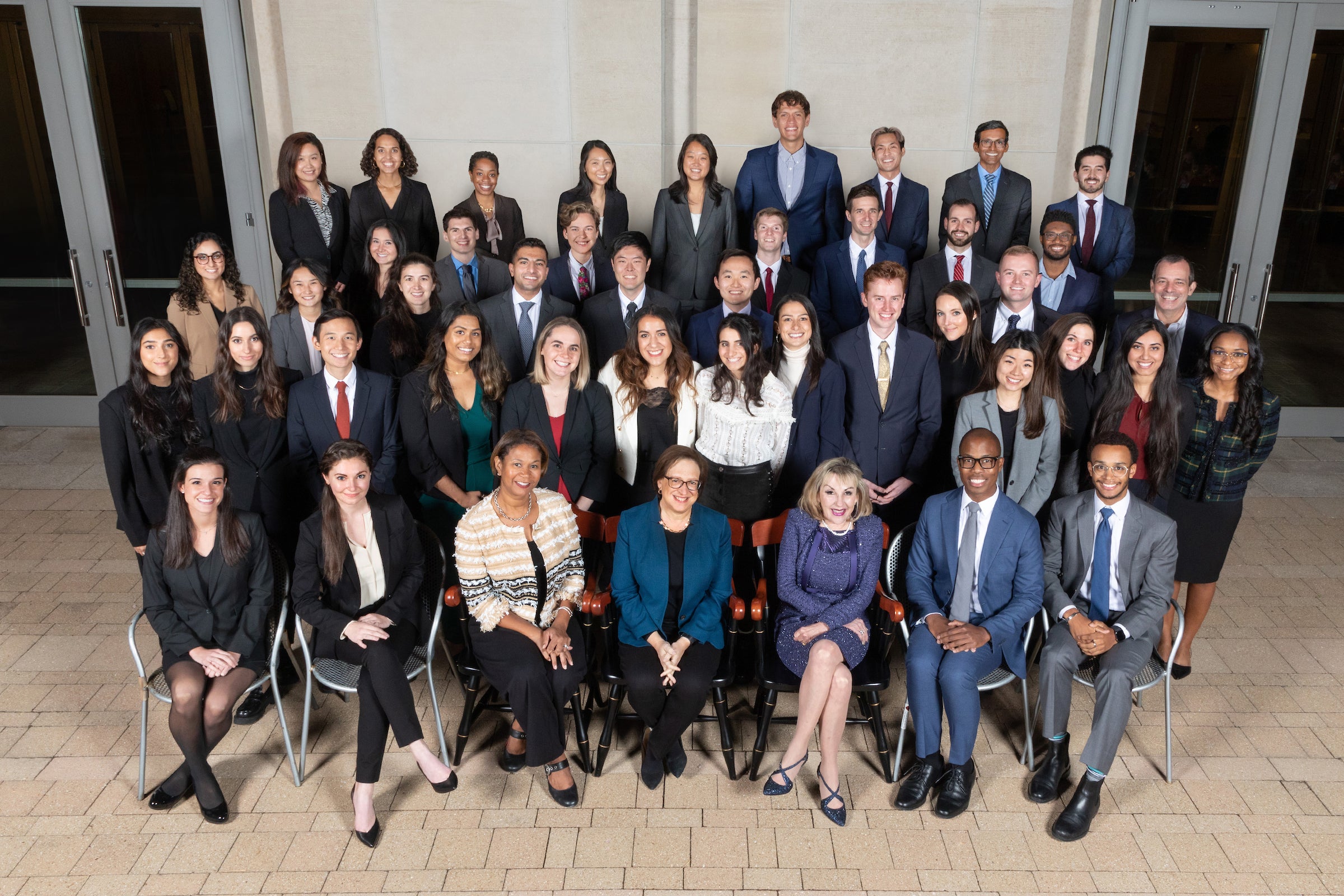 The organization's third and final responsibility is facilitating the Ames Moot Court competition, another aspect of its work mentioned in the original charter. As Branch noted in 1910, "It seems almost fantastic that now it is taken as a matter of course that a Justice of the United Supreme Court shall sit in the final argument." Carryl hastens to praise the critical contributions of his executive board colleagues in supporting the nation's most prestigious moot court event, particularly the organization's Vice President for Ames Stacy Livingston '22.
"I'm so fortunate to have an amazing [leadership] team," which, he notes, also includes Grant Fergusson '22, Mayze Teitler '22, and Serena Wong '22. "But every single member of the organization is contributing to and helping to drive this mission that's been happening for 111 years into the future."
Carryl is also quick to recognize the contributions of Yvonne Smith, the Dean of Students Office's longtime point person for the Board of Student Advisers, praising her as "the lifeblood of the BSA."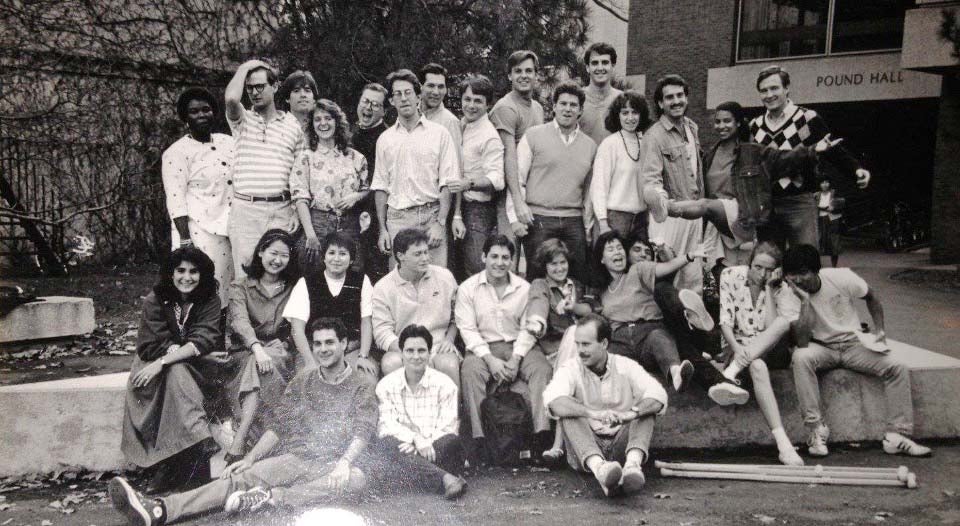 "The question that every single alum asks us is: 'How's Yvonne?'," Carryl laughs. "They all know her and they recognize just how important and integral she is to us and all the things she's done to really bring us to where we are today."
Following the onset of the COVID-19 pandemic, which coincided with a national reckoning on race and during which Harvard Law School relied on remote instruction for more than a year, Carryl explains that the organization doubled down on supporting student wellness. Being more purposeful about checking in on students is among the pandemic-era changes that will live on after the coronavirus abates, he says.
"That wellness component is something that's really important — just checking in and making sure that people were doing all right, first as people, and then as students, and pointing them to resources," he says. "Because everyone was having a difficult time. And something like that, that more acute awareness of wellness, is something that's carrying on now that we are back in person."
Carryl, who archives suggest is the first Black man elected president of the organization, also highlights the importance of ensuring that all voices from across the school's diverse student body are represented.
"I think that it's imperative that we look like the student body," he says. "The best thing that we can do as an organization is be a part of the community that we are serving. And I think by having an amazing collective of people involved in so many activities, so many student groups, so many career paths, ranging from public interest to working in a law firm, making sure that we sort of run that sort of spectrum, I think it's something that's really important to our mission."
"Because," Carryl adds, "representation matters."