Naomi Ronen, who worked as a reference librarian at Harvard Law School for three decades, passed away on September 1. When she retired in 2006, a plaque was put up in the library in her honor. It hangs by the reference area, a rare tribute, memorializing someone former colleagues and patrons remember as exceptional.
"Generations of colleagues, students and faculty knew, loved, and respected Naomi for her brilliance, knowledge, and kindness," says Janet Katz of her friend, with whom she worked as a reference librarian at HLS for 18 years.
In her remarks at Ronen's retirement, Katz said that Ronen every day demonstrated the joy of being a reference librarian: "Curiosity in all things, the hot pursuit of answers … following every lead, working until there is an answer, getting it right, caring about getting it right. Caring about the patron."
"It's hard for me to describe the respect I had for her," said Deanna Barmakian, an HLS reference librarian, who began working with Ronen in 1997, early in her own career. "Naomi's devotion to the collection was infectious and her passion for helping researchers was a joy to watch."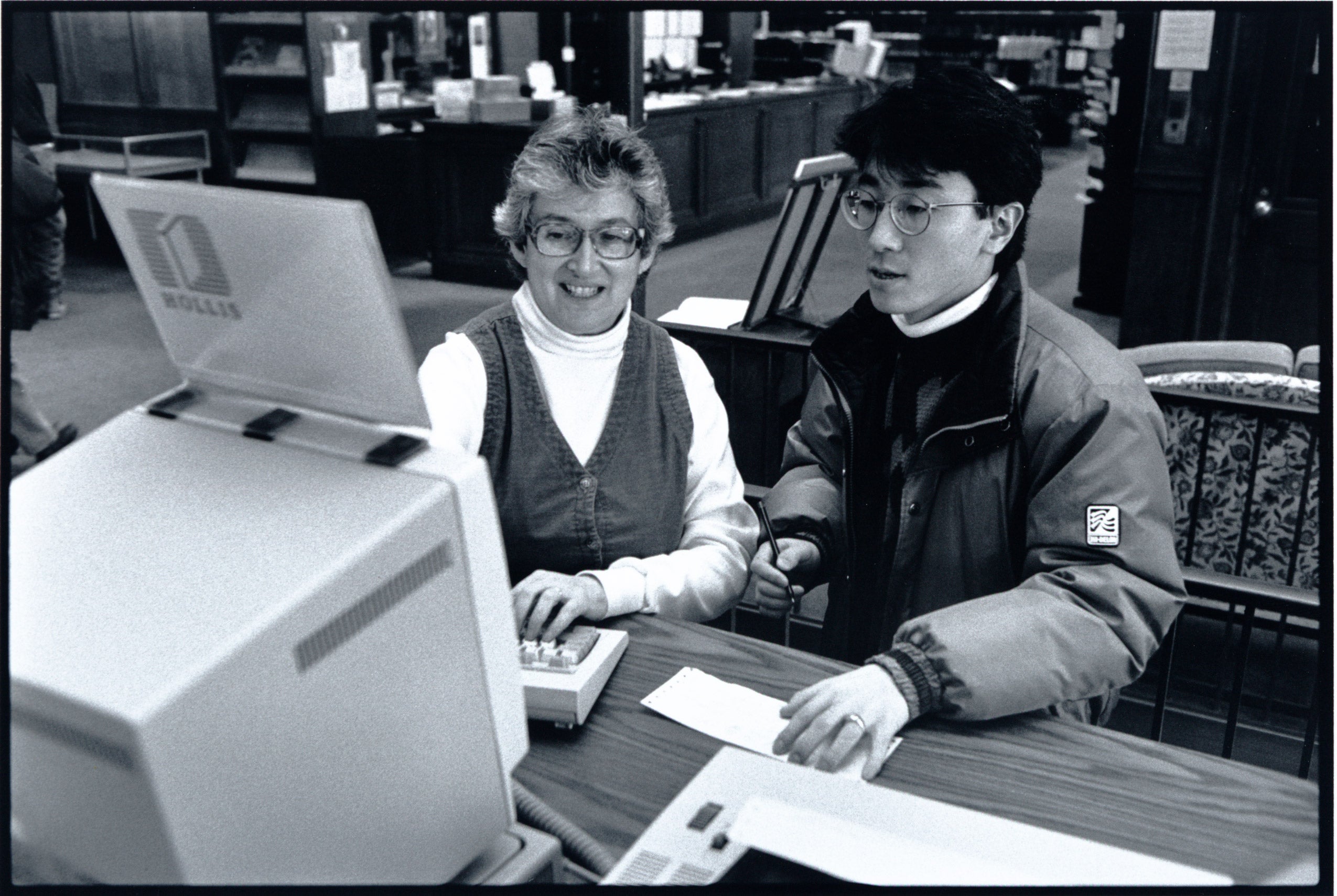 "She taught me so much," Barmakian recalls, noting Ronen's background in cataloging. She also praised her "piercing intellect and generous nature, a wonderful combination."
"People don't realize the expertise that was required back then when things weren't online," Barmakian says. "Naomi just knew it all. And she had an enthusiasm to share that knowledge."
Professor Christine Desan agrees. "Naomi was alive to knowledge; she found learning exciting, empowering, life-enhancing. That was true even at the level of very ordinary and everyday details. If you brought Naomi a research question, no matter how mundane, her eyes would light up. She would turn over the question out loud. She would think of 10 more questions that followed from it. She would teach you in that conversation just how intriguing your question was, how it opened up new paths of thinking and knowing. It wasn't just that she was a superb researcher and reference librarian — although she was those for sure. It was that she loved the process and taught you how to love it as well. Naomi was an extraordinary presence here; I have missed her since the day she left."
Ronen came to HLS after working at the Hebrew University National Library in Jerusalem and at Purdue and Indiana universities. She had received an A.B. in history from Oberlin College and an M.A. in library sciences from Indiana University. She also studied at the Universitat of Freiburg and Hebrew University of Jerusalem and was fluent in French, German, and Hebrew.
She was a lifelong lover of visiting other parts of the world and met her husband, Dov Ronen, on her travels in 1961. Dov passed away a month before Naomi did, three weeks before their 60th wedding anniversary. She is survived by their three children — David, Mihal, and Gili — and five grandchildren.
Read Naomi Ronen's obituary in the Boston Globe.