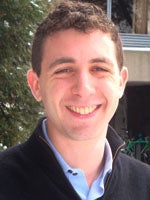 The Harvard Law Review has elected Mitchell Reich '12 as its 125th president.
"Mitch has proven himself as an outstanding editor — insightful, hardworking, and deeply committed to the Review and its community," said outgoing President Zach Schauf '11. "He will make a superb president, and I look forward to seeing him guide the Review in the year ahead."
Before attending Harvard Law School, Reich graduated from Yale College with a B.A. in Classics and Political Science. He is a native of New York, and is the first openly gay editor elected to lead the Review.
"Following in Zach's footsteps will be an enormous honor and challenge," Reich said. "Zach was the rare leader who combined a deep intellect and devotion to the law with tremendous dignity and warmth. The Review is a stronger, more vibrant community for his leadership. In the coming year, I look forward to working with an extraordinary group of colleagues to take our turn advancing excellence in legal scholarship."
The Law Review, founded in 1887 by future Supreme Court Justice Louis D. Brandeis LL.B. 1887, is an entirely student-edited journal with the largest circulation of any law journal in the world. It is published monthly from November through June.