In the first of this year's Last Lectures, Professor Jon Hanson challenged students to think about what justice really means — and whether it's truly provided by the American legal system or even taught in law school. "The law needs to sell justice like McDonald's needs to serve burgers," said Hanson, who is the faculty director of the Systemic Justice Project at Harvard Law School.
Hanson delivered his remarks at the first of four "Last Lectures" for 2022 Harvard Law School graduates. The Last Lecture series, sponsored annually by the third year and LL.M. student class marshals, offers selected faculty members the opportunity to impart insight, advice, and final words of wisdom to the graduating class.
Taking a cue from the late Carnegie Mellon professor Randy Pausch, Hanson challenged himself to deliver a literal "last lecture" — what he'd say if it was his final chance to address his students or children. The greatest lesson, he said, is to remember the "justice dreams" that brought them to law school. "Children 'get' justice and have more clarity than many of us adults do," he said, later adding, "I think you should recommit to your childhood dreams of justice. I think you were right when you got here."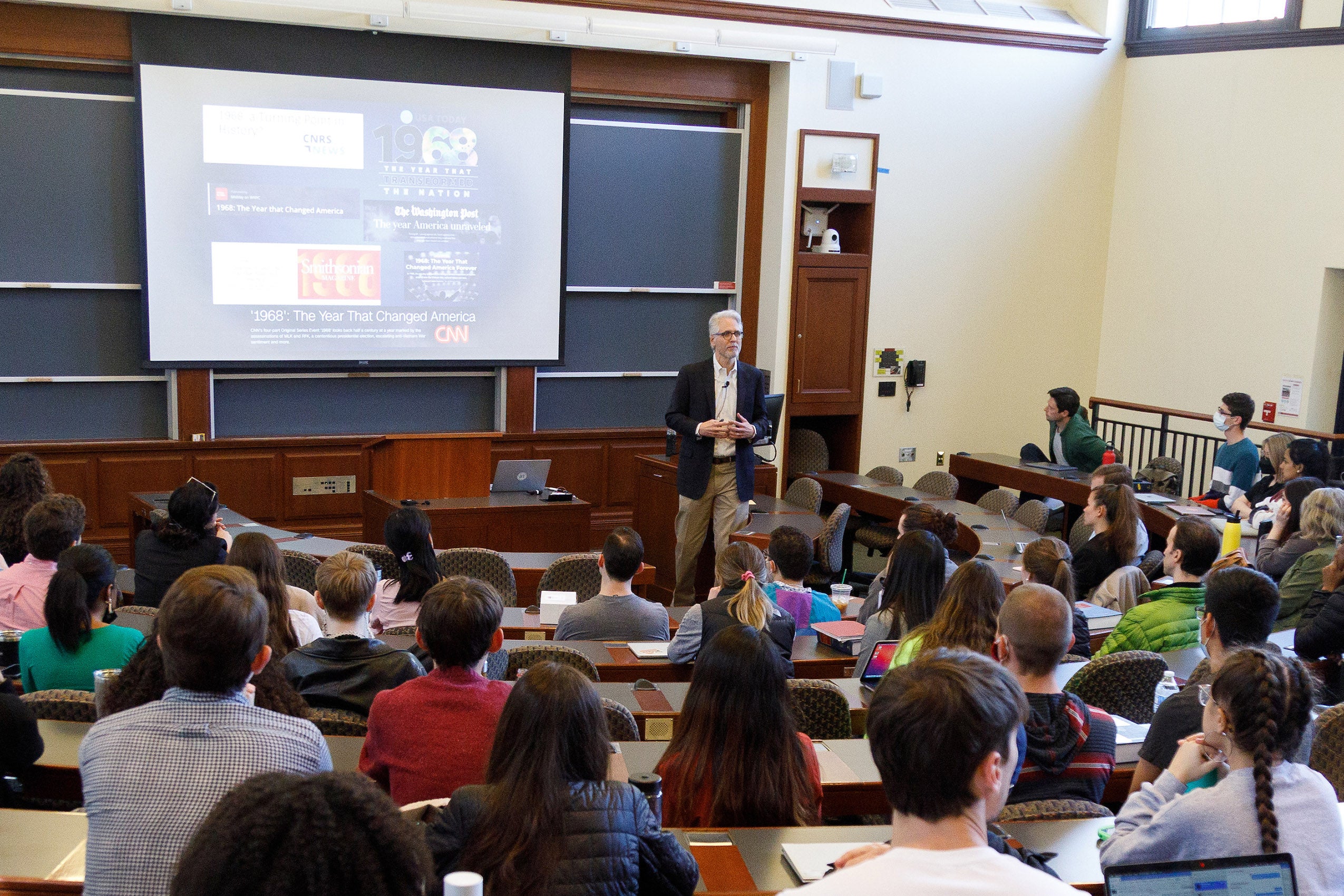 Hanson traced a particular dream of justice that began with Dr. Martin Luther King, and how that dream de-evolved over the next decade. King, he suggested, gave his own "last lecture" during a conversation with his friend, the singer Harry Belafonte, shortly before his assassination. As Belafonte recalled, King was concerned that the struggle for integration had led them to the inside of a "burning house" — which meant that the system itself was flawed. This, said Hanson, was a particularly salient image after the "long hot summer" of racial unrest and rioting in 1967 — a movement that was partly prompted by police brutality, just as it would be again in the George Floyd era.
"You exist at an unbelievable moment in history. They happen every 50 years: a moment when the granite of the system — petrified hierarchy and injustice — is actually in flux, and it is changing rapidly. You live in one of those moments … you have the opportunity to use your justice dream to make a difference with it."
At the time, Hanson said, the administration of President Lyndon Johnson made a genuine attempt to address the crisis by launching the National Advisory Commission on Civil Disorders. Led by Illinois governor Otto Kerner, the group identified the structural problems of racism and economic inequality and called for improvements in housing, job opportunity, and police accountability. But Johnson ultimately declined to make the financial commitment needed to carry out the Kerner Commission's proposed reforms and King was killed one month later, leading to even greater unrest.
He said: "1968 was a major pivot point in history — the year that America unraveled. It shaped a generation, it rocked Washington — heck, it rocked the world." And the Kerner report was a significant moment in itself, he added. "It serves as a high point of systemic structural justice-based thinking on the part of conventional, governmental actors." Quoting author Steven Gilland, Hanson said that it "represented the last gasp of 1960s liberalism, the last full-throated declaration that the federal government should play a leading role in solving deeply embedded problems, such as racism and poverty."
Yet this dream began to fade almost immediately, with the emergence of a new legal order based on corporate interest. "Those of you in my Corporations class have heard a lot about this — but you're stuck with it," he said, and suggested that the turning point was a new narrative that developed as a backlash to the social gains of 1968. "You see a transformation of legal theorizing."
These new ideas would have a lasting effect on legal norms, Hanson said. "These stories all say the same thing: We're going to throw out conceptions of social responsibility and we're going to accept a notion of freedom behind ideas of markets and aversion for regulation. That collection of ideas becomes dominant, and each one of those stories empowers corporations."
Markets, he said, erase the very idea of injustice while empowering and uniting the haves against the have-nots. "This is what I think has happened to our system." And this, he said, defines the world that graduates are now entering. "I didn't say this would be a happy Last Lecture."
The good news, he said, is that graduates who can recommit to their "justice dream" are in a unique position to make a difference. "You have developed a ton of tools to bring to this question of really advancing justice. And you exist at an unbelievable moment in history. They happen every 50 years: a moment when the granite of the system — petrified hierarchy and injustice — is actually in flux, and it is changing rapidly. You live in one of those moments, so much more than so many graduates of HLS, you have the opportunity to use your justice dream to make a difference with it. Because now really matters. Integration is not enough. Diversity is not enough. The house is on fire, now."