It was the first day of class, and students were engaged in a spirited debate about Virginia Woolf's classic novel, "Mrs. Dalloway." What does it say about human nature? About the individual? About one's place in the world?
Despite the literary flavor of the discussion, these were not English majors — they were future lawyers, enrolled in a class called Individuality?: Virginia Woolf vs. Social Justice and Law, taught by Richard Parker, Paul W. Williams Professor of Criminal Justice at Harvard Law School.
Parker's is one of 55 upper-level reading groups offered by the Law School during the 2021-2022 academic year. These upper-level classes bring together a small number of students to learn and talk about a wide variety of topics, including literature, public policy, philosophy, or specific areas within the law, like one on elder law by James Toomey '19, Climenko Fellow and lecturer on law; Critical Race Theory, taught by Kenneth W. Mack '91, Lawrence D. Biele Professor of Law; and the U.S. electrical system by Ari Peskoe '11, lecturer on law.
"The reading group is an opportunity to read together and have informal discussions about emerging topics of interest," says Howell E. Jackson J.D/M.B.A. '82, James S. Reid, Jr. Professor of Law, who is teaching one about designing a central bank digital currency for the United States.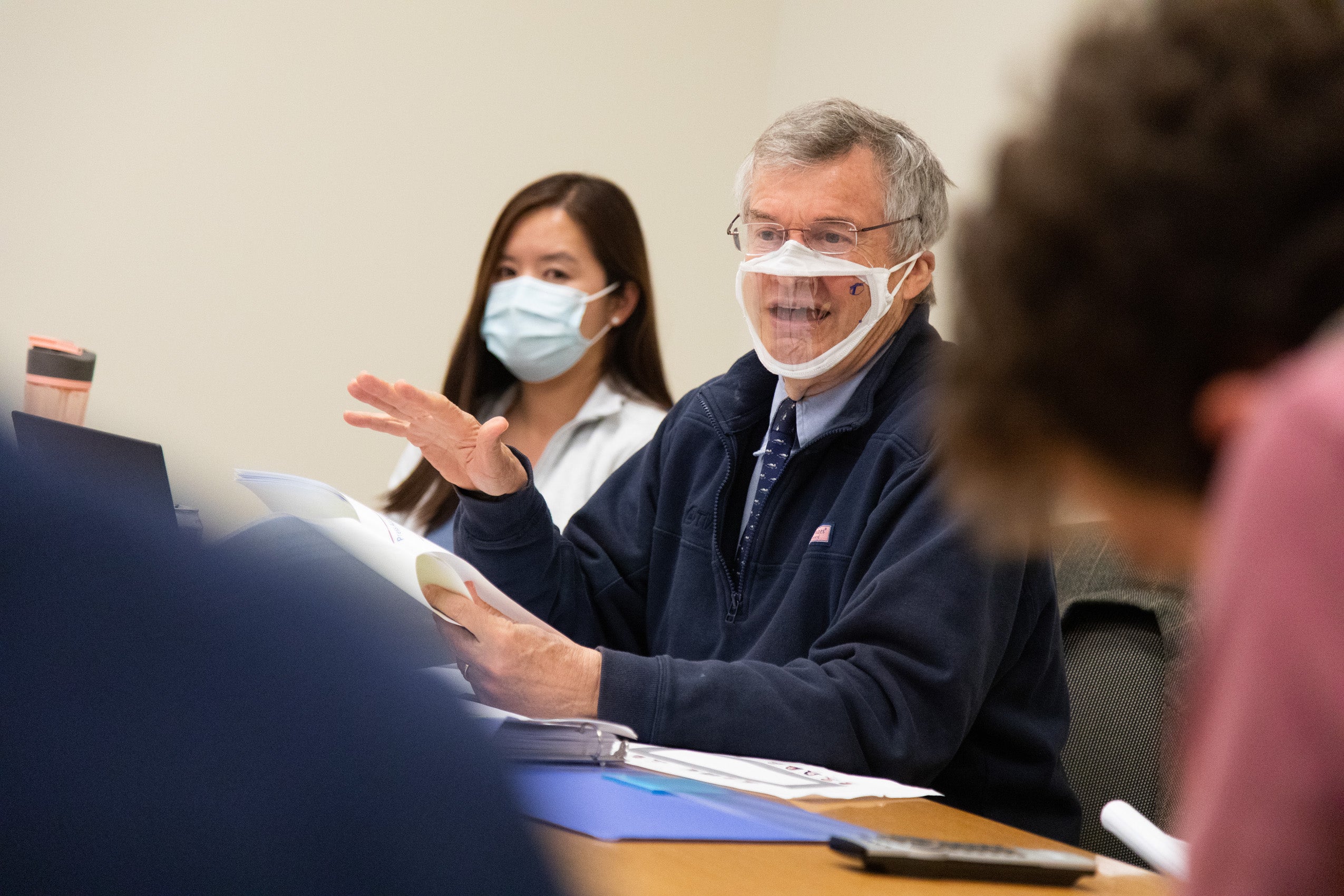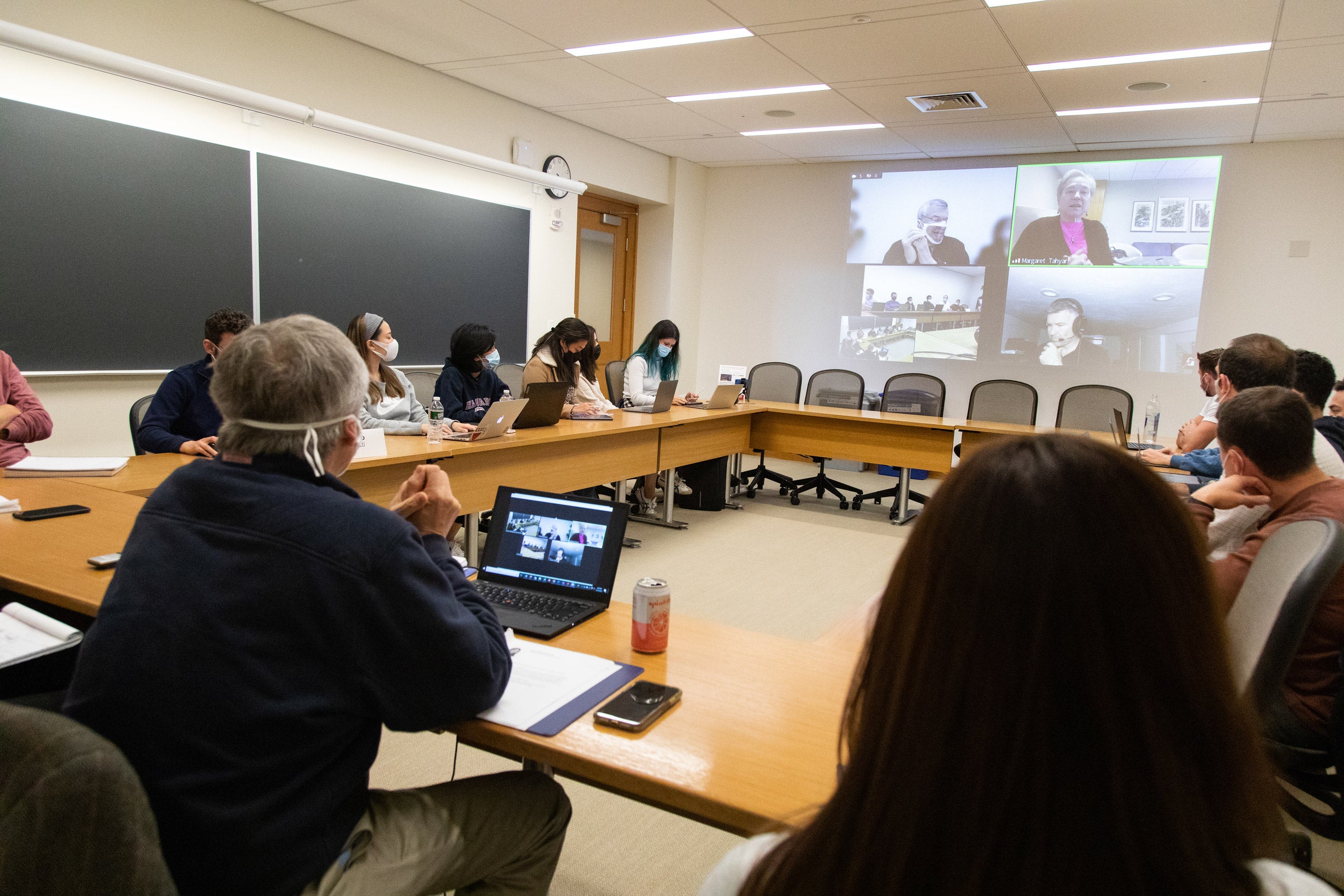 Unlike black-letter law courses — civil procedure, constitutional law, contracts — students in reading groups devour news and law review articles, white papers, novels, and other source materials beyond the classic case book. And while some professors call on students, reading groups are often free-flowing and loose, focused more on exploring arguments than on right or wrong answers.
Parker, who leads the Individuality course, says he has enjoyed teaching dozens of reading groups centered on fiction, film, and Friedrich Nietzsche's philosophy in his more than four decades as a faculty member at Harvard Law. One goal for this fall's reading group was to encourage students to appreciate people as individuals rather than simply members of oppressed and oppressor groups, he said. "Woolf's exploration of consciousness — the crux of individuality — is beautiful beyond belief."
Another goal was to pay attention to the emotional, non-rational sources of individuality – and law. Students, Parker says, "are used to the impersonal, dispassionate analysis of legal stuff; reading literature, and taking it personally, calls for and develops emotional intelligence."
Meanwhile, in Feminist Utopias, a reading group taught by Lecturer on Law Diane Rosenfeld, students are also reading Virginia Woolf — the essay "A Room of One's Own" — along with several other novels and writings that explore a world without gender oppression. "The basis of the idea of a feminist utopia is, 'what would it look like for women to live in a world free from male sexual violence?'" she says.
For Rosenfeld, the group is a complement to her other courses on gender-based violence and social justice. As the founding director of Harvard Law School's Gender Violence Program, Rosenfeld says the law's ability to protect women from sexual violence varies by jurisdiction, but is insufficient everywhere. "My work in that area has led me to think about 'what if women self-defended and defended one another?' What kind of a society could we envision resulting from that? If that were the case, what kinds of laws would we envision?"
To probe those questions, Rosenfeld's students are reading "Herland," a 1915 novel by Charlotte Perkins Gilman that "imagines an entire country run by women," and several other works, in addition to Woolf's book.
"'Fiction must stick to facts, and the truer the facts the better the fiction,'" Rosenfeld says, quoting Woolf on literature's potential to impart important truths. Rosenfeld adds that she invites her students to consider what a feminist utopia would look like to them in wide-ranging classroom discussions. "The format is less formal, so it gives students an opportunity to think more creatively. The fact that we are reading literature puts a student in a different mindset than when she, he, or they are reading case law. It gives us a different license to consider some of the very same questions that we consider in my other courses."
And reading groups, with their intimate setting and deep dive into unusual or up-and-coming areas in the legal world, have proven enduringly popular among law students. "They give students a chance to get an expert's perspective that they are not necessarily going to have in a more general course," says Tyler Patrick '22, a student in Naz Modirzadeh's reading group on the United Nations Security Council. Patrick cites Modirzadeh's work with the U.N. and other international organizations as one example of the in-depth knowledge from which he and his fellow students in the class benefit.
Critically, says Patrick, these classes are a test kitchen for new ideas and theories. The reading group environment "deflates some of the pressure of the traditional Socratic Method-style courses. In my experience, students are more willing to try out an argument that they might not be willing to make in a larger group setting."
"I love reading groups," he adds. "They allow for a greater diversity of perspectives to emerge from students, and a greater amount of risk-taking and boldness of thought."