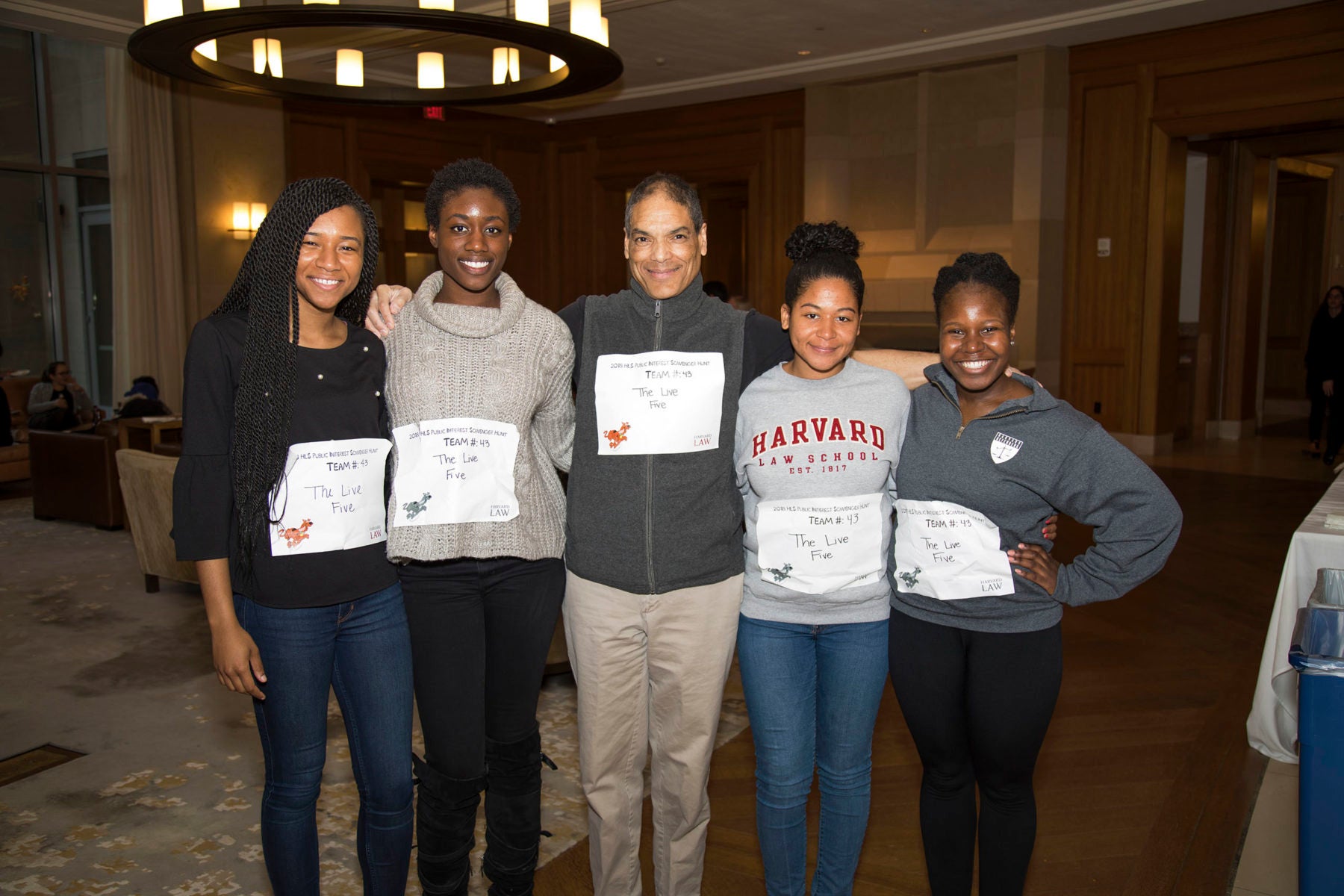 Which HLS faculty member argued the landmark case, Braschi v. Stahl Associates, before New York's highest court—yielding the first decision in the United States recognizing a gay couple as a legal family?
Now in its second year, the Harvard Law School Public Interest Scavenger Hunt continued its focus on HLS history and trivia, but also highlighted alumni who have done important public interest work. "The goal was obviously for students to have a good time," said student co-chair Joseph Gallardo '19. "But we also wanted them to learn about ways that these folks changed the world for the better and hopefully feel inspired to go out and do the same."
More than 230 students (divided into 62 teams) raced through the halls of the law school—and outside on the snow-covered ground—searching for clues, taking selfies with professors (who were answers to some of the clues, including Professor William Rubenstein '86—answer to the clue above), and recreating President Barack Obama's '91 photo in front of Austin Hall. Each team helped to raise money for the Summer Public Interest Funding Program (SPIF) from the event's sponsors—Arnold & Porter, Kirkland & Ellis, WilmerHale, and the William & Flora Hewlett Foundation—who donated to SPIF.
"I'm so happy to see the Public Interest Scavenger Hunt coming into its own as a great new HLS tradition," said Assistant Professor Andrew Manuel Crespo '08, who last year came up with the idea for the scavenger hunt. "It's a treat to watch hundreds of our students, many of whom I see working hard all week in class, have a chance take a break from their studies and other serious pursuits to let loose and just have a good time—all while learning about and celebrating the school's rich tradition of public service. This year, the students were even more enthusiastic and energetic than last year, and the event raised even more money to support our public interest students. I'm excited to see what next year brings."
The teams raced to answer the most clues correctly in the shortest amount of time. The top teams qualified for prizes, including a boat ride, cocktails, and barbecue with Professor Noah Feldman in Maine, a "bagel brunch extravaganza" with Professor Carol Steiker '86, and a shopping trip with Professor Glenn Cohen '03.
Alexa Shabecoff, assistant dean for public service at the Bernard Koteen Office of Public Interest Advising at Harvard Law School, said: "I loved seeing how much fun students had while learning about public interest facts at Harvard Law School. It was great to see them break a sweat running around campus, many of them in hilarious costumes and celebrating together afterwards. Kudos to the hard working team that put this together including Micah Nemiroff and Catherine Pattanaayk in OPIA and the student chairs: Joseph Gallardo, Charlotte Robinson, Ben Roth, Kim Grano, Michael Mischke and Laura Lee Herring; and to Andrew Crespo for being our inspiration, consultant and fantastic emcee."
Since 1994, the law school has hosted public service events to help support the Summer Public Interest Funding program (SPIF) at Harvard Law School, providing opportunities for students to begin their careers working in public interest law. The SPIF program awards Federal Work Study (FWS) funding and/or stipends to students. These stipends are funded by HLS resources including annual support approved by the Dean, gifts from donors, and money raised by the Public Interest fundraising event.