Justice Stephen Breyer '64 announced today that he will retire at the end of the current term.
At a press conference in the Roosevelt Room at the White House, President Joseph Biden thanked Breyer for his long history of public service, calling the justice's opinions "practical, sensible, and nuanced, reflect[ing] his belief that the job of a judge is not to lay down a rule, but to get it right."
In his remarks, Breyer reminded his audience that America is a complicated and diverse country of 300 million people representing "every point of view possible." Yet miraculously, he said, "They've decided to help solve their major differences under law."
Our nation is "an experiment," he added, one that all of us are tasked with continuing.
Justice Breyer's judicial philosophy, as he described it in a lecture in 2001, featured "an approach to constitutional interpretation that places considerable weight upon consequences — consequences valued in terms of basic constitutional purposes. It disavows a contrary constitutional approach, a more 'legalistic' approach that places too much weight upon language, history, tradition, and precedent alone while understating the importance of consequences." His approach to interpreting the Constitution contrasted with the originalist philosophy most famously advocated by the late Justice Antonin Scalia '60, Breyer's colleague and close friend for much of his time on the Court.
His six-decade connection to Harvard Law School began as a student in 1961. He served as an editor on the Harvard Law Review, began teaching at the school in 1967 and was ultimately appointed a professor, with a primary focus on teaching and writing about administrative law. As a justice, he returned to HLS several times, including most recently in April 2021, to give the Scalia lecture, in which he cautioned against making changes to the Court and emphasized the importance of public confidence in the judiciary.
"Justice Breyer will go down in history as one of the greats on the Supreme Court. He has long stood as the Court's most influential proponent of the simple but powerful proposition that laws serve a purpose and that judges should interpret and implement laws to achieve those purposes," said John F. Manning '85, Harvard Law School Morgan and Helen Chu Dean and Professor of Law. "A lawyer's lawyer and the leading proponent of the great Legal Process tradition, Justice Breyer has always combined pragmatism with principle and shown deep respect for democracy and the proper institutional allocation of power in our constitutional democracy. I am deeply grateful to Justice Breyer for his service to the country and for his enduring contributions to our understanding of law and legal systems."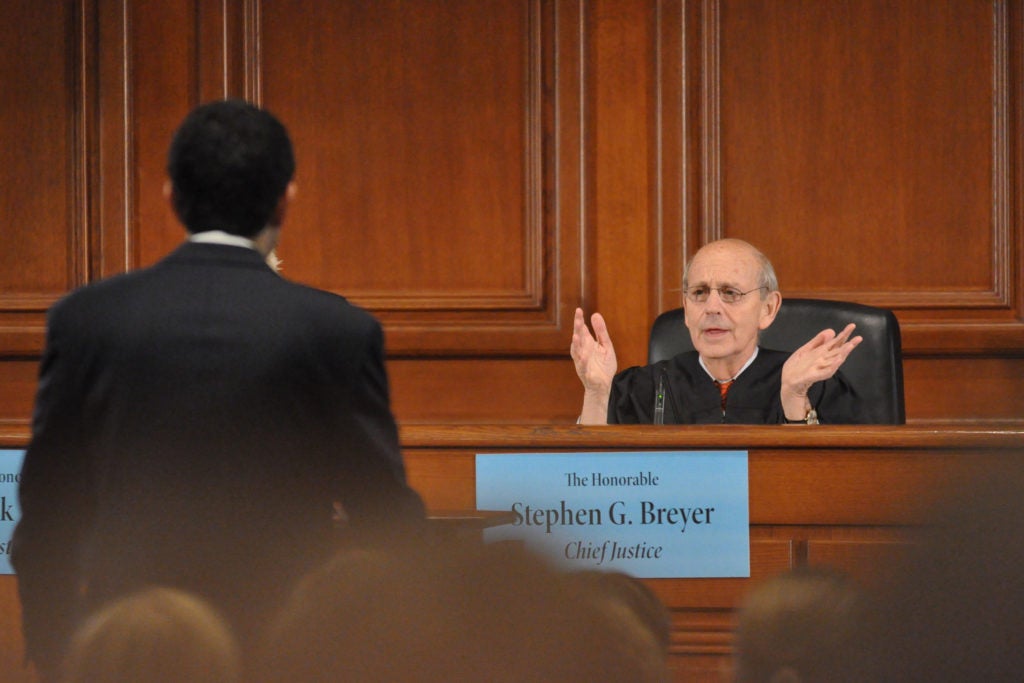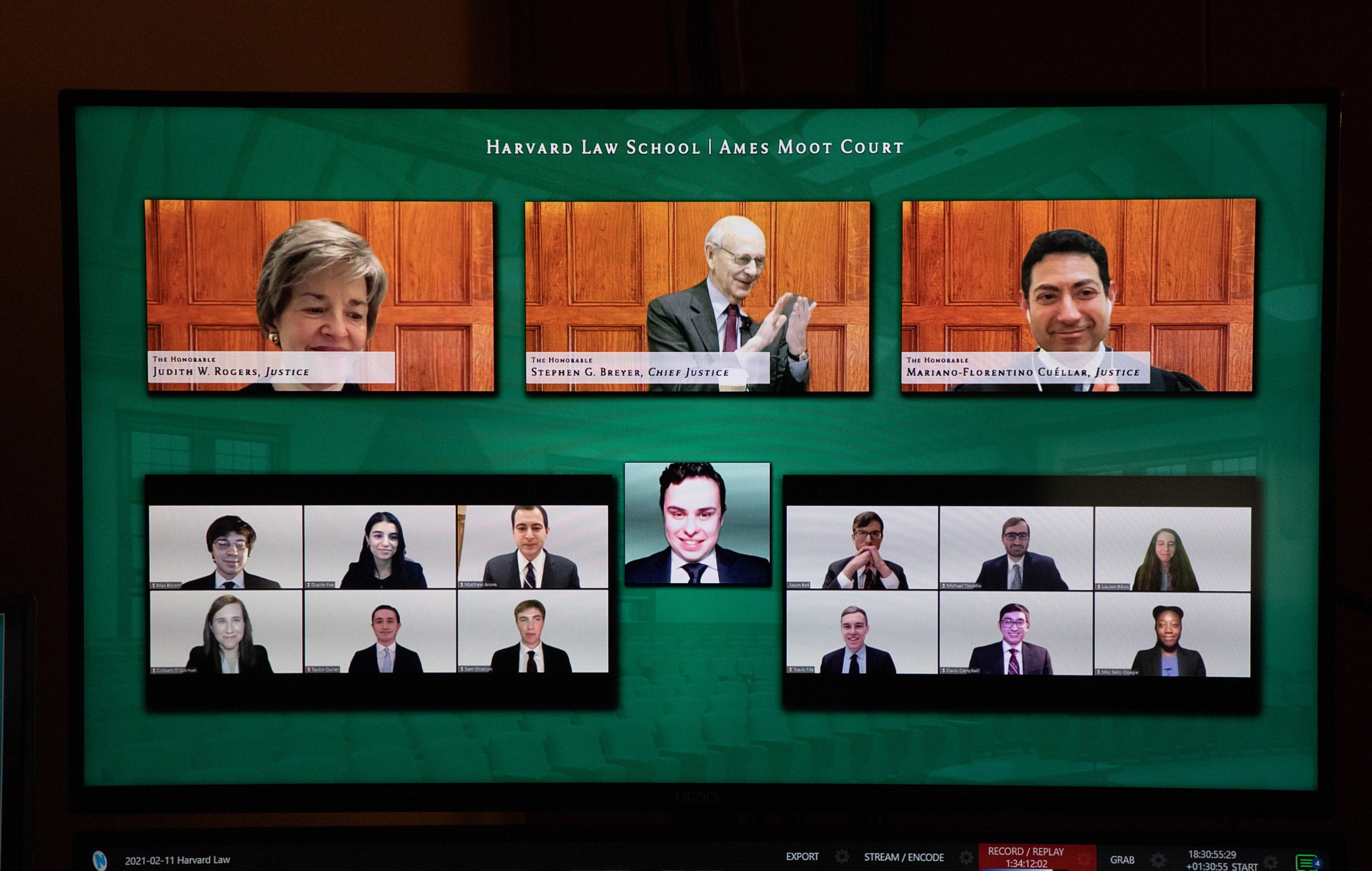 Breyer was born in 1938 in San Francisco, the son of Anne and Irving Breyer; his mother's work focused on public service and his father was legal counsel for the San Francisco Board of Education for 40 years. Breyer was on the debate team as a student at Lowell High School, where he was named most likely to succeed, and was an Eagle Scout. He served in the U.S. Army before earning a degree in philosophy from Stanford University and also attended Magdalen College at Oxford as a Marshall Scholar. During an appearance at Harvard Law School in 2011 with then-Justice David Souter '66, Breyer recalled his law school years, citing professors who would influence his thinking on the bench, including Professor Clark Byse.
He also noted that his property professor, A. James Casner, may have deserved credit for his first judicial appointment. At the time, in 1980, Breyer was chief counsel to the U.S. Senate Committee on the Judiciary. Senator Edward M. Kennedy asked him a property law question on behalf of a constituent, and Breyer knew the answer. Soon thereafter, President Jimmy Carter nominated him to the First Circuit Court of Appeals.
Breyer was first considered for the Supreme Court in 1993, when the avid cyclist left the hospital after a serious bicycle accident to be interviewed by President Clinton. Ruth Bader Ginsburg '56-'58 was nominated instead, but the next year Clinton chose Breyer to replace the retiring Justice Harry Blackmun '32.
Richard Lazarus '79, a Supreme Court advocate and the Howard and Katherine Aibel Professor of Law, said: "At his confirmation hearing in 1994, Justice Breyer made a promise to the American people: 'I will work hard. I will listen. I will try to interpret the law carefully, in accordance with its basic purposes.' Justice Breyer has served this nation well." And, Lazarus notes, he has earned the nation's enormous gratitude for "a life dedicated to service and justice."
During a conversation with then Dean Martha Minow at Harvard Law School in 2013, Breyer reflected on his experience as a justice on the Court.
"In the first three years, you are frightened to death," he said. "You think, 'I don't know what's going to happen; how do I know I can do this?' And then after three years, you think, 'Well, maybe I can, maybe I can't, but this is the best I can do. …' It's a very, very interesting job. But more than that, it matters to people, and that is a tremendous source of satisfaction if you can continuously recognize that and just do your best."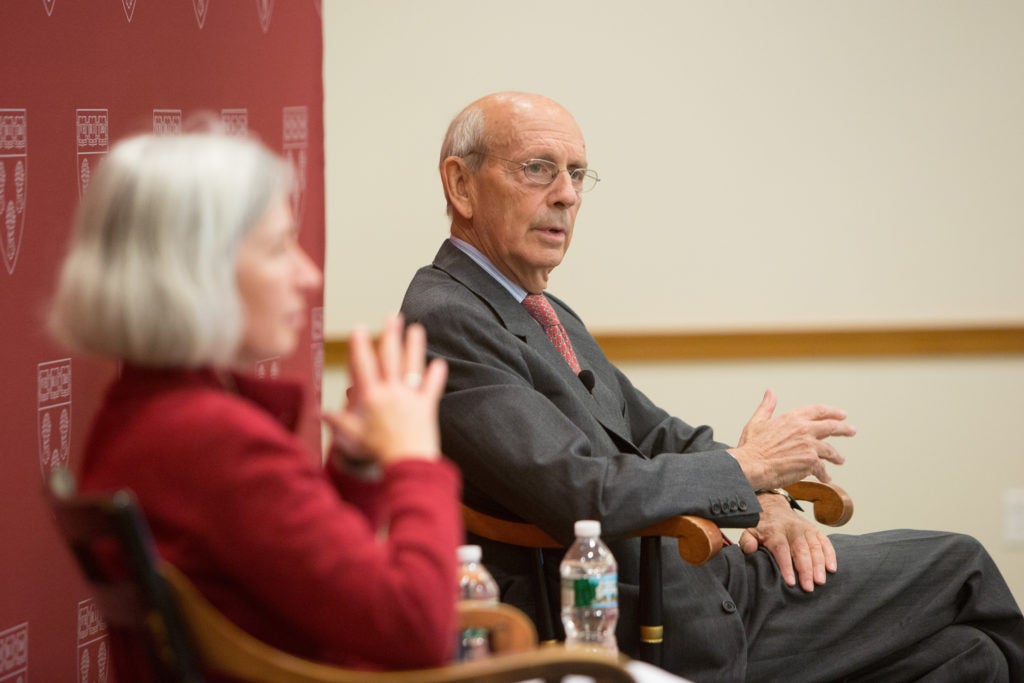 Commenting on Breyer's retirement, Minow said: "Justice Breyer has served this nation and the rule of law with impeccable clarity, constant reason, profound commitment to the Constitution and to the institutions of democracy. The work of the Supreme Court and indeed, law itself have been strengthened by his constant attention to factual realities, deep knowledge of history, appreciation for the variety and complexity of America, humor, optimism, and decency. He has served not only the role of a justice, but justice itself."
Some of his notable decisions on the Court include his dissent in Glossip v. Gross, in which he called for the Court to reassess the constitutionality of the death penalty, noting that many people who are subjected to capital punishment are later exonerated.
In his dissent in District of Columbia v. Heller, in which a majority of the justices held that the Second Amendment protected an individual's right to possess a firearm, Breyer contended that gun regulation "represents a permissible legislative response to a serious, indeed life-threatening, problem."
As a clerk for Breyer on the Court during the 2009 term, Harvard Law School Professor Andrew Manuel Crespo '08 saw firsthand the deliberations the justice put into his opinions.
"It is a tradition at the Court that when a Justice marks a special anniversary on the bench the other Justices record messages of tribute and congratulations to be played at a reunion dinner with the Justices' clerks in the Court's main hall," said Crespo. "I remember well one such message, recorded by Justice Ginsburg a number of years ago. She described her favorite childhood toy, a spinning top that glittered as it whirled, throwing bright and dancing lights across the room. That, she said, is how Justice Breyer's mind works —it throws off brilliant lights in every direction, all at once, delighting anyone who has a chance to sit with him, even if just for a moment. I am grateful to have spent many such moments sitting with Justice Breyer during the year that I worked for him. And in all the many years since, I've never heard a better description of him than that dazzling, whirling top Justice Ginsburg described. If anyone of his clerks could keep up with him for just one spin, we considered ourselves lucky."
During his time on the Court, Breyer wrote several books, most recently "The Authority of the Court and the Peril of Politics" (2021), in which he explores the norms and traditions that safeguard the Court's legitimacy. He also wrote "The Court and the World: American Law and the New Global Realities" (2015), which examines how the Court considers circumstances beyond America's border, and "Active Liberty: Interpreting Our Democratic Constitution" (2005), which emphasizes the importance of citizen participation in the process of government and adapting the principles of the Constitution to unanticipated situations.