This is the first in a series of profiles of students from the Harvard Law School Class of 2017.
In his work for the Harvard Legal Aid Bureau, Mario Nguyên '17 often represented survivors of domestic violence. While meeting with him, one woman, crying, confided that she worried her children would be damaged forever by the violence they had seen.
Nguyên reassured her that he thought her kids would turn out just fine. It wasn't an empty platitude. He understood very well that kids who experienced domestic violence could become successful. And his client understood that too when he told her he was living proof.
As he prepares to graduate, Nguyên can stand as an example as someone who has overcome hardship and doubt, who has achieved more than he ever thought possible and plans to achieve much more. He will soon begin a job at a firm in his native Texas, with a goal of using his legal skills to bring about systemic change to benefit disadvantaged and marginalized people.
In addition to his work in the Legal Aid Bureau, where he also handled juvenile immigration cases, Nguyên founded the Supero Law Students Association at HLS, which supports low-income and first-generation college students like him. He participated in national moot court competitions on immigration and LGBT issues, and in HLS Lambda. His activities reflected life experiences that have given him a different perspective than most students at HLS, he says.
The child of an undocumented immigrant from Mexico who as a teenager married his father, a refugee from the war in Vietnam, Nguyên remembers his mother feared reporting his father's abuse because of her immigration status. At one point, she did escape with her children to live with a relative, only to have Nguyên's father show up with a briefcase containing hand grenades, threatening to kill everyone unless they returned with him. They did, until his mother eventually contacted authorities, who offered witness protection and helped her gain citizenship through the Violence Against Women Act.
"That was one of the reasons I think I went to law school," Nguyên said. "Because I got to see the lawyers help my mom throughout that process."
His mother cleaned houses to support him and his four siblings. Growing up in Plano, Texas, he lived in trailers and small apartments, sometimes not having enough food. In middle school, an English teacher encouraged him to try a speech and debate competition that honed his language skills (neither of his parents spoke English well) and provided trips around the country, including one competition on the HLS campus: "I remember walking around and thinking this was as close as I was going to get. In my head it wasn't even a possibility."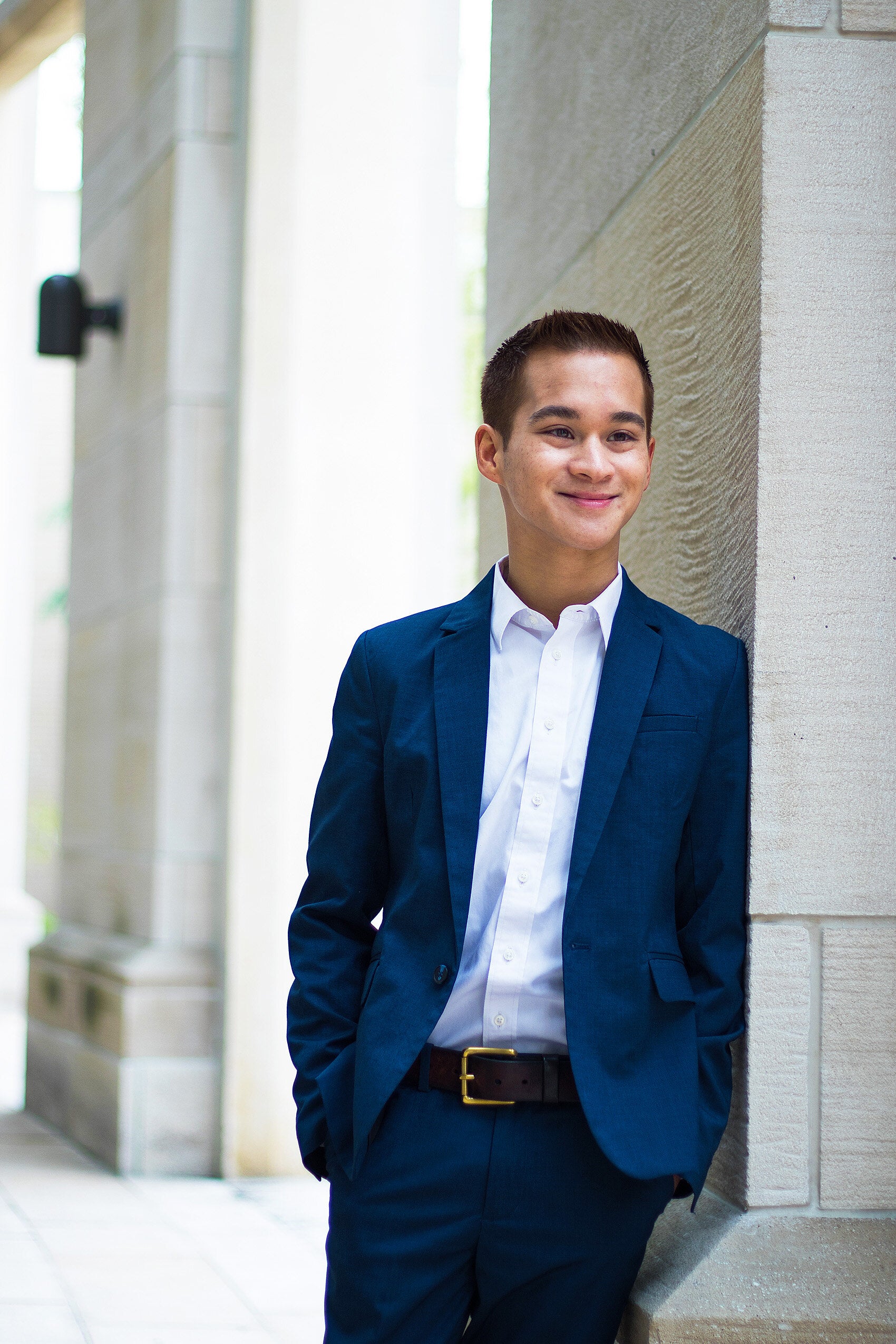 He won a national speech competition that offered a full scholarship to Western Kentucky University. By the end of first semester, he had failed a class, and told his mother he didn't know if he could make it. She said he could quit, stay home. Instead, that possibility pushed him to go back to school, where he excelled. But nothing could quite prepare him for his arrival on the HLS campus as a law student.
"It was shocking," he said. "I felt so out of place here. Everyone's parents are a partner in a law firm, a judge, a big CEO, a professor, or doctor, a very different experience. I'd avoid talking about what my parents did. My school was another point of embarrassment. I'd avoid talking about it if I could."
He had some academic struggles at the start of law school but, just as in college, rebounded. He was accepted for a clerkship by a U.S. District judge in Texas but decided to begin work at Locke Lord in Dallas soon after graduation in order to provide as much financial support for his family as he can. The firm particularly appeals to him for its emphasis on pro bono work, which he plans to pursue with appellate work to fight injustice.
In some ways, he's surprised that he is going back to Texas. It reminds him of the lowest time of his life, when he was poor and powerless, when he struggled coming out as gay in a high school where few students did, when he didn't know that he would ever have the option to leave. But he also knows he can help low-income people and others in need there with the credentials he has established. After all, he said, "I'm going back there with the best standing possible. I'm going back there as a Harvard Law–educated lawyer."