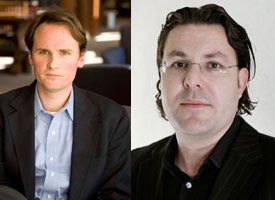 Born Digital, a book by HLS Professor John Palfrey '01 and Urs Gasser L.L.M. '03, executive director of the Berkman Center for Internet & Society, was named a Best Science and Technology Book of 2008 by the Library Journal, in March.
The Library Journal called the book, which focuses on the coming of age of the first generation to grow up in a digital world, "significant in its prompting of readers to consider that these young men and women are charting new territory and facing challenges that are distinctly unique to their era." It was the only computer science book chosen for the list.
Palfrey, the former executive director of the Berkman Center, is the Law School's vice dean of library and information resources. Gasser was an associate professor and director of the Research Center for Information Law at the University of St. Gallen, in Switzerland, prior to his recent appointment as the Berkman Center's executive director.
Palfrey discussed the phenomenon of Digital Natives on a Jan. 30 podcast, "Growing Up Online," on NPR's "On the Media." He also recently served as chairman of the Internet Safety Technical Task Force, which recently released a report assessing the risks faced by youth on social networks.