How is "innovation" operationalized within legal organizations? What are law firms and companies looking for regarding professional backgrounds and skill sets for innovation hires? What are the career paths for these individuals within organizations? By what metrics should "quality" in legal services be measured?
Those were some of the questions innovation leaders from around the world grappled with as part of a colloquium, "Operationalizing Innovation in Legal Organizations," hosted by Harvard Law School's Center on the Legal Profession. The June event, held on Google's main campus in Mountain View, Calif., convened more than 80 leaders—half from law firms and half from in-house legal departments—for a series of in-depth workshops around how their organizations operationalize innovation.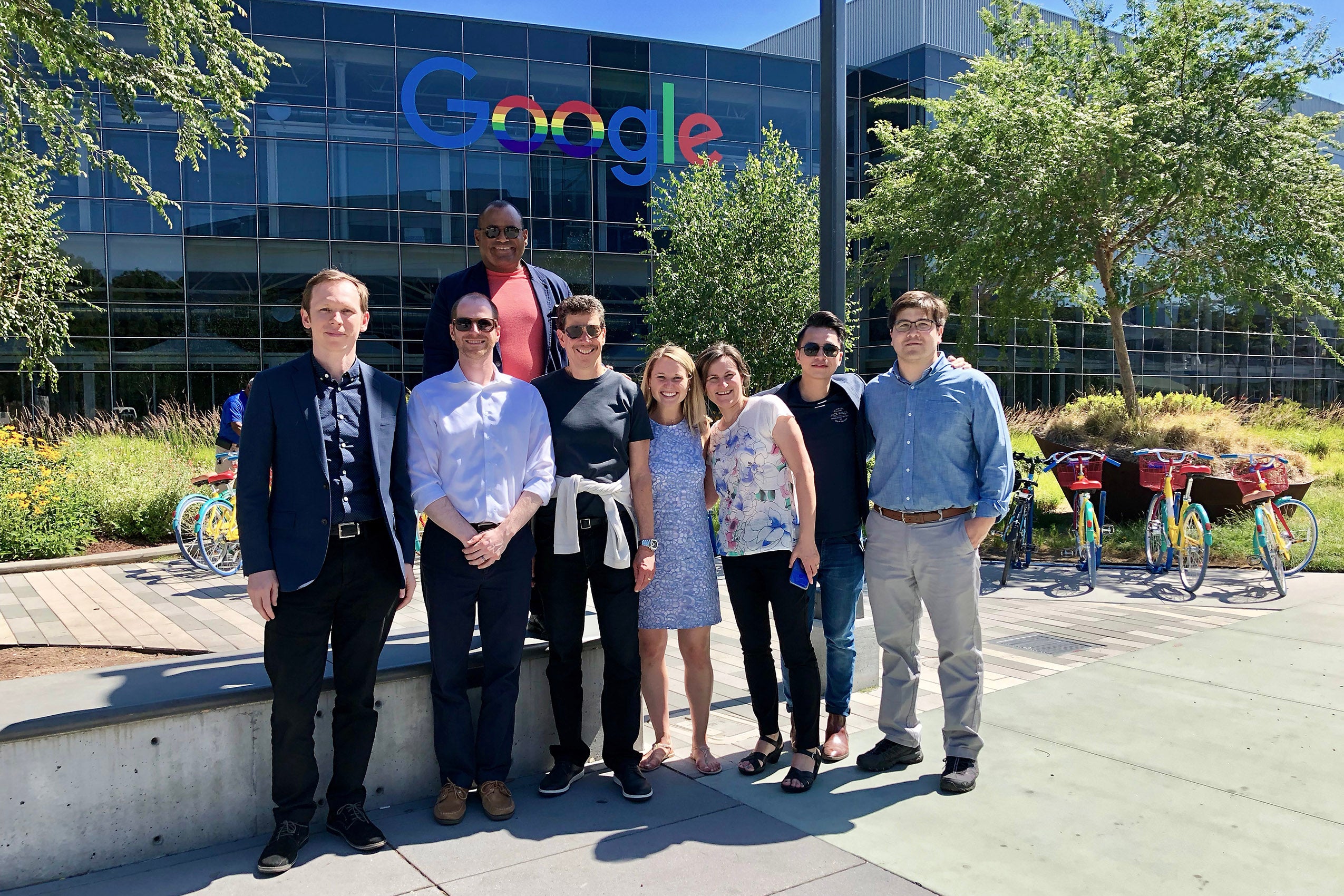 The colloquium was part of a major project, launched by the Center on the Legal Profession in January, 2018, that examines how legal organizations, and in particular law firms and in-house legal departments, incorporate innovation in their organization's business model. The Center plans to release the full results of this project in a report later this year.
Harvard Law School Professor David B. Wilkins '80, director of the Center on the Legal Profession and vice dean for Global Initiatives on the Legal Profession, said, "While innovation is often talked about in theory, the Center is focused on understanding it from the bottom-up based on how it is operationalized in practice. Core to this process are increasingly empowered legal innovators within companies and law firms."
The survey's target audience is a set of newly emerging innovation professionals. On the in-house side, these individuals are often called "heads of legal operations." On the law firm side, they are often called "chief innovation partners." Prior to the colloquium, the Center surveyed more than 150 of these innovation professionals.
Participants were asked a set of questions relating to who makes up their innovation teams and what those teams are charged with within their organization. Questions focused on leaders' educational credentials and career backgrounds, as well as team budgets and composition. The survey also asked specific questions about each team's charter, such as whether the team was focused on advancing artificial intelligence or knowledge management or cybersecurity systems.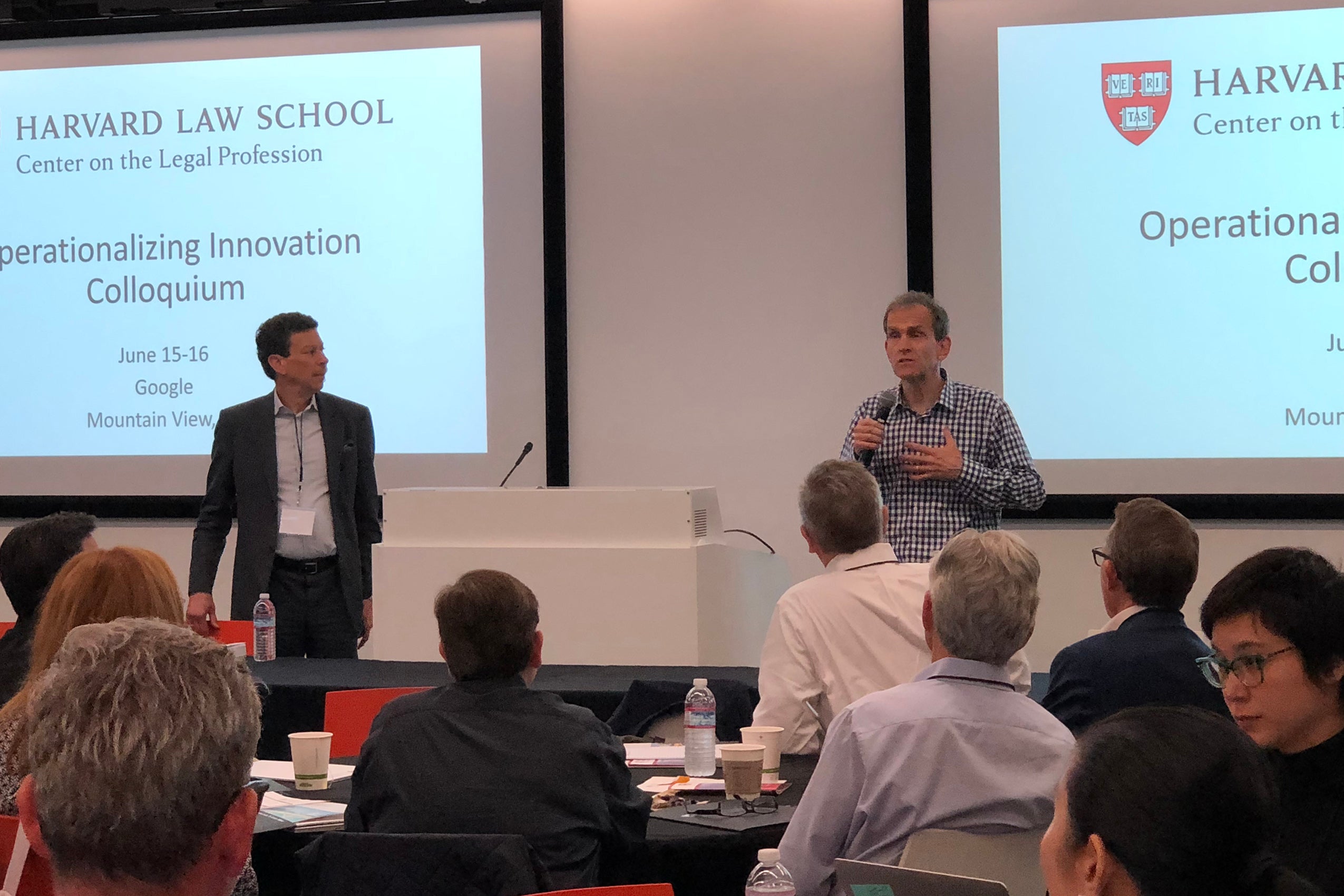 Drawing from the survey results, the colloquium's primary goals were to examine how these roles are developing in law firms and in-house legal departments, and to gain actionable knowledge about two critical issues facing legal organizations—career paths innovation and the development and implementation of quality metrics.
Kent Walker, senior vice president and general counsel of Google, kicked off the event with framing remarks on the importance of thinking differently within legal organizations.
Wilkins followed with a presentation of the Center's preliminary survey results. He shared data on the career and professional backgrounds of leaders occupying these increasingly common and important roles, and presented examples of how legal organizations define and operationalize innovation, including key sources of support and resistance from within the organization and across the legal profession. The Center's research is particularly focused on identifying differences between the responses of law firms and in-house departments.
As part of the colloquium presentations, Mary O'Carroll, the head of legal operations, technology and strategy at Google, and Bas Boris Visser, global head of innovation and business change and a partner at Clifford Chance, offered comments from the perspective of their specific roles.
The two core topics of the colloquium—Careers in Innovation in Law Firms and In-House Legal Departments and the Development and Implementation of Quality Metrics—were presented through a set of leadership panels designed to offer "green shoots" currently underway.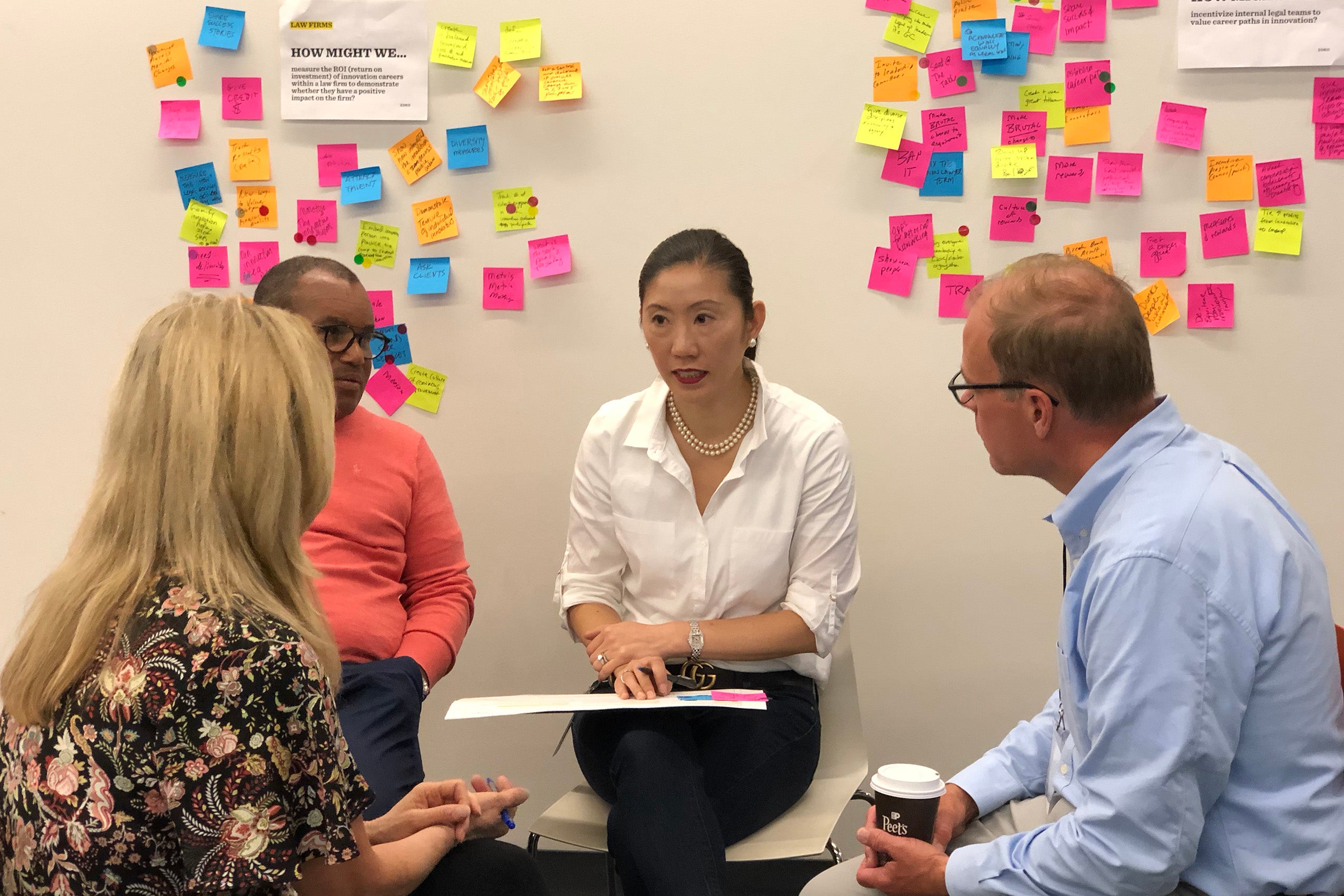 The Careers in Innovation topic centered on fostering better understandings of the career paths of those entering legal innovation positions within companies and law firms. Chaired by Wilkins, the careers panel focused on what organizations can do to better leverage their innovation functions and personnel. Panelists included Connie Brenton, chief of staff/senior director of legal operations at NetApp and the founder and CEO of the Corporate Legal Operations Consortium, Piet Hein Meeter, global managing partner of Deloitte Legal, David Pierce, managing director and senior vice president of Axiom Global, and Scott D. Rechtschaffen, chief knowledge officer and shareholder, Littler Mendelson.
A second panel, the Development and Implementation of Quality Metrics, focused on how firms and companies can collaborate to leverage their data and create objective measures of "quality" in legal services. Led by Ron Dolin, a senior research fellow at the Center and a lecturer on law at Harvard Law School, the panel included Kathryn McDonald, executive director at the Center for Health Policy and the Center for Primary Care and Outcomes Research at Stanford University, Jamal Stockton, vice president of strategic planning and program management at Fidelity Investments, Itai Gurari, CEO and co-founder, Judicata Inc., and Augie Rakow, co-founder and managing partner, Atrium.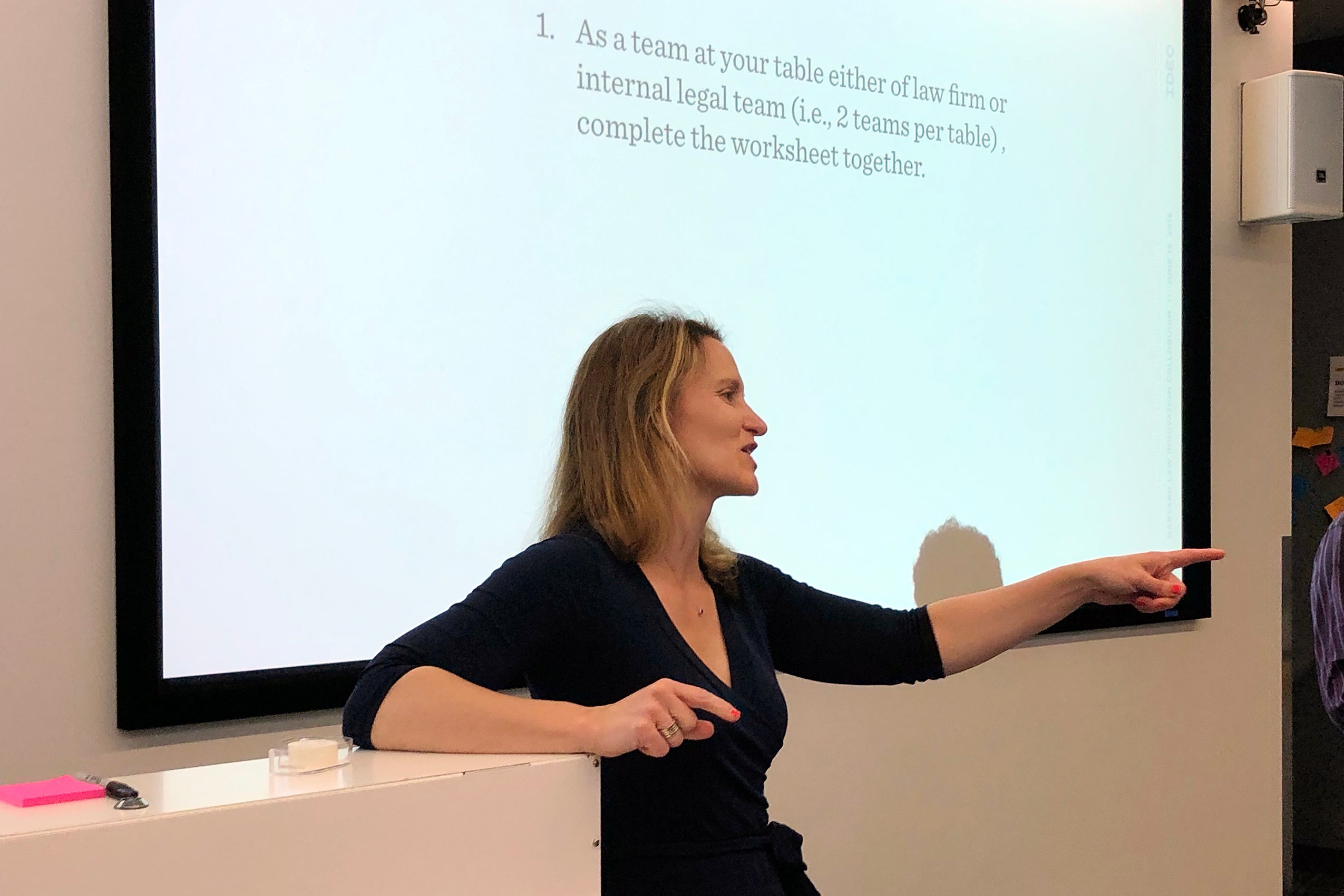 The Development and Implementation of Quality Metrics panel also focused on how law has traditionally operated in a world in which "inputs" formed the basis of analysis, with the billable hour serving as the standard metric for measuring the worth, and even the quality, of legal work in the legal profession. Pushed by their business-unit colleagues who have long stressed the need for "data analytics," panelists said, in-house legal departments are increasingly developing "output" based criteria for measuring, among other things, the quality of legal services.
According to Wilkins, these conversations are an important part of the Center's overarching goal of bringing together leading companies, law firms, and academics to collectively work to create common quality standards and to design research projects to evaluate whether these standards are both valid and replicable.
On the second day, Wilkins and Rochael Soper Adranly, the general counsel and legal design lead of IDEO, a global design and innovation company, led participants through a series of interactive "design thinking" sessions focused on each topic.
Designed to generate practical take-aways and push participants to think differently about the two topics, the sessions took participants through a whirlwind series of interactive processes, starting with inspiration (where the topic was researched), moving through ideation (where ideas are brainstormed collaboratively), and ending with implementation (where ideas are refined and applied to the particular need). Ideas were artfully recorded during brainstorming sessions on colorful post-it notes stuck to the walls.
By the end of the colloquium, participants committed to tackling at least one of the proposed ideas over the next year. Wilkins closed the event by asking each participant to take out their phones (the first time they were permitted to use them during the colloquium), turn to a neighbor, and create a calendar entry one month from the day with the words "How's it Going" in the subject line, committing to update their new buddy and the Center on their project's progress.
Wilkins has already received dozens of worksheets back from colloquium participants about their projects. The Center plans to continue to track the progress of these new initiatives to understand the specific projects being undertaken—and how they are being operationalized in practice.