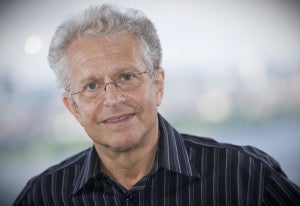 Professors Laurence H. Tribe '66, and Charles J. Ogletree both received honorary degrees at law school commencement ceremonies this spring.
Professor Tribe [photo left], the Carl M. Loeb University Professor and Professor of Constitutional Law at Harvard, received an honorary degree from the University of Miami School of Law, in Coral Gables, Florida on May 16.
Professor Ogletree [photo right], the Jesse Climenko Professor of Law and Director of the Charles Hamilton Houston Institute for Race and Justice, received an honorary degree from the Southern New England School of Law on May 29, in Dartmouth, Mass.
Tribe also delivered the keynote speech to the more 500 University of Miami School of Law students who received their degrees on May 16. Read his prepared remarks here.
"Regardless of what professional path you choose, the cause of access to justice is equally yours," Tribe told the graduates. "The legal services lawyer and public defender have no greater stake in that value than do the prosecutor, judge, or firm lawyer."
Tribe, who is currently serving as senior counselor for Access to Justice in the Department of Justice, where he leads a newly launched initiative aimed at improving access to civil and criminal legal services, is one of the nation's pre-eminent legal scholars. He joined the law school faculty in 1968, received tenure in 1972, and held the Ralph S. Tyler, Jr. Professorship in Constitutional Law from 1982 to 2004, when he was appointed University Professor, the highest academic honor that Harvard University can bestow upon a faculty member, reserved for just a handful of professors throughout the university.
Ogletree, a prominent scholar who has earned an international reputation for his expertise in comparative criminal justice systems, was appointed to the law school faculty in 1984, and also serves as the Vice Dean for clinical programs.