While introducing the panelists at an HLS in the World seminar called "No Justice for Most: Brainstorming New and Old Ideas for Government, Professional, and Technological Solutions," Professor Andrew Kaufman '54 brought out a visual aid: his HLS alumni directory. "You can look at any state in the United States. And in almost every — not just city, not just town, but village — you'll find a Harvard Law School alum," he said. "But in the most recent edition, the alums living in smaller towns and hamlets are all in their 60s."
As Kaufman raised the problem of younger alums congregating in large, coastal cities, he illustrated one aspect of "the biggest problem that the legal profession faces: the fact that most people don't have access to justice."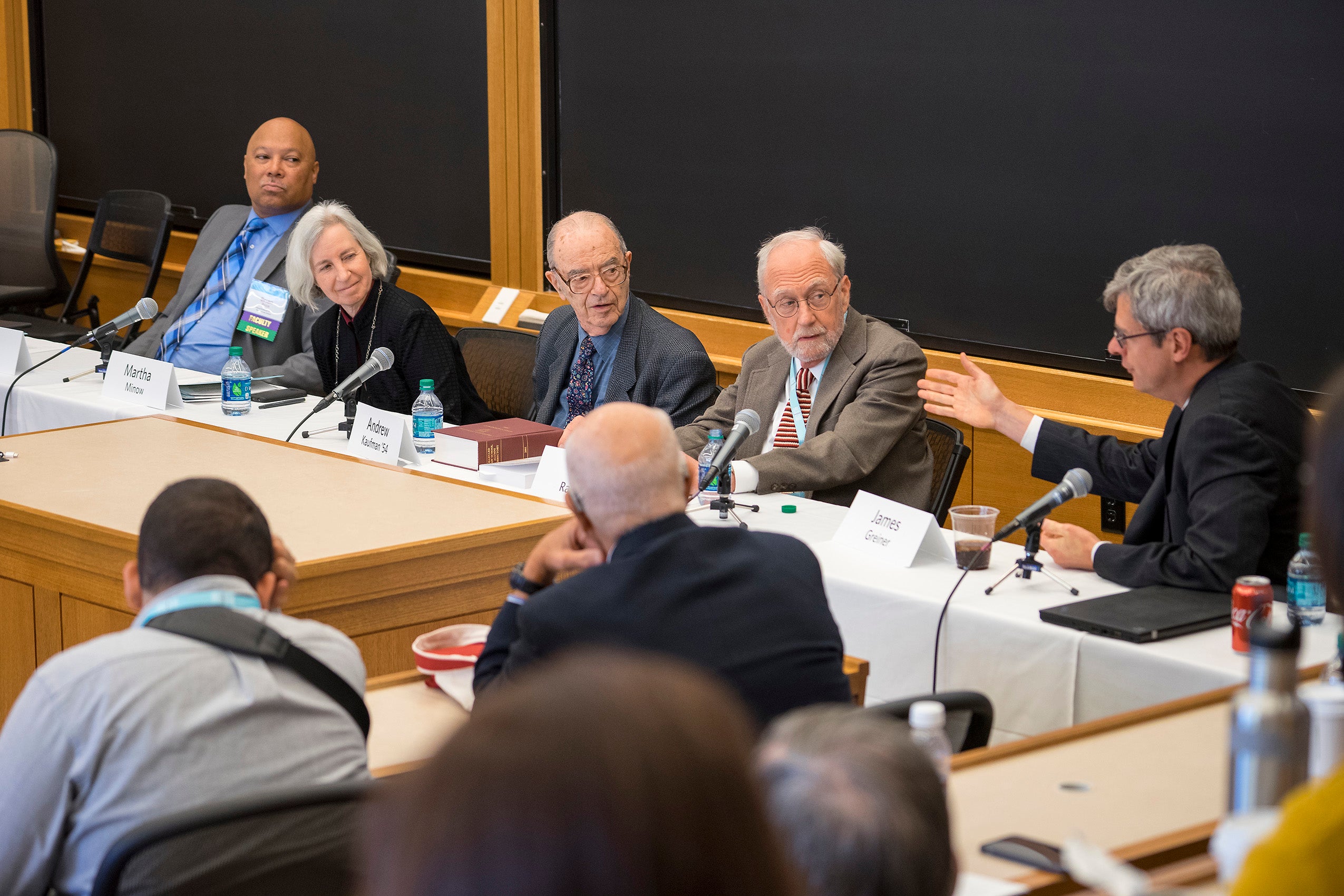 Beyond the disparity in legal services available in urban and rural areas, the 90-minute panel explored other barriers to access, including cost and education, centering on two key questions that Kaufman raised in his opening remarks: "Whom are we educating, and for what kind of service?" The implications of this question for the law school demand a reexamination of every aspect of how HLS selects and nurtures its students: from admissions to curricula to career services.
Professor Todd Rakoff '75 focused on the 80 percent of the public that considers itself middle class: "Ordinary people have ordinary problems that could benefit from the advice of a lawyer," he noted, offering examples like consumer debt, home purchases, marriage and divorce. But these kind of ordinary needs might not warrant for most people spending the kind of money a lawyer might cost.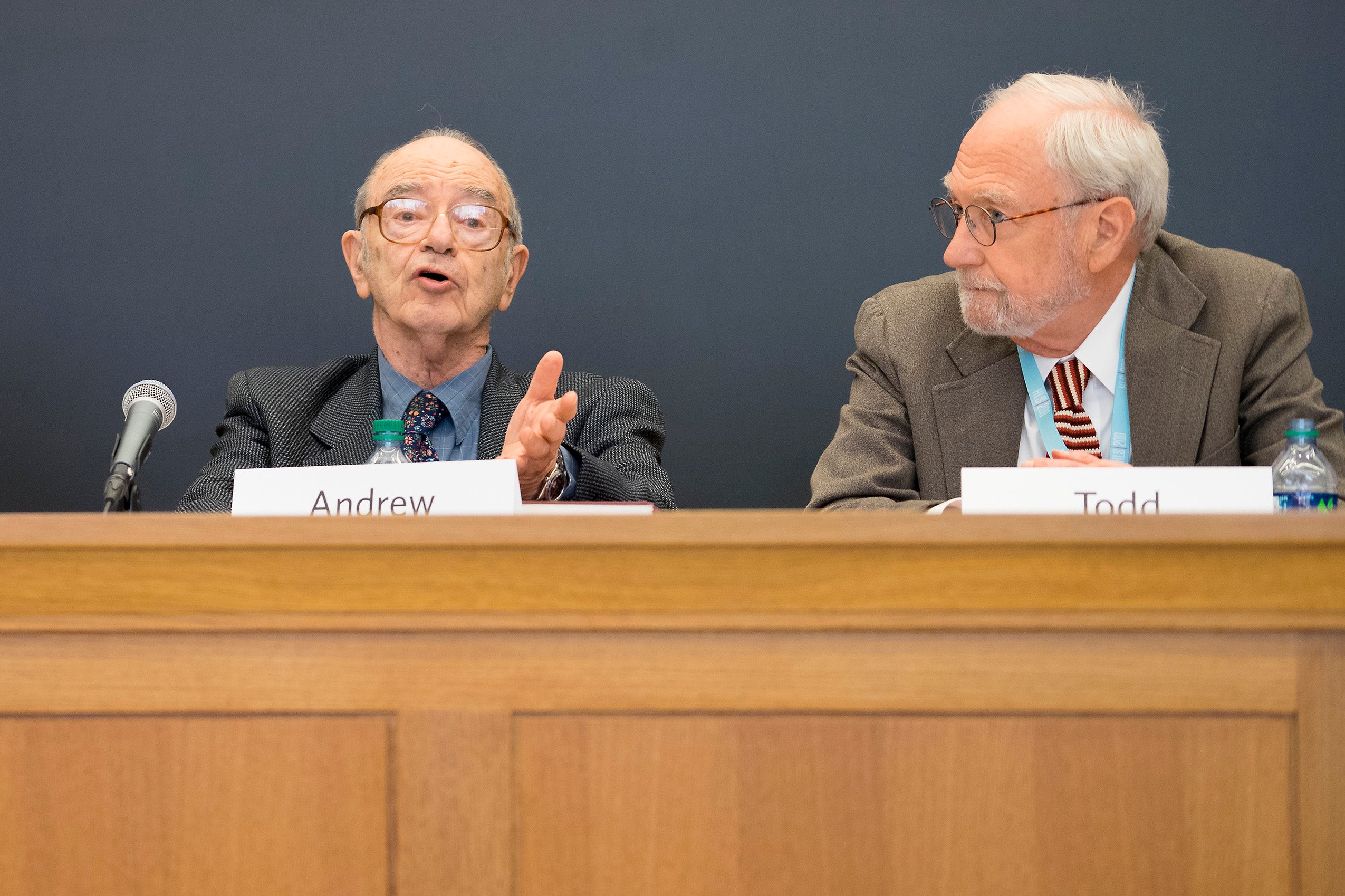 Rakoff highlighted how pro bono efforts have helped ameliorate this issue but noted that ultimately the problem is not a lack of lawyers. Instead, he pointed to two practical alternatives: increasing the capacity of individuals to represent themselves and investing in technological solutions that can supplant the basic functions of lawyers for ordinary needs. He also suggested that law schools teach students to speak plainly, simply and explicitly to be more accessible to laypeople, and he suggested that paralegals could be empowered to expand affordable legal services to this underserved population.
Former dean and Professor Martha Minow emphasized the severity of the problem. "Rights are not self-enforcing," she said, pointing to the vulnerable groups who are disadvantaged by the current system: "Veterans who seek benefits, victims of natural disasters, domestic violence survivors, tenants and homeowners — people need advisors or guides or someone to cut through the bureaucracies or laws."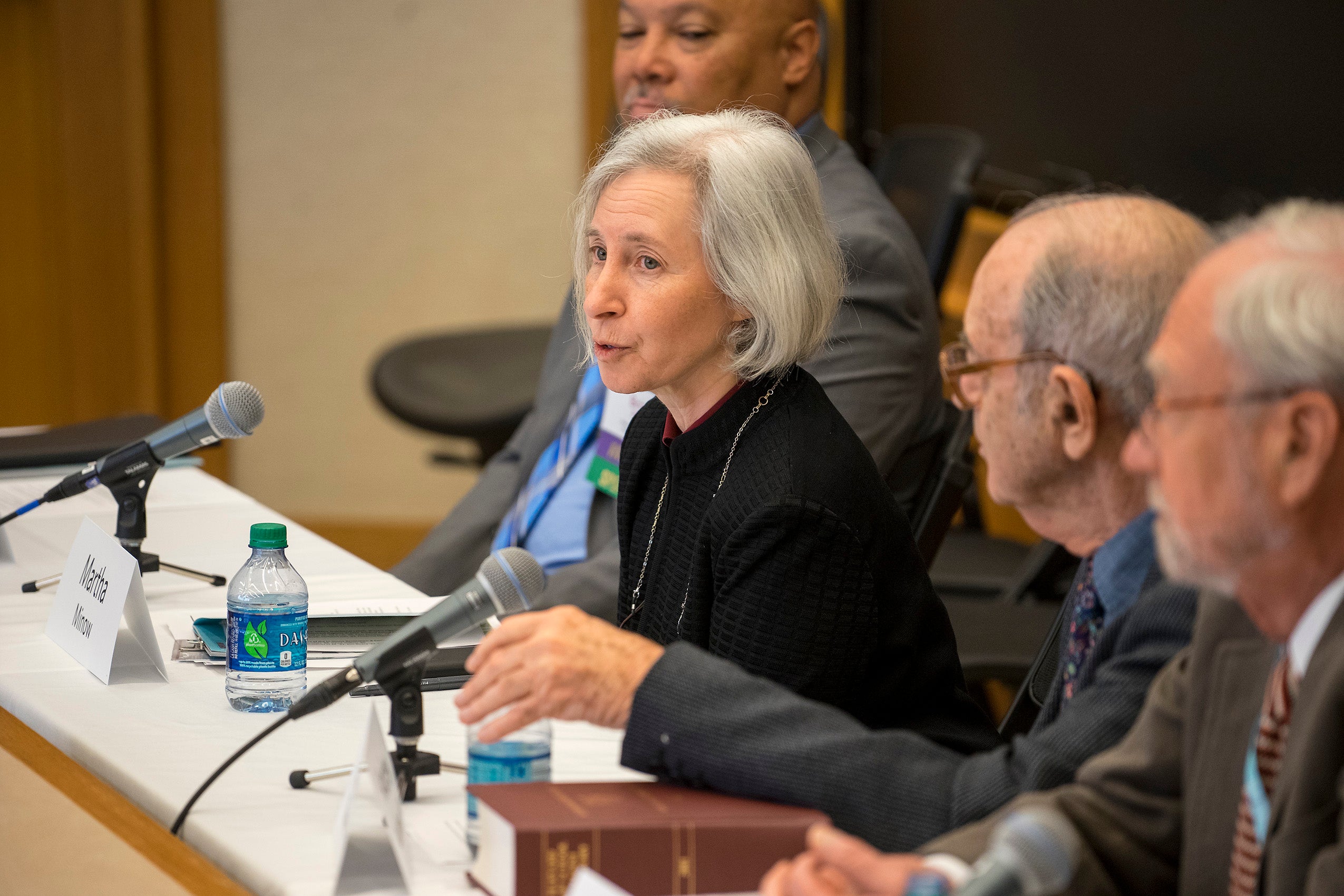 Minow said she has struggled to compel people to action. "I've tried using facts, I've tried using business cases, I've tried using historical legacy arguments, I've tried using shame, international comparisons — it's really hard to get people to care about this issue."
Professor James Greiner, the faculty director of the Access to Justice Lab, suggested that instead of constantly trying to innovate its way out of this problem, the legal profession should look to other industries that have overcome similar issues surrounding access to services. "We in law are not first in any of these problems," he said. "Other professions and other areas of thinking have invested resources that we have never invested in finding out what works and what doesn't."
Greiner offered the example of Limited License Legal Technicians (LLLTs), who are educated and licensed to offer aid in the "ordinary people" problems Rakoff cited. These individuals perform a role similar to a nurse practitioner in the field of medicine — providing services that do not require individuals receive expensive higher educations.
Brian Price, director of the Transactional Law Clinics, discussed how clinical programs help broach the gap in services for individuals and groups who otherwise would not have access to legal services. When people try to navigate the legal world without representation, deterred by the cost, they are at a structural disadvantage compared to those who know the rules of the game. But Price noted that clinics do not have the capacity to address the gap in services and he called on law schools to offer grants and loan deferments to help students continue to help underserved populations after they graduate.