Retired National Football League wide receiver Anquan Boldin's social activism has deep personal roots. In October 2015, his cousin, Corey Jones, was shot and killed in an encounter with a plainclothes police officer. When the news hit, Boldin, then with the San Francisco 49ers, was coming off the field and scheduled to make a post-game public appearance. His wife wouldn't let him see his phone.
Later, after she told him what had happened, Boldin was numb. "I couldn't understand … how my cousin lost his life."
A series of police shootings of unarmed black men inspired Malcolm Jenkins, a safety for the Philadelphia Eagles, to meet with police and grassroots organizers, using his fame to "elevate the voices that often aren't heard."
New Orleans Saints linebacker Demario Davis became interested in civil rights and activism while reading about Martin Luther King Jr. and Malcolm X in high school. His success on the field has helped him "bring recognition to my community," he said, and to the injustice he sees there.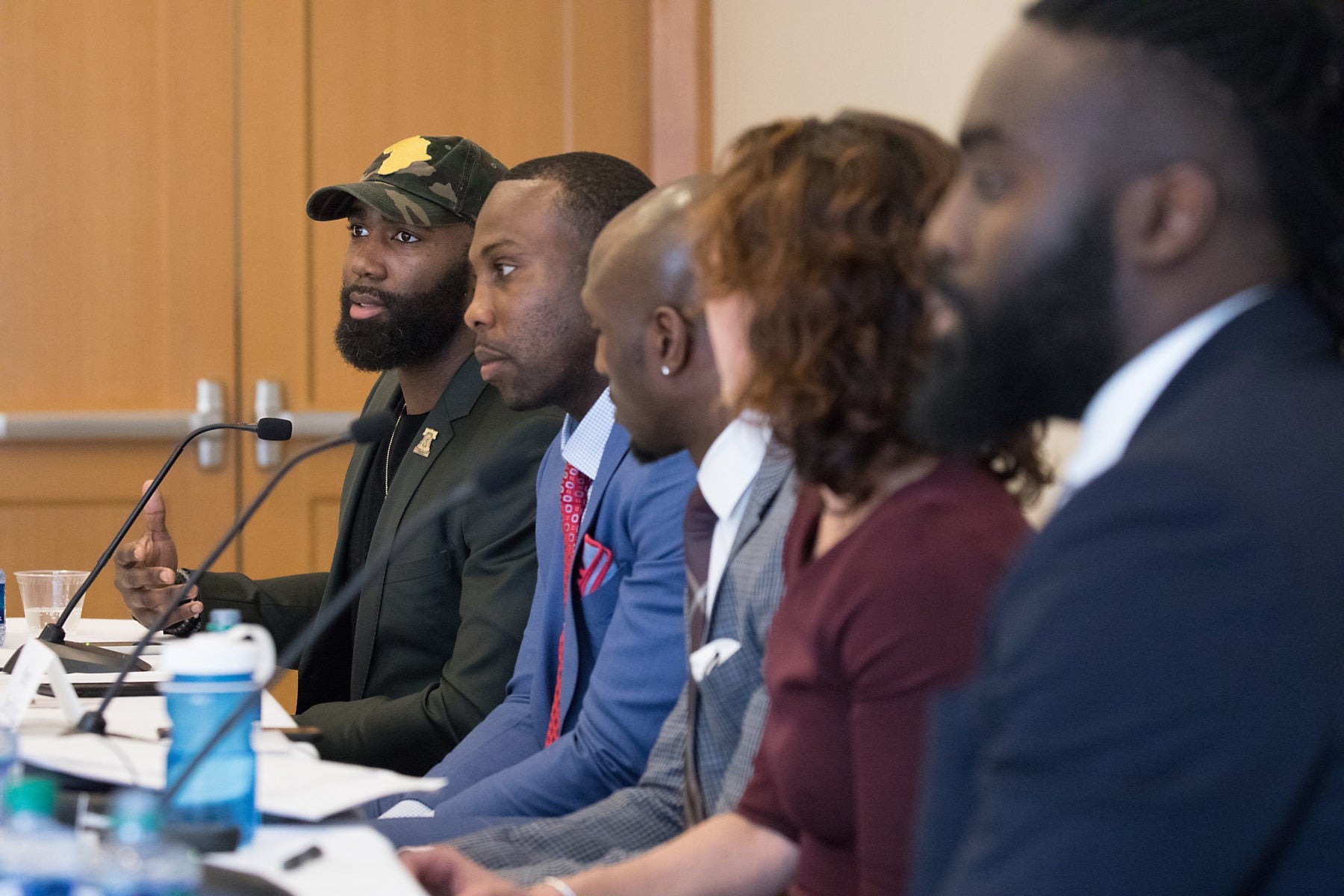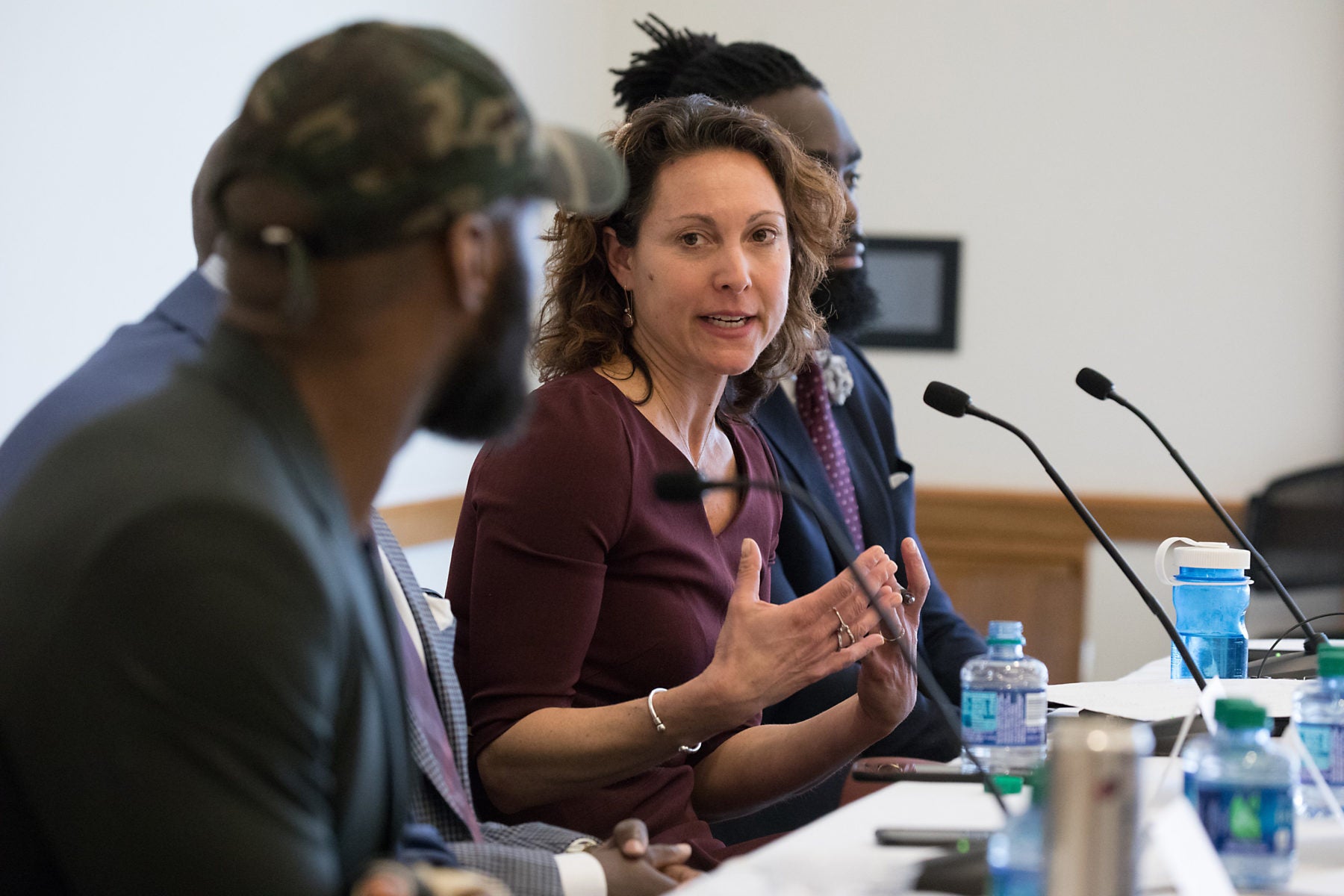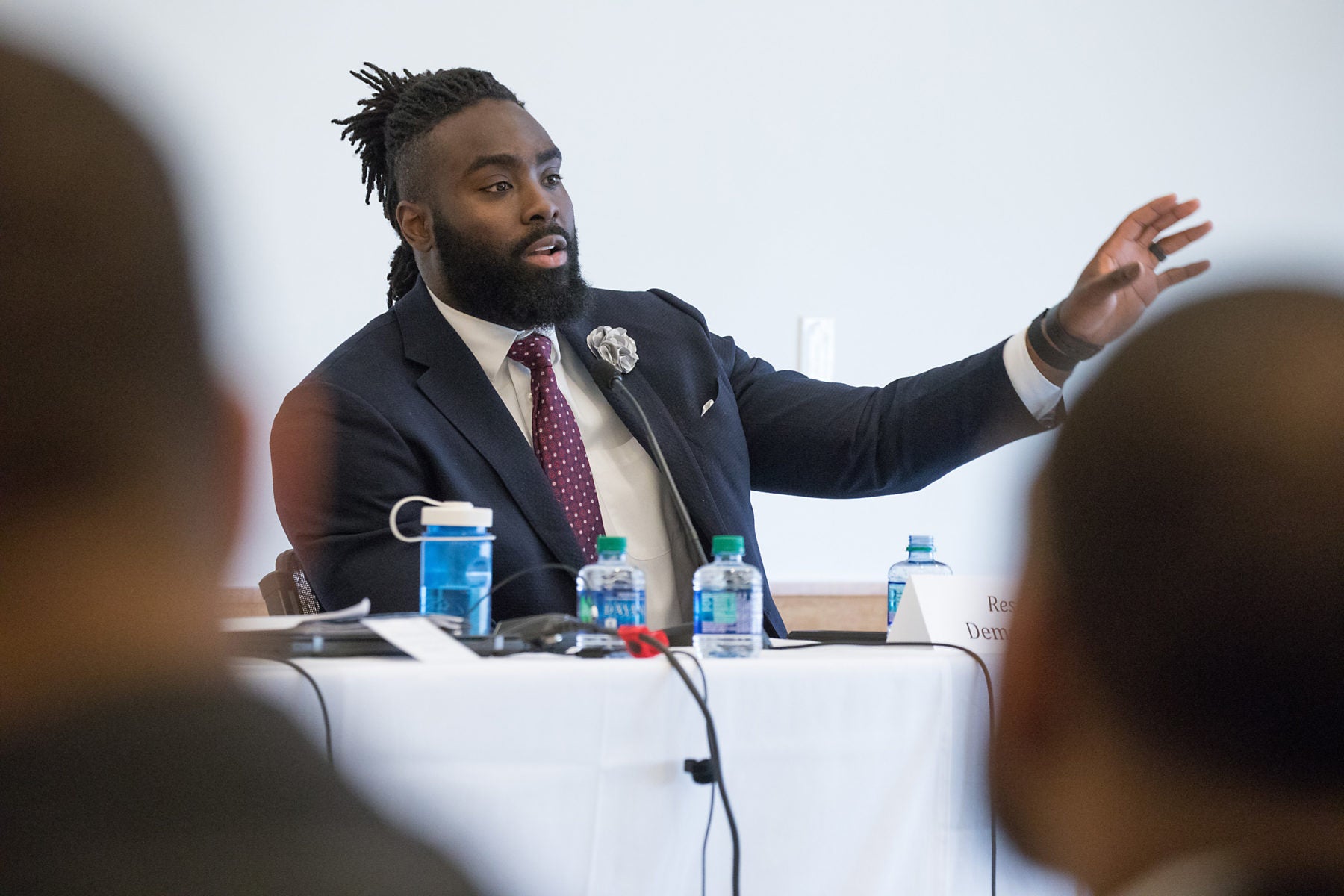 Boldin, Davis, and Jenkins were part of a group of players who shared personal reasons for their activism and outreach in a conversation with Emily Bazelon, a staff writer for The New York Times Magazine, Friday at Harvard Law School. The discussion was part of "Changing the Conversation to Change Criminal Justice," a conference sponsored by the School's Bernard Koteen Office of Public Interest Advising, the Fair Punishment Project, and the Players Coalition, a nonprofit co-founded by Boldin and Jenkins in the wake of Colin Kaepernick's national anthem protests. Last year the group helped broker a deal in which the NFL agreed to provide close to $90 million to support community-focused initiatives.
In recent months, coalition members have attended bail hearings, accompanied police on patrols, penned op-ed pieces, met with legislators, supported voter information initiatives for district attorney races, and pushed for the shutdown of Rikers Island in New York and juvenile-sentencing reform in Pennsylvania and Massachusetts.
"This work we are doing is more important than us as football players," said New England Patriots safety Devin McCourty, who last week urged Massachusetts lawmakers to raise the age of criminal responsibility from 7 to 12 as they prepared to file legislation aimed at overhauling the state's criminal justice system. The age increase was included in the final bill.
The HLS conference included a session on possible police reforms, at which Carl Davis, a defensive end for the Baltimore Ravens, called for more diversity in hiring and better "relations between the police and the community."
Research suggests that fuller support for community interventions, including church groups, recreation programs, and community-based nonprofits, can significantly help reduce crime in troubled neighborhoods and reduce the need for police presence, said Clint Smith, a writer and doctoral candidate at the Harvard Graduate School of Education where he studies incarceration, education, and inequality.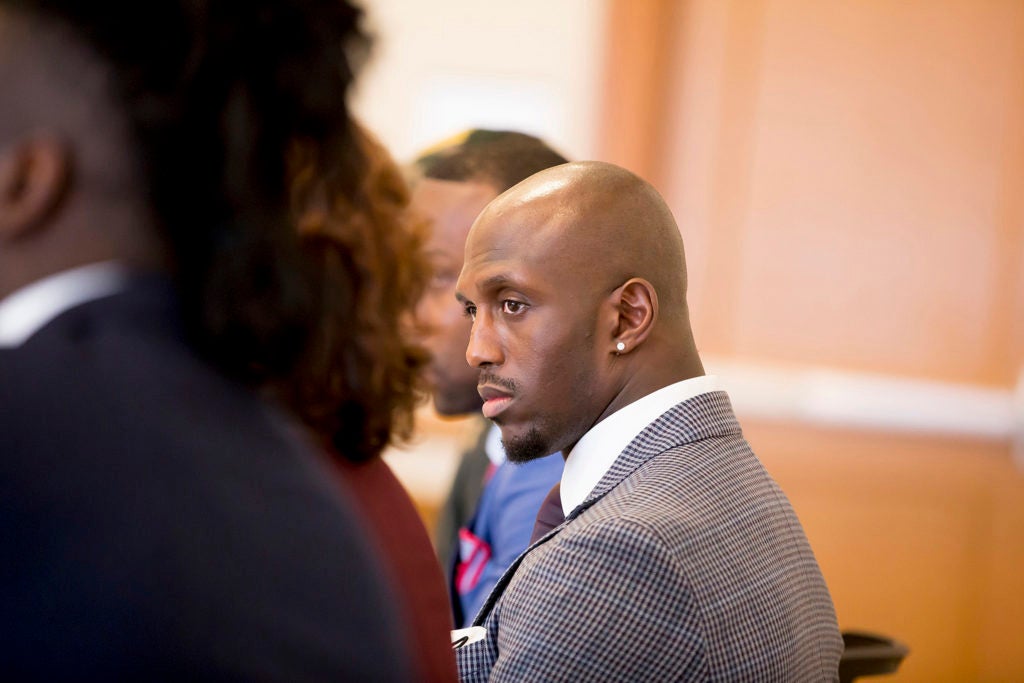 Phillip Atiba Goff, a professor at John Jay College of Criminal Justice who has been working to develop a standardized reporting system that captures traffic stops and the use of force, said that such efforts are one key to police accountability and reform. Review boards, citizen accountability initiatives, and lawsuits can also help communities ensure police accountability, said Goff, a onetime visiting scholar at Harvard Kennedy School. He also called for "up front" interventions.
"If the metrics of accountability are aligned with the values of the community, you are going to end up getting law enforcement that does what the community values," he said. "I want to get accountability in the process before someone loses their life."
For Boldin, whose cousin's death led to charges against the officer involved, meaningful change requires an open dialogue in which each group tries to understand and appreciate the other's perspective. He compared the relationship between the community and the police with his marriage.
"If we want this marriage to work, I've got to be willing to listen, I've got to be willing to open myself up to things I had no idea about," he said. "And it's the same way in our criminal justice system. We are married whether we want to be or not. We have to deal with each other whether we want to or not. But if we are going to be closed-minded about it and see things from only one side, then this marriage will never work."
This article was published by the Harvard Gazette on March 29, 2018.
---
Related
Boston Globe: 'We're all fighting for something that's good': Devin McCourty's journey with the Players Coalition
AP News: NFL players use attention over protests to push for change
NFL Network (video): Devin McCourty, Malcolm Jenkins reflect on Players Coalition symposium Friday